MEKONG RIVER CRUISES
Exclusive Savings When You Book by May 31, 2019!
2-FOR-1 LAND PRICING
on select dates of MEKONG RIVER CRUISES
See the landmark sights of Southeast Asia and thoroughly entice all your senses on a Mekong River cruise from AmaWaterways. Feel the rush of excitement as you take a trishaw ride down the charming streets of Vietnam or try your hand at making traditional Vietnamese rice paper. Hear the melodic chanting as you explore ancient temples and are blessed by monks in remote monasteries. Smell the intoxicating scent of spices wafting through floating marketplaces and then taste these exotic new flavors.
These are the enriching moments of travel that let you explore more about the cultures and traditions of exotic lands. A journey through the heartland of Vietnam and Cambodia is truly a trip of a lifetime.
Book your cruise by May 31, 2019 and receive 2-FOR-1 land fares on select dates listed below.
Riches of the Mekong
On the 15-night Cruise and Land Program, you'll begin your journey in Vietnam's capital, Hanoi, followed by an excursion to breathtaking Ha Long Bay for an overnight stay aboard an elegantly appointed ship. A short flight to Siem Reap brings you to the gateway of the ancient Khmer empire where you can unleash your inner adventurer exploring the temples of Angkor Archeological Park. Cruise along the Mekong aboard the AmaDara as you are transported back in time to another era, offering glimpses into a traditional way of life, and then conclude your journey in Ho Chi Minh City, a bustling city with a mixture of historic and modern delights.
15-night Cruise & Land Program
2 nights Hanoi, 1 night Ha Long Bay, 3 nights Siem Reap, 7-night cruise from Kampong Cham
to Ho Chi Minh City and 2 nights Ho Chi Minh City- Canadian dollars
2019 Aug 12 $5507 pp $4209 pp
2019 Aug 26 $5625 pp $4328 pp
2019 Sep 9   $5061 pp $4564 pp
2019 Sep 23 $6095 pp $4800 pp
2019 Dec 2   $6333 pp $5035 pp
2019 Dec 16  $6333 pp $5035 pp
2020 Apr 6  $6005 pp $4144 pp
2020 Apr 20 $5041 pp $4560 pp
VIETNAM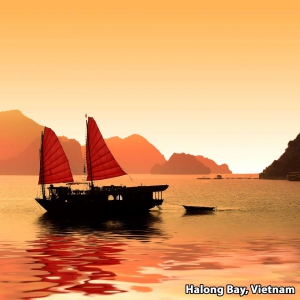 12 days/11 nights Feb 11 to 22, 2020 
Land only package
Hanoi, Halong Bay, Hue, Danang, Hoi An Ho Chi Minh $2599 per person
Inclusions:
4* & 5* accommodation – 22 meals
Overnight cruise on the Bhaya Classic
domestic flights: Hanoi to Hue, Danang to Ho Chi Minh
English speaking guides, entrance fees, sightseeing
Cambodia & Laos Mekong Adventure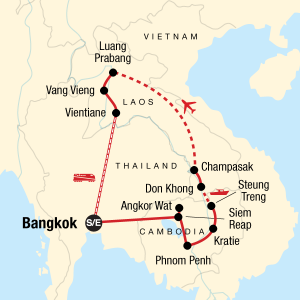 15 days
Bangkok to Bangkok
From Angkor Wat to remote river towns, journey down the Mekong and into the heart and soul of Southeast Asia. Our Chief Experience Officers (CEOs) will share with you the region's cultural treasures and natural splendours. Explore the many temples and, if you're lucky, spot a rare Irrawaddy dolphin. Experience the highlights with a chance to get off the beaten track and explore the remote islands of Don Khong. With local transportation and authentic accommodation, like a rural homestay, this adventure offers an intriguing blend of included activities and free time for personal discovery.
June 6, August 26, Sept 15 $2199 July 7, 14 $1954 
Book by April 30
Mekong River Experience – Ho Chi Minh City to Siem Reap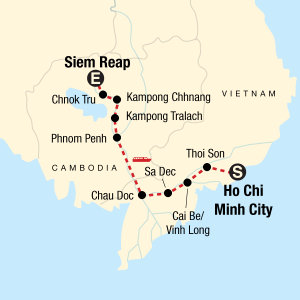 Think Southeast Asia is just beautiful, beautiful landscapes? . On this eight-day river cruise, you'll hop aboard bikes, tuk tuks, or local boats to get around and see rice paddies, monasteries, and local businesses. The magic of the Mekong aside, river cruising gives you a view unlike any other, with visits to the Cai Be floating market, the fishing port of Kampong Chhnang, and stilt villages like Chnok Tru, where you'll learn about fish farming, pottery, and sugar palm production before wandering through the local markets.
July 21, or August 4, 2019 $2054 cdn p.p.  Call us for details  403-244-7114
Book by April 30
Classic Vietnam & Mekong River cruise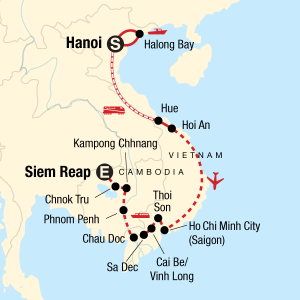 If you're travelling Vietnam solely by land, you're missing out on half the adventure. This tour doesn't leave anything out. Cruise Halong Bay by junk boat; explore Hue's historic monuments; check out the My Son ruins; witness daily life along the Mekong as you drift into Cambodia; and so much more. The ultimate Southeast Asia experience awaits. Get on board.
June, 2019  to Feb, 2020 from $3799 p.p.
Call Sundial Travel for details…..403-244-7114
Book by April 30
TIMELESS WONDERS OF VIETNAM, CAMBODIA & THE MEKONG
13 DAYS FROM HO CHI MINH CITY TO SIEM REAP
A fascinating, rewarding and multilayered adventure. Two of the most beautiful, historic and friendly places in all of Asia, dynamic Vietnam and pastoral Cambodia are intriguing studies in contrast. Each possesses its own unique charm and social traditions, its own tragic history and complex past. In many ways, a visit here is less about the sights you see than it is about the people you meet and the experiences you have along the way.Ho Chi Minh City offers a heady mixture of old and new, often surprising visitors with its charm. As the lifeblood of Southeast Asia, the Mekong teems with colorful floating villages and mementos of its French Colonial past. Phnom Penh, Cambodia's thriving capital, is fast-forwarding to the future yet retains a provincial intimacy. And colorful Siem Reap provides the gateway to the vast UNESCO-designated jungle temple complex of Angkor Wat.
Per Person Fares from:
September 6, 12, 2019 $6879 CDN October 24, November 1, 7 $6959 CDN November 29 $6999 CDN December 5, 19 $5599 CDN