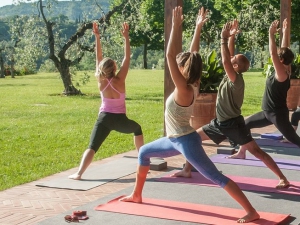 Spas & Resorts
It's not a vacation without some relaxation. Treat yourself with the ultimate getaway, anywhere in the world. Luxurious spas await on sandy beaches, serene mountainsides, and at international resorts designed to cater to your every need.
Talk to us about  spa vacation packages to find the tranquil trip that you deserve.
7 Days Italian Cooking and Yoga Holiday in Puglia, Italy
This Italian cooking class and yoga retreat is immersed in the nature at few kilometers from the sea in the south of Italy in the hearth of Apulia. During your cooking holiday in Italy, you will become competent in many other dishes made with vegetables and Mediterranean spices. This Italian cooking class in South Italy in Apulia is done with expert village women who will reveal the secrets of delicious Mediterranean cuisine!
At the Italian cooking class, we will make together a wide range of Mediterranean appetizers and typical Apulian including stuffed meatballs, rolls, tomatoes under oil, bruschetta, pancakes with sauces and plenty of others. In this Italian cookery course, you will prepare different type of fresh pasta like Cavatelli, Orecchiette in the authentic way with typical sauces. You will acquire knowledge of how to make pizza and focaccia barese with different stone ground flour.
All participants of the Italian cooking classes will receive a cookbook including recipes of all the dishes made during their stay, an exclusive apron and a certificate on completion of the Italian cooking course. Vedaguru Centre has chosen dishes that can easily be made at home, using ingredients that you can find in the market wherever you live.
You will experience Italian cooking lessons every day during this retreat. Before each day, you will have daily morning Hatha yoga lessons before breakfast from Sunday to Friday. Tour will be done on Monday, Wednesday and Friday.
Revitalize and Harmonize Yoga Retreat in Costa Rica
6 days/5 nights
double rate $795 USD
single rate $995 USD
Revitalize and harmonize your mind, body, and soul in Guanacaste. Enjoy the warm weather and the beautiful views of the valley. The spectacular infinity pool is at the perfect temperature all year long and the restaurant serves some of the best food in all of Costa Rica including local and international vegetarian dishes. Relax by the pool, explore the surroundings or visit the four beautiful beaches that the lodge has only a few minutes drive away and spend a week to remember in Costa Rica.
This retreat includes daily yoga classes, alongside pranayama, meditation, and chakra balancing workshops that will get the energy flowing harmoniously. You will also enjoy the lovingly-prepared, delicious, gourmet vegetarian meals as well as diet and nutrition tips for living a healthy life. Other group activities will include hikes, music, dance, good vibes and great conversations. All within an accessible, non-competitive, non-judgmental environment that is appropriate for people of all ages and levels. The spacious lodges are built from local teak and include queen size beds, air conditioning, and a large deck to relax in a rocking chair. The pool has a beautiful view of the valley and you can enjoy the bar that is right beside it. You can hear and see local species of animals on their natural environment and find peace and serenity in nature.
Refreshing Yoga Retreat & Diving in Mexico
Expert tip: This is one of the most popular yoga retreats offered in Mexico.
Give yourself a moment, or two, to reflect and relax your entire being. Discover freediving and yoga in Tulum and discover the true lightness of being. In this retreat, you enter the mindfulness of the underwater world of apnea or freediving and truly touch your breath and your spirit while you deepen your practice in our amazing studio. Tribal Yoga Tulum combines yoga and breath work with freediving against the backdrop of Mayan mysticism and purity. This retreat is perfect for those looking for adventure that includes wellbeing and a new approach for encountering relaxation and mindfulness.   Be close enough to it all – but far enough away to relax. Loft style apartment, efficiency kitchen, full bath, air conditioning, ceiling fans, wifi and balcony. Roof deck for guests with fabulous views of the stars and moon as well as sunrises. Just below the yoga studio and above the dive shop, you cannot ask for a shorter commute to your classes. Drinking water, coffee and tea provided.
6 days / 5 nights from US$1,289