Peru
Peru is a country in South America that's home to a section of Amazon rainforest and Machu Picchu, an ancient Incan city high in the Andes mountains. The region around Machu Picchu, including the Sacred Valley, Inca Trail and colonial city of Cusco, is rich in archaeological sites. On Peru's arid Pacific coast is Lima, the capital, with a preserved colonial center and important collections of pre-Columbian art. There are over 3,000 different varieties of Potato grown in Peru. Spanish is not the only language spoken in Peru. Machu Picchu is of the New Seven Wonders of the World. The Largest Flying Bird on Earth can be found in Peru, The Giant Andean Condor.
Inca Discovery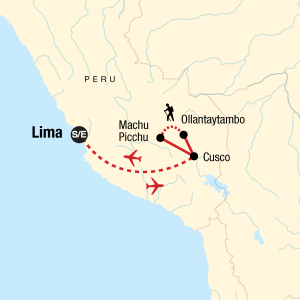 9 days
Lima to Lima
Like our Inca Discovery tour but with a flight back to Lima, this trip offers a fascinating combination of the region's archaeological and cultural treasures. Retrace the steps of the Inca on a four-day trek along the Inca Trail to Machu Picchu. One of the world's best-known hikes, it will reward those willing to break a sweat with stunning views of ruins and cloud forests. We run our own treks, which ensures fair treatment of our porters and quality equipment.
June 5, 8, July 13, 15, 17, 19, 21 , 26, 31, Aug 1, 2, 3, 9, 15, 25, 8, 29, 30 $1699
June 7, 13, 19, 30 $1599
June 23, July 20 $1499
Sept 7, 20 $1640
Book by May 30, 2019
Amazon Riverboat Adventure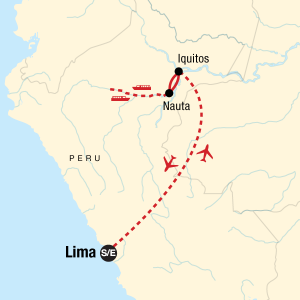 7 days Lima to Lima
Hop aboard a riverboat and experience the Amazon in style. Led by an Amazon Reserve naturalist guide, your cruise will include daily excursions by motorized skiff designed to reveal the exotic wildlife that calls the rainforest home — with any luck you'll spot sloths, toucans, or pink dolphins! And, with plenty of time for exploration in Pacaya–Samiria National Reserve, you'll have the chance to experience the jungle up close. The cuisine on-board is regional and provides a unique and delicious window into local culture. Gain a rare glimpse of how life "on the river" is lived and experience the magic of the Amazon on this once-in-a-lifetime riverboat adventure.
July 15, August 26 $1434
July 1,  $1639
Book by May 30, 2019
Peru Multisport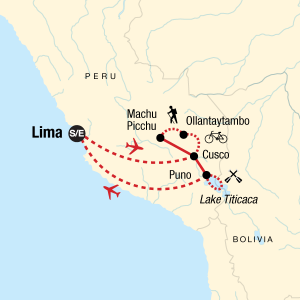 15 days Lima to Lima
How do you improve a trip that already includes the Sacred Valley, the Inca Trail, and Lake Titicaca? Throw in some bikes, a few kayaks, and loads of high-energy thrills, that's how! Peru Multisport connects immersive cultural interaction and classic Peruvian landmarks with challenging physical activities tailored specifically for adrenaline junkies and fitness freaks. Climb and bike your way from small villages to astounding monuments, then explore Lake Titicaca from a kayak; a perspective few visitors ever get the chance to see. Need more? Consult your CEO; they'll keep your zest for adventure satisfied.
Soak in the views on a bike in the Sacred Valley
Climb the Inca Trail to Machu Picchu
Kayak Lake Titicaca
Mingle with the locals and learn about traditional life
Savour the Altiplano scenery
Devour seafood in Lima
May 18 $2399 July 6 $2600
Aug 3, 17, 31 Sep 21, 28 $3059
Oct 5, 12, 19, 26 $2899
Book by April 30, 2019
The Inca Trail
Follow in the footsteps of the Peruvian Incas as you trek the classic Inca Trail
Offering an unrivalled combination of history and dramatic scenery, the ancient Inca Trail winds its way from the powerful Urubamba River, across mountain passes and through cloud forests, passing several crumbling fortresses before reaching the lost city of Machu Picchu. This itinerary is specifically designed to maximise the time spent at Machu Picchu with an early morning tour of the ruins, quieter at that hour before day trippers and other trekkers arrive. (Alternative remote Moonstone trek available when Inca Trail permits have sold out.)
Highlights
Trek the classic Inca Trail to the Sun Gate for the iconic view of Machu Picchu
Climb Inca steps to the top of Dead Woman's Pass (4215m)
Have a guided tour of Machu Picchu before the crowds arrive
Discover Cuzco with its distinct Inca-Colonial fusion architecture
Alternative remote Moonstone Trek available when Inca Trail permits have sold out
5 nights hotels in en suite rooms, 3 nights full-service camping with dining and toilet tents
4 days point-to-point walking with full porterage
Group normally 4 to 16, plus leader. Min. age 16 yrs
Altitude maximum 4215m, average 3050m
7kg personal weight limit on Inca Trail
Travel by private bus and by train
What's included
All breakfasts, 4 lunches and 3 dinners
5 nights en suite hotels and 3 nights full-service camping
All transport and listed activities
Tour leader throughout
Arrival and departure transfers
Full porterage throughout trek
Exodus kitbag
Inflatable sleeping mat while camping
May 10, 16, 24 $2245 May 30 $2205 June 7, 21, July 5, 11, 19 $2435