Check this page frequently for time sensitive deals!  Call us to book or book on our search engine!!! 
Fares are subject to change

…..
Rates will always fluctuate so it is better to book as soon as you can!  Check out our DEALS page too!
For the most current rate, check here: https://www.sundialtravel.com/travel-deals
If you don't see what you are looking for, Please give me a call!  
403-244-7114
---
Cruise deals!
7 Night Pacific Coastal
Serenade of the Seas Sept 25, 2022
Itinerary: Vancouver, Victoria, Astoria, Oregon,  Cruising, San Francisco, CA (overnight), Catalina Island, CA, Los Angeles
starting at $480 CAD per person
5 Night Pacific Coastal
Radiance of the Seas Oct 15, 2022
Itinerary: Vancouver, Astoria, Oregon, Cruising, Santa Barbara, CA, San Diego, CA, Los Angeles
starting at $464 CAD per person
14 Night Panama Canal
Radiance of the Seas Oct 20, 2022
Itinerary: Los Angeles, Cruising, Puerto Vallarta, Cruising, Nicaragua, Costa Rica, Cruising, Panama Canal, Columbia, Cruising, New Orleans
starting at $1,145 CAD per person
7 Night Mexico
Navigator of the Seas Nov 11, 2022
Itinerary: Los Angeles, Cruising, Cabo San Lucas, Mazatlan, Puerto Vallarta, Cruising, Los Angeles
starting at $459 CAD per person
7 Night Caribbean
Wonder of the Seas Jan 22, 2022
Itinerary: Orlando, Perfect Day @ CocoCay, Nassau, Cruising, Falmouth, Jamaica,Labadee, Haiti (Private Island),Cruising, Orlando
starting at $1,054 CAD per person
7 Night Caribbean
Oasis of the Seas March 19, 2023
Itinerary: Miami, Cruising, Labadee, Haiti, San Juan, Puerto Rico, St. Thomas, Cruising, Perfect [email protected] CocoCay, Miami
starting at $781 CAD per person
12 Night Iceland & Scotland
Jewel of the Seas (with overnights) May 12, 2023
Itinerary: Amsterdam, Cruising, Akureyi, Iceland, Reykjavik, Iceland,  Cruising,  Shetland, Scotland, Loch Ness, Scotland,  Edinburgh, Scotland,  Cruising, Amsterdam
starting at $1,649 CAD per person
---
Italy by Train
10 nights/ 12 days
Fly from Canada to Venice
Two nights Venice with breakfast daily
Venice to Florence three nights in Florence with breakfasts
Florence to La Spezia (Cinque Terre) – two nights with breakfasts
La Spezia to Rome – 3 nights in Rome with breakfasts
Fly home
Inclusions:
International flights
Transfers between the airport and the hotel in Venice and Rome
Train ticket between Venice / Florence / La Spezia / Rome in tourist class
2 days "Cinque Terre" card including unlimited train trips between La Spezia (Cinque Terre) and Levanto and more
10 nights hotel accommodations
All breakfasts
All taxes & fees
departing Calgary, Edmonton or Vancouver
Aug 6, 13, 20, 27, Spet 3, 10 $3179
Sept 17, 24, Oct 1, 8, 15, 22, 29, $3079
Nov 5, 12, 19, 26, De 3 $2579
---
Enchanting Prague
8 days/6 nights
Inclusions:
Round-trip international flights between Canada / Prague
Greetings and transfers between the airport and the hotel
6 nights hotel accommodation
All breakfasts
Guided walking tour of Prague
Dinner cruise on the Vltava River (Transfers not included)
All taxes & fees
departing Calgary or Edmonton
2022: July 25, Aug 1, 8, 15, 22, 29, Sept 5 $2298
Sept 12 $2198 Sept 19, 26, Oct 3, 10, 17, 24 $2098
Oct 31, Nov 7, 15, 21, 28 Dec 5 $1998
departing Vancouver
2022: July 25, Aug 1, 8, 15, 22, 29, Sept 5 $2198
Sept 12 $2098 Sept 19, 26, Oct 3, 10, 17, 24 $1998
Oct 31, Nov 7, 15, 21, 28 Dec 5 $1898
---
Greece & Italy
16 days/14 nights
Calgary to Venice – two nights in Venice with breakfast daily
Train to Florence – two nights in Florence with breakfast daily
Train to Rome – 3 days at your leisure to visit Rome – breakfast daily
Fly to Athens – one night in Athens with breakfast
Ferry from Athens to Paros – 4 night in Paros with breakfasts
Ferry to Naxos – one night in Naxos with breakfast
Naxos to Athens with two nights in Athens with breakfast
Departing Calgary, Edmonton or Vancouver
2022:
Sept 25, Oct 2, 9 $3799
---
Mayan Discovery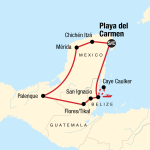 15 days
Playa del Carmen to Playa del Carmen
Mayan ruins peeking out from verdant jungle, street vendors hawking their wares on colonial streets, pristine white-sand beaches sparkling under the Caribbean sun — now this is the real Yucatán. On this unique 15-day journey, you'll tour the ruins at Chichén Itzá and Palenque, and head deep into the jungle of Guatemala to experience the ruins of Tikal. You're free to choose your own adventure! So escape the resort packages and witness all the incredible wilderness, wildlife, and Mayan culture — past and present
2022:
Aug 16, 20 Sept 17 $1826
Book by July 5, 2022
---
Volcano Trail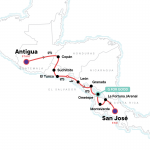 17 days: Antigua Guatemala to San José
From the laid-back vibes and waves of the Pacific Coast to tropical rainforests alive with jungle melodies, take the road less travelled on this trip through Guatemala, Honduras, El Salvador, Nicaragua, and Costa Rica with other travellers your own age. This is one of our most exciting trips, filled with breathtaking scenery and a chance to experience local culture with a two-night community guesthouse stay on the island of Ometepe. Enjoy a blend of public and private transportation, which not only keeps costs down but also gives you a chance to really meet the locals.
2022:
Aug 28 $1784
Sept 4, 11,  18, 25 $1699
Book by July 5, 2022 
---
Treasures of Cuba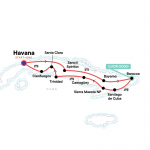 15 days, Havana to Havana
The melody of horns floating through the air, classic cars parked in colonial squares, revolutionary statues — get over the resort wall and discover the real Cuba! Travel east to Santiago de Cuba and Baracoa and encounter the birthplace of Cuban rhythms and revolutionary fervour. Soak in Spanish heritage while exploring churches, forts, and cobblestoned streets. Stay overnight in homestays for an immersive Cuban experience few travellers get to enjoy. Don't just walk down the road less travelled — dance down it. Viva la Revolución!
2022:
Aug 6 $2209
Sept 3 $2166
Book by July 5, 2022
---
Mayan Adventure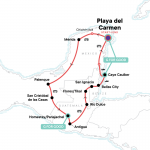 22 days Playa del Carmen to Playa del Carmen
Leave the resorts of the Mayan Riviera behind and explore the authentic Yucatán. From sunny beaches and lush jungles to the highlands of Chiapas, journey through Belize, Guatemala, and southern Mexico on this incredible 22-day adventure. Explore the amazing ruins of Chichén Itzá, Palenque, and Tikal and walk the cobblestoned streets of colonial San Cristóbal de las Casas and Antigua. Snorkel with stingrays or just get into the reggae pace of life on a sunny Caribbean island. Experience a journey that introduces you to local culture and offers insight into the history of the Mayan heartland.
2022:
Aug 14 $2974
Sept 4, 25 $2804
Book by July 5, 2022
---
Costa Rica Quest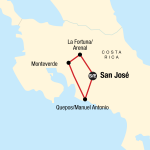 9 days San José to San José
Nature called you to Costa Rica — now here you are, suspended in the jungle canopy, locking eyes with a curious monkey. This action-packed tour of Costa Rica's highlights is perfect for the adventurer with limited time who wants to explore the region's diversity. Get your adrenaline pumping, follow a trail to the base of a waterfall, melt away in thermal springs, or relax on a beach — your guide will help you find the secluded spots only the locals know.
Soak in the thermal hot springs of Arenal Volcano
Search for the elusive quetzal bird in the cloud forest
Watch the sunset over the Pacific
Learn about sugar cane and coffee production at a local planta
2022:
Aug 4, 6, 11, 13, 18, 20, 25 $1393
Sept 3, 10, 17, 24 $1231
Book by July 5, 2022
---
Cuba Explorer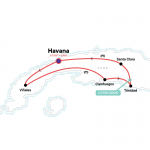 9 days Havana to Havana
Explore a side of Cuba that few rarely get to experience on this nine-day adventure. Cruise Havana's history-infused streets in a classic car and stroll along Trinidad's cobblestone avenues to the rhythms of music floating from open windows. Tour a tobacco plantation for a taste of iconic Cuban culture and luxuriate in the view of the island's rolling western hills. Travel by private air-conditioned vehicle is well-paced, so you're refreshed and ready to explore the island's vibrant culture and tropical breezes.
2022:
Aug 21 $1673
Sept 18 $1571
Book by July 5, 2022
---
Galapagos with Quito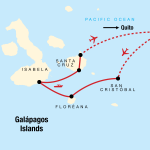 10 days Quito to Papallacta
Strike a balance between genuine encounters with Mother Nature and the comfort of land accommodations on this 10-day Galápagos tour. Explore Ecuador's capital, Quito, on your own before hopping on a flight to the Galápagos Islands where an incredible diversity in wildlife awaits. Spot blue-footed boobies on Isla Lobos, visit a sea lion nursery, and go birdwatching in the highlands of Floreana. With upgraded hotels and private speedboat transfers, you'll be well-rested and ready to take in the unique splendour that these islands offer.
Encounter marine iguanas and blue-footed boobies
Snorkel among volcanic formations
Dip into the Papallacta hot springs
Walk on the black-sand beaches of Floreana Island
Visit the Giant Tortoise Breeding Centre
Dine at community restaurants
2022:
July 24, 31, $3727
Aug 28 $3960 Sept 4 $3809
Book by July 5, 2022
---
HOLLAND, LUXEMBOURG & BELGIUM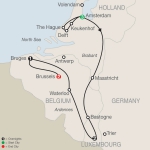 9 Day Tour from Amsterdam to Brussels
For those who wish to visit the Benelux countries at a leisurely pace, look no further, this Holland, Luxembourg & Belgium tour is the perfect vacation. Spend three nights in Amsterdam, two-night stays in Luxembourg and Brussels, and one night in the medieval town of Bruges. The must-see attractions in each city have been included, such as a canal cruise in Amsterdam, the impressive Vrijthof Square in Maastricht, the 17th-century Cathedral of Our Lady in Luxembourg, and the Grand-Place in Brussels, the central square surrounded by baroque guild houses and the gothic Town Hall. Visit famous museums, such as the Rijksmuseum in Amsterdam, which houses priceless paintings by Rembrandt and other Dutch masters, and the Bastogne War Museum in the Ardennes. Visit the famous Keukenhof Flower Park (departures from March 28 to May 9) or the original Heineken factory (departures from May 16 to October 3). History buffs will be delighted on the visit to Waterloo, Napoleon was defeated in the famous Battle. Highlight of this tour is Bruges, one of Western Europe's most perfectly preserved medieval towns. Enjoy guided sightseeing and a canal cruise, and Belgian bonbon tasting a unique experience.
2023:
Book by Aug 31, 2022
March 25 $3266 April 1 $3356 April 7 $3455 April 15 $3356
April 22 $3153 April 29 $3356
May 6 $3725 May 13 $3356 May 27, June 10 $3437
June 24 $3788
July 8, Aug 19 $4357
Sept 1, 16 $3329 Sept 30 $3527
---
Trek Hidden Costa Rica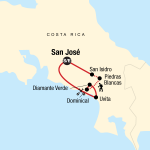 Think you know Costa Rica? Trade in the same old settings for the real deal. Trek into the heart of the jungle to live with three families in a remote village. Discover the emerald core of a diverse land while bunking down behind a massive waterfall in a hidden cave. Learn about the medicinal plants native to these parts and how to make sugar cane candy. This is a spectacular country with opportunities for waterfall rappelling, surfing, and whitewater rafting. This is what adventure is all about.
12 days San José to San José
Prices are per person in single, double or triple room occupancy.
2022:
Aug 6 $2022 Sept 3 $1911
Book by July 5, 2022
---
CLASSIC BELIZE & TIKAL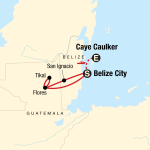 9 days, Belize City to Caye Caulker
If we had to describe the Belizean pace it would be somewhere between slowly rolling waves and the inquisitive speed of a ruin explorer. Embracing just that mix of curious and chill, this nine-day itinerary will let you tour Mayan ruins, cycle around stunning islands, and enjoy plenty of time to hang out on the beach or dive into the famous Blue Hole. Be speedy, or a bit sloth-like — we'll help you discover Central America either way.
2022:
July 30 $1183
Aug 27 $1257
Sept 24 $1257
Book by July 5, 2022
---
EUROPEAN TAPESTRY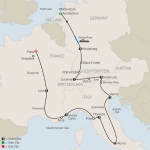 14 Day Tour from Amsterdam to Paris
A tapestry takes distinct colors and threads, and weaves them together into a beautiful design. That's exactly what this European tour—European Tapestry—does. It weaves together the distinct cities, cultures, landscapes, and food of seven countries to make a beautiful vacation to Europe. Start with sightseeing and a canal cruise in Amsterdam and end with sightseeing and a cruise on the River Seine with spectacular views of the Eiffel Tower and Notre Dame Cathedral in Paris. In between, see some of Europe's must-see attractions, such as the Lion Monument in Lucerne; St. Mark's Square in Venice; the Colosseum, Sistine Chapel and Vatican Museums in Rome; Signoria Square in Florence, the center of the city's political life since the 14th century; and the amazing Leaning Tower in Pisa.
But that's not all. Have a beer at a local café in Heidelberg; take a romantic Rhine cruise past castle-crested cliffs and terraced vineyards; learn about woodcarving from a local woodcarver in Germany's Black Forest and taste the traditional Black Forest Cake; enjoy dinner at a Venetian restaurant to try out local specialties; and a highlight of this European tour is an overnight stay in Monte Carlo. Globus has worked hard behind the scenes to ensure your time and fun is maximized. That's why we've included VIP access in this tour of Europe. That means that rather than waiting in long lines at places such as the Vatican Museums and Colosseum in Rome, you'll be inside the attractions and enjoying this amazing vacation. It's just one more way this European tour is sure to delight!
Headsets throughout the tour.
Free Wi-Fi available on your motorcoach and in most hotel lobbies.
2023:  book by Aug 31, 2022
April 8 $4706 April 15, 22 $4787
April 29 $5768 May 6 $5228 May 13 $4913 May 20 $4886
May 27 $5012 June $4886 June 10 $5192 June 17 $5075
June 24 $4841
July 1, 8, 15, 22 $4625
Aug 12 $4643 Aug 26 $5417
Sep 2 $5039 Sept 16 $5120 Sept 23 $4940
---
Central America Journey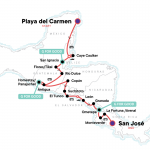 32 days: Playa del Carmen to San José
Escape the resorts and discover something extraordinary in Central America. Visit seven countries on this adventure and experience mighty ruins, clear Caribbean waters, Pacific waves, rainforests, and breathtaking scenery along the way. Explore indigenous Mayan villages and meet locals for an immersive experience that few travellers get to know. While you're free to choose your own adventure, your accommodation and transportation are included. Our expert CEOs will help you make the most of your time. Take a trip that's packed with all the things you need and nothing you don't – 32 days of maximum adventure at minimum cost.
2022:
Aug 27 $3212
Sept 10, 17, 24 $3059
Book by July 5, 2022
---
Costa Rica Adventure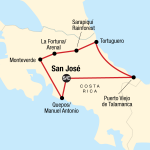 16 days
San José to San José
If you're looking for a taste of Costa Rica's world-class highlights but want to keep things spicy with a sampling of hidden treasures, this action-packed adventure tops the menu. In spite of its small size, Costa Rica is one of the most biologically diverse countries in the world with volcanoes, wildlife, rainforests, and beaches to explore. This adventure offers a great balance of guided excursions and free time. Optional activities abound — choose to get your adrenaline pumping or take it easy with a stroll through a butterfly garden.
2022:
July 21 $1823 Aug 4, 18, 27 $2039
Sept 1, 3, 10, 17, 24 $1869
Book by July 5, 2022
---
GALÁPAGOS MULTISPORT WITH QUITO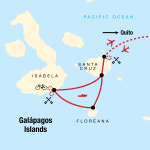 10 days, Quito to Quito
This adventure is perfect for those who want to experience the incredible wildlife and scenery of the Galápagos Islands but prefer to sleep on shore. Go ashore at the lesser-visited island of Isabela and spend your days with playful sea lions, giant manta rays, and the Galápagos giant tortoise. This adventure offers a great balance of guided excursions and free time, with optional activities abound.
2022:
Book  by July 5, 2022
Aug 13, 27 $3399 Sept 10, 24 $3288
---
Costa Rica Active Adventure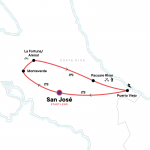 13 days San José to San José
Trekking, biking, horseback riding, kayaking, ziplining. Costa Rica really is the "Adventure Capital of the Americas." Thrill-seekers will find more than enough to keep themselves busy over this trip's 13 action-packed days. After landing in San José, embark on four days of exploration around Monteverde and Arenal Volcano. Raft down the mighty Pacuare River before crossing over to our remote rainforest lodge, surrounded on all sides by the thick, enveloping jungle. End the journey by heading down to the beach at Puerto Viejo
2022:
July 30 $1839 Aug 13, 27 $1954
Sept 24 $1869
Book by July 5, 2022
---
EUROPEAN SAMPLER WITH LONDON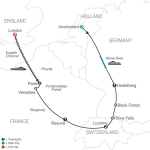 Like a Lazy Susan generously plated with cured herring, breaded schnitzel, rich fondue, and beef bourguignon, this aptly named European Sampler invites you to sink your teeth into four delectable countries and cultures. Designed to introduce you to the best of Holland, Germany, Switzerland, and France, this 9-day tour of Europe is an awakening for more than just your taste buds. All of your senses will perk up as you leisurely cruise along Amsterdam's bridge-covered canals, dreamily float down the romantic Rhine, and journey through Germany's picturesque Black Forest, Burgundy's rolling green vineyards, and the white-capped peaks of the Swiss Alps. Along the way, you can expect a heaped helping of cities and villages, castles and palaces, and hand-carved cuckoo clocks to enhance your time in the most flavorful regions of Europe.
2022:
July 30, Sept 17 $3919
Spet 24 $3869
Oct 8 $3779
2023: Book by Aug 31 for these rates:
April 22 $3563 May 6 $3491 May 20 27, June 3 $3628
June 17 $3580
July 1, 15 $3491 July 24 $3527
Aug 26 $3491 Sept 2 $3842 Sept 9 $3527
Sept 16, 23 $3842 Oct 7 $3707
---
Iconic Aegean with 4-Night Cruise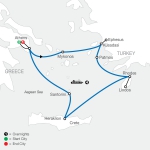 8 days Athens to Athens
Looking for a vacation to Greece that includes sightseeing, sailing, learning, lounging, discovering, and dancing? Eureka, this is it! Just as the Greek mathematician Archimedes supposedly shouted this exclamation after his great discovery, so will you as you float through the ancient ruins of Athens and then set sail for a 4-night Aegean Sea cruise to the historic coast of Turkey and the sunny Greek Isles. In between poolside chilling, you'll discover the hottest sights of the Greek Islands—the towering windmills of Mykonos, the fortress-lined Old Town of Rhodes, Crete's Bronze Age settlement of Knossos, and Santorini's serene whitewashed and blue-roofed villages. Get ready for ruins and resorts, baklava and beaches, and ouzo and oodles of fun on this relaxing land and cruise tour of gorgeous Greece.
7 breakfasts, 4 lunches, 4 dinners
2022:
Aug 27 $3431
Sept 3, 10, 17, 24 $3561
Oct 1, $3441 Oct 8 $3291
2023:
April 22 $2986
April 29, May 6, 13, 20, 27, June 3, 17, 24 $3166
July 1, 8, 15, 22, 29 $3166
Aug 5, 12, 19, 26 $3166
Sept 2, 9, 16, 23 $3328
Sept 30, Oct 7 $3085
Book by July 31, 2022
---
Stay in Melbourne & Cruise to Tasmania
with Johanne Dion & Don Belford
November 16 to December 10, 2022
THE PACKAGE INCLUDES:
• International flights in group class Calgary, Edmonton, Vancouver – Melbourne via Auckland round-trip
with Air New Zealand
• 1 piece of luggage of 23 kg included
• Meet and greet by our local representatives
• Group transfer from the Melbourne Airport to the hotel*
• 14-night accommodation in Melbourne at the Batman's Hill on Collins 4* in a Premier
Room King/Twin
• Group transfer without assistance from hotel to the Port of Melbourne*
• 7-night cruise in Tasmania in an interior cabin (IF) including all meals
• Group transfer with assistance from the Port of Melbourne to the hotel*
• 1 post-cruise night in Melbourne at the Batman's Hill on Collins 4* in a Premier Room
King/Twin including continental breakfast
• Group transfer without assistance from the port of Melbourne to the Melbourne
Airport*
From Vancouver $6099 per person
From Calgary or Edmonton $6499 per person
---
Rhine Getaway
8 Days | 6 Guided Tours | 4 Countries
Amsterdam to Basel or Basel to Amsterdam
$3,199 CAD All-Inclusive Cruise
plus FREE International Airfare
2023:
March $3799
April 3599
May $4399
June $4199
July $3899
August $3599
Sept $4399
Oct $4199
Nov $3199
Book with $25 deposit by July 15, 2022
---
Romantic Danube
8 Days | 5 Guided Tours | 3 Countries
Budapest to Regensburg or Regensburg to Budapest
From  $2,899 CAD All-Inclusive Cruise
plus FREE International Airfare
2023:
March $3199
April $3099
May $4399
June $4199
July $3599
August $3599
Sept $4699
Oct $4299
Nov $2899
Book with $25 deposit by July 15, 2022
---
Grand European Tour – River Cruise
15 Days | 12 Guided Tours | 4 Countries
Amsterdam to Budapest or Budapest to Amsterdam
$4,999 CAD All-Inclusive Cruise
plus FREE International Airfare
free air: Calgary, Edmonton, Ottawa, Toronto, Vancouver, Winnipeg
2023:
March $6899
April $6199
May $6899
June $6899
July $5999
August $5799
Sept $6499
Oct $6199
Nov $5599
Dec $5799
Book with $25 deposit by July 15, 2022
---
Scottish Outland Adventure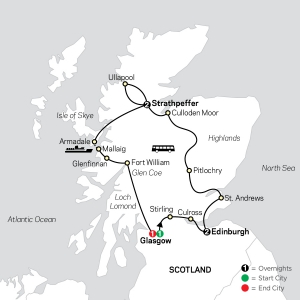 7 DAY TOUR FROM GLASGOW TO GLASGOW
.
2022:
July 31, Sept 11 $2089
July 3, 17, Aug 28 $1889
Sept 25 $1799
2023:
June 4, 18, July 2, 16, 30 $1889
Aug 13 $2119 Aug 27 $1889
Sept 10 $1889 Sept 24 $1799
details: https://www.sundialtravel.com/travel/scotland
---
Costa Rica Natural Wonders
11-day tour package of Costa Rica with flights! Be charmed by the tropical rainforests, natural hot springs, volcanoes, unspoiled beaches, and the abundant wildlife. An amazing slice of Nature!
Includes:
-Round-trip international flights between Canada / San José with good itineraries
-Greetings and transfers between the airport & the hotels
-10 nights hotel accommodations
-All breakfasts + 3 lunches + 2 dinners (15 meals)
-Transportation in deluxe vehicles with A/C
-English-speaking guides during the tours
-Visits and entrance fees as per itinerary
-Tortuguero National Park entrance fees
-All taxes
departing Calgary, Edmonton or Vancouver
2022:
Aug 14 $2798
Sept 11 $2598
Oct 3, Nov 20 $2498
2023:
Jan 15 $2598
Feb 19, Mar 19 April 16 $2698
May 21, Oct 22 $2598
Nov 26 $2698
---
Greek Island Escape
9 days/ 7 nights
3 nights in Athens at the Arethusa 3* hotel (or similar) in a standard room
• 4 nights in Paros at the Panorama 3* hotel (or similar) in a standard room
INCLUDES
-Round-trip international flights between Canada / Athens with good itineraries
-Greetings and transfers between the airport, the hotels, and the ports
-All the ferries between Athens and the islands as mentioned in the itinerary
-7 nights hotel accommodations
-All breakfasts
-All taxes
2022:
departing Vancouver, Edmonton or Vancouver
Oct 2, 9 $2498
Oct 16 $2298
2023:
April 9, 16, 23, 30 $2598
May 7, 14, 21, 28 $2598
June 4, 11, 18 $2698
July 2, 3, $2998
Aug 13 $2998
Sept 3, 10, 17, 24 $2698
Oct 1, 8, 15 $2598
---
Portugal River Cruise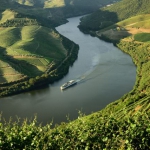 10-night all-inclusive River Cruise package on the Douro with flights! Explore lively Lisbon, charming Porto, and discover breathtaking landscapes while navigating the fascinating Douro.
PACKAGE INCLUDES:
International flights
Welcome & transfers
2 nights pre cruise in Lisbon
1 night post cruise in Porto
5 nights on the Douro
Inclusions:
-International flights between Canada,Lisbon and Porto
-Greetings and transfers between the airport, the hotel, and the port in Lisbon and Porto
-Transfer between Lisbon and Porto
-2 nights pre-cruise in Lisbon at the Miraparque 3* hotel with breakfast included
-1 night post-cruise in Porto at the Tryp Porto Centro 3* hotel with breakfast included
-5 nights on the Douro on the MS Gil Eanes or MS Amalia Rodriguez river cruise ship in a standard cabin
-all inclusive: All meals and drinks on board (including alcohol)
-Welcome cocktail and gala dinner on board
-Wifi internet on board
-All taxes & fees
2022:
 Oct 3
Calgary or Edmonton $3798
Vancouver $3598
2023:
Mar 30
Calgary or Edmonton $3798
Vancouver $3598
April 30, May 12, June 9
Calgary or Edmonton $3898
Vancouver $3698
July 28, Aug 25
Calgary or Edmonton $3698
Vancouver $3598
Oct 10
Calgary or Edmonton $3898
Vancouver $3698
---