River cruising is a wonderful way to explore the countryside. Sailing gently along as medieval castles float by your balcony.
A home away from home – a different port everyday for you to delve into the culture.  With great dining, exceptional service and immersive itineraries, river cruising is becoming very popular!
An AmaWaterways river cruise is about more than the destination – it's the journey. We invite you to take one of our European river cruises, Asia river cruises, or Africa river cruises and see the world in luxury and comfort.
River cruising through Europe with AmaWaterways is an excellent way to explore a destination. Discover local culture and sights on included tours, and then hop back on your luxurious river cruise ship and sail to the next stunning city or charming town. Included in the fares of our river cruises are shore excursions in every port of call; all dining on board (including The Chef's Table specialty restaurant); fine wine, beer and soft drinks with lunch and dinner; internet access and Wi-Fi; and bicycles that you can use to explore on your own or join our guided bike tours.
In Europe, you can take one of our Danube river cruises, or one of our Rhine river cruises. We also offer river cruises in France and Portugal. We hope that you enjoy exploring our many itineraries in Europe, Asia and Africa, and look forward to welcoming you aboard soon.
Book here:   https://www.amawaterways.ca/agent/sundialtravel/
Moselle River cruise
Explore the Moselle in more ways than ever on this Active & Discovery European cruise. You'll board your ship in Remich on the beautiful Moselle River. An excursion to historical Luxembourg City offers unique and dramatic views, as the town is set on two levels—high above on straddling hills and dropping into two river valleys. Alternatively, you can choose a canoe excursion on the Moselle or a visit to Schengen with a tasting of local products. Enjoy a guided walk in the charming wine village of Bernkastel and taste some of the region's best wines. Continue on the Moselle River to the picturesque town of Cochem where the Riesling grape is cultivated. Visit Reichsburg Castle, nestled among vineyards and offering breathtaking views of the town and river valley below. Next stop is ancient Koblenz, where you can enjoy a guided walk or visit a local brewery or adventure on a kayak excursion. Sail into the Rhine River to the quintessential Rhine valley town of Rüdesheim. Here visit the amazing Mechanical Musical Instruments Museum, and enjoy a stroll through the town's famous cobblestone Drosselgasse lined with shops, restaurants, and lively taverns. Your river cruise vacation ends in Frankfurt, where you may join a guided sightseeing tour of the city, or visit the Frankenstein castle, or take a bike tour along the riverbanks of the Main and Nidda Rivers.
7 day river cruise
2022:
May 7, July 16, Aug 20 $4531 $3881
June 11 $4655 $4005
Sept 24 $4717 $4067
Oct 3 $4593 $3943
Single supplement waived on these river cruises
Air from Toronto, Montreal, Ottawa, Vancouver or Calgary $499
Book with deposit by March 1, 2021
Mekong River Cruise
8 days Siem Reap to Ho Chi Minh City
Experience the beauty of both Cambodia and Vietnam during this eight-day river cruising journey. Take in Wat Phnom, the Grand Palace, the S21 Museum, and the Tra Su Bird Sanctuary and prepare to see things you'll never forget (but bring your camera anyway). Get a true taste of river cruising while visiting the Cai Be floating market and the fishing port of Kampong Chhnang, where you'll learn about fish farming, pottery, and sugar palm production. Opt for bikes, tuk tuks, or local boats to get around and see rice paddies, monasteries, and local businesses.
2021:
July 14, 28, Aug 25, Sept 22 $2167
Oct 8 $2379 Nov 19, Dec 17 $2575
2022:
Jan 14 $2396 Jan 28, Feb 11, March 11 $2575
March 25, April 8 $2379
Book with deposit by Feb 28, 2021
BURGUNDY RIVER CRUISE ADVENTURE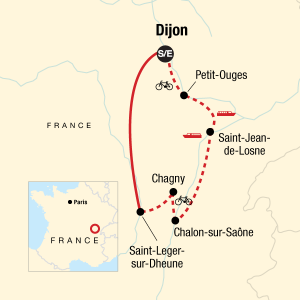 8 days, Dijon to Dijon
Blessed with some of the most gorgeous countryside in Europe, if not the world (not to mention perhaps the best wine around), Burgundy is a place everyone should explore at least once. And the best way to do it is from the deck of an ambling river barge. Visit small villages and first-rate wineries, bike through forests and vineyards on a provided bicycle, and soak up the glorious sunshine, all with the help of a charming little hotel that goes where you go. You won't get a better glimpse of Burgundy's pastoral pleasures than this.
2021:
May 21, June 4, 18, Oct 15 $3144
July 9 $2932
Sept 3, 10, 24 $3357
Book with deposit by Feb 28, 2021
AMAZON RIVERBOAT ADVENTURE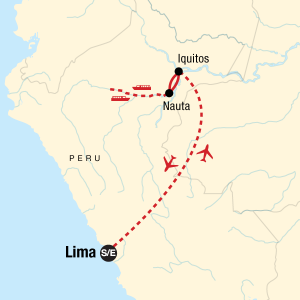 9 days, Lima to Lima
Hop aboard a riverboat and experience the Amazon in style. Led by an Amazon Reserve naturalist guide, your cruise will include daily excursions by motorized skiff designed to reveal the exotic wildlife that calls the rainforest home — with any luck you'll spot sloths, toucans, or pink dolphins! And, with plenty of time for exploration in Pacaya–Samiria National Reserve, you'll have the chance to experience the jungle up close. The cuisine on-board is regional and provides a unique and delicious window into local culture. Gain a rare glimpse of how life "on the river" is lived and experience the magic of the Amazon on this once-in-a-lifetime riverboat adventure.
2021:
April 3, 17, May 1, 15 $2736
June 12, 226, Aug 17 $2592
Sept 18 $2617
Sep 25, Oct 2, 30, Nov 13, 27 $2736
2022:
Jan 22, Feb 12, Mar 5, 19, April 2, 16, 30 May 14 $2736
June 4, 18 $2592
Book with deposit by Feb 28, 2021