River cruising is a wonderful way to explore the countryside. Sailing gently along as medieval castles float by your balcony.
A home away from home – a different port everyday for you to delve into the culture.  With great dining, exceptional service and immersive itineraries, river cruising is becoming very popular!
La Belle Seine RIVER CRUISE

Oct 29, 2019
From $4,599 (for 2) • 9 Days, 20 Meals • 2 for 1 sale
• Tour Giverny, Monet's home and gardens for more than 40 years.
• Visit the beaches of Normandy, the site of the courageous D-Day landings of World War II.
• View some of Paris' famous landmarks during a panoramic coach tour of the city.
Book the La Belle Seine tour, and your companion cruises for free**.
Immerse yourself in French culture and Parisian romance on a tranquil 7-night river cruise.
Offer only available on the October 29th sailing.
Space is limited, book by July 15, 2019.
AmaMagna August Wine Cruise
On August 4th, award-winning Caymus Vineyards and AmaWaterways—both family-owned and -operated companies known for quality and innovation—will share their passion for wine and the good life while sailing aboard  the AmaMagna, on the Melodies of the Danube river cruise.
CRUISE FROM : BUDAPEST TO VILSHOFEN
Let wine and song carry you along the melodious Danube—muse for musicians, artists and poets for centuries. Explore Prague, Vienna and Budapest, magnificent capital cities with storybook architecture and the tales to match. Visit Salzburg, the setting for the beloved film classic, "The Sound of Music," complete with a stop in Mondsee, home of the famed Basilica St. Michael where the movie's wedding scene was filmed. Indulge in the flavors of the region, from delicate, apricot-scented wines of Austria's Wachau Valley to the hearty Bavarian beer at a traditional Bavarian Oktoberfest in Vilshofen. Each bend and twist in the river affords new surprises just waiting for you to discover.
Itinerary Highlights
Two exclusive castle visits: Schloss Gobelsburg and Greinburg Castle
Tastings of Austria's famous Riesling and Grüner Veltliner varietals
Special food and wine pairing dinner led by Wine Host Janet Thomas
With five bars, four unique restaurants, an expansive Zen Wellness Studio and luxurious suites that include benefits like a mobile Wi-Fi device for use ashore, you will be treated to the ultimate river cruise journey on board AmaMagna.
August 4 to 11, 2019  from $4698 CDN
**port $215 CDN
**ADD 2 nights pre hotel in Budapest and 3 nights post in Prague for $1605 CDN per person
The Magic of Christmas Markets
CHRISTMAS TIME ON THE RHINE
CRYSTAL DEBUSSY – December 16, 2019
Ports: Basel, Switzerland; Strasbourg, France; Karlsruhe, Mannheim, Rüdesheim (overnight), Koblenz (overnight), Cologne (overnight), Germany; Amsterdam (overnight), Netherlands
7 nights from $2499 USD all inclusive luxury
MAGNIFICENT CHRISTMAS MARKETS
CRYSTAL MAHLER – December 1, 8, 15, 2019
Ports: Passau (overnight), Germany; Linz,
Vienna (overnight), Austria; Budapest (overnight), Hungary
7 nights from $2899 USD all inclusive luxury
DANUBE CHRISTMAS MARKETS
CRYSTAL RAVEL – December 11, 2019
Ports: Vienna (overnight), Melk, Linz (overnight), Austria; Passau (overnight), Vilshofen an der Donau, Germany; Krems, Austria; Bratislava, Slovakia; Vienna (overnight), Austria
10 nights from $3899 USD all inclusive luxury
Book with deposit by June 30, 2019
CLASSICAL RHINE RIVER CRUISE
Oct 21, 2019 from $2899 CAD    7 nights
HIGHLIGHTS: Basel | Strasbourg | Speyer | Mannheim | Rudesheim |
Koblenz | Cochem | Cologne | Hoorn | Amsterdam
INCLUDED:
• Cruise: seven nights sailing onboard MS Amadeus Silver II with meals
• Onboard lunches and dinners include quality red and white wines and
beer from Europe's famous regions, as well as coffee and tea
• Complimentary WiFi and bicycles onboard
• Cocktail reception
• Welcome dinner
• Captain's Gala dinner
• Excursion Package A
Culinary River Cruises through Europe
Enter a food-lover's paradise in the land of haute cuisine—France! Immerse yourself in the country's delectable flavours, decadent aromas, and delightful textures. Join the included Taste of Normandy excursion and visit the award-winning Domaine St. Hippolyte, a picturesque hillside cheese farm surrounded by a fragrant grove of apple trees. Here, you will be served a lovely lunch, with a tasting of cheeses produced right at the farm. On board, a pastry demonstration, special crêpes lunch, cheese & wine tasting, and food-and-wine-pairing dinner hosted by the Master of Wine will send your taste-buds into overdrive
A Culinary Experience in Burgundy & Provence
March 31, 2020 from $3259
**single supplement waived for this sailing
MELODIES OF THE DANUBE WINE CRUISE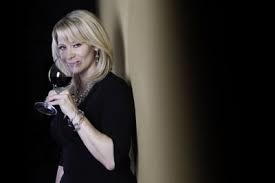 Rub elbows with TV host and wine expert Leslie Sbrocco as you sail the Danube River on a weeklong wine cruise that visits Budapest, Hungary; Vienna; and Prague, Czech Republic.
Hosted by Leslie Sbrocco, Wine Expert, Television Host and Award-winning author
An award-winning author, speaker, consultant, and television host, Leslie Sbrocco, is known for her entertaining approach to wine and food. Voted as one of the Top 20 most influential people in the American wine business by intowine.com, Sbrocco's engaging personality, humor, and ability to connect with the audience are her trademarks. Sbrocco's has written two award-winning wine books and is the host of the PBS television series Check Please! Bay Area, which has won a James Beard award and three Emmy awards in the span of 13 seasons. Leslie was a featured judge on the PBS national series, The Winemakers, and created wine content for the hit TBS show, Cougartown. She appears frequently on national radio and television outlets and is a regular guest on NBC's Today Show. Leslie is currently at work on the new national PBS television series entitled, 100 Days…100 Drinks, Dishes & Destinations. As one of the country's most sought-after wine speakers, Leslie has showcased her energetic style at hundreds of events including O magazine's Hi Gorgeous tour with Oprah Winfrey. She has been the keynote speaker at high-profile events including Food & Wine Magazine's Aspen Classic, the Boston Wine Expo, Pinot Noir New Zealand, Newport Mansions Wine & Food Festival and the Boardwalk Wine Promenade.
The November cruise will be aboard AmaWaterways' newest ship, the AmaMagna, which debuted in May and is twice the width of traditional river ships.
Sbrocco will lead a special itinerary, Melodies of the Danube Wine Cruise, that blends wine-related experiences and excursions in central Europe. It will include tours and tastings at wineries, vineyards and private cellars in Germany, Austria and Hungary.
Dates: Nov. 10-17, 2017 From $2,549 per person, double occupancy. Includes accommodations, transportation, meals, activities and sightseeing.
DANUBE SERENADE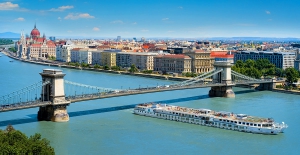 CRYSTAL MOZART – 5* all inclusive cruising
Let the spectacular Danube take your breath away with its beauty and serenity. You'll explore astonishing castles, timeless fortresses and scenic vineyards on an all-inclusive, 7-ni‌ght river cruise, with savings up to $1,400 per suite when booked by June ‌30, ‌2019. Crystal Mozart will mesmerize you and transport you into the heart of Europe's most storied landscapes. Europe's only all-suite river ships featuring king-sized beds and personal butler service in every suite.  Farm-to-table dining featuring Crystal's innovative and acclaimed Michelin-inspired cuisine. Unlimited fine wines, champagnes, premium spirits and beers.
Ports:
Vienna (overnight), Krems, Spitz, Linz, Melk, Austria; Bratislava, Slovakia; Budapest, Hungary (overnight)
INCLUDES up to $700 Book Now Savings per Guest
7 nights: July 13, 20, August 3, Oct 10, 28, Nov 4 or 18, 2019
$2050 USD per guest
Majestic Mekong Discoverer river cruise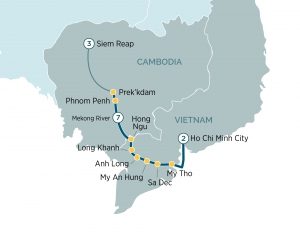 13 days Siem Reap to Ho Chi Minh City
From $5565 CDN per person* with FREE AIR
Your journey begins in Siem Reap, where early mornings and ancient architecture promise to be the perfect combination.
Your 7-night cruise includes visits to fascinating Angkor Wat and Angkor Thom.
Free air from: Calgary, Edmonton, Regina, Saskatoon, Winnipeg, Vancouver, Toronto, Ottawa, Montreal & Halifax
Oct 2 $6565 Oct 10, 16 $5565 Oct 30 $5765 Dec 11, 19, 25 $5565
Book by July  31, 2019
26 meals, 11 breakfasts, 6 lunches and 9 dinners included as well as wine and beer with lunch & dinner.
all transfers, wifi and gratuities included too!
Stay Fit aboard your River Cruise!
AmaWaterways features "Wellness Hosts," who teach morning and afternoon group classes in stretching, cardio/core strengthening and resistance band workouts on the Sun Deck, weather permitting. Other classes on select sailings may include yoga, Pilates, dance classes or circuit training.
Biking and hiking excursions are offered on several river cruise lines including AmaWaterways, Avalon Waterways, and Uniworld. Take one of the guided bike tours to local historic sites and villages for a scenic change of pace.
Eat Well.  Reenergize with gourmet, locally-sourced meals. Finding healthy fare is easy—including gluten-free, vegatarian, and other restricted-diet options.
Take advantage of one of the many spa treatments offered on board.
Take a dip! Many river cruise vessels have swimming pools, some indoors. It's a great way to unwind and relax after a walking tour in the port villages.
Appealing? Want to plan a river cruise for 2019 or 2020? I would love to make this happen for you.
Christmastime on the Rhine
5 Day River Cruise Basel to Wiesbaden Nov 30 to Dec 4, 2019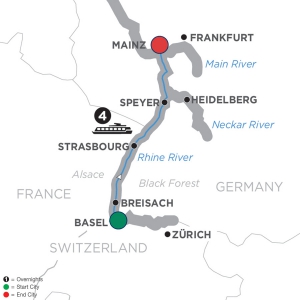 Panoramic Balcony suite for $2164 cdn p.p.
This Christmas river cruise begins in Switzerland and takes you down the Rhine River to France and Germany, with beautiful passing landscapes and quaint villages festively lit and decorated—a unique and unforgettable way to celebrate the season!
Board your ship in Basel, Switzerland, then stop in Breisach, considered the gateway to Germany's Black Forest. An area of unrivalled natural beauty, best known for Black Forest ham, cherry cake, and the cuckoo clock. There is no better setting than at this time of year when smoke curls from the chimneys of the traditional Black Forest houses. Strasbourg, France, located on the border with Germany, perfectly blends the cultures of both countries. The city is home to one of the oldest and finest Christmas markets in Europe—dating back to the 16th century. Take in the aromas of mulled wine, spice cakes, and biscuits. Bask in the holiday atmosphere as you visit Strasbourg Cathedral, a gothic masterpiece made of red sandstone, and containing ancient murals and fascinating astronomical clock.
You'll go on an excursion to Heidelberg, Germany, to visit the fascinating ruins of Heidelberg Castle, towering magnificently over the city. This time of year, an ice rink can be found at the foot of the castle and the Christmas market is spread over five town squares. Delight in the holiday cheer with Glühwein (hot mulled wine), bratwursts, and other regional delicacies. There's plenty of time to find just the right Christmas present amongst the array of crafts, Christmas decorations, and gifts before this magical European river cruise ends in Mainz, Germany.
Nov 30 to Dec 4, 2020 Panoramic Balcony $3007 cdn p.p.    SINGLE SUPPLEMENT WAIVED
Dec 11 to Dec 15, 2020 Panoramic Balcony $3029 cdn p.p.   SINGLE SUPPLEMENT WAIVED
Egypt, Nile River & Jordan
Discover ancient Egypt from its plentiful monuments, archaeological sites and recovered artefacts, but this is your opportunity to gain an understanding of what life was like for this early civilisation. Not forgetting just how important the Nile River was to the societies that lined its banks.
Enjoy this incredible journey onboard the contemporary and luxurious MS Hamees river ship will be your home during your four-night Nile River cruise from Luxor to Aswan. Elegant and thoughtful interior design plays host to spacious cabins, complete with private bathroom and excellent amenities, including a lounge bar and sun deck.
Fly Free on the 15 day itinerary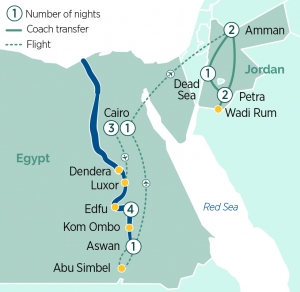 4 nights accommodation on-board MS Hamees
Cruise Director services throughout your cruise
28 meals including 14 breakfasts, 5 lunches, 9 dinners
2 drinks per guest with lunch and dinner on-board
17 included excursions with complimentary bottled water
5 activities, including home-hosted dinners in both Cairo and Amman
On-board entertainment
Tea & coffee facilities in all cabins
Airport transfers to and from your ship and hotels
Port taxes and charges
All tipping and gratuities
Sept 13 $8085 Oct 4 $8085 Nov 1, $7985 Jan 10, Feb 7, March 6 or April 3 2020 $8150 cdn per person   Fly Free on the 15 day itinerary 
Inclusions:
Visit to the Pyramids & Great Sphinx
Visit to the Egyptian Museum
Visit to the Khan-El-Khalili Market
Visit to the Monument of Queen Hatshepsut & Statues of Colossi of Memnon
Tour of vast open-air temple of Karnak
Cruise to Dendera & visit to Hathor Temple
Visit to Luxor Temple
Visit to the Esna Temple
Kom Ombo Temple
Visit to the Osiris Temple Complex of Philae
Felucca cruise on the Nile
Visit to Temples of Ramses II & Nefertari
City Tour of Amman
Visit to Mount Nebo
City Tour of Petra
Visit to Wadi Rum
Home-Hosted Cooking Demonstration & Dinner with Local Family
Nubian show on board of cruise
Visit to Nubian Village to meet Local School Children
Home-hosted Dinner with a Local Family in Amman
Walk Through a Local Market with Lunch & visit to the Ruins of Jerash
Walk Through a Local Market in Amman
10 day Egypt trip without the Jordan extention
Jan 10, Feb 7, March 6 or April 3 2020 $5445 cdn per person plus return airfare for $295 per person
TASTE OF THE DANUBE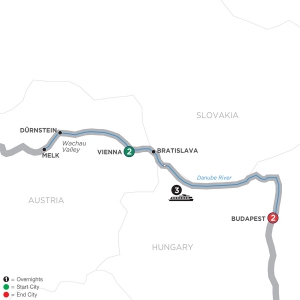 8 DAYS July 1 to 8, 2019 Panoramic Balcony $3089 cdn p.p.
Vienna to Budapest
Discover the fascinating and scenic Danube with its charming small towns and exciting cities on this European river cruise vacation. Begin with a guided sightseeing tour and a 2-night city stay in Vienna, the "City of Music." Savor Sachertorte in a local café, spend time in one of the many marvelous museums, shop along the Kärntnerstrasse, or stroll along the historic streets.
You'll board your ship and begin exploring the natural beauty of Austria's Wachau Valley. Enjoy the serene atmosphere as you glide along the river, passing quaint villages and scenic beauty of your Danube River cruise.
Visit Melk's impressive and breathtaking Benedictine Abbey, see Dürnstein's baroque Stiftskirche, and enjoy guided sightseeing in Slovakia's vibrant capital of Bratislava. Your journey concludes with two overnights in exciting Budapest, including guided sightseeing and time to explore on your own. Enjoy Hungarian cuisine, explore the famous produce market—Central Market Hall, wander around the former Royal Palace grounds, explore Budapest's famous churches, or just sit back and relax. It's all available on this grand vacation!
DANUBE DREAMS & DISCOVERIES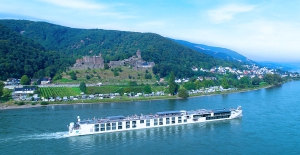 Ports:
Vienna, Austria; Esztergom, Budapest (overnight), Hungary; Bratislava, Slovakia; Krems, Melk, Linz, Vienna (overnight), Austria
AUG 2‌5, SEP ‌1, 1‌5, 2‌2, OCT 1‌3, 2‌0, 2‌7 $3810 usd p.p.
Europe's only all-suite river ships featuring king-sized beds and personal butler service in every suite
Farm-to-table dining featuring Crystal's innovative and acclaimed Michelin-inspired cuisine
Unlimited fine wines, champagnes, premium spirits and beers
Unmatched Complimentary Crystal Collection of Destination Experiences in each destination, and a Crystal Signature Event on every full itinerary
Twice as many staff per guest as the industry average, and all staff are Crystal employees
All gratuities, shipboard and shoreside included
Golf Cruise on the Danube
May 17 to 24, 2019 8 days $5685 CAD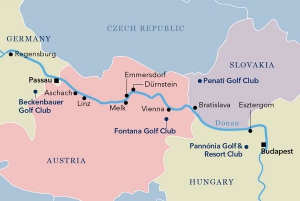 Enjoy the ultimate golf escape on our luxurious cruises, designed both for the hardcore golf enthusiast as well as holidaymakers for whom it is a secondary interest. Travel along the elegant Danube from Budapest to Passau, enjoying a stress-free golf vacation with exceptional service and great golf at some of Europe's most spectacular venues. This exceptional itinerary offer golf at four different courses, which are nestled amid stunning scenery, with guaranteed tee times, transportation, green fees, shared golf carts, culture, sightseeing and fine dining included.
For more info click here: Golf Cruise on the Danube (1)
GOLF CRUISE ON THE RHINE
Basel to Amsterdam August 13 to 20, 2019    $5687 cdn p.p.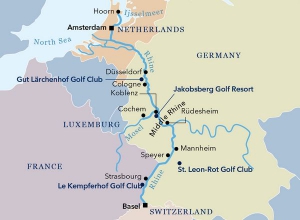 This exceptional itinerary offer golf at four different courses, which are nestled amid stunning scenery, with guaranteed tee times, transportation, green fees, shared golf carts, culture, sightseeing and fine dining included.
Throughout the cruise, enjoy the services and in-depth knowledge of our golf expert. With exciting golfing opportunities, breathtaking scenery and true Austrian hospitality, this cruise is sure to be unforgettable!
(Golf Program for a min. number of 20 participants and max. 45 participants) 
For more details click here………Golf cruise on the Rhine
Golf Cruise on the Seine
August 13  to 20, 2019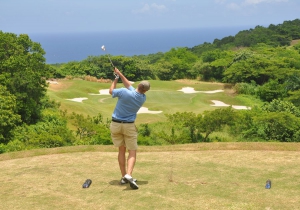 Enjoy the ultimate golf escape on our luxurious cruises, designed both for the hardcore golf enthusiast as well as holidaymakers for whom it is a secondary interest. Travel on the romantic Seine from Paris to Normandy and back, enjoying a stress-free golf vacation with exceptional service and great golf at some of Europe's most spectacular venues. This exceptional itinerary offer golf at four different courses, which are nestled amid stunning scenery, with guaranteed tee times, transportation, green fees, shared golf carts, culture, sightseeing and fine dining included.    For details click here…….Golf cruise on the Seine