Rome, Italy
Home to the Vatican and the former Roman Empire, the city of Rome is the site of thousands of years of world-shaping history. But even centuries after the empire's collapse, the city continues to be an international centre of culture, art, and religion. Tourists can visit Vatican City for its spiritual significance or purely for the beauty of its medieval and renaissance architecture. Either at you're their own pace or by one of the many tour groups available, visitors can experience the wonder of ancient Rome, as much of the city's historical development has been preserved and is open to the public. But as the capital city of Italy, Rome also features many modern shopping and fashion outlets. Regardless of what draws tourists to this beautiful city, it's guaranteed to leave them with a lasting impression.
---
---
---
Italy by Train
10 nights/ 12 days
Fly from Canada to Venice
Two nights Venice with breakfast daily
Venice to Florence three nights in Florence with breakfasts
Florence to La Spezia (Cinque Terre) – two nights with breakfasts
La Spezia to Rome – 3 nights in Rome with breakfasts
Fly home
Inclusions:
International flights
Transfers between the airport and the hotel in Venice and Rome
Train ticket between Venice / Florence / La Spezia / Rome in tourist class
2 days "Cinque Terre" card including unlimited train trips between La Spezia (Cinque Terre) and Levanto and more
10 nights hotel accommodations
All breakfasts
All taxes & fees
departing Calgary, Edmonton or Vancouver
Aug 6, 13, 20, 27, Spet 3, 10 $3179
Sept 17, 24, Oct 1, 8, 15, 22, 29, $3079
Nov 5, 12, 19, 26, De 3 $2579
Greece & Italy
16 days/14 nights
Calgary to Venice – two nights in Venice with breakfast daily
Train to Florence – two nights in Florence with breakfast daily
Train to Rome – 3 days at your leisure to visit Rome – breakfast daily
Fly to Athens – one night in Athens with breakfast
Ferry from Athens to Paros – 4 night in Paros with breakfasts
Ferry to Naxos – one night in Naxos with breakfast
Naxos to Athens with two nights in Athens with breakfast
Departing Calgary, Edmonton or Vancouver
2022:
Sept 25, Oct 2, 9 $3799
Explore Southern Sicily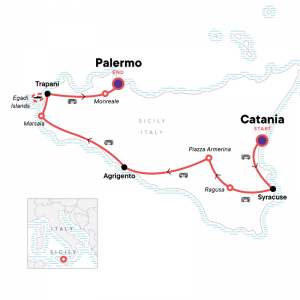 8 days Catania to Palermo
If you've ever written down "experience the best of Southern Sicily" on some sort of must-do list, this eight-day adventure will let you emphatically check that box. Featuring a Sicilian cooking class, ancient Roman mosaics, pristinely preserved Greek temples, Medieval towns, and so much more, the only thing this tour is missing (for now) is you.
2022:
Sept 3 $2132
Sept 17, Oct 1, 15, 29 $2069
ITALY FROM NORTH TO SOUTH
12-day Italy tour from the North to the South with flights! The best of Italy on this wonderful hassle-free, escorted tour. Discover Rome, Florence, Venice, and the Amalfi Coast. This is Wingbuddy's best-seller for Italy!
Round-trip international flights between Canada to Rome
-Greetings and transfers between the hotel and the airport in Rome
-All breakfasts + 4 lunches* + 4 dinners -18 meals
-Transportation in a deluxe motor coach
-English-speaking tour leader and local guides
-Visits and entrance fees
-Visit of St. Mark's Basilica in Venice with the "Skip the line" pass
-Visit of the Vatican Museums, Colosseum and Roman Forum in Rome with the "Skip the line" pass
-Visit of the archeological site of Pompeii with the "Skip the line" pass
-Headsets in Pompeii
-Round-trip ferry ticket between Sorrento and Capri*
-Boat tour of the Blue Grotto (weather permitting)*
-All taxes
4 nights in Rome
-2 nights in Florence
-2 nights in Venice
-2 nights in Sorrento
2022: Departing Calgary, Vancouver or Edmonton
July  21, 23, 28, 30 $3679
Aug 4, 6, 11, 13, 18, 20, 25, 27 $3679
Sept 1, 3, 8, 10, 15, 17, 22, 24, 29 $3679
Oct 1, 6, 8, 13, 15, 20 , 22, 27 $3679
ITALIAN ESCAPE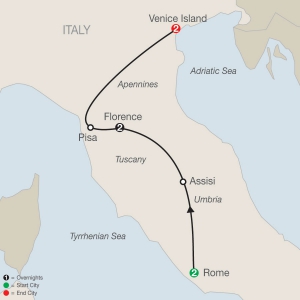 7 DAY TOUR FROM ROME TO VENICE
You've heard about Italy—its mouth-watering cuisine, excellent wine, fabulous art, splendid beauty, ancient ruins, and remarkable architecture—now it's your turn to experience it all! On this Italy escorted tour, get a taste of what the country has to offer and explore its most famous cities: Rome, Florence, and Venice. Have your camera ready as you discover the historical sights of Rome, including St. Peter's Basilica, the Vatican Museums, and the Sistine Chapel with its Michelangelo's world-famous ceiling paintings. Also visit the Colosseum, the ancient amphitheater used for deadly gladiator contests. Take a step back in time as you get up close to ancient buildings and ruins to imagine what life was like thousands of years ago.Enjoy a walk through the Old Town of Assisi, and visit the Basilica of St. Francis, before arriving in Florence, known as one of the most beautiful cities in the world and often referred to as the art capital of Italy. Here, enjoy a light lunch and a guided walking tour that includes a visit to see Michelangelo's famous David statue. Spend time shopping for local Florentine goods. In Pisa, marvel at the spectacular Square of Miracles with its world-famous Leaning Tower. In romantic Venice, a private boat ride awaits. Visit the must-see sights, such as St. Mark's Square and Basilica, the Doges' Palace, and the Bridge of Sighs. You'll also have time to explore the maze of streets and discover their hidden treasures. Or relax at an outdoor café in St. Mark's Square and enjoy this prime people-watching spot.
2022:
Nov 6, 13, 20, 27 Dec 4, 11 $1889
2023:
Jan 22, 29, Feb 5 $1749
Feb 12, 19, 26, March 5 $1889
March 12, 19, $1959
Prices are per person in single, double or triple room occupancy.
CORFU TRAIL HIKING HIGHLIGHTS – 7 days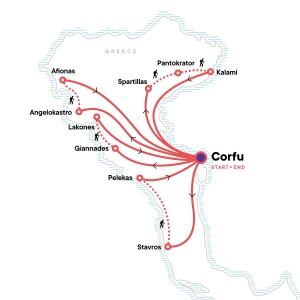 On this seven-day adventure, almost anyone can hike the best parts of the Corfu Trail. A series of day hikes from Corfu town lets you explore the many different landscapes to be found — from the coastal to the mountainous. You'll also trek through a traditional Greek village and visit a local cheesemaker, so bring your hiking boots as well as your appetite.
Highlights:
Guided hikes from Stavros to Pelekas Village, Giannades to Lakones Village, Angelokastro to Afionas Village, and Spartilas to the Northeast Coast
Visit Local Cheese Maker
Opportunity to visit both the beaches in the south and the mountainous region of the north!
Unpack only once! 6 Nights in "Arion Hotel" (or similar)
More useful information:
Customers can leave their luggage at the hotel and do not have to carry it when hiking. A daypack is sufficient.
Physical Rating 3/5: We have made the trip more accessible to a wider range of active travellers by taking out the hardest/steepest parts of the trail to keep the hikes rather flat!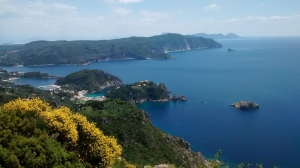 2022:
Sept 11, 25 $1419
Oct 9, 23 $1349
ITALIAN TREASURES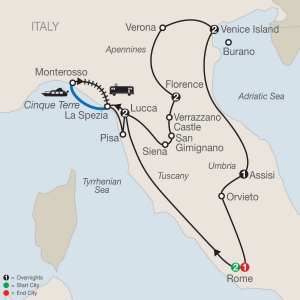 11 Day Tour from Rome to Rome
When you think of the ideal vacation to Italy, what comes to mind? Savoring the regional cuisine and sampling the local wine? Visiting the historical sites from the Roman Empire? Maybe it's seeing the architectural treasures, splendid artwork, and ornate churches with their religious artifacts. If so, all this and more are offered on this amazing Italy tour—with overnights in Rome, Lucca, Florence, Venice Island, and Assisi.
Food and wine connoisseurs will enjoy the visit to Verrazzano Castle. Located on a hilltop in the Chianti region, learn how the famous Chianti wine is made and sample some! History buffs will delight in visiting some of Italy's ancient sites, including the Colosseum, completed in the 1st century AD. Art fans will enjoy seeing Michelangelo's famous works, including the Sistine Chapel's ceiling paintings in Rome and his celebrated David in Florence. If you're interested in magnificent churches, you'll enjoy St. Peter's Basilica in Rome as well as St. Francis' Basilica in Assisi, where St. Francis is buried Visit Orvieto Cathedral, a great example of gothic architecture in Italy, and St. Mark's Basilica in Venice, one of the best examples of byzantine architecture.
As a special adventure, Globus has arranged an excursion to Cinque Terre, five small medieval villages on the Italian Riviera and today a UNESCO World Heritage Site. These are just a few of the many highlights on this remarkable tour to Italy's treasures. Food, wine, history, churches, art, an expert Tour Director and knowledgeable Local Guides—what more could you ask for in an Italy tour?
Headsets throughout the tour.
Free Wi-Fi available on your motorcoach and in most hotel lobbies.
2022:
July 21 $4829 July 28 $4349
Aug 4, 11 $4349 Aug 18 $4829 Agu 25 $4399
Sept 1, 8, 15, 22, 29 $4559
Oct 6 $5039 Oct 13 $4459 Oct 20 $4199
2023:
April 20, 27, May 4, 11, 18, 25 $4373
June 1 $4805 June 8, 15 $4616 June 29 $5039
July 6 $4247 July 13 $4184 July 20 $4616 July 27 $4184
Aug 3, 10 $4184 Aug 17 $4616 Aug 24 $4229 Aug 31 $4373
Sept 7, 14, 21, 28 $4373
Oct 5 $4805 Oct 12 $4283 Oct 19 $4049
ITALY'S GREAT CITIES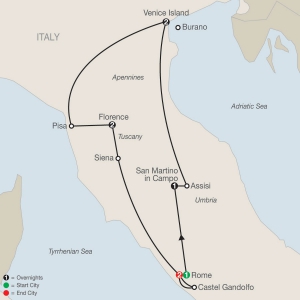 9 Day Tour from Rome to Rome
What do you want from your Italy tour—amazing architecture, sumptuous food, delicious wine, breathtaking art, historical treasures, and scenic beauty? Whatever it is, this Italy vacation offers it to you! You've seen photos of the Vatican and St. Peter's Square—now's your chance to stand in this square, where people gather to hear the Pope. You've heard about gladiator contests in ancient Rome—now's your opportunity to visit the Colosseum, where the contests took place. You know the most popular saint in Italy, St. Francis—now you get to visit his basilica, built over his tomb. You've seen photos of Michelangelo's famous David—now you can to see it yourself. You've heard of the famous Venetian glass—now watch a skilled glassblower fashion it in an age-old, traditional manner. You've seen photos of the Leaning Tower of Pisa—now's your chance to take a photo of yourself pushing back at it. And you may have heard about the world-famous Palio in Siena—now you will visit the Piazza del Campo where it is held. And a unique guided visit to the Papal Palace and Barberini Gardens in Castel Gandolfo has been included as well.
But that's not all… on this Italy tour, panoramic rides between cities will show you some of the country's most beautiful scenery: the flat Po area, the wooded Apennine mountain range, and Tuscany's Chianti wine country, with its vine- and olive-clad hills. Plus, Globus has arranged special experiences to give you a true local perspective, such as a dinner and overnight at a historic 17th-century hotel in San Martino in Campo, welcome and farewell dinners at local restaurants in Rome, and a taste of panforte and ricciarelli (local specialties) in Siena. These are just a few of the many highlights offered on this tour through Italy's great cities. It's the vacation of a lifetime!
Headsets throughout the tour.
Free Wi-Fi available on your motorcoach and in most hotel lobbies.
2022:
July 23 $3039
Aug 6 $4019 Aug 20 $3599
Sept 3, 17, Oct 1 $4029
Oct 15 $4349
2023:
April 1, 15 $3896 April 29 $4229
May 13 $3869 May 2 $4229
June 10 $3896 June 24 $3752
July 8 $3887 July 22 $3005
Aug 5 $3887 Aug 19 $3509
Sept 2, 16, 30 $3896
Oct 14 $4184