Choose To Cruise
A calm ocean breeze. Waves lapping along the boat's edge. A drink in your hand. That's the serenity aboard a cruise ship. Explore the world with all the comforts you could ask for. From dock to dock you can relax in the sun, meet new friends, take in some entertainment, or join the party—stopping only to see the fantastic sights of coastal cities around the world. Ship off and watch your worries shrink with the distant shore.
Maldives Dhoni Cruise
7 days Malé to Malé
Highlights include:
🏝 Discover turquoise lagoons, perfect beaches, and isolated sandbars
🏊‍♂ Swim and snorkel the vibrant coral reefs of the Indian Ocean
🎣 Explore small fishing villages
😋 Savour local cuisine – all meals included!
🥁 Experience a traditional drumming performance on Fulidhu
🏖 Moor at small beaches and peaceful harbours at night
🚤 Spend 6 nights on a modern dhoni boat
2022:
Oct 7, 21 $2259
Nov 4, 18, Dec 2, 16, 31 $2319
2023:
Jan 13, 27 Feb 10, 24, March 10, 24 $2319
April 7, 21 $2259
May 5, 19, June 2, 16, 30 $2199
July 14, 28, Aug 11, 25 $2259
Sept 8, 22 Oct 6, 20 $2259
Nov 3, 17, Dec 1, 15, 29 $2319
THIS IS WHY WE SAIL
We were born to voyage. For nearly 145 years, we've been introducing guests to new places and new cultures, and we've witnessed firsthand the transformative power of travel. We've seen how it opens minds, builds connections and fosters an appreciation of the shared humanity that unites us the world over. We invite you to join us for an unforgettable experience. Because travel is more than an itinerary, it has the power to change us and our world, journey by journey.
Polar Cruising
Explore Spitsbergen—the Wildlife Capital of the Arctic—one of the northernmost inhabited regions in the world, teeming with iconic Arctic wildlife and rugged unspoiled wilderness.
Windstar – Beyond Ordinary Care Program
At Windstar Cruises, the health and safety of everyone on board is a top priority. They are connected to industry experts and following guidelines by the regulatory authorities in every area of the world. Their team is implementing additional technologies that go beyond these requirements as part of our new Beyond Ordinary Care program. Windstar is making a multi-million dollar investment to it's fleet to provide a healthy environment while sailing on a Windstar yacht.
The Beyond Ordinary Care program is a multi-layered strategy with key hospital-grade elements: HEPA filters and UV-C ultraviolet germicidal irradiation to filter and disinfect the air, plus EvaClean with PurTab to sanitize all surfaces throughout the yacht. Additionally, Windstar has consulted with the epidemiology department at the University of Colorado's Anschutz Medical Center to investigate appropriate layers of protection to create a safer experience for guests on Windstar's yachts.
MSC GRANDIOSA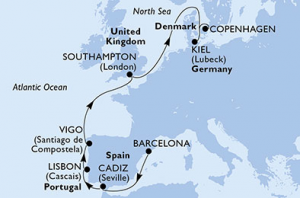 10 night sailing April 28, 2022
Per person rates including all drinks
Oceanview $1269
Balcony suite $1489
Suite $2119
Yacht club $3999
Taxes included
SAILING CROATIA – SPLIT TO DUBROVNIK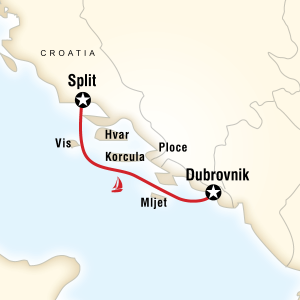 8 days, Split to Dubrovnik
Whether you're looking for relaxed afternoons lazing on the deck of a yacht or time to indulge in the nightlife, this eight-day sailing trip aims to please. Discover charming villages and stunning scenery as you sail from Split to Dubrovnik on a small yacht. Matchmaking won't be needed to help you fall in love with the country, culture, or the region's beauty during hikes to castles and waterfalls. Toss in beach barbecue and snorkelling and you have an incredible yet affordable island getaway.
2022:
Sept 3, 10, 17, 24 $1929
Oct 1, 8 $1799
Mekong River Cruise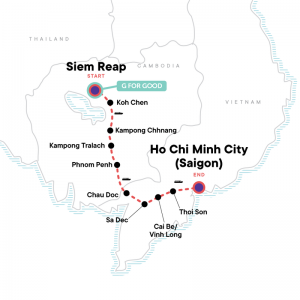 8 days Siem Reap to Ho Chi Minh City
Experience the beauty of both Cambodia and Vietnam during this eight-day river cruising journey. Take in Wat Phnom, the Grand Palace, the S21 Museum, and the Tra Su Bird Sanctuary and prepare to see things you'll never forget (but bring your camera anyway). Get a true taste of river cruising while visiting the Cai Be floating market and the fishing port of Kampong Chhnang, where you'll learn about fish farming, pottery, and sugar palm production. Opt for bikes, tuk tuks, or local boats to get around and see rice paddies, monasteries, and local businesses.
2022:
Oct 9 $2799
Nov 6, Dec 18, $3029
Sailing Greece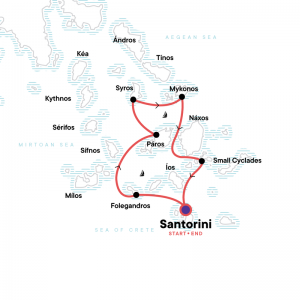 10 days Santorini to Santorini
A yacht adventure is the ideal way to experience what many consider the world's most beautiful islands in Greece. Sail aboard our 15m (52 ft) yachts, with time for hiking, snorkeling, and relaxing. Explore ancient archaeological sites and taverna-lined harbours, dine on fresh seafood and don't forget to try the Ouzo! This 10-day round trip from Santorini will give you the chance to explore some of the treasures of the Greek Islands.
2022:
Sept 4, 14$2329
Sept 24, Oct 4 $2149
Sailing Greece – Mykonos to Mykonos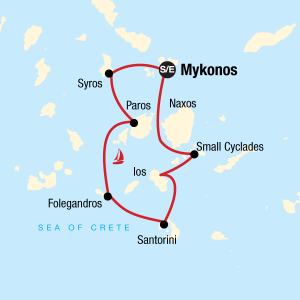 10 days, Mykonos to Mykonos
If we're describing what a true perfect circle looks like, there's no need to look much further , than the Cyclades, or "Circular Islands." Go where the weather (and your skipper) takes you, whether that's exploring ruins, stopping by a microbrewery for a taste, or relaxing on golden sands. See the famous windmills of Mykonos and sail through Santorini's caldera, all while enjoying the view from aboard our yacht along the way.
2022:
Aug 9, 19, 29 Sept 8 $2329  Sept 18, 28 $2149
Sailing St Lucia & The Grenadines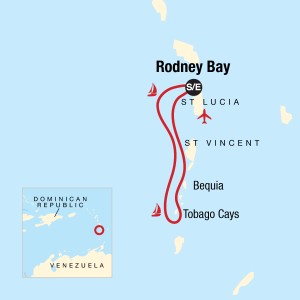 8 days
Rodney Bay to Rodney Bay
Go beyond the resorts and seek a better way for fun in the sun for an eight-day sailing through St Lucia and the Grenadines. Hop from hidden coves to secluded beaches with time in between for snorkelling (some of the Caribbean's best sites are