Ecotourism & Adventures
Not every adventure leads through urban centres. See the world in its natural state with ecotourism. Foster your appreciation for nature and your understanding of ecological sustainability by visiting lands untouched by urbanization and industrialization. Clean air, clear water, and a genuine connection with the earth can be found in many places, but only on the paths less traveled.
Hiking in Southern Iceland
6 days
Reykjavik to Reykjavik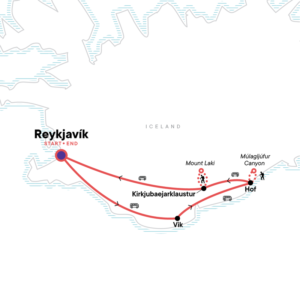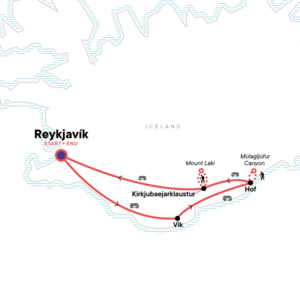 Iceland may appear small on the map, but in person its enormous and cinematic landscapes barely feel like Earth at all. Get outdoors and into the action on this six-day active adventure through some of the most epic scenery in the entire country. Hike to the bases of pounding waterfalls, breathtaking in their strength. Travel through landscapes filled with towering peaks, massive glaciers, sprawling icefields, black sand beaches, and wild fjords. Set off on some of the best hikes in the region through spots like Múlagljúfur Canyon, the Skaftafell Glacier, Mt. Laki, and Brennisteinsalda volcano where you can bathe in a natural hot pool. Start and finish the trip in weirdly wonderful Reykjavík and discover how the people lucky enough to call this place home live full-time.
2024:
Jun3 15, 22 $3059 Book either date by Nov 30, 2023
2024:
July 1, 10, 17, 24 $3599
Aug 6, 12, 18, 25 $3599
Sept 1, 9, 19, 26 $3399
Galapagos – Central & East Islands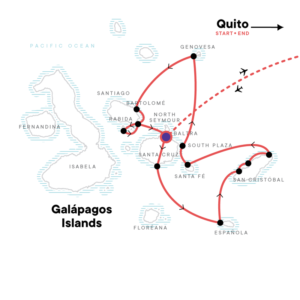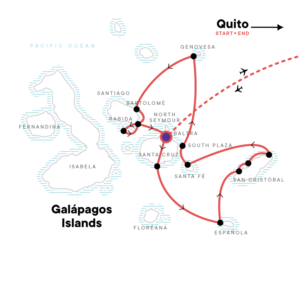 aboard the Reina Silvia Voyageur
10 days Quito to Quito
Once you visit these isolated Galápagos Islands that teem with an incredible diversity of marine and animal life, you'll understand what makes them so special. Embark on this eight-day sailing tour onboard the Reina Silvia Voyager, our custom-built catamaran, which offers comfortable accommodations always close by. While exploring the central and eastern Galápagos Islands, you'll witness the giant tortoises of Santa Cruz, spot marine life (including three types of boobies) on the volcanic landscapes of Punta Pitt, and hike along a saltwater lagoon on Rábida.
2023:
Mar 24 $8054 April 7 $8279
May 5, $8504 May 19 $8279
June 2 $7829 June 16, 30 $8054
July 14, 28 , Aug 11 $7428
Aug 25 $7220 Oct 20, Nov 3, 17 Dec 11 $7428
Dec 15 $7635
Book by Jan 31, 2023
GALÁPAGOS MULTISPORT WITH QUITO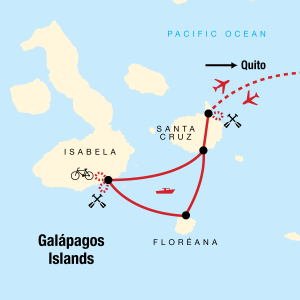 10 days, Quito to Quito
This adventure is perfect for those who want to experience the incredible wildlife and scenery of the Galápagos Islands but prefer to sleep on shore. Go ashore at the lesser-visited island of Isabela and spend your days with playful sea lions, giant manta rays, and the Galápagos giant tortoise. This adventure offers a great balance of guided excursions and free time, with optional activities abound.
2023:
Jan 21 $3187
March 11, 25, April 8, 15, 22 $3382
May 6, 13, 20 $3581
June 1, 10, 17 $3482
Book by Dec 7, 2022
Costa Rica Active Adventure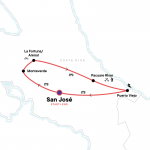 13 days San José to San José
Trekking, biking, horseback riding, kayaking, ziplining. Costa Rica really is the "Adventure Capital of the Americas." Thrill-seekers will find more than enough to keep themselves busy over this trip's 13 action-packed days. After landing in San José, embark on four days of exploration around Monteverde and Arenal Volcano. Raft down the mighty Pacuare River before crossing over to our remote rainforest lodge, surrounded on all sides by the thick, enveloping jungle. End the journey by heading down to the beach at Puerto Viejo
2023:
Dec 30 $2159  Book this date by Nov 30, 2023
2024:
Jan 6, 13, 20, 27 $2699
Feb 3, 10, 17, 24 $2699
March 9, 16, 23, 30 $2699
April 6, 13, 20, 27 $2599
Costa Rica Adventure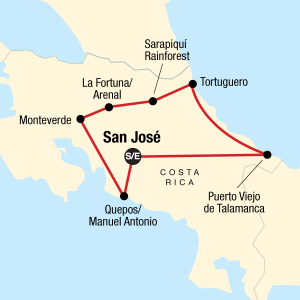 16 days
San José to San José
If you're looking for a taste of Costa Rica's world-class highlights but want to keep things spicy with a sampling of hidden treasures, this action-packed adventure tops the menu. In spite of its small size, Costa Rica is one of the most biologically diverse countries in the world with volcanoes, wildlife, rainforests, and beaches to explore. This adventure offers a great balance of guided excursions and free time. Optional activities abound — choose to get your adrenaline pumping or take it easy with a stroll through a butterfly garden.
2024:
January: Mon, Wed, Thurs, Sat $2799
Feb: Mon. Wedn, Thurs, Sat $2629
Mar: Sun, Tues, Thurs, Frid $2629
April: Sun, Tues, Fri $2249
May Sun, Fri $2249
June: Sun $2249
Costa Rica Quest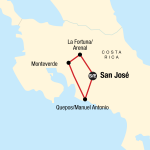 9 days San José to San José
Nature called you to Costa Rica — now here you are, suspended in the jungle canopy, locking eyes with a curious monkey. This action-packed tour of Costa Rica's highlights is perfect for the adventurer with limited time who wants to explore the region's diversity. Get your adrenaline pumping, follow a trail to the base of a waterfall, melt away in thermal springs, or relax on a beach — your guide will help you find the secluded spots only the locals know.
Soak in the thermal hot springs of Arenal Volcano
Search for the elusive quetzal bird in the cloud forest
Watch the sunset over the Pacific
Learn about sugar cane and coffee production at a local planta
2024:
May: Sundays, Mondays, Wednesdays Fridays $1304
June 1, 4, 8, 13, 15, 21. 22. 27, 29 $1304
Book by Nov 30, 2023
2023:
Nov 30 $1599
Dec 4, 7, 9, 11, 14, 16, 17 19 20, 21, 23, 24, 29 30 $1699
2024:
Jan: Sundays, Monday Thursdays and Saturdays $1749
Feb: Thursday, Friday, Saturday, Sunday, Monday, Wednesday $1639
March: Sunday Monday Tuesday, Thursday, Friday, Saturday $1749
April: Monday, Wednesday, Thursday, Saturday $1749
Galapagos with Quito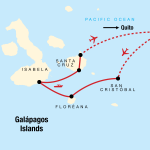 10 days Quito to Papallacta
Strike a balance between genuine encounters with Mother Nature and the comfort of land accommodations on this 10-day Galápagos tour. Explore Ecuador's capital, Quito, on your own before hopping on a flight to the Galápagos Islands where an incredible diversity in wildlife awaits. Spot blue-footed boobies on Isla Lobos, visit a sea lion nursery, and go birdwatching in the highlands of Floreana. With upgraded hotels and private speedboat transfers, you'll be well-rested and ready to take in the unique splendour that these islands offer.
Encounter marine iguanas and blue-footed boobies
Snorkel among volcanic formations
Dip into the Papallacta hot springs
Walk on the black-sand beaches of Floreana Island
Visit the Giant Tortoise Breeding Centre
Dine at community restaurants
2023:
March 4, 6, 9, 11,