Active Travel
If the thought of a week of sun, sea and sand on your summer holiday bores you to tears, you'll love these action-packed adventure holidays. Walking and cycling tours that take in awe-inspiring scenery and breath-taking wildlife encounters are featured here.
Whether you want a challenge to test your physical and mental strength or simply want a once-in-a-lifetime experience that you'll never forget, we've got it all and then some.
Sport Travel
Hear the roar of the crowd, lights shining overhead. Experience the world's greatest and most competitive sporting events. The Olympic Games, the F1 Grand Prix, and the FIFA World Cup are just a few of the events that attract sports fans from around the world. Be a part of the action with a sports getaway for you and your friends.
Or would you rather be the action? Take your game to the next level and become an international player. World-class golf courses, renowned mountain slopes, and rivers that rush along exotic landscapes. No matter how hard you compete, new challenges are out there, waiting to be tackled. Get your team together and get ready to play.
GALÁPAGOS MULTISPORT WITH QUITO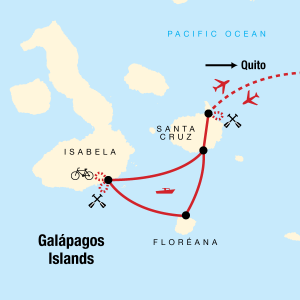 10 days, Quito to Quito
This adventure is perfect for those who want to experience the incredible wildlife and scenery of the Galápagos Islands but prefer to sleep on shore. Go ashore at the lesser-visited island of Isabela and spend your days with playful sea lions, giant manta rays, and the Galápagos giant tortoise. This adventure offers a great balance of guided excursions and free time, with optional activities abound.
2021:
Aug 14 $3213
Spet 11 $3119
Oct 23 $2847
Nov 20, 27, Dec 11, 18, 25 $3119
2022:
Jan 1, 29, Feb 12, 26 $3017
March 12, 26, April 9, 23 May 7, 21 $3212
June 4, 18 $3119
Book by June 30, 2021
Biking Cuba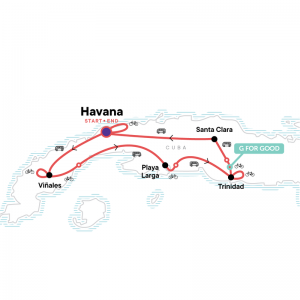 8 days Havana to Havana
Two wheels are better than four (or more) when it comes to exploring the Caribbean nation of Cuba. This eight-day active tour leads you along some of the nation's most scenic sights and routes. Cycle through the Garden Province of Pinar del Río, passing famous mogotes (limestone pincushion hills) of the region, see the historic Cueva de los Portales used by Che Guevara, and venture along the Ancón peninsula coastline. Your time relaxing or swimming on the beaches of Playa Ancón will be well-earned by this point.
2021:
Nov 13 Dec 11 $1461
2022:
Jan 8, 12 $1461
Mar 12, April 2, Apr 2 $1359
The Lares Trek with One-Day Inca Trail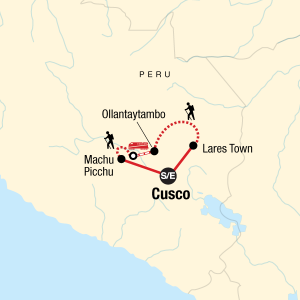 8 days, Cusco to Cusco
Embark on an incredible eight-day exploration through Peru's Lares trek with a taste of the iconic Inca Trail. Take a guided tour through the Sacred Valley, stopping at a women's weaving co-op before beginning your hike. The Lares Trek might not be as touristy but it's no less breathtaking with scenic views of lagoons, the snow-capped Chicon Mountain, Andean flora, and opportunities to meet local Quechua people along the way. A guided tour through Machu Picchu at sunrise, the best time to see the Lost City of the Incas, is a suitably stunning way to conclude your adventure.
2021:
Aug 2, 9, 14, 23, 28 $1504
Sept 4, 6, 13, 20, 27, Oct 2, 16 30, Dec 11, 18 $1470
Nov 6, 20, 27 26 $1427
2022:
Jan 1, 8, 15, 22 $1427
March 5, 19, April 2, 16, 30, May 14 28 $1470
June 11, 25 $1504
MT KILIMANJARO TREK – Marangu  route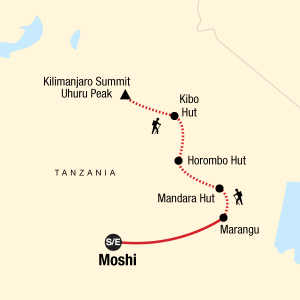 8 days, Moshi to Moshi
At 5,895m (19,340 ft), Mt Kilimanjaro is Africa's highest peak and this adventure along the Marangu Route will get you to the top safely, quickly, and with your budget in mind. Overnight in mountain huts and awake ready to conquer the slopes. Affectionately known as the Coca-Cola Route due to its popularity, Marangu covers forests, moorlands, and the Saddle (a high-altitude desert), on its way to Kibo Hut. This is the quickest route to the summit — with a catch: The trail is well-maintained but because of the quick ascent, the success rate is not as high as other routes. Local guides, cooks, and porters will provide support during your trek and at mountain huts along the way.
2021:
Aug 1, 22, Sept 5, 19 $2490
Oct 3, Nov 21, Dec 19 $2583
2022:
Jan 23 $2490 Feb 20, Mar 13 $2583
May 22, June 5, 19 $2490
HIKING CRETE: GORGES & COASTAL WALKS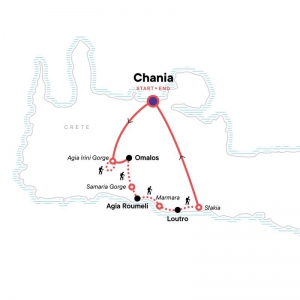 7 days Chania to Chania
If you like the feel of being transported to another world, you'll feel right at home on this hiking tour of the rocky landscapes of Crete. Get your trekking fill in the Samaria Gorge, the White Mountains, and parts of the southern coast before exploring local towns only accessible by foot or boat. Topped off with a delicious meal prepared by a local family, this Greek adventure will taste, look, and feel out of this world.
What's included?
Guided hikes to Agia Irini Gorge, Samaria Gorge, St Pavlos and Marmara, Loutro, and Sfakia
Dinner and Greek Dancing with Local Cretan Family, Loutro
All transport between destinations and to/from included activities
Local Guide Throughout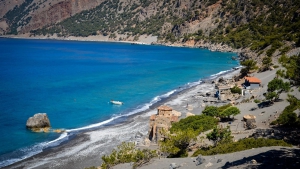 2021:
Sept 5, 26 Oct 10 $1189
2022:
May 8, 22, June 12, 26 $1189


CORFU TRAIL HIKING HIGHLIGHTS – 7 days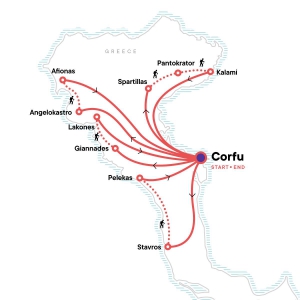 On this seven-day adventure, almost anyone can hike the best parts of the Corfu Trail. A series of day hikes from Corfu town lets you explore the many different landscapes to be found — from the coastal to the mountainous. You'll also trek through a traditional Greek village and visit a local cheesemaker, so bring your hiking boots as well as your appetite.
Highlights:
Guided hikes from Stavros to Pelekas Village, Giannades to Lakones Village, Angelokastro to Afionas Village, and Spartilas to the Northeast Coast
Visit Local Cheese Maker
Opportunity to visit both the beaches in the south and the mountainous region of the north!
Unpack only once! 6 Nights in "Arion Hotel" (or similar)
More useful information:
Customers can leave their luggage at the hotel and do not have to carry it when hiking. A daypack is sufficient.
Physical Rating 3/5: We have made the trip more accessible to a wider range of active travellers by taking out the hardest/steepest parts of the trail to keep the hikes rather flat!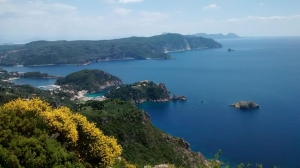 2021:
Sept 12, 26 $1206
Oct 10, 24 $1147
2022:
April 3 $1147
May 8, 22, June 12, 26 $1206
Hiking East Greenland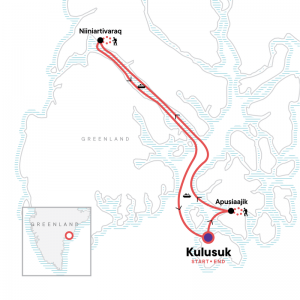 5 days Kulusuk to Kulusuk
When someone says "incredible hiking adventure" East Greenland probably doesn't immediately come to mind. This five-day tour will 100% change that. Trek and camp your way across this rugged land's spectacular mountains, glaciers, and valleys, discovering the region's storied culture and fascinating wildlife along the way.
2021:
July 23 or Aug 20 $2719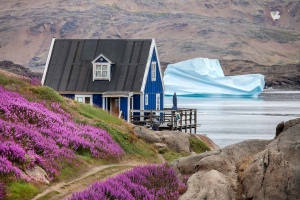 Colombia & Lost City Trekking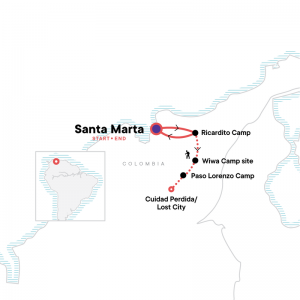 Everyone wants to visit an undiscovered region before it becomes a hotbed of tourism. Trek the Ciudad Perdida (Lost City) at Teyuna, and have that wish come true. Get firsthand knowledge of the area's unique culture with an Indigenous guide and an English-speaking CEO accompanying you the entire way. Trek through lush jungles and across streams. Arrive at Teyuna and explore the uncrowded ruins at leisure, marveling at what would have been here in years gone by. Say you got here first and had the Lost City all to yourself.
2021:
Aug 15, 22 $765
Oct 3, 10, 31, Nov 14, 28 Dec 12 $705
Dec 26 $798
2022:
Jan 2, 9, 30, Feb 13, 27, Mar 13, 27 $798
April 10, 24, May 8, 22 June 5, 19 $764
Hiking the Canary Islands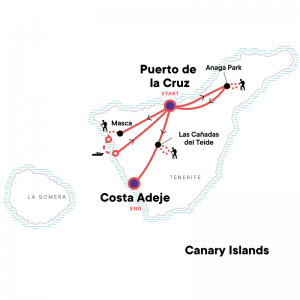 6 days Puerto de la Cruz to Costa Adeje
Like to work up a sweat while you explore the world? This tour of the Canary Islands is a gold mine. Brush through the leafy forests of Anaga, explore Tenerife Island, hike through the Barranca Canyon and Las Cañadas del Tiede, and then kick back for boat rides, wine tasting, and beach time.
**Explore the island of Tenerife
**Hike Anaga's leafy laurisilva forests
**Gaze out on the Mars-like landscape of Las Caãdas del Tiede
**Bask in free time on the gold sand beaches of Costa Adeje
**Boat through the Los Gigantes cliffs
2021:
Sept 24, Oct 8, Nov 12 $1291
Dec 17, $1359
2022:
Jan 7, 21, Feb 4, 18, March 4, 18, April 1, $1232
May 6, 20, June 3, 17 $1232
THAILAND HIKE, BIKE & KAYAK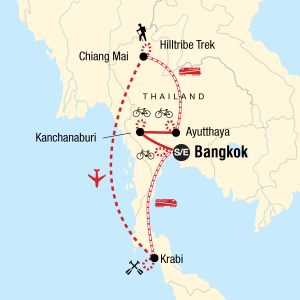 14 days, Bangkok to Bangkok
Perfect for those who believe the best way to appreciate paradise is by jumping right into it. This adventure will have you hiking through forests and rice paddies, cycling through provincial villages, and experiencing Thailand's intriguing combination of culture and the great outdoors. Kayak the turquoise waters of the Andaman and discover coral coves and white-sand beaches. With the services of a Chief Experience Officer (CEO) and your accommodation and transport taken care of, this trip offers great value as it introduces the main sights of Thailand while offering up plenty of flexibility so you can experience an adventure you'll never forget.
2022:
Jan 8, Feb 5 $2339
March 5, June 11 $2249
April 16, May 14 $2149  July 9, Nov 5, 19, Dec 17 $2339
Mont Blanc Explorer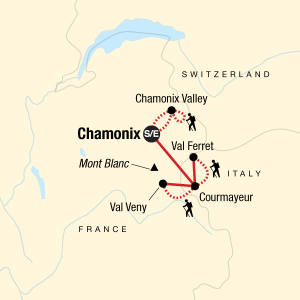 8 days
Chamonix to Chamonix
The French call her "La Dame Blanche." To Italians, she's "Il Bianco." And to all who set out to tame her, she is known simply as "The Big One." Towering above the already towering Alps, Mont Blanc commands respect. This trip puts committed travellers with excellent fitness on intimate terms with the ceiling of Europe, rewarding all-comers with strolls through quaint alpine villages, hearty dinners, relaxing spa visits, and some of the most jaw-droppingly beautiful mountain scenery you'll ever see. Prepare to be challenged, awestruck, and amazed.
Marvel at Mont Blanc massif from France and Italy
Hike along stunning Alpine trails
Spend evenings relaxing in quaint villages
2021:
Sept 4 $1614
July 3, 10, 24, Aug 7, 14, 21 $1699
PATAGONIA HIKING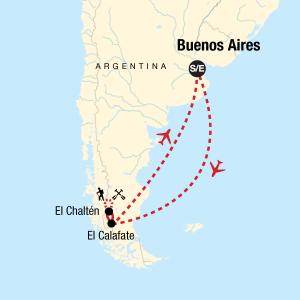 9 days, Buenos Aires to Buenos Aires
As a destination for active travellers, Patagonia is nothing short of iconic. The very best way to do this South American region justice is to hike all over it. Trek through the crisp air of El Chaltén (with its crazy beautiful Cerro Torre mountain) and then to the area near the imposing Perito Moreno Glacier. In between, marvel at the giant sky, vast views, and big city appeal of Buenos Aires while you revel in a sense of personal triumph. Patagonia's ready and waiting for you.
2021:
Oct 9, 16, 23, 27 $2515
Nov 9, 10, 13, 20, 23, Dec 4, 8, 18, 28 $2379
Book before April 30, 2021
Walk the Camino de Santiago, Spain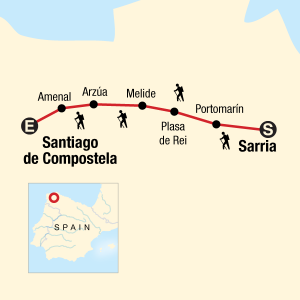 If you're looking to take on your own pilgrimage — along a route filled with beautiful countryside and rustic villages of Northern Spain — start here, at the Camino de Santiago. On this eight-day trip, complete the last 100 km of the pilgrimage route to Santiago and receive a "compostela" at the finish to prove your accomplishment. Refuel with tasty Spanish food and take the time to stop and smell the flowers — it's active but at a slower, more picturesque pace.
Complete the last 100km of the pilgrim's trail and receive your "compostela"
Walk through small villages and towns
Enjoy hearty and delicious Spanish food
Walk into the cathedral in Santiago de Compostela
8 days
2021:
Aug 15, 29 $1399
Sept 5, 14, 19, 21, 28 $1649
Oct 3, 10 $1599
Trek Hidden Costa Rica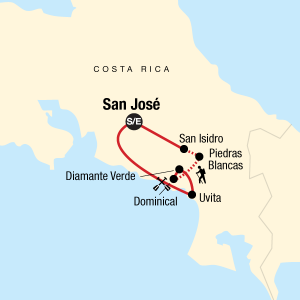 Think you know Costa Rica? Trade in the same old settings for the real deal. Trek into the heart of the jungle to live with three families in a remote village. Discover the emerald core of a diverse land while bunking down behind a massive waterfall in a hidden cave. Learn about the medicinal plants native to these parts and how to make sugar cane candy. This is a spectacular country with opportunities for waterfall rappelling, surfing, and whitewater rafting. This is what adventure is all about.
12 days San José to San José
Prices are per person in single, double or triple room occupancy.
2022:
Jan 8, 22 Feb 5, 19 March 5, 19 $1954
April 9, 23 $1844
May 14, June 11, $1742
Trekking Mont Blanc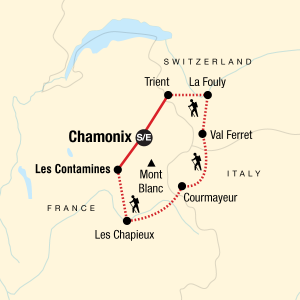 10 days Chamonix to Chamonix
Experience the rarified air of Europe as you trek the Alps from France to Italy and Switzerland along the Tour du Mont Blanc. This challenging hiking circuit will reward you with mesmerizing views of glaciers, steep valleys, and, of course, Mont Blanc itself. Travel across high passes and through Alpine meadows, recharging at night with delicious mountain cuisine in simple refuges. Challenge yourself to conquer one of the world's premiere hiking routes, uncovering the alpine heart of Europe on this incredible active adventure.

2021:
 Aug 1, 2, 5, 9, 12, 14, 16, 19, 20 $1937
Aug 23, 27, 30 $1835
Aug 31, Sept 3, 5, 6 $1784
Trekking Inca Trail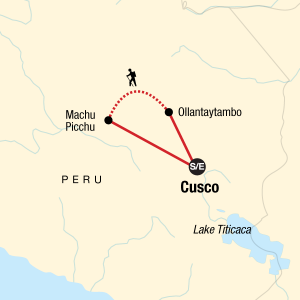 Peru's ancient Inca Trail is one of the country's most revered, yet challenging, treks to accomplish. Are you up for the challenge? This five-day tour gets you from Cusco to the jaw-dropping site of Machu Picchu, passing Inca ruins, stunning mountain vistas, and rambling rivers along the way. An experienced team of guides, cooks, and porters ensures you can focus on the path ahead and the views that await you.
5 days/4 nights
2021:
Aug $1199
Sept, Oct $1149 Nov $1069 Dec 1159
2022:
January $1099 Feb 28 $1099
Inca Discovery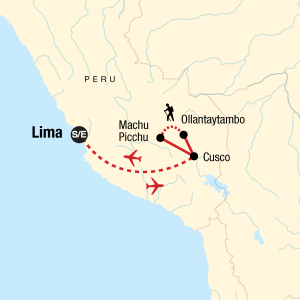 8 days
Lima to Cusco
Perfect for those looking to experience the region's archaeological and cultural treasures in a short amount of time, this adventure includes a four-day trek along the Inca Trail. This is one of the world's best-known hikes and will reward those willing to break a sweat with a stunning combination of mountainscapes, cloud forests, and jungles. We run our own treks, which ensures the fair treatment of our porters and quality equipment.
8 days 
2021:
Aug $1899
Sept, Oct $1829 Nov $1649 Dec $1829
2022:
Jan, Feb $1759
March April, May $1829
June, July, Aug $1899
Sept, Oct $1829
Nov $1759 Dec $1829
The Best of the Dolomites: Hiking & Gourmet
Experience the best of the Dolomites, hike amid glorious landscapes, enjoy luxury hotels, gourmet cuisine, professional mountain guides and exclusive service.
You'll visit some of the most incredible areas in the Dolomite Mountains, the chic town of Cortina d'Ampezzo, the impressive peaks at the Tre Cime di Lavaredo, you'll explore two natural parks and absorb the rich history of the 'Ladin' culture.
Complement the hiking with incredible traditional Italian cuisine and delicious gourmet dishes at a Michelin-star restaurant
Free Wi-Fi in every property
Upgrade upon availability, early check-in, late check-out upon availability
Cost per person starting at €2,990 – Guided.  Call us for more information.