Active Travel
If the thought of a week of sun, sea and sand on your summer holiday bores you to tears, you'll love these action-packed adventure holidays. Walking and cycling tours that take in awe-inspiring scenery and breath-taking wildlife encounters are featured here.
Whether you want a challenge to test your physical and mental strength or simply want a once-in-a-lifetime experience that you'll never forget, we've got it all and then some.
Sport Travel
Hear the roar of the crowd, lights shining overhead. Experience the world's greatest and most competitive sporting events. The Olympic Games, the F1 Grand Prix, and the FIFA World Cup are just a few of the events that attract sports fans from around the world. Be a part of the action with a sports getaway for you and your friends.
Or would you rather be the action? Take your game to the next level and become an international player. World-class golf courses, renowned mountain slopes, and rivers that rush along exotic landscapes. No matter how hard you compete, new challenges are out there, waiting to be tackled. Get your team together and get ready to play.
GALÁPAGOS MULTISPORT WITH QUITO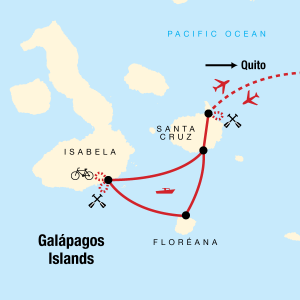 10 days, Quito to Quito
This adventure is perfect for those who want to experience the incredible wildlife and scenery of the Galápagos Islands but prefer to sleep on shore. Go ashore at the lesser-visited island of Isabela and spend your days with playful sea lions, giant manta rays, and the Galápagos giant tortoise. This adventure offers a great balance of guided excursions and free time, with optional activities abound.
2020: April 18, 25 May 2, 16, 23 July 4, 11, 18, 25 Aug 1, 15, 22 $2775
June 6, 20, 27 Sept 12, 26 $2729
Oct 24 $2679
Book by Jan 31, 2020
BHUTAN TREKKING – THE DRUK PATH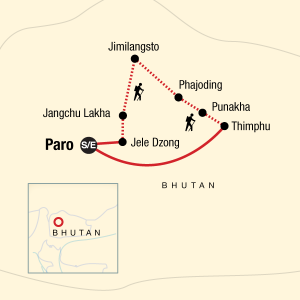 11 days, Paro to Paro
Where else but the happiest country in the world could you trek among the Himalayas, smiling the whole time at the sheer beauty of the temples and landscapes around you? This active tour will get you out and about to visit some of the most gorgeous temples and monasteries in this part of the world. Trek sacred mountain passes of the celebrated Druk Path, ascend to the profound Taktshang Monastary (Tiger's Nest), and explore the unique beauty of the city of Paro. Bhutan is the only place in the world just waiting for you to walk all over its happiness.
Feb 22 $3039
March 22, April 5, 19, May 3 $3229
Book by Jan 31, 2020
Cycling in Tuscany
7 days Rome to Chianciano Terme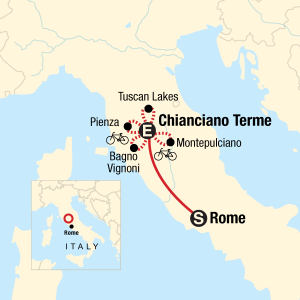 What better way to experience the beauty of Tuscany than from the seat of a bike? A mixture of on- and off-road biking awaits on a ride through some of the most gorgeous, yet challenging countryside you'll find anywhere. Explore beautiful hill towns, stunning lakes, and have the option to soak in thermal hot springs. When you are not riding, take in the view of the rolling Tuscan hills from your hotel rooftop and relax with a glass of wine.
May 10, Oct 11, 25 $1572
June 7, 28, July 12, Aug 9, 23 Sep 6 $1614
Book by Jan 31, 2020
AMAZON TO THE ANDES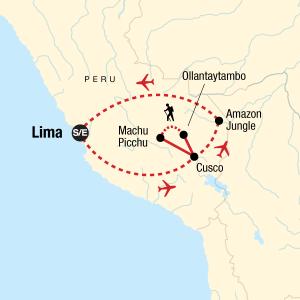 12 days, Lima to Lima
This adventure offers up an intriguing combination of beauty and contrasts in scenery, wildlife, and cultures, whether you're scanning the canopy for wildlife from the comfort of our intimate and exclusive G Lodge Amazon or climbing the ancient trail of the Incas to Machu Picchu, situated in the heavens of the Americas. Because we run our own treks, we can ensure the fair treatment of our porters and the quality of food and equipment which leaves you free to enjoy the beauty of the region.
January departures $2549
Feb 1, 15, 27, 28, 29 $2549
March, Sept, Oct departures $2634
April 2, 3, 9, 10, 12, 15, 16, 17, 19, 20, 30 $2634
May 10, 13, 15, 16, 17,21, 22, 23, 24, 26, 28, 29, 30 $2702
June, July & August departures $2702
Book by Jan 31, 2020
MT KILIMANJARO TREK – RONGAI ROUTE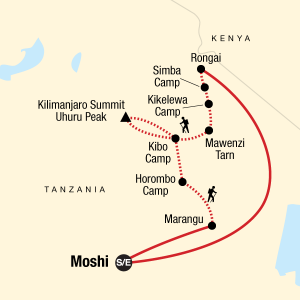 8 days, Moshi to Moshi
Conquer Africa's highest peak from the drier, northern side of the mountain. Follow the Rongai Route, climbing the mountain from the north and descending via the popular Marangu Route with its diverse climate zones and stunning views. This route's gentle approach has a high success rate due to the slow ascent. You'll camp beside the only lake on the mountain and enjoy spectacular views over Kenya's Amboseli plains. Local guides, cooks, and porters will provide support during your trek and at campsites along the way.
Feb 6, Mar 5, Oct 8, 15, 29 $2959
June 4, 18 $2879
July 9, 30, Aug 6, 20 Sept 3, 17 $3055
Book by Jan 31, 2020
ARGENTINA MULTISPORT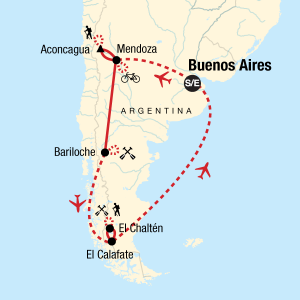 15 days, Buenos Aires to Buenos Aires
Combining two super-fun itineraries, this 15-day adventure was made for the modern-day explorer looking to roam this region at a variety of paces. Start your journey in gorgeous Buenos Aires before cycling through the country's celebrated wine region. Explore the charming city of Mendoza and take a six-hour trek among the views near mammoth Aconcagua, the largest mountain within the Americas. Hike through Glacier National Park to marvel at the sheer presence of Perito Moreno Glacier. Sign up and lace up for the Active adventure of your travelling years.
Oct 11, 25 $4634
Book by Jan 31, 2020
Trek Hidden Costa Rica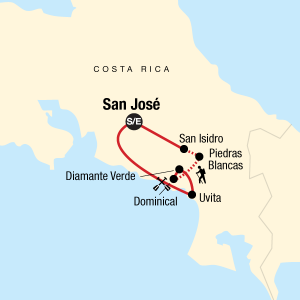 Think you know Costa Rica? Trade in the same old settings for the real deal. Trek into the heart of the jungle to live with three families in a remote village. Discover the emerald core of a diverse land while bunking down behind a massive waterfall in a hidden cave. Learn about the medicinal plants native to these parts and how to make sugar cane candy. This is a spectacular country with opportunities for waterfall rappelling, surfing, and whitewater rafting. This is what adventure is all about.
12 days San José to San José
2020:
March 7, 14 $1952 April 11, 25 July 4, 11, 25 Aug 15 $1952
May 9, 23, June 27, Sept 26 $1844
Book by Jan 31, 2020
PATAGONIA HIKING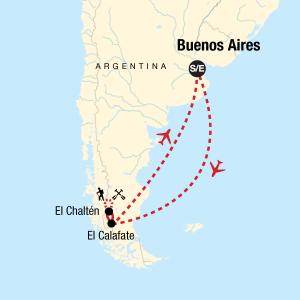 9 days, Buenos Aires to Buenos Aires
As a destination for active travellers, Patagonia is nothing short of iconic. The very best way to do this South American region justice is to hike all over it. Trek through the crisp air of El Chaltén (with its crazy beautiful Cerro Torre mountain) and then to the area near the imposing Perito Moreno Glacier. In between, marvel at the giant sky, vast views, and big city appeal of Buenos Aires while you revel in a sense of personal triumph. Patagonia's ready and waiting for you.
2020: Jan 16, 1, 21 28 Feb 1, 4, 11 $2619
March 7, 17, 28 $2663 April 14, 24 $2515
Oct 3, 6, 10, 13, 17, 20, 24, 27, 31 $2663
Book by Jan 31, 2020
The Lares Trek with One-Day Inca Trail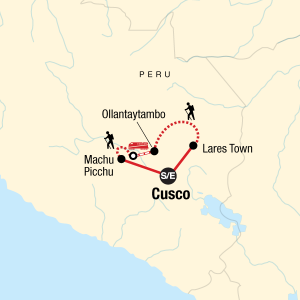 8 days, Cusco to Cusco
Embark on an incredible eight-day exploration through Peru's Lares trek with a taste of the iconic Inca Trail. Take a guided tour through the Sacred Valley, stopping at a women's weaving co-op before beginning your hike. The Lares Trek might not be as touristy but it's no less breathtaking with scenic views of lagoons, the snow-capped Chicon Mountain, Andean flora, and opportunities to meet local Quechua people along the way. A guided tour through Machu Picchu at sunrise, the best time to see the Lost City of the Incas, is a suitably stunning way to conclude your adventure.
2020:
March 7 $1210 April 4, 11, 18, 25 $1297
Saturdays & Mondays:
May, Sept, $1383
June July August $1415
Saturdays October $1383
Book by Jan 31, 2020
ACTIVE ECUADOR & PERU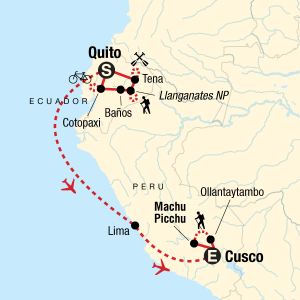 16 days, Quito to Cusco
Speed is the watchword for this high-adrenaline active tour around Ecuador and Peru. Across sixteen action-packed days, you'll bike near Cotopaxi (an Andean stratovolcano), raft down rushing rivers, trek the iconic Inca Trail, and much, much more. Best of all, you'll always travel with an experienced and passionate CEO who knows the quickest and most scenic routes to wherever you're headed. Remember, you're here for a great time, not a long time; slather on that sunscreen, strap on your helmet, and hit the road/trail/surf!
2020: March 7, April 4, May 9, 23 Sept 5, 19 Oct 3, 24 Dec 19 $3229
June 6, 20 July 11, 25 August 8, 22 $3359
Nov 14, 28 $3099
Inca Discovery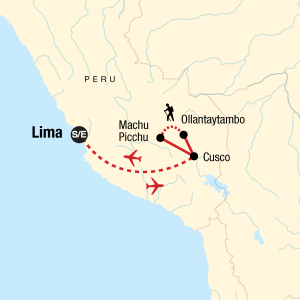 8 days
Lima to Cusco
Perfect for those looking to experience the region's archaeological and cultural treasures in a short amount of time, this adventure includes a four-day trek along the Inca Trail. This is one of the world's best-known hikes and will reward those willing to break a sweat with a stunning combination of mountainscapes, cloud forests, and jungles. We run our own treks, which ensures the fair treatment of our porters and quality equipment.
8 days 
2020: Feb $1649 Mar, April May $1699 June, July, Aug $1769
Sept Oct $1699 Nov $1649 Dec $1699
The Inca Trail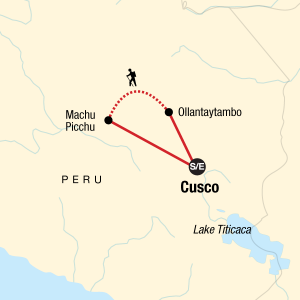 The cultural highlights of the Sacred Valley with the challenge of one of the world's best-known hikes. The four-day Inca Trail trek passes through a stunning combination of the region's ruins, mountainscapes, and cloud forests. Once you catch your first glimpse of Machu Picchu in the early morning light, you'll know it was all worthwhile. Best of all, since we run our own treks, we can ensure the fair treatment of our porters and the quality of food and equipment, so you can relax and enjoy the beauty of the region.
Explore ruins in the Sacred Valley
Learn about traditional ways of life and visit local markets
Conquer the Inca Trail to Machu Picchu
5 days/4 nights
2020:
Daily: March 6 to May 31 $1099
Daily: June, July August $1149
Daily: Sept, Oct Dec $1099
Daily: Nov 2020, Jan 2021 $1069
Peru Multisport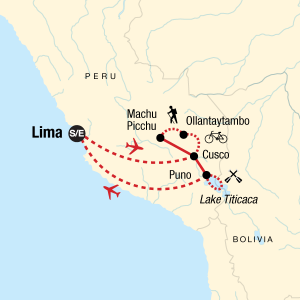 15 days Lima to Lima
How do you improve a trip that already includes the Sacred Valley, the Inca Trail, and Lake Titicaca? Throw in some bikes, a few kayaks, and loads of high-energy thrills, that's how! Peru Multisport connects immersive cultural interaction and classic Peruvian landmarks with challenging physical activities tailored specifically for adrenaline junkies and fitness freaks. Climb and bike your way from small villages to astounding monuments, then explore Lake Titicaca from a kayak; a perspective few visitors ever get the chance to see. Need more? Consult your CEO; they'll keep your zest for adventure satisfied.
Soak in the views on a bike in the Sacred Valley
Climb the Inca Trail to Machu Picchu
Kayak Lake Titicaca
Mingle with the locals and learn about traditional life
Savour the Altiplano scenery
Devour seafood in Lima
2020:
Mar 14, 28 April 11, 25 $2399
April 4, May 2, 9, 23 $2549
June 20, 27 July 4, 18, 25 Aug 1, 15 $2600
Sept 5, 12, 26 $2600
Oct 3, 10, 24 $2464
Book by Jan 31, 2020
Inca Jungle: Rainbow Mountain & Salt Flats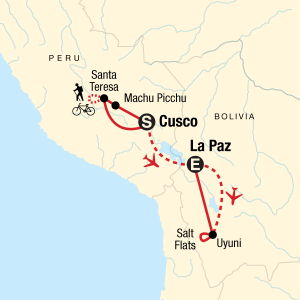 For 18 to 35 year olds.
11 days, Cusco to La Paz
Do more than just cross destinations off your bucket list with this action-packed 11-day tour through some of South America's most iconic destinations. You'll experience Machu Picchu in the early morning light, led by a local guide that'll share stories about the ancient Incan culture, and visit the famed Salar de Uyuni including a stay in a community-run salt-brick lodge with salt floors and furniture. Sure, you'll be snapping pics to prove you went to the sites, but better yet, you'll have stories to tell and genuine experiences that you'll value even more.
2020: April 12, 26,May 10, 24 Oct 11, 24 Nov 8, 22 $2449
2020: June 7, 21,July 5, 19, Aug 2, 16, 30, Sept 13, 27 $2599
Porto to Lisbon Atlantic Ride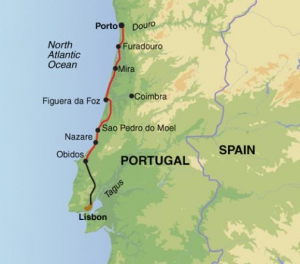 Follow scenic coastal routes along the Atlantic Coast of Portugal
Blessed with sun-kissed beaches, colourful and vibrant fishing villages and scenic routes through pine forests and dunes, the Atlantic Coast of Portugal offers some fantastic cycling holiday opportunities. This tour starts in Porto, a UNESCO World Heritage city awarded best European City Destination in 2013, 2014, and again in 2017. The itinerary follows relatively easy flat or undulating cycling trails along the stunning coastline, with stops in different villages and towns for a full immersion in the relaxed Portuguese way of life. Highlights include a scenic ride through the dunes of the Sao Jacinto Natural Reserve and an overnight in the picture-perfect fortified village of Obidos. After a week of cycling and plenty of free time to enjoy some of the best beaches and restaurants of Portugal, a full day is dedicated to the visit of Lisbon, one of the most charming capital cities in the world.
2020:
May 3, 10, 17 $2575 May 24, 31, June 7 $2675
June 14, 21, 28, July 5 $2775
July 19, August 30, Sept 6, 13 $2875 Oct 4 $2675
Highlights
Discover Lisbon and Porto, the two main cities of Portugal
Stay in premium accommodation and try delicious local cuisine
Enjoy gentle coastal rides and free time to relax by the sea
Key information
7 nights 4-star hotels, all en suite
8 days land only / flight inclusive
5 days cycling with full vehicle support (limited seats)
Group normally 6‐16, plus leader. Min age 16 yrs
90% tarmac roads and cycle paths, 10% unpaved trails
Mix of flat riding and some hills throughout
Local bike hire included
E-bike hire available on request
Countries visited: Portugal
What's included
All accommodation
All breakfasts, 1 wine tasting and 1 dinner
All accommodation
London flights (if booking incl. flights)
Airport transfers for group flights
Local bike hire
Cycle the Balkans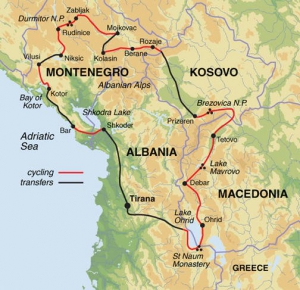 The Balkans offers an intoxicating mix of beautiful countryside, fast-developing cities and historic towns. Our first ride ends at the UNESCO town of Ohrid on the vast lake of the same name, from here the route leads up towards the border with Kosovo. Small towns and villages dot the route as we wind our way across into Montenegro and through the heart of the imposing Durmitor Mountains. As the route suggests, there is a good mix of climbing and flat riding, with a few stops along the way to visit or see places of interest. Sunshine and sea come in the form of the Bay of Kotor on the Adriatic, a dramatic setting to end the ride. Few other regions offer such cultural and natural variety along with a true sense of discovery.
2020: May 1, 15, 29, June 12 26, Aug 27, Sept 11, 25   $3745
Highlights
• UNESCO Town of Ohrid
• Magnificent Mavrov Lake and National Park
• Breathtaking Durmitor, part of Dinaric Alps
Key information
11 nights 3 and 4-star hotels, 3 nights guesthouse
13 days cycling with partial vehicle support (limited seats)
90% tarmac, 10% poor condition
Undulations throughout with some tough climbs
Countries visited: Albania, Macedonia, Kosovo, Montenegro
What's included
All breakfasts and 2 dinners included
All accommodation
Transfer for group flights
Local bike hire
South Africa: Walking & Wildlife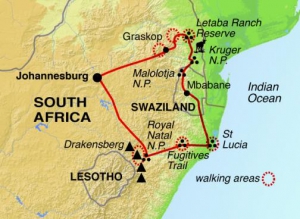 Jan 11, 2020 $4285 Jan 25, Feb 8, 22, 2020 $4275
Hike through forests, plains and mountains and track wildlife on foot, by boat and 4WD.
Rising high above the veld, the Drakensberg, which translates as 'Dragon Mountain,' forms an imposing, dramatic and quintessentially South African scene which we explore on foot. Along with the fantastic walking opportunities, we take the time to discover the country's amazing wildlife and we can hope to see the likes of elephants, lions, rhinos, leopards, giraffe, cheetah and much more. Complementing our journey are more walks and visits of Swaziland, St. Lucia and the Battlefields.
Highlights
Several days hiking in the spectacular Drakensberg Mountains
Royal Natal National Park and the amazing rock formation, the 'Amphitheatre'
Walking through the mountainous terrain of Swaziland
Morning and afternoon game drives in Africa's famous Kruger National Park.
Game walk and drive in a private game reserve
Key information
9 days walking
Mixture of wildlife spotting and walking
Altitude max 2900m, average 1250m
Group normally 4 to 12, plus local leader. Min age 16 yrs
11 nights log cabins and chalets and 3 nights permanent tented camp
Countries visited: South Africa, Swaziland
What's included
All breakfasts, 12 lunches, 7 dinners
All accommodation (see below)
All transport and listed activities
Tour leader throughout
Walking in Andalucia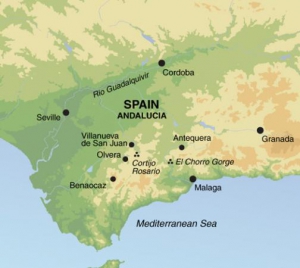 Walking through the olive groves and rugged hills of Andalucia, Spain
Outside the golden cultural triangle of Seville, Cordoba and Granada, the rural landscape of Andalucia is breathtaking, and what better way to appreciate its diversity than on foot. The walks take us through rugged hills, picturesque fields of sunflowers, olive groves, the limestone peaks of Sierra de Grazalema Natural Park and the stunning El Chorro Gorge & Caminito del Rey. In this corner of Europe the excesses of modern life do not seem to have taken root and our home for the week is the perfect example: a rustic, homely cortijo in the heart of the agricultural countryside. During the week, a whole day is reserved for exploring the magnificent city of Seville. For those looking for more of a challenge, our departures graded level 4 feature longer walks on steeper terrain.
Highlights
Stay in a converted farmhouse with a swimming pool
Discover the fascinating Moorish history of white villages
Experience the real and authentic Spain
Walk the stunning Caminito del Rey
Key information
7 nights in a comfortable converted farmhouse with pool
5 days centre-based walking
Group normally 4 to 15, plus UK leader. Min age 16 yrs
Altitude maximum 1256m, average 612m
Travel by minibus
More challenging walking available on selected departures
What's included
All breakfasts, 5 picnic lunches and 6 evening meals are included
All accommodation
Caminito del Rey walk
Feb 15, 2020 $2275
Chianti Walking & Wine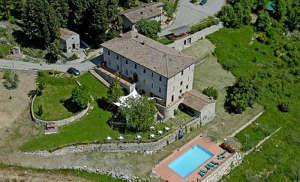 2020: April 11, 18, Oct 10, 17, 24 $1895
April 25, August 15, 22, 29, Oct 3 $1995
May 2, 16, 23, 30 $2095
June 6, Sept 5, 12, 19 $2075
Discover picturesque towns and delicious wines in Tuscany
With its Renaissance cities, mediaeval villages and cypress-lined avenues snaking through vineyards, southern Tuscany is the perfect place for a relaxing guided walking holiday. Based at the tranquil Villa Casalta, on our tour we visit beautiful San Gimignano, the market town of Greve in Chianti, the UNESCO World Heritage Site of Siena and the magnificent city of Florence. During the week we sample several varieties of the world-renowned local Chianti and have the opportunity to learn more about Italian wine at the Wine School of Siena.
Highlights
Walk the classic rolling hills of Tuscany
You will spend 7 nights at Villa Casalta, a renovated farmhouse with swimming pool and en suite facilities. The villa is family-run and known for the fine home-made food prepared with traditional ingredients and locally produced wines and olive oil. Free Wi-Fi available.
Enjoy the fabulous Chianti wines
Key information
7 nights renovated farmhouse with panoramic swimming pool
5 days gentle walking and sightseeing
Low altitude throughout
Centre-based holiday
Countries visited: Italy
What's included
All breakfasts, 5 dinners, 3 wine tastings
All accommodation
All transport and listed activities
Tour leader throughout
HOLLAND BIKE & SAIL – TULIP TOUR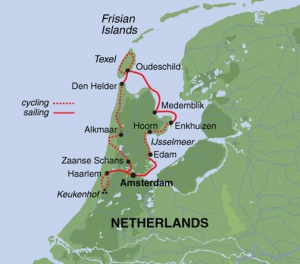 Explore Dutch landscapes by foot, wheels and water on this springtime tour.
One date only April 18 to 25, 2020 $2565 CDN p.p.
Set sail into the vistas of Van Gogh, replete with storybook windmills, as you cruise, ride or walk back through time. Unveil the fascinating 400+ year-old history of tulips in Holland from bulb to flower.  Ideal for flower enthusiasts, cycling aficionados, foodies and every style of adventurer. Cycle, walk or relax onboard the classic sailing ship, the Leafde fan Fryslân, as you soak in the highlights. Delve into the charming countryside of Holland, led by an expert local guide on shore excursions, or enjoy plenty of time at your leisure. Along the way you'll visit traditional cheese villages and get the chance to try delectable Dutch cuisine.
Highlights
Explore enchanting Dutch landscapes by foot, two wheels and on water
Splendid flat landscapes, small dreamlike farm villages, and romantic, picturesque harbour towns.  Visit the famous Keukenhof gardens and spend time in the historical city of Haarlem.
Discover the traditional cheese villages of Alkmaar and Edam.
Enjoy comfort on the beautiful sailing ship, the Leafde fan Fryslân, with the chance to lend a hand during navigating and hoisting of the sails.  Sail across the Wadden Sea and Lake Ijsselmeer, and enjoy the beauty of the North Sea beaches
Key information
7 nights in twin or double cabins on board the Leafde fan Fryslân
Optional 4 days of cycling (no vehicle support but assistance is available on request)
Enjoy a mixture of guided and self-guided cycling routes
Group normally 15-25 plus crew. Min age 16 yrs
Local bike hire included
Countries visited: Europe, The Netherlands
What's included
All breakfasts, 6 lunches and 6 dinners
All accommodation
Local bike hire
All transport and listed activities
Tour leader throughout
Full complement of qualified Ship Crew
Walking on the Greek Islands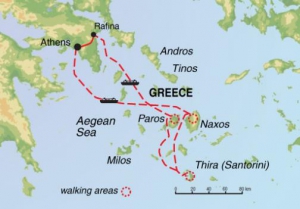 Walks on Santorini, Paros and Naxos –  8 days
The Greek islands have much more to offer than most would think: archaeological treasures, history, culture, dramatic landscapes overlooking an azure coloured sea and, of course, delicious food. Our week starts on the beautiful island of Naxos, before heading to Santorini and Paros. Exploring the irresistible island of Santorini on foot will certainly be the highlight of our week. Hopping from one wonderful island to the other, we enjoy a relaxed week of gentle walks through picturesque villages, lush valleys and sandy beaches.
Highlights
Discover the three islands of Naxos, Santorini and Paros
Gentle walks amid idyllic scenery and remote villages
Enjoy delicious local Greek cuisine
7 nights in 3-star hotels with en suite rooms
3 full days and 2 half days walking on 3 islands
Travel by public transport, boat/ferry and coach
Low altitude throughout
Countries visited: Greece
What's included
All breakfasts
All accommodation
All transport and listed activities
Tour leader throughout
Arrival & departure transfers
2020: April 5 $1935 April 26, May 10, 17 $1995 May 24 $2035
Travelling solo but willing to share? We can set you up!
**single supplement for your own room $418 to $456
THAILAND HIKE, BIKE & KAYAK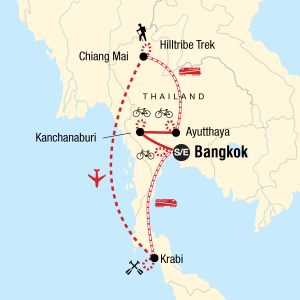 14 days, Bangkok to Bangkok
Perfect for those who believe the best way to appreciate paradise is by jumping right into it. This adventure will have you hiking through forests and rice paddies, cycling through provincial villages, and experiencing Thailand's intriguing combination of culture and the great outdoors. Kayak the turquoise waters of the Andaman and discover coral coves and white-sand beaches. With the services of a Chief Experience Officer (CEO) and your accommodation and transport taken care of, this trip offers great value as it introduces the main sights of Thailand while offering up plenty of flexibility so you can experience an adventure you'll never forget.
2020:
Jan  25, $2339 Feb 8 $1988 Mar 7 $2249 April 18, May 2, Sept 5, 19 $2149
June 13, 27, July 11, 25, Aug 8, 22, Oct 17, 31, Nov 7, 14, 21, 28  $2249
Dec 5, 12, 19, 26 $2339
2021: Jan 2, 9, 23 $2339 Feb 6,14, 20, Mar 6, 20 $2249
The Best of the Dolomites: Hiking & Gourmet
Experience the best of the Dolomites, hike amid glorious landscapes, enjoy luxury hotels, gourmet cuisine, professional mountain guides and exclusive service.
You'll visit some of the most incredible areas in the Dolomite Mountains, the chic town of Cortina d'Ampezzo, the impressive peaks at the Tre Cime di Lavaredo, you'll explore two natural parks and absorb the rich history of the 'Ladin' culture.
Complement the hiking with incredible traditional Italian cuisine and delicious gourmet dishes at a Michelin-star restaurant
Free Wi-Fi in every property
Upgrade upon availability, early check-in, late check-out upon availability
Cost per person starting at €2,990 – Guided.  Call us for more information.
Colombia Multisport & Lost City Trek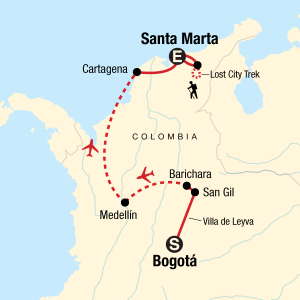 17 days Bogotá to Santa Marta
Earn another stamp in your passport on this thrilling 17-day tour that takes you through challenging terrain, remote villages, and incredible natural landscapes. After visiting some of Colombia's vibrant cities, you'll continue to the highlight of this trip: a multi-day trek to the Lost City of Teyuna through farmlands, the deep jungle, and small Kogi communities. By the end, you'll have gained a new appreciation for all that Colombia has to offer.
March 12, 2020 $3829 Jan 9, 30, Feb 20, 2020 $3659 
Colombia Multisport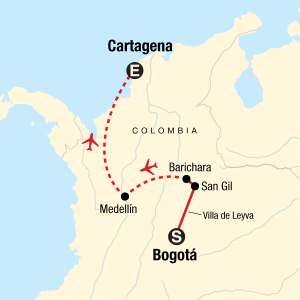 11 days Bogotá to Cartagena
Get your blood pumping in one of South America's most vibrant countries on this 11-day tour of Colombia. It's made for active travellers that want an adrenaline rush with their worldly explorations. Hike among palm trees and succulents in national parks, embark on a 9km (5.6 mi) walk along cobblestone pathways to a colonial town, and go whitewater rafting in Suarez Canyon. With additional stops at cities like Cartagena and Medellin, this is a well-rounded tour that shows you multiple sides of this fascinating country.
2020:
Jan  30, Feb 20, May 20, June 25, July 16, august 6, Dec 17 $2829
March 12, April 9, 30 $1949
Sept 10, Oct 8, Nov 1, 26 $2699