African Safari
Big game, bigger adventure. Whether you're bringing your rifle or your camera, you better be ready to shoot. See the majestic and powerful creatures that roam the plains and deserts of Africa. Guided and group safaris offer first-timers an authentic safari experience with less risks but all of the excitement. Gear up and get out.
Highlights of Madagascar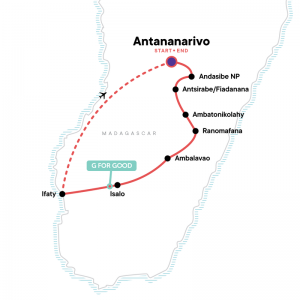 This trip features a smaller group size, private transportation, en-suite bathrooms, and a discounted rate for My Own Room. Lemurs, wild landscapes, village culture, beaches — Madagascar might be an island but there's nothing small about it. For those who like to get remote, this isolated island is packed with wildlife, landscapes, and people you'll find nowhere else. And everybody loves lemurs! You'll get to embrace local life and still have time to relax at the beach. Best of all, there's always a local CEO (Chief Experience Officer) there to lead the way and provide a link to the unusual and extraordinary.
14 days
2021:
July 3, 19, Aug 12, 28 $2745
Sept 2, 23, 25, 30 $2651
Oct 7, 9, 14, 21, 28 $2745
Nov 4, 15 $2209
2022:
March 19, $2549
April 9, 23, May 7, 19, June 1, 26, 30 $2651
Book by May 31, 2021
KENYA: A CLASSIC SAFARI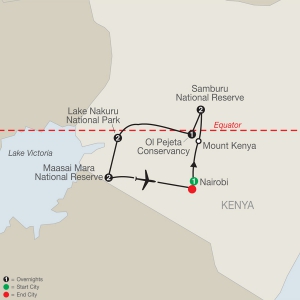 9 DAY TOUR FROM NAIROBI TO NAIROBI
When's the last time you laughed like a hyena? Pack your khakis, greys, and greens and get ready for the ride of your life—or rides, rather! This classic African safari vacation packs in 10 game drives to see lion, leopard, zebra, giraffe, and countless other creatures of Kenya's most famous national parks and wildlife reserves. Come face to face with adventure in custom-made 6-person 4-wheel-drive safari vehicles manned by expert safari guides. Take in the best views of the "Big 5," the Samburu "Special 5," and every impala, ostrich, and gazelle in between—all in their natural habitats. Need to slow down and put on the brakes? Sumptuous safari lodges and comfortable tented camps, breakfast in the bush, and late day sundowner drinks present the perfect opportunities to rest near the rhinos, raise a mimosa to the monkeys, and say cheers to the cheetahs. Just try to camouflage your excitement.
2021:
Aug 25, Sept 1 $6424 Sep[t 15, Oct 6 $5902
2022:
Jan 19, Feb 2, 9, July 6 $6533
June 15 $6361
July 20, Aug 10, 24, 31 $7081
Sept 14, 21, Oct 5 $6511
2023:
Jan 18, Feb 1, 8 $6861
Park entrance fees of $711 per person are included.
SPLENDORS OF SOUTH AFRICA & VICTORIA FALLS
12 DAY TOUR FROM CAPE TOWN TO JOHANNESBURG
Want the lion's share of colorful cities, private game reserves, natural wonders, and wondrous wildlife? Point your compass south for the diverse and enchanting sights of South Africa and Zimbabwe. The glorious panoramas from Cape Town's Table Mountain and the candy-colored streets of its Bo-Kaap neighborhood set the stage for the sweet sights to come. Six open-air private game reserve drives near Kruger National Park offer a fascinating glimpse of up to 42 mammal species and 350 bird species. Keep your eyes peeled for the "Big 5"—lion, leopard, elephant, rhino, and Cape buffalo—before branching out in Johannesburg. Here, you'll explore Soweto, the city's largest township, including the former home of Nelson Mandela and the most significant sites of the anti-apartheid movement. Your South Africa vacation crescendos at Victoria Falls, called Mosi-oa-Tunya (the smoke that thunders) on the Zambezi River. Twice the height of Niagara Falls, this breathtaking waterfall spanning the border of Zimbabwe and Zambia offers twice the photo ops.
2021:
Oct 10, 17, 31 Nov 14 $7296
2022:
Jan 9, 23, Feb 6, 20, March 6, 20, $8016
April 17, May 29, June 12, 19, 26 July 10, 17, 24, 31 Aug 14 $7717
Aug 21, 28, Sept 4, 11, 18, 25 $7987
Oct 2, 9, 16, 23, 30, Nov 6, 13, 27 $7987
2023:
Jan 8, 22, Feb 5, 19, March 4, 19 $8417
TANZANIA: THE SERENGETI & BEYOND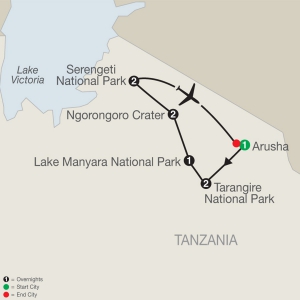 9 DAY TOUR FROM ARUSHA TO ARUSHA
Featuring exhilarating game drives through grasslands, woodlands, and swamplands—plus distinctive safari lodges and tented camps that blend into the living landscape, this Africa vacation was designed for those who like to take a walk—or a nap—on the wild side. Game drives through Tarangire, Lake Manyara, and Serengeti National Parks—as well as the vast, volcanic Ngorongoro Crater—offer an opportunity for up-close views of the "Big 5" (lion, leopard, elephant, rhino, and Cape buffalo) as well as countless other majestic creatures. As you explore these mesmerizing parks, prepare to see zebra grazing, hippo bathing, elephants trumpeting and, if luck is on your side, cheetah sprinting. Marvel at Maasai Warriors jumping in celebration of life. There's lots to fall in love with on this timeless Tanzania safari, including morning mimosas and sundowner drinks in the bush as you quench your thirst for knowledge and adventure.
2022:
Jan 19, Feb 9 $8267
March 2 $7067
June 8 $7825 July 13, Aug 17 , Sept 14, 28, Oct 12 $8295
2023:
Jan 18, Feb 8 $8685
March 1 $7425
Park entrance fees of $610 per person are included.
KENYA & TANZANIA: THE SAFARI EXPERIENCE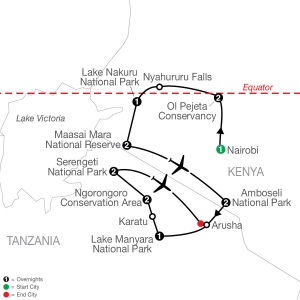 14 DAY TOUR FROM NAIROBI TO ARUSHA
Africa conjures up dreamy images of mystical mountains, savanna grasslands, and endless plains, but for the adventure seeker, it's where the wild things are. The "Big 5"—lion, leopard, elephant, rhino, and Cape buffalo await you on this ultimate safari through East Africa. Featuring unique lodges and tented camps, custom-made 4-wheel-drive safari vehicles, and exclusive meals in the bush, this Kenya and Tanzania tour promises larger than life experiences and countless memories. You'll savor the unique terrain and wildlife at seven renowned national parks, reserves, and conservancies, including the famous Maasai Mara National Reserve, and the vast, volcanic Ngorongoro Conservation Area. Beyond sightings of the "Big 5," be on the lookout for cheetah, wildebeest, crocodile, hippo, and rhino. On the tamer side, you'll also enjoy a visit to the Sweetwaters Chimpanzee Sanctuary as well as the endearing experience of meeting the local children at a primary school in Karatu.
2021:
Aug 8, 22, 29, Sept 5, $11,119
Oct 3 $10,691
2022:
Feb 6, 13 $11,627
June 12 $11,022 July 3 $11,782
July 17, Aug 7, 14, 21, 28 Sept 4 $12,252
Sept 11 $11882 Sept 18, Oct 1 $11,782
Park entrance fees of $1,194 per person are included.
EXPLORE CAPE TOWN & KRUGER NATIONAL PARK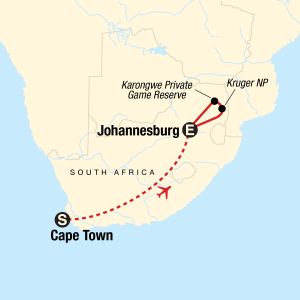 10 DAYS, CAPE TOWN TO JOHANNESBURG
Spectacular scenery, vibrant culture, and a dramatic, inspiring past—South Africa has it all. Discover the charms of Cape Town, one of Africa's most beautiful cities, then travel to Johannesburg—former home of revolutionary leader Nelson Mandela and gateway to some of the world's most celebrated wildlife reserves. Scan the horizon of Kruger National Park for the "big five," spend time with a conservationist from the National Geographic Big Cats Initiative, and enjoy unforgettable sunsets over the savanna.
2021:
July Aug, Sept Oct $3819 Nov $3699
SOUTHERN AFRICA FAMILY JOURNEY: IN SEARCH OF THE BIG FIVE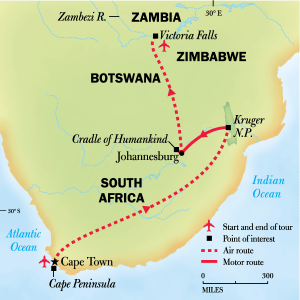 11 DAYS, CAPE TOWN TO VICTORIA FALLS
Boasting jaw-dropping scenery and some of the planet's most iconic wildlife, southern Africa makes for an unforgettable family adventure. On this action-packed journey, venture to South Africa to seek out the legendary "big five" on safari, soak up the charms of cosmopolitan Cape Town, and see penguins march along Boulders Beach. Then top off your journey in Zimbabwe with a tour of thundering Victoria Falls.
2020: Dec 23 $5629
CAPE TOWN, KRUGER & ZIMBABWE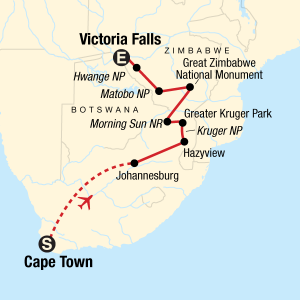 13 days, Cape Town to Victoria Falls
Southern Africa is so packed full of diverse highlights that we're taking two weeks to explore a few of them in depth. Wildlife is the region's calling card and there will be plenty of chances to spot the "big five" in Kruger, Hwange, and Matobo national parks. Aside from animals, there'll be many occasions to experience the unique regional cultures of Soweto, the Lowveld, and Victoria Falls. Come away with an even deeper understanding of what makes this part of the world truly special.
2020:
Nov 2, 9, 30 $3419
Sept 21, 26 $3539
Dec 14 $3299
SPECTACULAR SOUTH AFRICA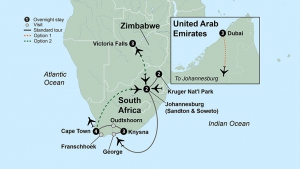 12 days/11 nights 21 meals
South Africa's cosmopolitan cities, posh resorts, expansive desert, magnificent wildlife and fertile wine country combine with a harmonious mix of many cultures to create a beautiful mosaic to discover on this fascinating tour. Ponder history during a visit to the Apartheid Museum. Search out the "Big Five" during an open-air safari game drive. Visit the Featherbed Nature Reserve. Travel the lush Garden Route between the mountains and the balmy Indian Ocean. Visit a working ostrich farm. Indulge in a wine tasting and lunch at a local vineyard in the winelands region. Relax during a leisurely stay in Cape Town, one of the most beautiful cities in the world.
2020:
Nov 5, 12 $3799
Best of South Africa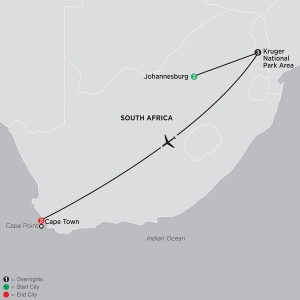 9 Day Tour from Johannesburg to Cape Town
From the history of Johannesburg to exploring Kruger National Park and Cape Town's highlights, your tour of South Africa is an adventure like no other. You'll begin in Johannesburg's Soweto Township to learn about its turbulent past and hopeful future. Visit the thought-provoking Apartheid Museum and Mandela House, located in the former neighbourhood of Nobel Peace Prize winners, Archbishop Desmond Tutu and Nelson Mandela.
Your escorted African vacation continues through some of the world's most sweeping and dramatic landscapes on your way to Kruger National Park area. Marvel at God's Window (a forested ravine and majestic cliffs), and the stunning cascades of Lisbon and Berlin Falls. Your guided African safari begins in the Kruger park area with morning and afternoon game drives through the homes of the big cats, giraffe, cheetah, hyena, gazelle, and more. You'll visit Cape Town and ascend to Table Mountain via cable car for spectacular views. On boulders Beach, you'll observe a colony of endangered penguins, then venture to Cape Point Nature Reserve, the Cape of Good Hope, and Cape Point at the continent's most southwestern tip.
Private, deluxe, air-conditioned motorcoach while touring. Open-air safari vehicle in Kruger National Park
8 breakfasts, 3 lunches, 3 dinners
2020:
Nov 7, 28 $3328