African Safari
Big game, bigger adventure. Whether you're bringing your rifle or your camera, you better be ready to shoot. See the majestic and powerful creatures that roam the plains and deserts of Africa. Guided and group safaris offer first-timers an authentic safari experience with less risks but all of the excitement. Gear up and get out.
SPECTACULAR SOUTH AFRICA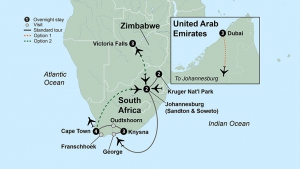 12 days/11 nights 21 meals
South Africa's cosmopolitan cities, posh resorts, expansive desert, magnificent wildlife and fertile wine country combine with a harmonious mix of many cultures to create a beautiful mosaic to discover on this fascinating tour. Ponder history during a visit to the Apartheid Museum. Search out the "Big Five" during an open-air safari game drive. Visit the Featherbed Nature Reserve. Travel the lush Garden Route between the mountains and the balmy Indian Ocean. Visit a working ostrich farm. Indulge in a wine tasting and lunch at a local vineyard in the winelands region. Relax during a leisurely stay in Cape Town, one of the most beautiful cities in the world.
Sept 1 $3799 Oct 24, 2019 $3999
2020:
Sept 3, 6, 10, 17, 24 $3699
Oct 1, 8, 15, 22, 29, Nov 5, 12 $3799
Best of South Africa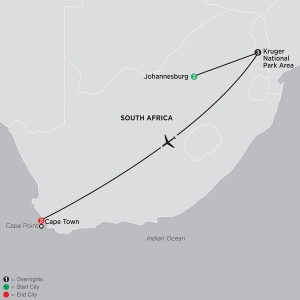 9 Day Tour from Johannesburg to Cape Town
From the history of Johannesburg to exploring Kruger National Park and Cape Town's highlights, your tour of South Africa is an adventure like no other. You'll begin in Johannesburg's Soweto Township to learn about its turbulent past and hopeful future. Visit the thought-provoking Apartheid Museum and Mandela House, located in the former neighbourhood of Nobel Peace Prize winners, Archbishop Desmond Tutu and Nelson Mandela.
Your escorted African vacation continues through some of the world's most sweeping and dramatic landscapes on your way to Kruger National Park area. Marvel at God's Window (a forested ravine and majestic cliffs), and the stunning cascades of Lisbon and Berlin Falls. Your guided African safari begins in the Kruger park area with morning and afternoon game drives through the homes of the big cats, giraffe, cheetah, hyena, gazelle, and more. You'll visit Cape Town and ascend to Table Mountain via cable car for spectacular views. On boulders Beach, you'll observe a colony of endangered penguins, then venture to Cape Point Nature Reserve, the Cape of Good Hope, and Cape Point at the continent's most southwestern tip.
Private, deluxe, air-conditioned motorcoach while touring. Open-air safari vehicle in Kruger National Park
8 breakfasts, 3 lunches, 3 dinners
2020:
Jan 18, $3288 Feb 15 $3358 March 14 $3288
April 18, May 16, June 20 $3148
Sept 12 $3248 Oct 10, Nov 7, 28 $3328
Capetown & the Garden Route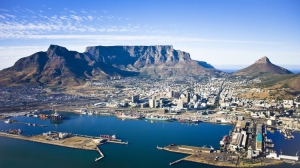 12 days/11 nights
Journey along one of the most dramatic coastlines in the world. This journey brings us from Port Elizabeth to Cape Town following the famous Garden Route. Along the way we take in fantastic wildlife, beautiful beaches, rainforests, deep canyons, rolling hills, endless vineyards, quaint towns, vibrant cities, and one of the most spectacular coastlines in the world. This trip takes in the best of one of South Africa's greatest regions, packing in surprising diversity. In season (August-November) this is also the best place on Earth to watch whales right from the shoreline.
Highlights
Wildlife from elephants and lions to penguins and whales (in season)
Culture from quaint towns to cosmopolitan Cape Town and nearby wineries
Scenery along the one of the most beautiful coastlines in the world
Diverse nature from the forests of Tsitsikamma to the drylands of the Little Karoo.
9 nights hotels and guest houses and 2 nights chaletswith breafast daily
Travel by private minibus with no long drives
Aug 11, Sept 1, 2019 $2645
Sept 8 $2745
Sept 22, 2019 Jan 5 to Sept 2020 $2945
Oct 15, 20, 27, Dec 1, 2019 $2845
Johannesburg to Capetown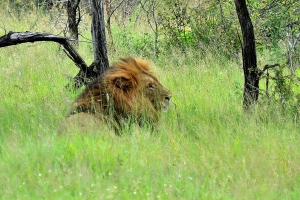 Go on safari, visit mountain kingdoms, enjoy world-class wine, travel along dramatic coastlines, and see where two oceans meet. This epic journey explores the different facets of three very diverse countries. In South Africa you go on game drives in the Kruger National Park, walk in the spectacular Drakensberg Mountains, travel along the Garden Route, enjoy wine tasting amid the country's renowned vineyards and visit exciting Cape Town and journey through the mountain kingdoms of Swaziland and Lesotho. This three week trip has something for everyone: prolific wildlife, incredible scenery, beautiful beaches, awe-inspiring mountains and, of course, the rich culture which makes these countries what they are today.
Highlights
Kruger and the Drakensberg
Swaziland and Lesotho
Cape Town and the Garden Route
18 nights log cabins/chalets/hotel, 1 night permanent tented camp
Travel is by minibus or overland truck – Mainly good roads with some long drives
All breakfasts, 16 lunches, 13 dinners
Sept 22, 2019 $4575
Oct 13, 20, Nov 10, 2019, April to Sept 2020 $5245
Nov 24, 2019 $4945
Dec 8, 2019 Jan 5, 12, 26, Feb 2, 16, 23, March 8, 2020 $5145
South Africa: Walking & Wildlife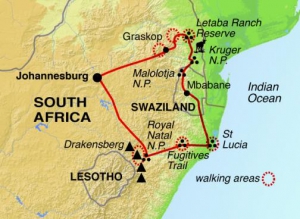 Aug 3, Oct 5, 26, Nov 3, 2019 $3985 Jan 11, 2020 $4285 Jan 25, Feb 8, 22, 2020 $4275
Hike through forests, plains and mountains and track wildlife on foot, by boat and 4WD.
Rising high above the veld, the Drakensberg, which translates as 'Dragon Mountain,' forms an imposing, dramatic and quintessentially South African scene which we explore on foot. Along with the fantastic walking opportunities, we take the time to discover the country's amazing wildlife and we can hope to see the likes of elephants, lions, rhinos, leopards, giraffe, cheetah and much more. Complementing our journey are more walks and visits of Swaziland, St. Lucia and the Battlefields.
Highlights
Several days hiking in the spectacular Drakensberg Mountains
Royal Natal National Park and the amazing rock formation, the 'Amphitheatre'
Walking through the mountainous terrain of Swaziland
Morning and afternoon game drives in Africa's famous Kruger National Park.
Game walk and drive in a private game reserve
Key information
9 days walking
Mixture of wildlife spotting and walking
Altitude max 2900m, average 1250m
Group normally 4 to 12, plus local leader. Min age 16 yrs
11 nights log cabins and chalets and 3 nights permanent tented camp
Countries visited: South Africa, Swaziland
What's included
All breakfasts, 12 lunches, 7 dinners
All accommodation (see below)
All transport and listed activities
Tour leader throughout
The Great South African Adventure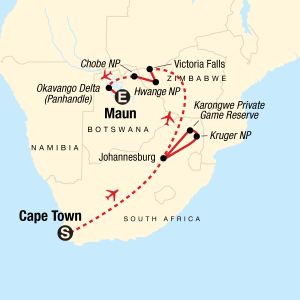 21 DAYS – CAPE TOWN TO MAUN
Greet another remarkable day in southern Africa as the sun rises over Kruger National Park and an elephant and her young calf wander past you. Keep your sense of wonder at the ready on a 21-day adventure that takes in the iconic sights of Southern Africa. Fall for Cape Town's remarkable beauty, feel the power of Victoria Falls reverberate in your core, and watch for the "big five" alongside a researcher from National Geographic's Big Cats Initiative.
WHAT'S INCLUDED
Your Journeys Highlight Moment: Kirstenbosch Botanical Gardens Guided Tour, Cape Town
Your Journeys Highlight Moment: Carnivore Conservation Experience, Karongwe Private Game Reserve
Your Journeys Highlight Moment: Zimbabwean Family Dinner, Victoria Falls
Your Journeys Highlight Moment: Painted Dog Conservation, Hwange National Park
Your Journeys Highlight Moment: Okavango Wilderness Project Research Camp, Okavango Delta
Your Journeys Highlight Moment: Botswana Storytelling and Traditional Dinner, Maun
Your Foodie Moment: Traditional South Africa Braai (Barbecue), Johannesburg
Your Discover Moment: Victoria Falls. Arrival transfer. Excursion to Cape Point and Boulders Beach. Traditional South African braai (BBQ). Panorama Route scenic drive. Private nature reserve wildlife safari drives in open vehicles. Open-vehicle wildlife safari drives in Kruger, Hwange and Chobe National Parks. Tour of Victoria Falls. Chobe boat safari. Wildlife excursions by boat and on foot in the Okavango Panhandle. Internal flights. All transport between destinations and to/from included activities.
Nov 6 $11049
Aug 7, Dec 4, 25 $11,399
Jan 8, 22, Feb 5, 19, March 4, 18, April 1, 2020 $10, 699
Capetown to Victoria Falls    (or reverse)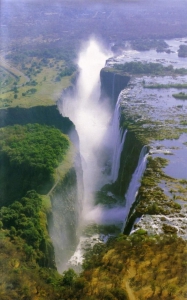 An adventure through the heart of southern Africa's dramatic scenery in South Africa, Namibia, Botswana and Zimbabwe.  Cape Town to Victoria Falls is one of the world's great classic journeys. Starting from Cape Town, South Africa's most cosmopolitan city, this trip travels through Namibia's spectacular desert landscape, wildlife-rich game parks in Namibia and Botswana and finally to the mighty Victoria Falls on the border of Zimbabwe and Zambia. This is an adventure through the heart of southern Africa's dramatic scenery, with rich culture, diverse wildlife and the opportunity to partake in numerous activities along the way.
Highlights
Cape Town, Africa's most exciting city
Sossusvlei, the highest sand dunes in the world
Etosha NP with its fantastic wildlife
The Okavango River and Chobe NP
The mighty Victoria Falls
Hotel departures: 6 nights hotel/lodge, 3 nights guesthouse, 10 nights chalets
Travel in a purpose-built overland truck
Some long drives on rough roads and early starts
What's included
All breakfasts, 4 lunches, 3 dinners
All accommodation (see below)
All transport and listed activities
Tour leader throughout
Capetown to Victoria Falls  July 28, Sept 29, Oct 13, 27 $5795
Victoria Falls to Capetown  Aug 11, Sept 8 $3895
Gorillas & Masai Mara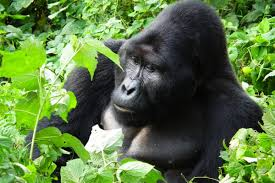 Fantastic Kenyan wildlife and the endangered Mountain gorillas
The Masai Mara, a vast grassland teeming with animals, has an astonishing amount and mixture of game, including lions, cheetahs and at certain times of the year, the wildebeest migration. Lake Nakuru National Park has an incredible variety of birds as well as a healthy population of White and Black rhinos while Queen Elizabeth National Park is home to hippos, elephants, buffalo, leopards and the elusive tree-climbing lions as well as a huge variety of birds. Murchison Falls National Park is one of the most impressive parks in Africa, renowned for its scenic beauty, spectacular falls and abundant wildlife, including elephants, buffalo, Ugandan kobs (antelope), leopards, and over 450 different species of birds. The highlight of the trip is undoubtedly an hour with Mountain gorillas in Bwindi Impenetrable Forest in Uganda. This close-up encounter is arguably the most sensational wildlife experience of them all.
Highlights
Enjoy a precious hour in the company of Uganda's Mountain gorillas
Game drives in the Masai Mara, Lake Nakuru N.P. and Queen Elizabeth N.P.
Visit Murchison Falls National Park
Track chimpanzees and other primates in Budongo Forest
9 nights hotels/lodges and 6 nights permanent tented camps
Travel by specialist overland vehicle, 4WD and on foot
Some long drives on rough roads and early starts
What's included
15 breakfasts, 14 lunches and 14 dinners
All accommodation (see below)
All transport and listed activities
Tour leader throughout
1 chimp permit and 1 gorilla permit
June 30, Dec 12, 19 $5695 July16 $5505 Aug 11 $8545 Aug 27, Oct 20 $8735 Oct 1 $6555 Nov 5 $8165
DISCOVER SOUTH AFRICA
11 DAYS • 10 NIGHTS • 27 MEALS
FROM $2649  LAND ONLY  per person in double occupancy including taxes.
Price based on any departure between Now and Oct 16th, 2019.
ACCOMMODATION IN 3+* HOTELS
GROUP DEPARTURE GUIDED IN ENGLISH ON WEDNESDAYS
HIGHLIGHTS:
Cape Town, Cape of Good Hope, Boulders Penguin Colony, Durban and Hluhluwe Park, Swaziland, Kruger National Park, Blyde River Canyon, Soweto and Pretoria
SOUTH AFRICAN PATCHWORK
17 DAYS • 16 NIGHTS • 43 MEALS
FROM $6949 land only per person in double occupancy including taxes. Price based on any departure between now and Oct 20th, 2019.
ACCOMMODATION IN 3+* HOTELS –  GUIDED GROUP DEPARTURE
HIGHLIGHTS:
Cape Town, Cape of Good Hope, Boulders Penguin Colony, the wine region, Oudsthoorn, Cango caves, Knysna, Port Elizabeth, Durban and Hluhluwe Park, Cruise on the St. Lucia Estuary, Swaziland, Kruger National Park including accommodation in a private lodge , Pilgrim's rest, Soweto and Pretoria, Victoria Falls