Travel is an experience best shared and travelling connects young clients to forever friendships, turning the experience of a lifetime into a lifetime of experiences.  Some of us are born to explore. If you want to travel, do it while you're young.
Explore all of the places on your bucket list with a group of like-minded 18-39 year old travellers who share your passion for real experiences, life-long memories and epic adventures. You can travel solo but you will not be alone.  You will be matched with a roommate and will meet  a group of people seeking the same adventures!
Cambodia  & Vietnam: Bonfires & Banh Mi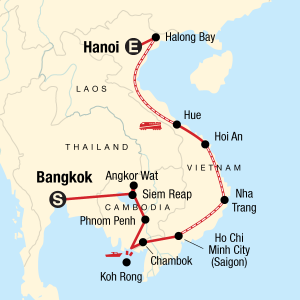 20 days Bangkok to Hanoi
Begin in Bangkok—a city that never sleeps—and end by braving Hanoi's bustling streets. Plug into Cambodia and Vietnam on this electric journey with breaks to bliss out on white-sand beaches. Get a history lesson exploring Angkor Wat and walking Ho Chi Minh City's streets. With your accommodation and transport arranged by our expert CEOs, this adventure offers a great combination of must-see highlights and free time to explore on your own.
2020:  March, July, August, November, Dec $1929
April, May, June, Sept, Oct $1829
2021: Jan, Feb March $1929
SOUTHERN AFRICA ENCOMPASSED: BUSH CAMPS & WILDLIFE SPOTTING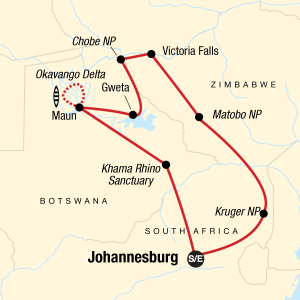 15 days, Johannesburg to Johannesburg
When it comes to raw, in-your-face wildness, South Africa, Botswana, and Zimbabwe are incredible — and from the vantage of our rugged Lando, even more spectacular. Witness traditional dancing, explore the Okavango Delta with a wildlife walk and bush camping, track rhinos on foot in Zimbabwe's Matobo National Park, and capture the "big five" (with your camera, of course) in South Africa's Kruger National Park. Camping will keep you close to the incomparable scenery. This quick tour isn't simply a taste of Africa; it's a full-course meal — with seconds.
For 18 to 30 somethings
2020:
Jan 11, 25 Feb 15, 29 $2294
March 7 $2255
March 14, 21, 28, April 25 May 9, 16, 30 $2396
June 6,13, 20, 27 $2396
July 11, 18, 25 Aug 1, 8, 22 $2490
Sept 5, 12, 19 Oct 3, 10, 17, 31 $2396
Book by Jan 31, 2020

CAMBODIA: ANCIENT RUINS & BOAT RIDES
10 days, Bangkok to Ho Chi Minh City
Now's the time to explore Cambodia on your terms with this tour that's affordable for young travellers. Marvel at the incredible Khmer ruins of Angkor Wat and the clear turquoise waters of Koh Rong. Brave Ho Chi Minh City's jam-packed streets and check out the lush green forests of Chambok in Cambodia. With all of your basic trip details arranged, you can concentrate on choosing the activities that excite you most.
For 18 to 30 somethings!
2020: Jan, Feb or March $751 April $791
Book by Dec 5, 2019
Rome to London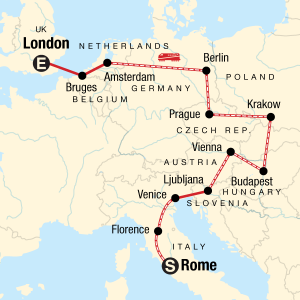 20 days
Hope your happiness muscles are in peak condition because this epic 20-day combo tour of Europe is going to leave you feeling like life is good. Ride on trains from city to city where you'll get to explore cobblestoned streets, ancient sculptures, thermal baths, packed beer halls, and the most amazing dance floors that southern, eastern, and northern Europe have on offer. Loads of free time and optional activities mean you get to see these nine countries your way. Roam, bike, boat, mosey, glide, dance, and laugh yourself through Europe's best. Better start stretching now.
2020:
April 18, Sept 5, 12, 19 Oct 10 $4099
May 2, 23, June 6, 13, 27, Aug 15, 27 $4219
July 4, 11, 18, Aug 1 $4329
Peru: Ancient Cities & the Andes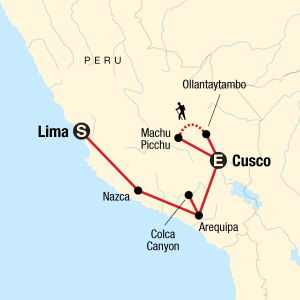 14 days, Lima to Cusco
Climb the legendary Inca Trail to the cloud forest citadel of Machu Picchu, dine the traditional way at a ceremonial Pachamanca feast, or take an optional flight over the Nazca Lines — the adventure is yours to choose! With the services of a CEO (Chief Experience Officer) and your accommodation and transport taken care of, this trip offers great value as it introduces the region's main sights, providing plenty of flexibility so you can experience an adventure you'll never forget.
2019: Dec 8, 22 $1727
2020:
Jan 5, 12, 19 $1657
Feb, March or April  $1949
May, Sept, Oct, Nov, Dec $2159
June, August,  $2199
South America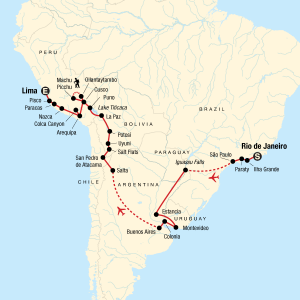 51 days Rio de Janeiro to Lima
If you have the time and can't decide between Peru and Brazil, then see them both – and pretty much everything in between – on this 51-day extravaganza. Trek the legendary Inca Trail to Machu Picchu, cross the Bolivian Salt Flats, sip wine in Argentina, and hit the beach in Brazil. You'll get plenty of energetic culture, the great outdoors, and the company of other young travellers to keep you moving. There's time later to slow down, take the long road, and have an adventure while you can.
Spot condors at Colca Canyon
Conquer the Inca Trail on the way to Machu Picchu
Experience traditional life on Lake Titicaca
Cross the Uyuni Salt Flats and surrounding desert altiplano
Be awed by Iguassu Falls
Beach-lounge with the beautiful people of Brazil
March 2, 9, 30, 2020 $7029
Jan 6, 20 27, Feb 3, 10, 2020 $7259
Inca Jungle: Rainbow Mountain & Salt Flats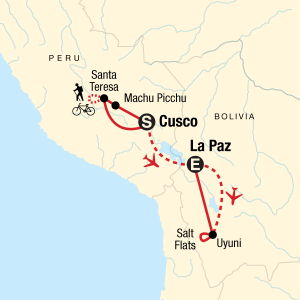 11 days, Cusco to La Paz
Do more than just cross destinations off your bucket list with this action-packed 11-day tour through some of South America's most iconic destinations. You'll experience Machu Picchu in the early morning light, led by a local guide that'll share stories about the ancient Incan culture, and visit the famed Salar de Uyuni including a stay in a community-run salt-brick lodge with salt floors and furniture. Sure, you'll be snapping pics to prove you went to the sites, but better yet, you'll have stories to tell and genuine experiences that you'll value even more.
2020: April 12, 26,May 10, 24 Oct 11, 24 Nov 8, 22 $2449
2020: June 7, 21,July 5, 19, Aug 2, 16, 30, Sept 13, 27 $2599
LONDON TO ROME ADVENTURE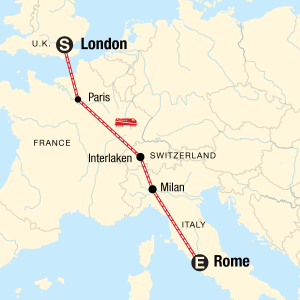 7 days, London to Rome
Crisscrossing four countries, this whirlwind tour of Europe's most celebrated capitals squeezes unique culture, delectable food and drink, stunning scenery, wild nightlife, and centuries of thrilling history into seven days without ever feeling rushed. Browse the galleries and museums of Paris and gape at the Swiss Alps' natural beauty, all for less than you'd ever dreamed possible.
2020: April 12, 26  Oct 4 $1649
May, June, Sept $1699
July, August 1759
AUSTRALIA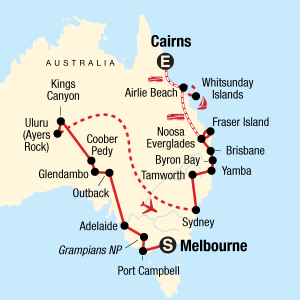 28 days, Melbourne to Cairns
Are you ready to completely slather yourself in all things Australia? Travel to the Land Down Under and spend a month exploring everything this island nation has to offer. Start in Melbourne and move on from there to national parks, wine tastings, the Outback, beach days, sea kayaking, sailing, and loads more. Get the total Oz experience with this all-encompassing tour, and, who knows, you might even acquire a taste for Vegemite by the end.
Jan 7, 2020 $6649
Feb 18, March 10, 31, August 4, 11, 18, 2020 $6419
April 14, 28, May 5, 26, June 2, 9, 23, July 7, 14, 2020 $6179
Kruger, Falls & Zimbabwe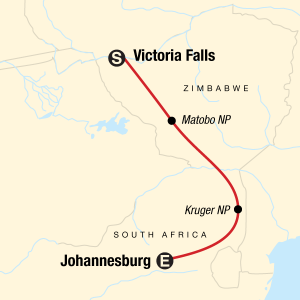 8 days, Victoria Falls to Johannesburg
For once-in-a-lifetime chances to see wildlife in the flesh (or fur), Southern Africa can't be topped. This trip offers a fully immersive, unyieldingly authentic experience of the natural and cultural wonders of this incredible region. In Zimbabwe's Matobo National Park, you'll track rhinos on foot and see the resident wildlife on an open-vehicle safari drive, search for the "big five," in South Africa's Kruger National Park, and witness the unique traditional dances of the local people. This is the Africa you've seen in all those incredible travel photos, but right before your eyes.
Dec 7, 14, 21, 28, 2019 Jan 4, 18, 25, Feb 1, 8, 15, 22, 2020 $1399
IRELAND
Think you know about Ireland? The 8-day trip offers the full Irish experience. Visiting historical Galway, gazing out from the Cliffs of Moher, and taste-testing Guinness come as standard, but exploring the Jameson's Distillery & seeing the UNESCO World Heritage site of the Giant's Causeway? Well now we're talking. Expect all the best bits of idyllic Ireland to be included as standard. Wander gorgeous castles, explore the majestic Cliffs of Moher and kiss the famous Blarney Stone to gain the gift of eloquence
7 nights accommodation and 11 meals are included.
$1755 for May, June, July & August departures
FALLS, BEACHES & SERENGETI ADVENTURE (SOUTHBOUND)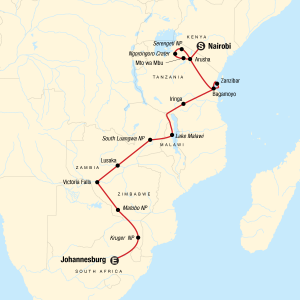 27 days, Nairobi to Johannesburg
Serengeti National Park, Ngorongoro Crater, Kruger National Park, Lake Malawi, Zanzibar, to Victoria Falls — we originally called this trip "Africa Complete," but those pesky lawyers made us change it. While it may not feature all of Africa, it's still pretty darn close. Wildlife safaris, cultural contact, rugged landscapes, and natural landmarks spread across six incredible countries. And with supremely knowledgeable CEOs (Chief Experience Officers), meals prepared from fresh local produce, and starlit camping stays, you'll gain a kinship with this land and its people you won't find anywhere else.
Oct 28, Nov 11, 2019 $4223 Book by August 31, 2019
Sept 23, 2019 March 9, 30, 2020 $5279
Dec 9, 16, 30, 2019 Jan 13, Feb 3, 17, 2020 $5099
BEST OF EGYPT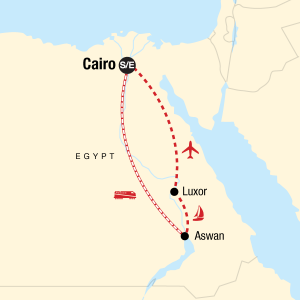 8 days, Cairo to Cairo
This journey through Egypt packs in awe-inspiring culture and adventure in eight energetic days. Explore the ancient sites along the Nile and discover the most famous of them all, the Great Pyramids of Giza. Embrace the culture and meet remarkable people as you sample some traditional fare with a Nubian family in a local village. Feel the buzz of vibrant bazaars in Aswan and Luxor, but still manage to relax and watch life unfold as you sail the Nile in a traditional felucca.
July 13, Aug 24, Sept 14, 21, Oct 5, 12, 19, 26 $959
August 10, Sept 28 $815  Book by June 30, 2019
Nov 2, 23, Dec 7 $899
SOUTH AFRICA & SWAZI QUEST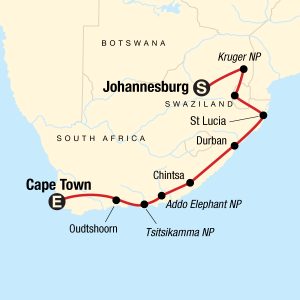 17 days, Johannesburg to Cape Town
The unvarnished grandeur of South Africa is on display in this comprehensive exploration of one of the continent's most diverse and fascinating destinations. Africa's incredible culture and wildlife are at a premium on this tour — from the coastal shores of Tsitsikamma to extensive wildlife safari drives in Addo Elephant National Park and the famed Kruger. You'll also have the chance to visit a traditional Swazi village, explore modern Cape Town, and follow the glorious Garden Route. Add in knowledgeable Chief Experience Officers (CEOs) and some of the best camp meals you've ever tasted and you've got a recipe for adventure par excellence.
August 1 $3069 Aug 22 $2455 Book by June 30, 2019
Nov 14, 28 $2959 Dec 19, 2019 Jan 9, 23, 2020 $2849
Indochina Discovery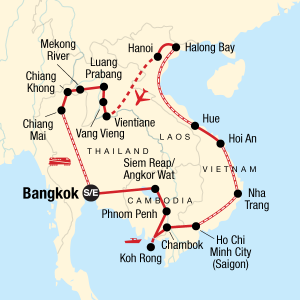 30 days Bangkok to Bangkok
Discover the heart and soul of Indochina on this tour of four very diverse countries. Encounter history, both ancient and modern, and witness the unbelievable splendour of Angkor Wat. Push through hectic city lanes and tap into the pulsing nightlife. Our Chief Experience Officers (CEOs) will ensure your accommodation and transportation are covered — so you can choose the activities that interest you. And with other travellers your own age, you can be sure to get down with adventurers that'll keep up.
Jan. Feb, March, July & August 2020 departures $3139
April, May, June, Sept, 2020 departures $3069