Travel is an experience best shared and travelling connects young clients to forever friendships, turning the experience of a lifetime into a lifetime of experiences.  Some of us are born to explore. If you want to travel, do it while you're young.
Explore all of the places on your bucket list with a group of like-minded 18-39 year old travellers who share your passion for real experiences, life-long memories and epic adventures. You can travel solo but you will not be alone.  You will be matched with a roommate and will meet  a group of people seeking the same adventures!
Cuba Rhythms
For too many people, Cuba is nothing more than a beach resort. That's crazy; the island practically buzzes with energy and you should do likewise — get moving. Journey through the culture-soaked streets of Trinidad and Old Havana for your fill of drinking and dancing. The music here pours out of open windows. Hit the beach and explore the outdoors, then connect with the locals in homestays and make friends for life as you hit the sites with other young people like yourself. Boring? Impossible!
2022:
Sundays & Thursdays: Jan, Feb, March April 3, 7, 10, 14 $1045
April 17, 24, May 1, 15, 29, June 12, 26 $994
Book by Feb 28, 2021
Hawaiian Adventure
Beachin' and Boarding
7 days: Waikiki to Waikiki
Get your beach fix with this week-long rip through Hawaii. Discover the hidden gems of Waikiki you can only find with your locally based CEO, rest up at a hostel just steps from the beach, and grab a paddle for a kayak ride that supports national park restoration. Want more beach vibes? Catch up on some much needed sleep in wooden beach huts before grabbing a board and catching some waves.
2021:
June 28 $1274 July 26, Sept 20 $1359
Nov 22 $1444
2022:
Jan 24, Feb 21 $1444
Mar 21 $1359
April 18, May 16, June 20 $1274
Book by Feb 28, 2021
Northern Thailand: Back Roads Bangkok to Chiang Mai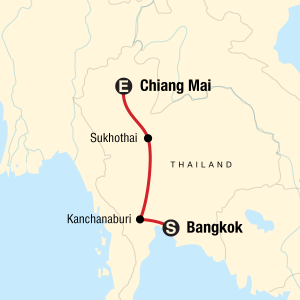 7 days Bangkok to Chiang Mai
maximum group size is 12
You, seven days, northern Thailand, and extra health and safety measures. Begin in Bangkok before visiting historic World War II sites in Kanchanaburi, including the famous bridge over the River Kwai. Explore Erawan National Park, Sukhothai temples by bicycle, then streetfood-crawl your way around Chiang Mai, with lots of free time for whatever floats your boat.
Tours start on Saturdays or Sundays
2022:
Jan, February $679
March $637
April, May $594
June $637
Book by Feb 28, 2021
Thailand & Vietnam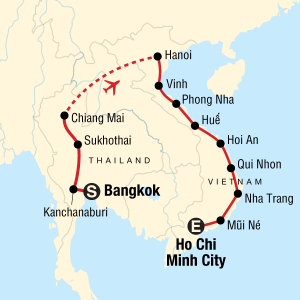 21 days Bangkok to Ho Chi Minh City
Do it all, and then some, on this 21-day tour of Thailand and Vietnam that features extra health and safety measures. Kicking off in Bangkok, enjoy the big city before heading to Sukhothai for a temple bike, then Chiang Mai for street food crawls, night markets, and a whole lot more. In Vietnam, take in the highlights of Hanoi and Ho Chi Minh, then soak up Nha Trang's beautiful beaches and all the natural awesomeness the area has to offer.
Tours start on Saturday & Sunday
2022:
Jan, Feb, March $2039
April May, June $1997
Book by Feb 28, 2021
Vietnam: Hanoi to Ho Chi Minh City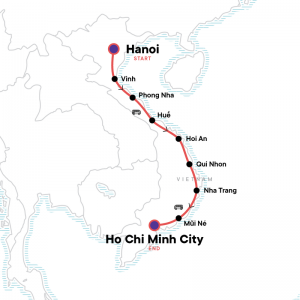 Got 15 days? Then you've got an action-packed tour of Vietnam that hits all the highlights, and features extra health and safety measures. With your CEO leading the way, wander Hanoi's lively Old Quarter, paddleboat through ridiculously spectacular caves, take a motorbike tour of all the must-see spots, then catch your breath on Nha Trang's beautiful beaches.
2022:
Jan 7, 8, 14, 15, 21, 22, 28, 29, Feb 4, 5, 11, 12, 18, 19, 25, 26 $1359
March 4, 5, 11, 12, 18, 19, 25, 26 $1359
April 1, 2, 8, 9, 15, 16, 22, 23, 29, 30 May 6, 7, 13, 14, 20, 21, 27, 28 $1274
June 3, 4, 10, 11, 17, 18, 24, 25 $1274
Book by Feb 28, 2021
Spain, Portugal & Morocco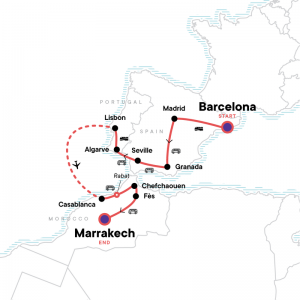 16 days Barcelona to Marrakech
When you're visiting Portugal and Spain, Morocco's just a quick trip away. So we've added this captivating North African country on a 16-day tour that spans continents. Get going with Spain's lively culture and incredible architecture (think Gaudi buildings in Barcelona and Moorish design in Seville) before heading to Portugal to see the beautiful Algarve coast and the vibrant capital of Lisbon. If Morocco's picturesque blue city of Chefchaouen doesn't leave you breathless, the bustling medinas of Fès just might.
2022:
April 29, May 20, 27n $2030
June 17, 24, $2141
Book by Feb 28, 2021
SOUTHERN AFRICA ENCOMPASSED: BUSH CAMPS & WILDLIFE SPOTTING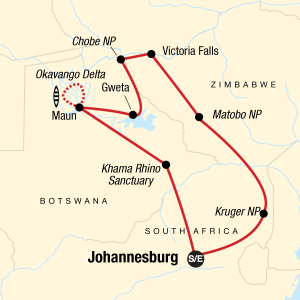 15 days, Johannesburg to Johannesburg
When it comes to raw, in-your-face wildness, South Africa, Botswana, and Zimbabwe are incredible — and from the vantage of our rugged Lando, even more spectacular. Witness traditional dancing, explore the Okavango Delta with a wildlife walk and bush camping, track rhinos on foot in Zimbabwe's Matobo National Park, and capture the "big five" (with your camera, of course) in South Africa's Kruger National Park. Camping will keep you close to the incomparable scenery. This quick tour isn't simply a taste of Africa; it's a full-course meal — with seconds.
For 18 to 39 somethings
2021 :
May 15, 29 June 12 $2227
July 17, 31 Aug 21 $2314
Sept 4, 18, Oct 9, 23 Nov 6, 27 $2227
Dec 11 $2132
Maldives Cruising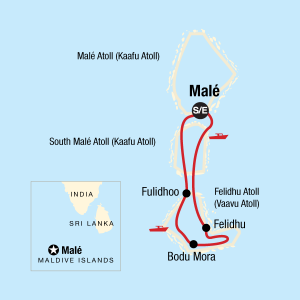 7 days Male to Male
Cruise around the extraordinary islands of the Maldives aboard a traditional dhoni taking in sun, sand, and the clearest water you've ever seen. Turquoise lagoons and perfect beaches make for Insta-worthy island vacay content, while snorkelling amongst the spectacular corals of the Indian Ocean will give you taste of local life. Join like-minded travelers as you indulge yourself in this tropical paradise.
2021:
Sept 3, 17, Oct 1, 15, 29 $1818
Nov 12, 26, Dec 10 $1869
2022: Jan 7, 21, Feb 4, 18, Mar 4, 18 $2199
April 1, 15, 29 $2139
May 13, 27, June 10, 24 $2079
July 8, 22, Aug 5 $2139 Aug 19 $2079
Sept 2, 16 30 Oct 14, 28 $2139
Nov 11, 25, Dec 9, 23 $2199
---
Sri Lanka Spice Gardens & Seasides with Maldives Cruise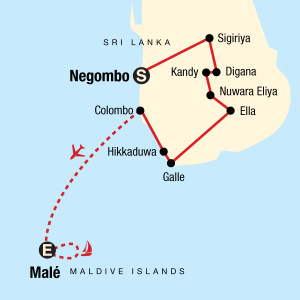 18 days Negombo to MaléBook with Confidence
Take a whirlwind tour in Sri Lanka, throw in a cruise on a traditional dhoni boat and beach time in the Maldives, and mix together for good vibes and great memories. You'll cross white sand beaches, snorkel amongst spectacular corals, discover beautiful ruins, and so much more. Join this adventure with a group of like-minded travelers and you'll head home with some new friends and new perspectives.
2021:
July 12, 26 Aug 9, 23 Sept 6, 20, Oct 4, 18 $3144
Nov 1, 15, 29 $3246
Dec 13, $3348
2022:
Jan 10, 24, $3939
Feb 8, 21, March 7 21 $3819
April 4, 18 $3699
Nepal: Mountains and Temples – Plus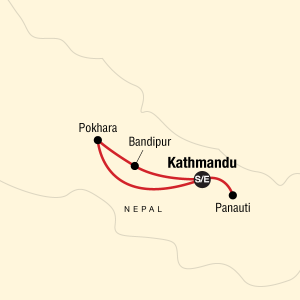 10 days Kathmandu to Kathmandu
Ten days is all it takes to experience what makes Nepal so ridiculously amazing. This tour starts and ends in Kathmandu and packs incredible views, temples, hikes, food, and moments into every step along the way. Experience local living and ancient Magar culture in Panauti. Opt to para sail or just stroll along Phewa Lake at Pokhara. Have your mind blown as you hike alongside one of the world's most beautiful mountain ranges.
2021:
August 28, Sept 11 $949 Sept 25, Oct 9, 23 $2059
Nov 6, 20, Dec 4, 18 $1019
2022:
Jan 1, 22, Feb 5, 19 $949
March 5 $1019 March 19, April 2 $1059 April 23, May 7 $1019
May 21, June 4, 18 July 2, 23, Aug 20, Sept 3 $949
Sept 17, Oct 1, 22 $1059
Nov 5, 19, Dec 3, 17 $1019
Rajasthan: Laneways & Local Villages – Plus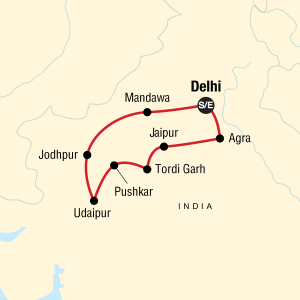 15 days Delhi to Delhi
Buckle up for this 15-day tour that'll have you exploring some of India's most incredible kingdoms, cities, towns, and villages. Set out on a walking tour of Mandawa, known today as Rajasthan's "open-air art gallery". Admire the beautifully frescoed havelis, or traditional townhouses, which once housed wealthy traders and their families. Soak in the sights of a vibrant city on the crossroads of ancient caravan routes.
2021:
Sept 11, 25 $949 Oct 9, 23, $1019 Nov 6, 20, Dec 4, 18 $1079
2022:
Jan 8, 22, Feb 5, 19, $1079
Mar 5, 19 $1019
April 9, 23, May 7, 21, June 4, 18 $949
July 9, 23, Aug 20, Sept 3, 17 $949
Oct 8, 22 $1019
Nov 5, 19, Dec 3, 17 $1079
South America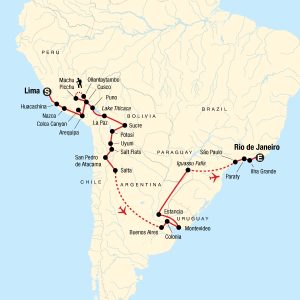 Lima to Rio de Janeiro 51 days
If you have the time and can't decide between Peru and Brazil, then see them both – and pretty much everything in between – on this 51-day extravaganza. Trek the legendary Inca Trail to Machu Picchu, cross the Bolivian Salt Flats, sip wine in Argentina, and hit the beach in Brazil. You'll get plenty of energetic culture, the great outdoors, and the company of other young travellers to keep you moving. There's time later to slow down, take the long road and have an adventure while you can.
2021:
May 2, 9, 23, 30 Jun 6, 15 $5779
July 4, 11, 18 $6170
Aug 1, 5, 16, 22, 29 $5975
Cambodia  & Vietnam: Bonfires & Banh Mi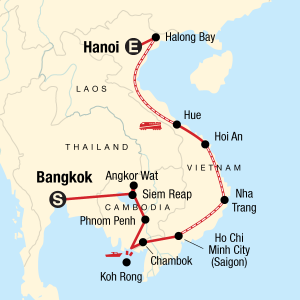 20 days Bangkok to Hanoi
Begin in Bangkok—a city that never sleeps—and end by braving Hanoi's bustling streets. Plug into Cambodia and Vietnam on this electric journey with breaks to bliss out on white-sand beaches. Get a history lesson exploring Angkor Wat and walking Ho Chi Minh City's streets. With your accommodation and transport arranged by our expert CEOs, this adventure offers a great combination of must-see highlights and free time to explore on your own.
2021 :
April 3, 4, 6, 10, 11, 13, 15, 20, 23, 25 $1555
May 1, 2, 7, 9, 11, 18, 23, 25, 29, 30 $1555
June 3, 4, 5, 6, 10, 12, 19, 20, 22, 25, 28, 29 $1555
July 2, 3, 6, 9, 10, 13, 17, 18, 20, 25, 26, 30 $1640
Aug 1, 3, 6, 10, 15, 17, 22, 24, 27, 28, 29 $1555
Rome to London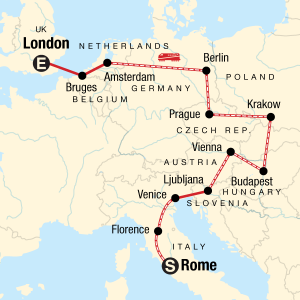 20 days
Hope your happiness muscles are in peak condition because this epic 20-day combo tour of Europe is going to leave you feeling like life is good. Ride on trains from city to city where you'll get to explore cobblestoned streets, ancient sculptures, thermal baths, packed beer halls, and the most amazing dance floors that southern, eastern, and northern Europe have on offer. Loads of free time and optional activities mean you get to see these nine countries your way. Roam, bike, boat, mosey, glide, dance, and laugh yourself through Europe's best. Better start stretching now.
2021 :
May 1, 15, June 12, Aug 21 $3586
July 10 $3680
Peru: Ancient Cities & the Andes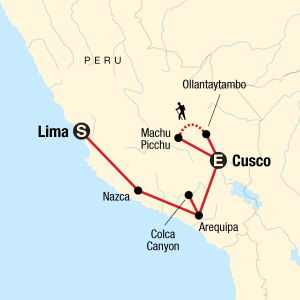 14 days, Lima to Cusco
Climb the legendary Inca Trail to the cloud forest citadel of Machu Picchu, dine the traditional way at a ceremonial Pachamanca feast, or take an optional flight over the Nazca Lines — the adventure is yours to choose! With the services of a CEO (Chief Experience Officer) and your accommodation and transport taken care of, this trip offers great value as it introduces the region's main sights, providing plenty of flexibility so you can experience an adventure you'll never forget.
2021:
May 9, 23, 1835
Inca Jungle: Rainbow Mountain Trek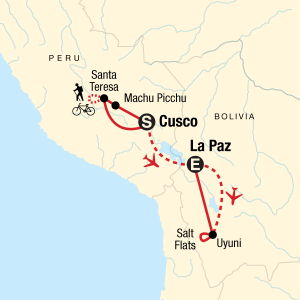 7 days
Discover the many ways you can get your blood pumping in Peru's stunning natural and ancient landscapes on a seven-day tour. Take an epic mountain bike ride along rushing rivers and soar above the jungle on a zipline in Santa Teresa before you hit the famed Machu Picchu in the early morning light, and venture to the incredibly Instagrammable Rainbow Mountain. There's time in between to soak sore muscles in nearby hot springs and recharge for action-packed days ahead.
2021:
April 11, May 23 $1045
LONDON TO ROME ADVENTURE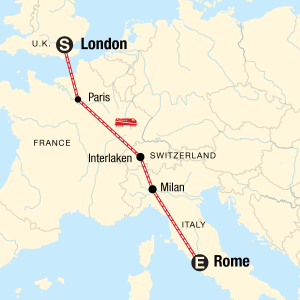 7 days, London to Rome
Crisscrossing four countries, this whirlwind tour of Europe's most celebrated capitals squeezes unique culture, delectable food and drink, stunning scenery, wild nightlife, and centuries of thrilling history into seven days without ever feeling rushed. Browse the galleries and museums of Paris and gape at the Swiss Alps' natural beauty, all for less than you'd ever dreamed possible.
2021:
April 25 $1402 May 9, 16 $1444
Complete Australia: Maxi Yachts & Mountains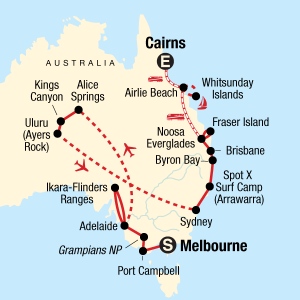 28 days, Melbourne to Cairns
Now's the time to explore Australia on your terms with this tour that's affordable for young travelers. Don't just skim the surface of Australia. Dive right into the Land Down Under on an epic month-long exploration of everything this island nation has to offer. Start in Melbourne's hipster haunts and then head to national parks, the Outback and sandy beaches with opportunities for sea kayaking, sailing, and loads more. Get the total Oz experience with this all-encompassing tour, and, who knows, you might even acquire a taste for Vegemite by the end.
2021:
April 6, May 18 $5252
Overland Waterfalls &  BEACHES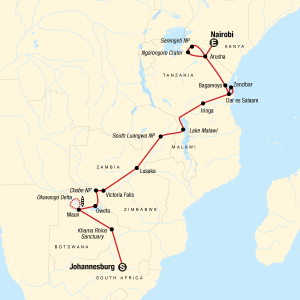 27 days, Johannesburg to Nairobi
Now's the time to explore Africa on your terms with this tour that's affordable for young travellers. Tuck into a meaty month of adventure as you embark on an epic overland journey from Johannesburg to Nairobi, crossing the stunning wilderness of seven countries in between. Track Africa's "big five" on safari drives in the Serengeti and Ngorongoro and head to the Okavango Delta for a wildlife walk and mokoro canoe excursion. Inhale the mists of Victoria Falls and the fragrant air of spice plantations in Zanzibar. You'll make your discoveries from a rugged Lando, ready to take on any adventure. Hop in for a ride you won't want to hop off.
2021:
April 3, 10 $4360 May 29 $4360
BEST OF EGYPT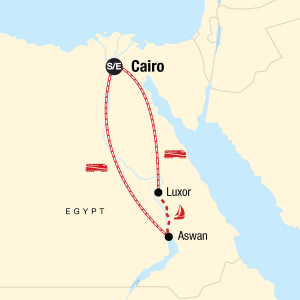 8 days, Cairo to Cairo
This compact adventure offers maximum Egypt at minimum cost. Stare in amazement at the pyramids and float down the Nile on a felucca. Embrace the culture and meet remarkable people as you dine on traditional fare with a local family in a Nubian village. You'll enjoy basic accommodation and transport to the best sights. Walk through the Valley of the Kings or explore Karnak — it's your call. Don't just dream of Egypt, wake up in the Land of the Pharaohs and open your eyes to adventure.
2021:
April 10 $849 May 1, $807
Indochina Discovery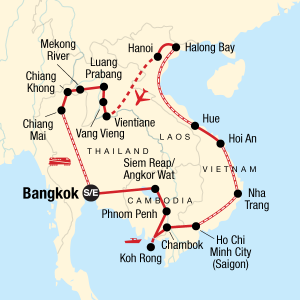 30 days Bangkok to Bangkok
Now's the time to explore Thailand, Vietnam, Laos and Cambodia on your terms with this tour that's affordable for young travelers. Search for age-old stories at ancient sites like Angkor Wat, tap into the pulse of Southeast Asia's most famous cities, and find a new watering hole (or two) along the way. There's a lot to Indochina, and this 30-day tour has just enough free time and fun to help you bring your sense of adventure to every part of it. With one month, four countries, and countless ways to connect to this region, it's time to see what you've been missing.
2021:
April 3, 4, 6, 10, 11, 13, 15, 20, 25 $2626
May 2, 9, 11, 17, 23, 25, 29, 30 $2626