Choose To Cruise
A calm ocean breeze. Waves lapping along the boat's edge. A drink in your hand. That's the serenity aboard a cruise ship. Explore the world with all the comforts you could ask for. From dock to dock you can relax in the sun, meet new friends, take in some entertainment, or join the party—stopping only to see the fantastic sights of coastal cities around the world. Ship off and watch your worries shrink with the distant shore.
NORWEGIAN FJORDS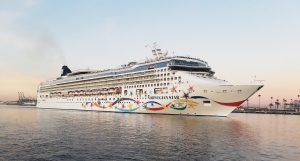 June 12, 2020
Norwegian Star blends the relaxed Freestyle Cruising concept with cruises to Europe.
The Norwegian Star features 15 delicious dining options, 11 bars, and lounges,
a sprawling spa, an always-exciting casino, plus tons of fun for kids of every age. This ship offers it all.
ALL-INCLUSIVE Cruise Package including international flights, greeting and transfers,
1-night pre-cruise with breakfast included in London,
14 nights on the Norwegian Star cruise ship including the premium beverage package with tips,  the 5-meals specialty dining package with tips and a USD $100 onboard credit!
Upgrade package to Ocean View Stateroom: $778 taxes included per person
Upgrade package to Balcony Stateroom: $2178 taxes included per person
*BONUS for Ocean View or Balcony Stateroom:
USD $50 off on shore excursions per cabin per port and 250 minutes WI-FI package on board!
PACKAGE INCLUDES
* INTERNATIONAL FLIGHTS & TRANSFERS
* 1 NIGHT PRE-CRUISE IN LONDON
* 14 NIGHTS ON THE NORWEGIAN STAR
* BEVERAGE PACKAGE & TIPS
* SPECIALTY DINING PACKAGE & MORE!
MONTREAL $4778
TORONTO $4778
OTTAWA $4978
EDMONTON $4978
CALGARY $4978
VANCOUVER $4978
HALIFAX $4978
CRUISE ICELAND, IRELAND & THE UK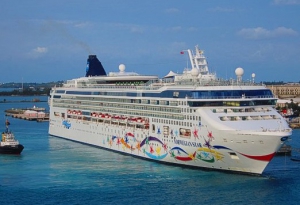 MAY 29, 2020 
ALL-INCLUSIVE Cruise Package including international flights, greeting and transfers, 1-night pre-cruise with breakfast included in London, 14 nights on the Norwegian Star cruise ship including the premium beverage package with tips, the 5-meals specialty dining package with tips and a USD $100 onboard credit!
From Montreal & Toronto: $4977 taxes included / person in an Interior Cabin
From Ottawa, Edmonton Calgary, Vancouver & Halifax: $5277 taxes included / person in an Interior Cabin 
Upgrade package to Ocean View Stateroom: + $977 taxes included / person
Upgrade package to Balcony Stateroom: + $1977 taxes included / person
*BONUS for ocean view or balcony cabins: USD $50 off on shore excursions per cabin per port and 250 minutes WI-FI package on board!
South Africa, Seychelles, Maldives, Singapore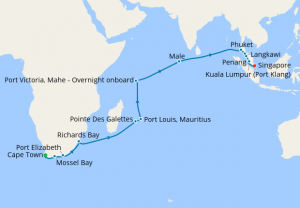 March 19, 2020 – 29 days
All-inclusive package including flights, all transfers, 2 pre-cruise hotel nights in Cape Town with breakfasts, 1 post-cruise hotel night in Singapore with breakfasts, 24 nights all-inclusive on the Norwegian Spirit including all meals, $50 off excursions per cabin per port, and 250 minutes of Wi-Fi on board.
**Upgrade package to Ocean View stateroom: + $598 taxes included / person
**Replace 250 Wi-Fi minutes for Unlimited Premium Beverages including tips: + $750 taxes included per person
While onboard make a trip to the Tivoli Pool, soak in one of our four outdoor hot tubs, or take the kids to Buccaneer's Wet and Wild. That's just the beginning with 14 delicious dining options, 12 bars and lounges, the Maharaja's Casino, and the Roman Spa & Fitness center at your fingertips, you're ready to have a vacation of a lifetime!
PACKAGE INCLUDES
* International flights & transfers
* 24 nights on the Norwegian Spirit
* 2 nights pre cruise in Cape Town
* 1 night post cruise in Singapore
* half day city tour in Cape Town
from Calgary, Edmonton, Montreal, Toronto, Ottawa, Vancouver or Halifax $7398 per person
Western Caribbean Cruise with air from Vancouver!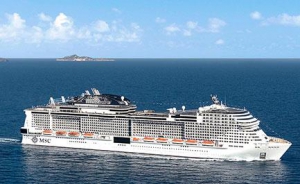 January 12 or 26, 2020
Sail from Miami | Ocho Rios | Grand Cayman | Cozumel | Ocean Cay MSC Marine Reserve | Miami
Ship Highlights
› Gourmet dining options including 12 distinct venues, wide range of bars and lounges
› Spectacular entertainment with two original shows by Cirque du Soleil
› Two-level interior promenade, covered with a giant LED domed "digital sky"
› Family activities for all ages: Full-sized bowling alley; F1 Simulators; Large water park;    Kids colourful areas created in partnership with LEGO® and Chicco®
› Supervised programs:
Baby club (ages 1 to 3); Kids' club (ages 3 to 11); Teens' club (ages 12 to 17)
Unlimited Drinks† onboard MSC Meraviglia
All-in-one cruise package inclusions
Roundtrip flight from Vancouver to Fort Lauderdale,
Roundtrip transfers to/from Miami, 7 night cruise and added values†
Ocean View Stateroom  $1679
Balcony Stateroom  $1979
+ $600 txs/fees
FREE Sailing Days!
Enjoy more exciting ocean sailing and tropical breezes with your favourite crew this year.  Book your vacation during the month of June and get a day or two of fun on us with our FREE Sailing Days* promotion!
*Offer Details
1 FREE day when you book a 7-day charter
2 FREE days when you book a 14-day charter
Destinations: Abacos, Antigua, Belize, British Virgin Islands, Grenada, St. Lucia, St. Martin
Travel dates: Now to  December 13, 2019
Receive your FREE days by calling our vacation planners
GREEK ISLAND HOPPING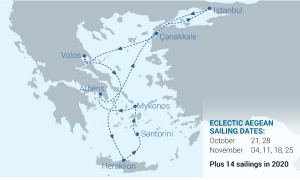 7 Night all inclusive cruises from $1139 usd p.p.
High standard of hospitality
Mid-size ships each offer their own unique character
Celestyal Crystal has a yacht-inspired design and classic teak decks for her 1200 guests
Celestyal Olympia features all new staterooms for the comfort of her 1664 guests
Both vessels provide elegant restaurants, bars and lounges, extensive sun decks, pools, a spa, fitness rooms and promenade decks
All Inclusive fares include:
Delicious regionally inspired cuisine from a choice of restaurants onboard
Unlimited drinks package
Selected shore excursions including palaces, citadels and ancient sites
Entertainment on board
Gratuities
Overnight stay in Istanbul
Dalmatian Coast & Montenegro Sailing
15 days
Split to Dubrovnik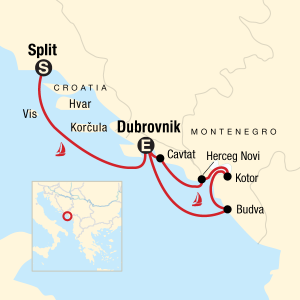 Stretch out your vacation days lounging on a yacht deck with this sailing trip that covers the Dalmatian coast from Split to Dubrovnik, along with plenty of time in Montenegro. Feel the warm sun on your face with the refreshing spray of seawater as you venture from coastal town to coastal town, stopping to swim, snorkel, or relax on beaches before exploring the rich history behind this storied Old World region. Local food and wine are in abundance, giving you delicious homegrown flavour that's difficult to forget. When it comes to Croatia, every experience is filled with memories that ignite all the senses.
Sept 19  $3359
5* Canada & New England
all inclusive cruise

!

11 nights
Sailing from Boston to Montreal or vice versa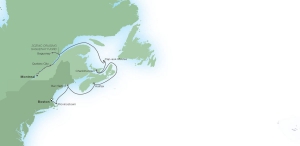 All inclusive Verandah suite for the price of an oceanview!
Book by July 31, 2019!
August 30 – 11 days- sailing Montreal to Boston $4985
Sept 10 – 11 days – sailing Boston to Montreal $5359
Sept 21 -12 days Montreal to Montreal $5608
Oct 25 – 12 days – sailing from Montreal to Miami $4985
**taxes from $439 to $574
CULINARY CRUISE
NEW YORK TO MONTREAL
11 day sailing Oct 19, 2019
Verandah suties from $5949 cdn p.p.
With OLife Choice*, our limited-time inclusive package, enjoy Roundtrip Airfare* and Free Internet plus choose one:
FREE – 6 Shore Excursions
FREE – Beverage Package
FREE – $600 Shipboard Credit
Amenities are per stateroom
From Boston Public Market to artisanal breweries and gourmet shops in Halifax, our exciting new Culinary Discovery Tours™ in Canada and New England invite you on chef-led adventures that explore some of my favorite epicurean hot spots in the region. As Riviera travels along the New England coastline and the Northeastern coast of Canada this fall, we set out to design a set of new Culinary Discovery Tours™ that would bring the heart of the region's culinary traditions to life and showcase the Northeast's unique ingredients, dishes and innovations. This fall, we're excited to introduce three brand new tours that dive into the local food scenes, take you on chef-curated tasting adventures and celebrate classic dishes.
Below is a sneak peek at the new tours!
Boston, Massachusetts
Culinary Discovery Tour: Chef Insider's Tour of Boston
Enjoy the rare experience of seeing Boston through the eyes of a local celebrity chef on this epicurean adventure. Browse the colorful stalls at Boston Public Market and then spend time discovering more about the life and passions of Michelin-star chef and Boston legend Barbara Lynch as you enjoy seasonal fare and wine at two of her top Boston restaurants. This is a truly unforgettable day offering an insider's glimpse into the culinary mecca that is Boston.
Halifax, Nova Scotia
Culinary Discovery Tour: Trendy Halifax Chef-Led Foodie Tour
Enjoying a reputation as a trendy culinary destination, Halifax is bustling with artisanal breweries, restaurants and gourmet food shops. Join your Culinary Center chef and a local food expert for a unique gourmet tour, visiting local establishments selected for their inspired offerings that reflect the local food culture. Your tasting adventure in this burgeoning foodie paradise includes a savory charcuterie and wine pairing, a cider and seafood tasting, and a craft beer flight paired with Halifax's signature snack.
Newport, Rhode Island
Culinary Discovery Tour: Culinary & Architectural Jewels of Newport
Join a James Beard award-winning chef for a memorable seafood luncheon and oyster-shucking demonstration at an elegant waterfront restaurant in Newport. Enjoy a tasting of the freshly shucked oysters paired with sparkling wine as a prelude to your delectable meal. Afterwards take a leisurely drive along Newport's gorgeous coastline, spotting some of the famed mansions such as The Breakers.
Asia Cruise Package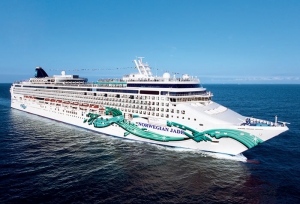 Sail from Singapore to Bangkok, Cambodia, Ho Chi Minh, Nha Trang, Hue/DaNang, Hanoi/Halong Bay, Hong Kong
14 nights / 16 day Cruise Package including international flights, all greetings & transfers,
two nights pre-cruise in Singapore, one-night post-cruise in Hong Kong,
11 nights on the Norwegian Jade with All Meals, USD $50 Offshore excursions in each port,
and a choice of Wi-Fi or Unlimited Premium Beverage package including tips.
Departure dates: January 10, 2020 & February 03, 2020
Option 1: All inclusive package including 250 minutes Wi-Fi
USD $50 Off Shore Excursions in each port
Interior Stateroom
From:
Vancouver: $3998
Toronto, Calgary & Edmonton: $4177
Montreal & Ottawa: $4277
Halifax: $4377
Option 2: All inclusive package including Unlimited Premium Beverage package
Gratuities and USD $50 Off Shore Excursions in each port
Interior stateroom
From:
Vancouver: $4298
Toronto, Calgary & Edmonton: $4477
Montreal & Ottawa: $4577
Halifax: $4677
Upgrade any of the option above to Ocean View or Balcony Stateroom:
*Ocean View stateroom: + $977 taxes included / person
*Balcony stateroom: + $1777 taxes included / person
ALASKAN CRUISE SALE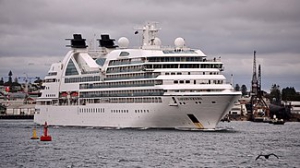 Seabourn Sojourn enchants her guests with an array of public areas scaled to encourage a relaxed sociability. One of the most unusual features of Seabourn Sojourn and her sisters is Seabourn Square, an ingenious "living room" that replaces the traditional cruise ship lobby with a welcoming lounge filled with easy chairs, sofas and cocktail tables. An enclave in its center houses knowledgeable concierges discreetly seated at individual desks.
11-DAY ULTIMATE ALASKA SOJOURN
Vancouver to Seward (Anchorage) Seabourn Sojourn
Veranda Suite
June 7 $4689 CDN
July 14 $5608 CDN
August 20 $5359 CDN
$500USD Shipboard Credit*
12-DAY ULTIMATE ALASKA & INSIDE PASSAGE
Round-Trip Vancouver Seabourn Sojourn
Veranda Suite
August 8 $7478 CDN
September 14 $6231 CDN
September 26 $4985 CDN
$500USD Shipboard Credit
14-DAY ULTIMATE GLACIER & FJORD ADVENTURE
Seward (Anchorage) to Vancouver Seabourn Sojourn
Veranda Suite
June 18 $4985 CDN
$500USD Shipboard Credit
20-DAY ALASKA & AMERICA'S GOLD COAST
Vancouver to Alaska to Los Angeles • Seabourn Sojourn
Veranda Suite
September 26 $7478
$500USD Shipboard Credit*
The Seabourn Difference
• Intimate ships with a private club atmosphere • All dining venues are complimentary, dine where, when and with whom you wish
• Intuitive, personalized service provided by staff passionate about exceeding guests expectations • Seabourn Conversations, connecting with visionary experts
• Curated voyages to all seven continents delivering award-winning experiences • Ventures by Seabourn™, optional shore excursions, enhance and extend your experience in select destinations
• All ocean-front suites, luxuriously appointed • Select purposeful and sustainable travel experiences in partnership with UNESCO
• Complimentary premium spirits and fine wines available on board at all times • Spa & Wellness with Dr. Andrew Weil, featuring an exclusive mindful living program
• Welcome Champagne and complimentary in-suite bar stocked with your preferences • An evening entertainment experience in collaboration with Sir Tim Rice
• Tipping is neither required, nor expected • Committed to environmental stewardship and sustainability
• Finest resort at sea that is masterfully designed
• World-class dining, further enhanced through a culinary partnership with Chef Thomas Keller
14-DAYS AUSTRALIAN OFFSHORE & THE GREAT BARRIER REEF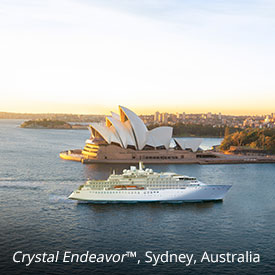 Crystal Endeavor™
October 31, 2020  All inclusive luxury cruise 6*
Cairns, Australia; Lizard Island, Australia; Coral Sea Expedition Stops, Australia; Hinchinbrook/Brook/Dunk Islands, Australia; Magnetic Island, Australia; Whitsunday Islands Expedition Stops, Australia; Northumberland Islands Expedition Stops , Australia; Outer Reef Expedition Stops, Australia; Herald and Swain Reefs National Park, Australia; Lady Musgrave And Lady Elliot Islands, Australia; Fraser Island, Australia; Cruising the Coast of Australia; Sydney, Australia
Exclusive Amenity: Receive $300 USD Shipboard Credit per person
Penthouse suites from $15,099 usd 
Maldives &  Marine Life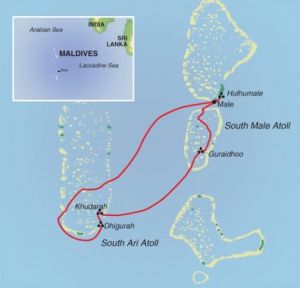 Discover the marine wildlife of the MaldivesAwake to the sun rising over the azure ocean, snorkel areas of stunning beauty and abundant marine life including Manta rays, Whale sharks, Green, Hawksbill and Olive Ridley turtles as well as Bottlenose and Spinner dolphins. Visit unspoiled islands by day and by night relax on deck gazing at the millions of stars above you. A traditionally crafted Turkish Gulet complete with sails is the perfect way to experience the magic of the Maldives.
Highlights
Spend 6 nights on a gulet in the Maldives
Discover unspoilt islands, pristine beaches and idyllic atolls
Snorkel with Whale sharks, sea turtles, a variety of marine life and Manta rays (in season)
6 nights in twin cabins on board the Felicity, all en suite facilities
Full day day Whale shark safari included
All meals included whilst onboard
What's included
All food included whilst on board
All accommodation
All transport and listed activities
Tour leader throughout
Nov 2 $4085 Dec 15, 22 $3985 Jan 19, 26, Feb 2, March 1, 8, Nov 8, 2020 $4175
Seabourn 21 Day Ultimate Antartica & Patagonia
Nov 28 to Dec 19, 2019
Seabourn includes all gratuities (including at the spa), most drinks (alcohol, soda, water, coffee — all but the highest-end liquors and wines) and self-serve laundry. You will pay extra for airfare and transfers, pre-cruise hotel stays, spa treatments, internet and shore excursions. 21 day all inclusive cruise from Santiago, Chile to Buenos Aires, Argentina from $12,465 CDN p.p.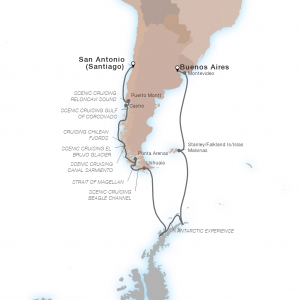 Sail thru the Panama Canal and in the Caribbean, visiting several ports in Panama, Colombia,
the ABC Islands and more one of our 14-night voyages on either Royal Clipper or Star Flyer.
Enjoy amazing sights from deck as the ship transits through the Panama Canal, a feat of engineering and hard-work. See the locks in operation and spot wildlife from toucans to crocodiles in this narrow but busy waterway. And when you book any of these sailings, airfare starts from only CAD$599! Gateways applicable are Montreal, Toronto, Vancouver or Calgary.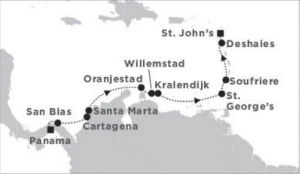 Nov 30 to Dec 14 from $3910 CAD
port charges $540 per person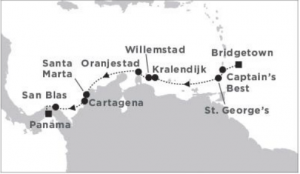 Nov 23 to Dec 7 from $3790 CAD
port charges $590 per person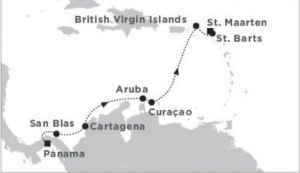 Dec 7 to 21 from $3790 CAD
port charges $590 per person