Choose To Cruise
A calm ocean breeze. Waves lapping along the boat's edge. A drink in your hand. That's the serenity aboard a cruise ship. Explore the world with all the comforts you could ask for. From dock to dock you can relax in the sun, meet new friends, take in some entertainment, or join the party—stopping only to see the fantastic sights of coastal cities around the world. Ship off and watch your worries shrink with the distant shore.
THIS IS WHY WE SAIL
We were born to voyage. For nearly 145 years, we've been introducing guests to new places and new cultures, and we've witnessed firsthand the transformative power of travel. We've seen how it opens minds, builds connections and fosters an appreciation of the shared humanity that unites us the world over. We invite you to join us for an unforgettable experience. Because travel is more than an itinerary, it has the power to change us and our world, journey by journey.
Polar Cruising
Explore Spitsbergen—the Wildlife Capital of the Arctic—one of the northernmost inhabited regions in the world, teeming with iconic Arctic wildlife and rugged unspoiled wilderness.
Sailing in the Canary Islands

7 days San Miguel Marina to San Miguel Marina – Maximum 10 guests
A yacht adventure is the ideal way to experience what many consider the world's most beautiful islands: the Canary Islands. Sail for seven days aboard our 15m (52 ft) yacht, with time for hiking, snorkeling and relaxing. Explore historical sites and cafe-lined harbours, and dine on fresh seafood.
2021:
Oct 23, 30 $1427
Nov 6, 13, 20, 27, Dec 4, 11, 18, 25 $1317
2022:
Jan 1, 8, 15, 22, 29, Feb 5, 12, 19, 26, March 5, 12, 19, 26 $1317
April 2, 9, 16, 23, $1427
Book by Feb 28, 2021
South Pacific: Honolulu to Papeete

Honolulu to Maui, Kauai, Raiatea. Bora Bora, Moorea, Papeete
12 Days. 8 Ports. 1 Amazing Vacation
Book by Feb 20, 2021
2022:
May 19 from $2398 Oct 19 from $2239 Nov 26 from $2108
30% OFF ALL GUESTS
Save big with 30% off cruise fares for all guests.
SECOND GUEST FLIES FREE
Buy our airfare for one guest, and the second guest flies FREE. Offer includes roundtrip flights to and from where this cruise departs.
2-FOR-1 DEPOSITS
Lock-in this vacation today with one $250 deposit for every two guests on your reservation. Applies to cruises booked 4 or more months in advance.
FREE OPEN BAR
Enjoy all the spirits and cocktails, wines, draft beer, juice and pop for all guests 21 years or older.
FREE SPECIALTY DINING
Savour meals at our Specialty Dining venues free for Guests 1 & 2.
FREE EXCURSIONS
Receive US$50 Shore Excursion Credit per tour.
FREE WIFI
Stay connected with internet you can use throughout the ship.
Caribbean cruising!
Book a cruise today to The Bahamas, Caribbean, Mediterranean or Europe and you will get up to a $400 FREE Spending Credit to use how you wish. Spa treatments, shore excursions, drink packages, specialty dining, wi-fi, and more… There are so many exciting ways to spend the credit. (Psst! the onboard credit can also be used off the ship on our exclusive private island, Ocean Cay.) Book for an entire family with Kids Sail Free and everyone can rest easy with no penalty date changes up to 48 hours before departure with Total CruiseFlex.

Caribbean, 7 nights
MSC Seashore
Port: Miami, USA
February 12 to 19, 2022
Starting from:
CA $935.22 p.p.
LUXURY EXPEDITION CRUISES
New! The Northeast Passage:
Across the Russian Arctic with Geoffrey Kent 2021
Limited to 199 guests | 26 days from $36,995 (was $40,995)
Aug 27–Sep 21, 2021 — Limited Availability!
On The Northeast Passage: Across the Russian Arctic with Geoffrey Kent, set out on a true expedition from Tromso, Norway, to Nome, Alaska, visiting remote settlements across the Russian High Arctic, seldom-seen Siberian islands, and astonishing wildlife habitats and nature reserves along the way.
INCLUDED WITH THIS LUXURY EXPEDITION CRUISE
An Exclusively Chartered, All-Inclusive Voyage Led byan Expedition Team and Local Guides
Pre- and/or Post-Cruise Stays at Stylish, Ideally Located Hotels and A&K-Led City Tours
Airport Meet and Greet and Transfers
Private Balcony with Every Onboard Accommodation and Butler Service with Every Suite
Maximum Personnel-to-Guest Ratio of 1 to 1.3
Culinary Program Featuring French-Inspired Cuisine, Including House Drinks, Afternoon Tea and Pastries
24-Hour Room Service and Breakfast in Bed
Choice of Curated, Included Shore Excursions with Expert Guides
Traveller's Valet® Laundry Service
All Gratuities, Port Charges and Taxes
Complimentary Wi-Fi on Board and in Hotels
Onboard Service from an English-Speaking Staff, Including an Accredited Physician
Sail the Cook Islands & the Society Islands

11 nights with FREE air from Los Angeles
Hidden beneath the emerald foliage on the "Garden Island" of Huahine, you'll find hidden temples surrounded by rare orchids, ancient archeological sites, and panoramic views that are sure to take your breath away. What more could you ask for?
Spend two long, luxurious days in storied Bora Bora. You've seen the photos and magazine covers, but the real deal is even more beautiful that you could have ever imagined. Take it all in with a dip in the lagoon or a sunset sail.
Live the life idyllic with a memorable day on Motu Mahana, our own private slice of paradise. On this exclusive islet, treat yourself to sand between your toes, the shade of swaying palm trees, a sumptuous barbecue lunch, and, of course, drinks sipped from coconuts
2022:
March 5 from $4770 USD
June 25, Aug 27, Dec 17 from $5560 USD
**please add on the taxes of $220 USD per person
Book by March 15, 2021
BURGUNDY RIVER CRUISE ADVENTURE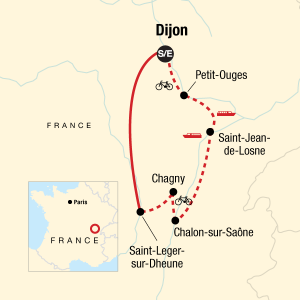 8 days, Dijon to Dijon
Blessed with some of the most gorgeous countryside in Europe, if not the world (not to mention perhaps the best wine around), Burgundy is a place everyone should explore at least once. And the best way to do it is from the deck of an ambling river barge. Visit small villages and first-rate wineries, bike through forests and vineyards on a provided bicycle, and soak up the glorious sunshine, all with the help of a charming little hotel that goes where you go. You won't get a better glimpse of Burgundy's pastoral pleasures than this.
2021:
May 21, June 4, 18, Oct 15 $3144
July 9 $2932
Sept 3, 10, 24 $3357
Book with deposit by Feb 28, 2021
AMAZON RIVERBOAT ADVENTURE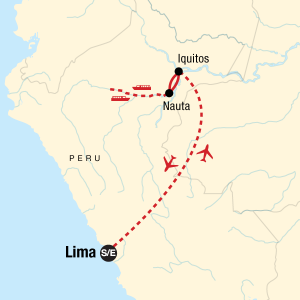 9 days, Lima to Lima
Hop aboard a riverboat and experience the Amazon in style. Led by an Amazon Reserve naturalist guide, your cruise will include daily excursions by motorized skiff designed to reveal the exotic wildlife that calls the rainforest home — with any luck you'll spot sloths, toucans, or pink dolphins! And, with plenty of time for exploration in Pacaya–Samiria National Reserve, you'll have the chance to experience the jungle up close. The cuisine on-board is regional and provides a unique and delicious window into local culture. Gain a rare glimpse of how life "on the river" is lived and experience the magic of the Amazon on this once-in-a-lifetime riverboat adventure.
2021:
April 3, 17, May 1, 15 $2736
June 12, 226, Aug 17 $2592
Sept 18 $2617
Sep 25, Oct 2, 30, Nov 13, 27 $2736
2022:
Jan 22, Feb 12, Mar 5, 19, April 2, 16, 30 May 14 $2736
June 4, 18 $2592
Book with deposit by Feb 28, 2021
Mekong River Cruise
8 days Siem Reap to Ho Chi Minh City
Experience the beauty of both Cambodia and Vietnam during this eight-day river cruising journey. Take in Wat Phnom, the Grand Palace, the S21 Museum, and the Tra Su Bird Sanctuary and prepare to see things you'll never forget (but bring your camera anyway). Get a true taste of river cruising while visiting the Cai Be floating market and the fishing port of Kampong Chhnang, where you'll learn about fish farming, pottery, and sugar palm production. Opt for bikes, tuk tuks, or local boats to get around and see rice paddies, monasteries, and local businesses.
2021:
July 14, 28, Aug 25, Sept 22 $2167
Oct 8 $2379 Nov 19, Dec 17 $2575
2022:
Jan 14 $2396 Jan 28, Feb 11, March 11 $2575
March 25, April 8 $2379
Book with deposit by Feb 28, 2021
Maldives Dhoni Cruise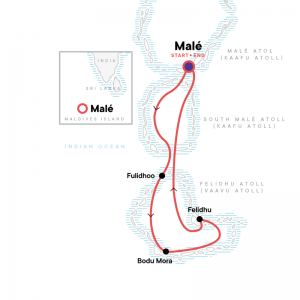 7 days Malé to Malé
White sands, blue skies, and crystal-clear waters — cruise the extraordinary islands of the Maldives by traditional dhoni. Experience the turquoise lagoons and perfect beaches that make these islands famous. Learn the local way and snorkel amongst the spectacular corals of the Indian Ocean. Every day offers relaxing sea breezes and countless photo opportunities. Indulge yourself in this tropical paradise.
2021:
Apr 2, 9, 16, 23 $1835
May 17, 31, Jun 14, 28 $1784
July 12, 30, Aug 13 $1835 Aug 27 $1784
Sep 10, 24 Oct 8, 22 $1835
Nov 5, 19, Dec 3, 17 $1886
2022:
Jan 14, 28, Feb 11, 25 Mar 11, 25 $1886
April 8, 22 $1835 May 6, 20, Jun3, 17 $1784
Book by Feb 28, 2021
Sailing Greece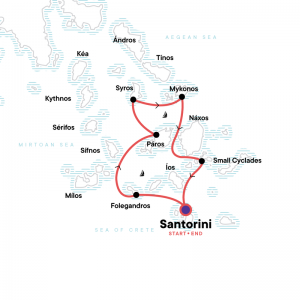 10 days Santorini to Santorini
A yacht adventure is the ideal way to experience what many consider the world's most beautiful islands in Greece. Sail aboard our 15m (52 ft) yachts, with time for hiking, snorkeling, and relaxing. Explore ancient archaeological sites and taverna-lined harbours, dine on fresh seafood and don't forget to try the Ouzo! This 10-day round trip from Santorini will give you the chance to explore some of the treasures of the Greek Islands.
2021:
June 15, 19, $1827
July 21, 22, Aug 4, 22, 28, Sept 10 $1980
Sept 23, Oct 4 $1827
2022:
April 27, May 7, 17, 27 $1742
June 6, 16, 26 $1827
Book with deposit by Feb 28, 2021
Sailing Greece – Mykonos to Mykonos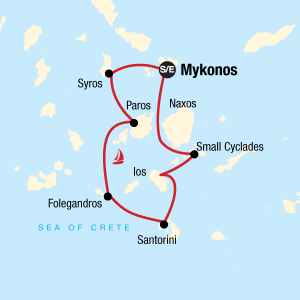 10 days, Mykonos to Mykonos
If we're describing what a true perfect circle looks like, there's no need to look much further , than the Cyclades, or "Circular Islands." Go where the weather (and your skipper) takes you, whether that's exploring ruins, stopping by a microbrewery for a taste, or relaxing on golden sands. See the famous windmills of Mykonos and sail through Santorini's caldera, all while enjoying the view from aboard our yacht along the way.
2021:
June 3, 10 $1827
July 3, 5, 26, Aug 6, 18, Sept 7, 10 $1980
Oct 3 $1827
2022:
May 1, 11, 21, 31 $1742
June 10, 20, 30 $1827
Book with deposit by Feb 28, 2021
SAILING CROATIA – SPLIT TO DUBROVNIK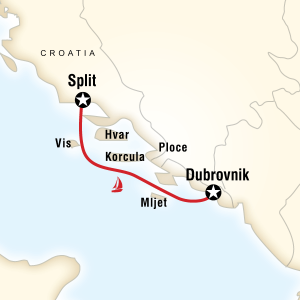 8 days, Split to Dubrovnik
Whether you're looking for relaxed afternoons lazing on the deck of a yacht or time to indulge in the nightlife, this eight-day sailing trip aims to please. Discover charming villages and stunning scenery as you sail from Split to Dubrovnik on a small yacht. Matchmaking won't be needed to help you fall in love with the country, culture, or the region's beauty during hikes to castles and waterfalls. Toss in beach barbecue and snorkelling and you have an incredible yet affordable island getaway.
2021:
April 24, May  15, 22, 29 $1402
June 5, 12, 19, 26 $1470
July 3, 10, 17, 24, 31, Aug 7 14, 21 $1555
Sept 4, 18, 25 $1470  Oct 2, 9 $1402
Book by Feb 28, 2021
Sailing the British Virgin Islands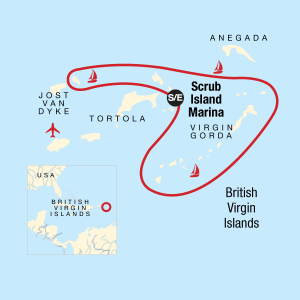 7 days
Scrub Island to Scrub Island
The British Virgin Islands are among the world's most popular sailing destinations and you only have to look around to understand why. Laid-back and low-key, the BVIs are flat-out gorgeous to sail and explore. Hop aboard our state-of-the-art catamaran and discover secluded coves, impossibly beautiful snorkelling spots, and breathtaking islands virtually untouched by humans. Added bonus: your expert CEO (Chief Experience Officer) knows this place so well, you'll discover stuff not even the locals know.
Sail on a catamaran through the beautiful turquoise waters of the British Virgin Islands
Snorkel in deep caves and along reefs
Anchor and jump aboard a floating bar
Hike to secluded spots
Relax in the evenings and enjoy the sunset and the Caribbean sounds
2021:
Oct 24, 31, $1614 Nov 7, 14, 21, 28  $1665 Dec 5, 12, 19, 26 $1716
Book with deposit by Feb 28, 2021
Costa Rica and the Panama Canal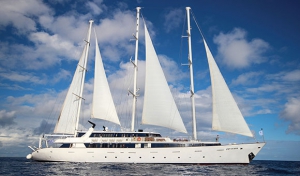 March 11 to March 22, 2022
From $5,995 to $8,195 USD
The MS Panorama carries only forty-eight passengers for truly small-ship expedition cruising.
We'll begin by exploring Costa Rica's west coast where your clients will visit remote national parks and tropical islands, then conclude by transiting the world-famous Panama Canal. The Pacific coasts of Costa Rica and Panama are an explorer's paradise. Each day offers a new discovery—a port of call, a crystal cove, a cultural experience, a glimpse of history. Your clients will love the cultures, flora, and fauna of Central America!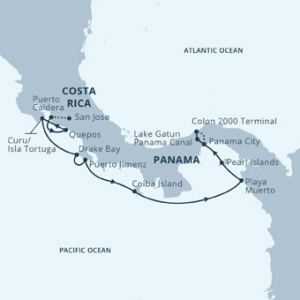 Day 1: San Jose to Puntarenas, Costa Rica
Day 2: Puntarenas to Puerto Caldera Port
Day 3: Quepos and Manual Antonio Reserve
Day 4: Curu and Tortuga Islands
Day 5: Drake Bay and Corcovado
Day 6: Puerto Jimenez — Golfo Dulce
Day 7: Isla Coiba, Panama
Day 8: Playa Muerto, Darrien, Panama
Day 9: Panama City and the Canal
Day 10: Lake Gatun and the Panama Canal
Day 11: Colon 2000 Terminal and Panama City
Day 12: Panama City
Sailing St Lucia & The Grenadines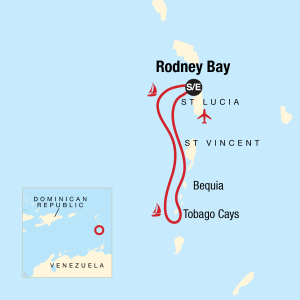 8 days
Rodney Bay to Rodney Bay
Go beyond the resorts and seek a better way for fun in the sun for an eight-day sailing through St Lucia and the Grenadines. Hop from hidden coves to secluded beaches with time in between for snorkelling (some of the Caribbean's best sites are here) and tasty Creole cuisine. And since you're staying in a comfortable air conditioned catamaran, the amenities of your home-away-from-home are never far from wherever adventure takes you.
Sail through the picturesque Windward Islands
Explore the lush green hillsides and picturesque pitons of St Lucia
Swim in crystal blue waters
Dig into delicious Creole and Caribbean cuisine
2021:
Feb 7, 14, March 21, 28 $1749
Oct 10, 17, 24, 31, Nov 7, 14, 21, 28, Dec 5, 12, 19 $1749
Dalmatian Coast & Montenegro Sailing
15 days
Split to Dubrovnik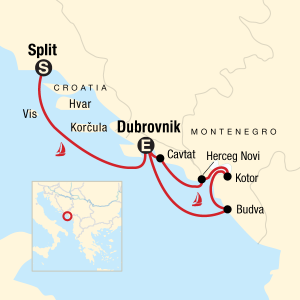 Stretch out your vacation days lounging on a yacht deck with this sailing trip that covers the Dalmatian coast from Split to Dubrovnik, along with plenty of time in Montenegro. Feel the warm sun on your face with the refreshing spray of seawater as you venture from coastal town to coastal town, stopping to swim, snorkel, or relax on beaches before exploring the rich history behind this storied Old World region. Local food and wine are in abundance, giving you delicious homegrown flavour that's difficult to forget. When it comes to Croatia, every experience is filled with memories that ignite all the senses.
2021:
June 5, 12, 19, 26, Sept 4, 11, 18, 25 $2915
July 3, 10, 17, 24, 31, Aug 7, 14, 21, 28 $3059
Oct 2, $2762
2022:
April 30, May 7, 14, 21, 28 $2762
June 4, 11, 18, 25 $2915
Book with deposit by Feb 28, 2021
SAILING THAILAND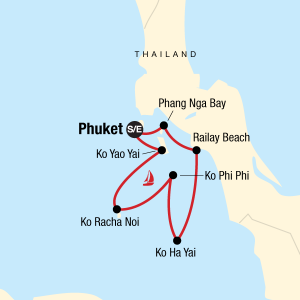 7 days, Phuket to Phuket
Go island-hopping in Thailand and experience some of the best snorkelling in the world. Enjoy a week aboard our sailing catamaran and discover what makes Thailand special. With an experienced captain navigating the southern islands, you'll drop anchor at highlights and secret spots perfect for a swim. Work up an appetite snorkelling, dine on Thai cuisine, and sleep moored under the stars. This trip is perfect on its own or as an add-on with our other Thai adventures.
2021:
Feb 20, Mar 20 $2175
April 3 $2065