Culinary Delights
Taste the world. Where there's people, there's food, and every country's cuisine is as unique as its culture. New tastes and textures can be found on Mediterranean coastlines, between Asian mountain ranges, in the cultural centres and rural villages of Europe, and within the countless cultures of the international community. Embrace adventure with all your senses.
Call us to help you plan your next food trip.
---
Romantic Danube
Sail to charming cities & villages
Visit Budapest's Castle District and cross the famous Chain Bridge. Explore Göttweig Abbey, one of Austria's most revered monastic centers, and make dumplings with Wachau Valley apricots. Visit historic Salzburg. Spend two days in Vienna, and celebrate the city's musical heritage at a concert featuring works by Mozart and Strauss. With medieval towns, grand cities and stunning scenery, this 8-day journey on the "Blue Danube" is one you are sure to love.
2022:
March 27, April 3, 10 from $3899
May 1, 27, June 19 from $3999
July 17 from $3749
Spet 2 from $4399
Oct 21 or Dec 17 from $3349
TAKE A SEAT AT THE CHEF'S TABLE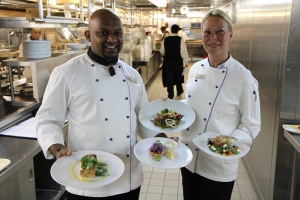 On an Azamara voyage, an evening at the Chef's Table is a dining event like no
other. This exclusive feast pairs delectable destination-inspired courses with perfectly
matched wines. A knowledgeable sommelier will provide helpful information throughout the evening,
guiding you through each carefully selected wine.
Culinary Collection passengers receive two complimentary seats at this exquisite meal—a $190
value—where you can choose from three distinct, five-course menus:
• Italian: Featuring Vitello Tonnato, Boneless
Cacciucco alla Livornese, Homemade Ravioli
with Osso Bucco, Granita al Meloncello e
Menta, Amaretto Tiramisù and more.
• French: Featuring Lobster Salad with Green
Asparagus, Parfait and Bacarii Caviar, Beef
Consommé with Caramelized Onions, LineCaught Mediterranean Sea Bass and more.
• Cuban: Featuring Ropa Vieja con Tostones,
Sopa de Frijól Negro con Cilantro y Jalapeño,
Langosta Enchilada, Sorbete de Mojito, Flan de
Coco and more.
EXCLUSIVE CULINARY OFFER
In addition to the Chef's Table amenity, depending on the sailing you will also be included in our Distinctive
Voyages program or receive a shipboard credit. Our Distinctive Voyages amenities include the services
of our Distinctive Voyages Host, an invitation to a Private Welcome Reception and an Exclusive Amenity
to further enhance your cruise vacation.
FEATURED SAILINGS
16-NIGHT COLOMBIA, ECUADOR & PERU VOYAGE
Azamara Quest
January 7, 2022
Miami to Lima
12-NIGHT SOUTH AFRICA INTENSIVE VOYAGE
Azamara Pursuit
February 20, 2022
Rountrip Cape Town
Extra amenity: $150 per person shipboard credit
11-NIGHT ADRIATIC WONDERS VOYAGE
Azamara Journey
October 6, 2022
Venice to Athens (Piruaeus)
Executive Chef
Receive a complimentary Chef's Table
for two–a five course meal paired with
select wines
UNRIVALED EXPERIENCE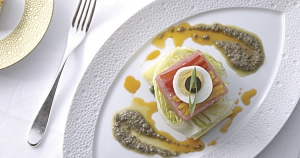 Nothing can elevate travel quite like cuisine. That's why Regent Seven Seas takes
so much pride in creating dining experiences that are nothing short of superb.
Taste the bouquet and notes of the expertly paired glass of wine provided by the head
sommelier and bite into a perfectly aged and skillfully made filet mignon at Prime 7.
Savour every appetizer at Compass Rose, like the perfectly balanced soft-poached egg with
black truffle. And enjoy freshly baked bread each morning, made from the planchet flour
source directly from France. Be transported to Burgundy by the
traditional and uniquely prepared Escargot a la Bourguignonne in Chartreuse. Taste Italy
via a perfect bowl of cioppino in Sette Mari at La Veranda. Deliver an exotic touch to
your evening with a mouthwatering, lobster tempura dinner at Pacific Rim on Seven Seas
Splendor™ and Seven Seas Explorer®.
Dining is always whenever, wherever and with whomever you choose. There is never
a charge for the delectable, gourmet cuisine accompanied by the exceptional wines and
impeccable service. Regent Seven Seas is truly an all inclusive cruise!
EXCLUSIVE CULINARY OFFER
Relax and indulge with your very own box of Leonidas gourmet chocolates
FEATURED CRUISES
14-NIGHT RYKJAVIK UNDER THE MIDNIGHT SUN
Seven Seas Voyager July 2, 2021
Southampton to Reykjavik
7-NIGHT GOLD STRIKE Seven Seas Explorer
July 14, 2021 Vancouver to Seward
12-NIGHT IMPERIAL ELEGANCE
Seven Seas Splendor July 25, 2021
Stockholm to Southampton
12-NIGHT NORWEGIAN DREAMS
Seven Seas Voyager July 28, 2021
Oslo to Amsterdam
14-NIGHT MAGNIFICENT FJORDS & PEAKS
Seven Seas Splendor August 6, 2021
Southampton to Copenhagen
10-NIGHT ILLUMINATED IRELAND
Seven Seas Voyager August 9, 2021
Amsterdam to Southampton
7-NIGHT RIVIERA DISCOVERY
Seven Seas Mariner September 1, 2021
Monte Carlo to Venice
SAVOUR THE WORLD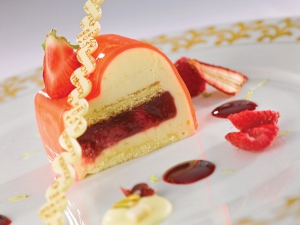 Oceania's commitment to cuisine shines in their artisanal ingredients
and array of gourmet restaurants, but truly comes to life with their passionate
chefs who craft each recipe from the heart.
Selected from the world's best restaurants, these distinguished chefs are the true masters
behind the Finest Cuisine at Sea™.
From Castilla-La Mancha saffron to French flour custom-milled to Oceania's
specifications, you'll savor cuisine made from only the best ingredients. Every recipe has
been proudly crafted by their talented and innovative team, and each dish is a study in
age-old culinary techniques and traditions.
In galleys evoking those found in Michelinstarred restaurants, Oceania's talented chefs
create culinary masterpieces.
Each Oceania voyage is an invitation to discover your next travel story with insider
tours in both marquee and boutique ports during extended, evening and overnight
stays. You'll feel like you're coming home to family aboard these casually elegant ships
and Oceania's personalized, genuine service means their staff and crew attend to your
every request with a smile.
EXCLUSIVE CULINARY OFFER
Enjoy a private wine tasting event plus pre-paid gratuities
FEATURED SAILINGS
7-DAY BALTIC MARVELS
Marina July 26, 2021
Copenhagen to Stockholm
7-DAY STUNNING SCENERY
Regatta August 12, 2021
Roundtrip Seattle
12-DAY ESSENCE OF AEGEAN
Riviera October 6, 2021
Barcelona to Istanbul
14-DAY COLORFUL CORAL SEAS
Regatta December 3, 2021
Sydney to Bali
17-DAY PRISMATIC PATAGONIA
Marina January 28, 2022
Santiago to Buenos Aires
10-DAY PANAMA POTPOURRI
Sirena February 1, 2022
Panama City, Panama to Miami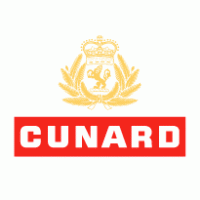 A new flavour can only be tasted once. The second time you sample that flavour,
the taste is merely a luscious echo that simply does not measure up to that first time
it danced across your palate. To many; it is the main reason they travel. And it is why we created
the Culinary Collection. You'll discover a wide variety of delicious and delightful experiences
on these unique cruise experiences ranging from demonstrations from world-renowned chefs to
complimentary wine, indulgent chocolates to delightful meals focused on regional cuisine all
surrounding you in a world of epicurean delights.
As an added bonus, you will receive additional amenities at no additional charge, thanks to our
agency's special relationship with this cruise line. These little indulgences include a private, behind
the scenes galley tour as well as the services of a Distinctive Voyages Host, a Private Welcome
Reception and Exclusive Amenity designed to enhance your cruise experience.
EXCLUSIVE CULINARY OFFER
PRIVATE GALLEY TOUR
Enjoy a private, behind the scenes galley tour
FEATURED SAILINGS
14-DAY ICELAND AND BRITISH ISLES
Queen Victoria July 11, 2021
Round Trip Southampton
7-DAY THE FJORDS
Queen Victoria July 25, 2021
Round Trip Southampton
12-DAY NORWEGIAN FJORDS AND NORTH CAPE DISCOVERY
Queen Victoria August 1, 2021
Round Trip Southampton
21-DAY GRAND NORWEGIAN EXPLORER
Queen Mary 2 August 1, 2021
Roundtrip New York City
7-DAY THE FJORDS
Queen Mary 2 August 8, 2021
Roundtrip Southampton
14-DAY ICELAND AND BRITISH ISLES
Queen Victoria August 13, 2021
Round Trip Southampton
14-DAY SCANDINAVIA AND RUSSIA
Queen Victoria August 27, 2021
Round Trip Southampton
7-DAY THE FJORDS
Queen Mary 2 August 29, 2021
Roundtrip Southampton
7-DAY NEW ENGLAND AND CANADA
Queen Mary 2 October 1, 2021
New York to Quebec
14-DAY THE CANARY ISLANDS
AND MADEIRA Queen Victoria
November 1, 2021
Round Trip Southampton
12-DAY EASTERN CARIBBEAN
Queen Mary 2 November 21, 2021
Roundtrip New York
12-DAY EASTERN CARIBBEAN
Queen Mary 2 December 22, 2021
Roundtrip New York
14-DAY CANARY ISLANDS CELEBRATION
Queen Victoria December 23, 2021
Round Trip Southampton
5 Star Global Gourmet Dining®
Sandals Resorts have as many as 16 Unique Restaurants Per Resort
With all the unique culinary concepts, you'll enjoy a level of variety, quality and creativity that's simply unmatched anywhere in the Caribbean. Each restaurant is proudly run by world-class chefs who are as authentic as the cuisine they serve. And with six varietals of Robert Mondavi Twin Oaks® wine, your meals are always perfectly paired. Best of all, you can dine wherever and whenever you wish – all day, every day, because it's always included and always unlimited.
Contact us for your next culinary adventure at Sandals!
CULINARY CROATIA
Croatia (ZagrebRovinjZadarSplitDubrovnik)
Delight in oysters fresh from the farm, hunt for wild truffles, and cook with a local family. An authentic experience through the gastronomic landscape of Croatia awaits!
Starting in the nation's capital, Zagreb, set out on a private tour of the city with a dedicated guide, and uncover the gastronomic history of the city. Venture through the aquamarine Plitvice Lakes, one of the country's scenic wonders, en route to Rovinj where an exceptional Chef's Table dinner experience will delight the senses. Head out into the Istria region and meet up with a local truffle hunter and his dog for a private demonstration on how to hunt for this revered fungal delicacy. Have some of Europe's best trout en route to Zadar, from where you'll explore Pag Island, renowned for its cheese. Cook with a local family in Split, and then delight in the finest oysters of Ston, as you explore an oyster farm. Tour the old city walls of historic Dubrovnik with a private guide, then set out on a sunset cruise to the Elaphiti Islands for a serene dinner experience. Explore old fishing villages and the beautiful Konavle countryside, a fine conclusion to your culinary adventure.
13 days from $11,466 per person*
Taste oysters, cheeses, wines, and more on private guided gastro-tours.
Hunt for exotic truffles with a local hunter and his dog in Istria.
Delight in a chef's table dinner experience.
Enjoy a cooking lesson in the home of a local family.
Curated selection of luxury accommodations.
PORTUGAL COOKING EXPERIENCE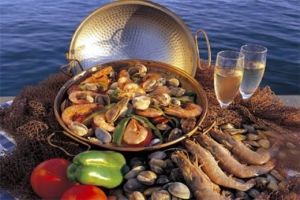 8 DAYS, 7 NIGHTS, 16 MEALS
FROM $3969 Per person in double occupancy – land only
Arrival in Lisbon must be on a Sunday as cooking classes start Mondays.
INCLUSIONS:
7 night accommodation with buffet breakfast:
1 night in Lisbon and 6 nights in Evora at 4*hotels
Transfers:
1st day from Lisbon airport to Hotel in Lisbon
2nd day from Hotel in Lisbon to Hotel in Evora
8th day from Hotel in Evora to Lisbon
(Lisbon airport or Hotel in Lisbon)
* 5 cooking classes with cooking supplies
* Visit of 2 wineries with 3 wine tastings:
3rd day Herdade do Esporão winery
6th day Herdade da Cartuxa winery
*Other meals included:
2nd day lunch at a local restaurant in Evora and dinner after cooking class
3rd day lunch after cooking class and dinner at the medieval village of Monsaraz
4th day lunch after cooking class
5th day lunch at a local restaurant in Vila Viçosa
6th day lunch after cooking class and farewell dinner at a local restaurant in Evora
7th day lunch after cooking class
* Guided tours with English speaking guide, with fees included:
Evora (Roman Temple, Cathedral, Bones Chapel)
Monsaraz (pottery village of S. Pedro do Corval and walking tour in the medieval village)
Estremoz (14th century castle)
Vila Viçosa (Ducal Palace of Bragança's, Sanctuary of Our Lady of the Conception
Provence Active Culinary Walking & Hiking Tour
St-Remy to Gordes & Roussillon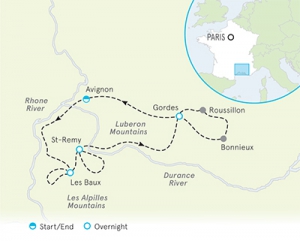 "Provence is made for cooking," raves writer Luke Barr in Travel + Leisure. With this tour , you'll walk in the very forests, fields and orchards that nurture each produit du terroir. Sample wine where the grapes are grown. And expand your culinary repertoire alongside our charming local friends. Provence was made for this.
Highlights
Learn about the secrets of classic Provençal dishes in a cooking class with a renowned local chef
Stroll through vibrant markets and meet merchants peddling the fresh flavors of the Luberon
Enjoy locally grown olives, goat cheese wrapped in oak leaves, herbes de Provence and other tantalizing Provençal specialties
Hike unspoiled routes through limestone hills, perched villages and picturesque vineyards
read detailed itinerary here: Provence Active Culinary walking & hiking tour