Ecotourism & Adventures
Not every adventure leads through urban centres. See the world in its natural state with ecotourism. Foster your appreciation for nature and your understanding of ecological sustainability by visiting lands untouched by urbanization and industrialization. Clean air, clear water, and a genuine connection with the earth can be found in many places, but only on the paths less traveled.
Costa Rica Quest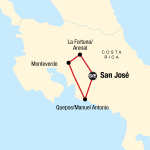 9 days San José to San José
Nature called you to Costa Rica — now here you are, suspended in the jungle canopy, locking eyes with a curious monkey. This action-packed tour of Costa Rica's highlights is perfect for the adventurer with limited time who wants to explore the region's diversity. Get your adrenaline pumping, follow a trail to the base of a waterfall, melt away in thermal springs, or relax on a beach — your guide will help you find the secluded spots only the locals know.
Soak in the thermal hot springs of Arenal Volcano
Search for the elusive quetzal bird in the cloud forest
Watch the sunset over the Pacific
Learn about sugar cane and coffee production at a local planta
2022:
Feb 22, 25, 26 $1316
March 1, 2, 4, 6, 11, 12, 13, 15 $1316
March 19, 22, 25, 29 April 2, 8, 9, 15, 1, 23, 29 $1393
May 5, 12, 14, 21, 28, June 4, 11, 18, 25 $1231
July 2, 9, 14, 21, 28, 30 $1316
Aug 6, 13, 20, 27 $1393
Sept 3, 10, 17, 24 Oct 1, 8, 15, 22 $1231
Nov 3, 5, 10,12 $1231  Nov 17, 19, 24, 26 $1316
Dec 1, 6, 13 $1316
GALÁPAGOS MULTISPORT WITH QUITO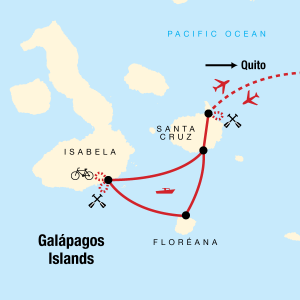 10 days, Quito to Quito
This adventure is perfect for those who want to experience the incredible wildlife and scenery of the Galápagos Islands but prefer to sleep on shore. Go ashore at the lesser-visited island of Isabela and spend your days with playful sea lions, giant manta rays, and the Galápagos giant tortoise. This adventure offers a great balance of guided excursions and free time, with optional activities abound.
2022:
March 12, 26, April 9, 23, May 7, 21 $2999
June 4, 18 $2901
July 2, 30, Aug 13, 27 $2999
Sept 10 $2901 Oct 8, 22 $2811
Nov 5, 19, Dec 3 $2901
Costa Rica Natural Wonders
11-day tour package of Costa Rica with flights! Be charmed by the tropical rainforests, natural hot springs, volcanoes, unspoiled beaches, and the abundant wildlife. An amazing slice of Nature!
Package includes:
International flights, transfers, hotels, 15 meals, excursions
1 night San Jose, 2 nights in Tortuguero, 2 nights in La Fortuna, 2 nights in Monteverde,
2 nights Jaco Beach and 1 night San Jose
2022:
departing Calgary:
March 20, May 1, June 12, July 17, Aug 14,
Sept 11, Oct 23 Nov 20 $2498
April 3 $2598
departing Vancouver or Edmonton:
March 19, April 30, June 11, July 16, Aug 13, Sept 10, Oct 22, Nov 19 $2498
April 2 $2598
9 day Tour of the Peruvian Amazon and Machu Picchu
Day 1
Lima
Welcome to Peru! Upon arrival at the Lima airport you'll be transferred to our hotel in the popular Miraflores district of the city. The rest of the day is free to relax or explore the city before our welcome meeting at 6pm this evening where you will meet your tour leader.
Overnight: Lima
Day 2
Lima
Today we explore the beautiful city of Lima , also known as the 'city of kings', we'll visit the well preserved historical centre. Making our way through Plaza San Martin, we'll also take in Plaza Mayor, the Government Palace and the City Hall. Our tour of the city continues with a visit to the San Francisco Monastery and it's famous underground crypts which are home to an estimated 70,000 remains. This bright yellow architectural wonder is also home to an incredible library, holding thousands of antique texts, some of which pre-date the conquest in the 16th century. Later we'll head through the residential districts of San Isidro and Miraflores, passing by Huaca Pucllana, a clay pyramid that was the ceremonial and administrative centre of the Lima culture and later considered a sacred town by the Inca's. Next up we'll stop at El Olivar park, a peaceful space where we'll find olive trees that were brought to Peru in the 15th century from Spain. Our final stop on today's tour of Lima is El Parque del Amor, this romantic spot is situated on the cliffs of Miraflores overlooking the Pacific ocean.
The rest of the day is at leisure for you to explore this fascinating city at your own pace. With Lima fast becoming one of the gastronomic capitals of the world, be sure to taste some of the delicious local cuisine.
Overnight: Lima | Breakfast
Days 3-4
The Amazon Jungle
Lima – Puerto Maldonado. This morning we head to the airport for our flight to Puerto Maldonado, our gateway to the Amazon jungle. Upon arrival we'll travel by canoe to our lodge for the next two nights. After a break for lunch we'll stretch our legs with a jungle walk, during which we'll learn all about primary and secondary rainforest. This evening we'll embark on a Twilight River excursion to learn about ecosystems, constellations and nocturnal animals, followed by a delicious dinner.
On day 4 we hop in a canoe and sail out onto our lodge's private cocha. Whilst floating on the peaceful water, you can try some native fishing techniques and admire the stunning surroundings. We'll then disembark the boat at the ruins of the Fitzcarrald steam boat and learn a bit about its history before heading back to our lodge for lunch. Next up is a cruise to Rolin river island, where we'll do a spot of bird-watching and wander through its beautiful vegetation. Finally we will check out the lodge's inland collpa, walking to one of their four clay licks. After learning all about collpas and looking for animal tracks we will head back to the lodge for dinner.
Overnight: The Amazon | Breakfast x 2, Lunch x 2, Dinner x 2
Days 5-6
Cusco
Puerto Maldonado – Cusco. We take a canoe ride back to Puerto Maldonado for our flight to Cusco on day 5. After hotel check in spend the rest of the day at leisure adjusting to the altitude. This beautiful city full of history and intrigue, is located 3,399m above sea level.
The following morning we enjoy a tour of Cusco and its nearby ruins taking in some of the city's most important landmarks. We'll start at the Plaza de Armas, built on the remains of one of the most important Incan gathering spots, it's one of the most beautiful squares in the country. We'll also visit the Cathedral, the Kenko Amphitheatre and the impressive Sacsayhuaman Fortress. Built between 1438 and 1474, Sacsayhuaman Fortress took over 20,000 labourers to build and some of the magnificent stone work measures over 4 metres in height and over 100 tons in weight. The rest of the day is at leisure for you to do any independent exploring of Cusco.
Overnight: Cusco | Breakfast x 2
Day 7
Sacred Valley
Cusco – The Sacred Valley. Today we enjoy a full day tour of the Sacred Valley. Our first stop is the popular Pisac Markets, where artisans from the region get together and exchange or buy and sell their products. Originally only held on Sundays, Pisac Market was a place for artisans from across the region to trade in their products. Today the market is a daily occurrence where locals and visitors alike can find some of the finest textiles, jewellery and clothing typical of this area of Peru. There's plenty of time to explore the market, see the variety of colourful handicrafts and textiles on offer, and barter for souvenirs.
This afternoon we visit Ollantaytambo's fortress with its enormous Inca terraces constructed on the side of a steep mountain. One of the best examples of Incan architecture, many of the inhabitants of Ollantaytambo still live according to the customs and traditions they have inherited from generations of ancestors, leading to it being known as a living Inca town. After a tour through the area we check into our hotel for the night.
Overnight: Sacred Valley | Breakfast
Day 8
Machu Picchu
Sacred Valley – Machu Picchu – Cusco. Today is the day you've been waiting for as you finally get a chance to witness first hand one of the most fascinating ancient sites in the world. In the morning we will take the train from Ollantaytambo to Aguas Calientes and then board the bus to Machu Picchu – remember to look out the windows as the scenery along the way is utterly breathtaking.
Situated on a mountain ridge above the Urubamba River and surrounded by tropical forest, the Inca city enjoys a truly spectacular setting. When we get there, a guided tour will take us through the citadel. Built in the classical Inca style with polished dry-stone walls and terraces that seem to have been crafted naturally from the rock escarpments, Machu Picchu is a spectacular testament to the greatness of the Inca civilisation. The ruins are divided into the Urban and Agricultural Sectors with features ranging from terraced fields and water fountains to storage buildings, guardhouses and religious temples as well as bridges on the trails leading out of the citadel. After the tour there's plenty of time independently explore and take photos before we take the train back to Cusco from Aguas Calientes.
Overnight: Cusco | Breakfast
Day 9
Cusco
Our tour comes to an end after breakfast today. A transfer will take you to Cusco airport for your onward travel. Adios!
Breakfast
2022:
March 26, $3125
April 2, 16 $3345
May 14, 28 $3325
June 16, 25, July 9, 16, 30 $3345
Aug 6, 20, 30 Sept 3, 17, Oct 8, 22 $3325
Nov 12, $3125
Iceland's Magical Northern Lights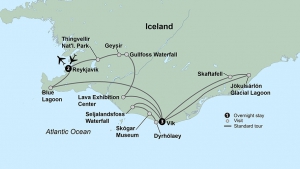 7 days/6 nights
10 meals: 5 breakfasts and 5 dinners
Experience the "land of fire and ice" and chase the aurora borealis across an ethereal wonderland. In the dark of the night, search for the northern lights as you drift along on an evening starlit cruise. Travel the "Golden Circle," home to renowned natural wonders, and spend time at Thingvellir National Park, gaze at Gullfoss waterfall, and see the explosive geothermal fields at Geysir. Explore Skógar Museum and see traditional turf-built homes. Walk on a black volcanic sand beach. See Jökulsárlón glacial lagoon filled with floating icebergs. Relax in the warm, mineral-rich water of the Blue Lagoon. Spend your days surrounded by natural wonders and your nights in search of the elusive dancing lights.
2022: March 5, 6, 13, 19, 20, 22 $2949
Oct 2, 3, 4, 5, 6, 7, 8, 10, 11, 12, 14, 15, 17, 18 $2999
Oct 22, 24, 25, 27, 28, 29, 30, 31 Nov 1, 2, 3, 4, 5, 6 $2999
Nov 7, 8, 9, 10, 11, 12, 13, 14, 28, 29 $2999
Inland & Amazon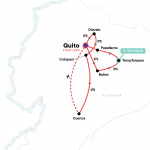 14 days Quito to Quito
It's quite poetic that Ecuador is the centre of this big, beautiful planet of ours. In so few kilometres, the peaks of the Andes, the jungles of the Amazon, and historical cities all have some square footage here and with this 14-day journey you can see some of it all. Learn about the traditional Quichua culture in the Amazon, find treasures at a local handicraft market, and later slip into a world of "ahh" in a mountain hot spring.
2022:
March 12 26, April 9, 23 $1599
May 7, 21 $1703
June 4, 18 $1799
COSTA RICA ESCAPE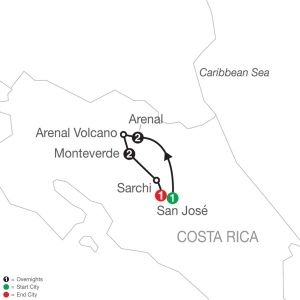 7 Day Tour from San José to San José
Get back to the garden with an escape to Costa Rica's natural paradise. From heart-stirring suspension bridges through rainforest canopies to the lava trails emerging from the depths of the earth. Visit Arenal Volcano and explore the wild places where pumas and jaguars prowl. Look skyward to spot the hundreds of multi-hued birds, butterflies, and a dizzying diversity of wildlife in the Monteverde Cloud Forest. Find your head in the clouds in a primeval forest blessed by trade winds, rain, and fog by day; and unfettered stars above by night. Go where monkeys and macaws make your day with mischief and count yourself charmed to see some of the 160-plus reptile species—from tiny amphibians to titan snakes. Get civilized too, with visits to an artisan village and a tour of Costa Rica's largest city and cultural capital of San José.
Each tour is limited to an average of just 20 guests per departure. There's always room to roam with extra space between you and other travelers—while still getting up close and personal to the experiences you've been dreaming of. Small-Group Discoveries include all the features of a traditional Globus escorted vacation, complete with expert Tour Director, Driver, and Local Guides who ensure that your health and safety is our top priority. A Small-Group Discovery vacation is the perfectly sized tour—without the crowds.
2022:
March 5, 19, 26, April 16, May 14 $1219
June 18, July 16, Aug 6, Sept 24 $1219
Oct 22, Nov 19, Dec 2 $1219
2023:
Jan 28, Feb 11, 25, March 4, 18 $1289
COSTA RICA ESCAPE WITH TORTUGUERO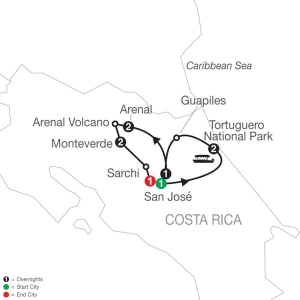 10 DAY TOUR FROM SAN JOSÉ TO SAN JOSÉ
Escape to the Caribbean coast of Costa Rica, reachable only by air or water, to explore Tortuguero National Park. As its name suggests, it is here where sea turtles like loggerheads and leatherbacks lay their eggs each year. Visit the Sea Turtle Conservancy, home to the Western Hemisphere's largest green sea turtle nursery. Cruise the canals to spot fantastic creatures large and small that stalk, slither, and soar in this natural paradise of wildlife diversity. Depart by boat before driving to San José and pass pineapple and banana groves en route to the heart-stirring rainforest canopies of Arenal. Here, the hanging bridges stretch to heart-stirring heights through the rainforest canopy, while the depths of the earth deliver lava trails to follow. Visit Arenal Volcano and explore the wild places where pumas and jaguars prowl. Look skyward to spot the hundreds of multi-hued birds, butterflies, and a dizzying diversity of wildlife in the Monteverde Cloud Forest. Find your head in the clouds in a primeval forest blessed by trade winds, rain, and fog by day; and unfettered stars above by night. Go where monkeys and macaws make your day with mischief and count yourself charmed to see some of the 160-plus reptile species—from tiny amphibians to titan snakes. Get civilized too, with visits to an artisan village and a tour of Costa Rica's largest city and cultural capital of San José.
2022:
March 16, 23, April 13, May 11 $1799
July 13, Aug 3, Sept 21, Oct 19, Nov 16, 30 $1799
2023:
Jan 25, Feb 8, 22, March 1, 15 $1909
Best of Iceland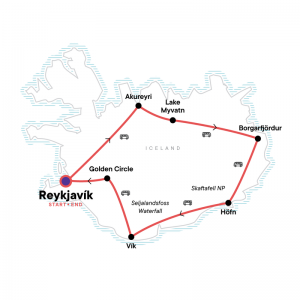 7 days Reykjavík to Reykjavík
If you're looking for a fast but full visit around Iceland, this seven-day trip fits the bill perfectly. It has tons of hidden gems that you won't find anywhere else in the world, combined with free time to experience plenty of the highlights, like erupting geysers, visiting glacier lagoons, and exploring breathtaking waterfalls and black-sand beaches. Be sure to pack your sense of adventure and get ready to feel Iceland under your feet.
2022:
April 9, 30, May 7 8, 14, 21, 22, 28 $2549
June 4, 5, 11, 18 $2745
Galapagos with Quito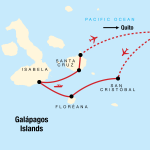 10 days Quito to Papallacta
Strike a balance between genuine encounters with Mother Nature and the comfort of land accommodations on this 10-day Galápagos tour. Explore Ecuador's capital, Quito, on your own before hopping on a flight to the Galápagos Islands where an incredible diversity in wildlife awaits. Spot blue-footed boobies on Isla Lobos, visit a sea lion nursery, and go birdwatching in the highlands of Floreana. With upgraded hotels and private speedboat transfers, you'll be well-rested and ready to take in the unique splendour that these islands offer.
Encounter marine iguanas and blue-footed boobies
Snorkel among volcanic formations
Dip into the Papallacta hot springs
Walk on the black-sand beaches of Floreana Island
Visit the Giant Tortoise Breeding Centre
Dine at community restaurants
2022:
Mar 13 $3914