Ecotourism & Adventures
Not every adventure leads through urban centres. See the world in its natural state with ecotourism. Foster your appreciation for nature and your understanding of ecological sustainability by visiting lands untouched by urbanization and industrialization. Clean air, clear water, and a genuine connection with the earth can be found in many places, but only on the paths less traveled.
EXPLORE MACHU PICCHU & THE AMAZON RIVER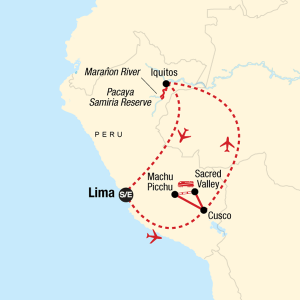 11 DAYS, LIMA TO LIMA
Combine two amazing adventures in one unforgettable 11-day trip that takes in the wonder of Machu Picchu and the mystical Amazon River. Ride the scenic train to the famous Inca ruins, then venture deep into the rainforest on a riverboat, spotting wildlife along the way. From the pinnacle of a fascinating civilization to the depths of pristine wilderness, this journey will ignite your passion for adventure. National Geographic Journey!
On sale! June 21, July 5 $3359 Book before Feb 29, 2020
July 19, Aug 2, 16, 30 $4479
Sept 13, Oct 11, 25 $4369
Nov 5, 22 $4199
Dec 20 $4169
Amazon Riverboat Adventure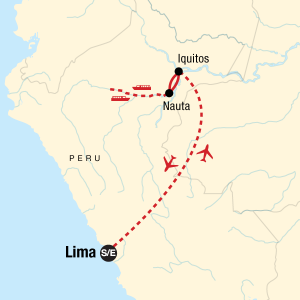 7 days Lima to Lima
Hop aboard a riverboat and experience the Amazon in style. Led by an Amazon Reserve naturalist guide, your cruise will include daily excursions by motorized skiff designed to reveal the exotic wildlife that calls the rainforest home — with any luck you'll spot sloths, toucans, or pink dolphins! And, with plenty of time for exploration in Pacaya–Samiria National Reserve, you'll have the chance to experience the jungle up close. The cuisine on-board is regional and provides a unique and delicious window into local culture. Gain a rare glimpse of how life "on the river" is lived and experience the magic of the Amazon on this once-in-a-lifetime riverboat adventure.
2020: April 6, May 18 $2123
April 20 $1415 May 4 $1869
June 1 $1574 June 29, July 13 $1912
Book by Feb 29, 2020
TREKKING IN ICELAND – THE LAUGAVEGUR TRAIL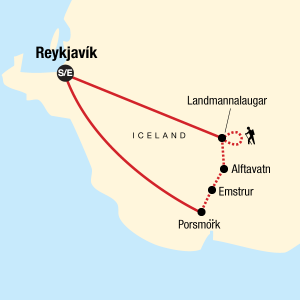 7 days, Reykjavík to Reykjavík
Iceland is one of those rare places on Earth that feels more science fiction than fact, even when you're actually there. Get as close as you can to the incredible scenery by hiking the challenging route of the Laugavegur Trail, where you'll pass multi-coloured slopes, ice caves, and sweeping landscapes. Camp out for four nights, and enjoy valley hikes in the area with the group. Whether it's from the inclines or just from the view, prepare to have your breath taken away.
2020: June 20 $2464 Book before Feb 20, 2020
July 11, 25, Aug 15, 22 $3119 Sept 5 $2899
Costa Rica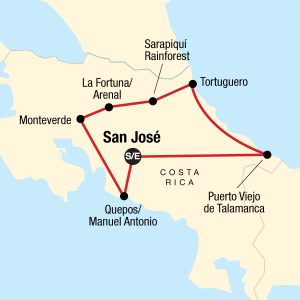 16 days
If you're looking for a taste of Costa Rica's world-class highlights but want to keep things spicy with a sampling of hidden treasures, this action-packed adventure tops the menu. In spite of its small size, Costa Rica is one of the most biologically diverse countries in the world with volcanoes, wildlife, rainforests, and beaches to explore. This adventure offers a great balance of guided excursions and free time. Optional activities abound — choose to get your adrenaline pumping or take it easy with a stroll through a butterfly garden.
On sale! April 16, 18, 23, 25, 30 $1657
Book before Feb 29, 2020
May, June, Sept Oct, Nov $1949
July $2049 August, Dec $2129
EXPLORE COSTA RICA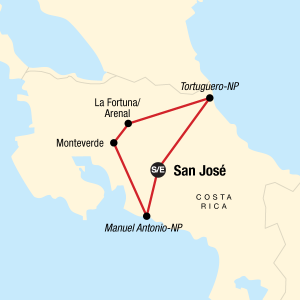 14 DAYS, SAN JOSÉ TO SAN JOSÉ
Costa Rica may be small but it offers big adventure. This two-week tour ventures off the beaten path to a lush and wild world. Stop in at a reforestation project, visit a sea turtle conservancy program, opt to zip-line through the jungle canopy, and have a soak in volcanic hot springs. Riding a wave of "pura vida," experience pure travel joy.
2020: May 3, 10, 24  $2379
Book by Feb 29,2020
Natural Highlights of Costa Rica
9 days, San José to San José
National Geographic tour!
Home to volcanoes, lush rainforests, beaches, and unique wildlife, Costa Rica is a celebrated pioneer in protecting natural heritage. Forge your own path through this gorgeous country over nine days of outstanding adventure. Trek across the foot of a volcano to photograph electric blue butterflies, visit a coffee co-op, and search for monkeys while hiking park trails. Get in touch with nature's best in Costa Rica.
2020:
April 25, July 4, 18, Aug 15, Nov 7, 21, Dec 12 $2079
May 16, June 20, Sept 5, Oct 17 $1999
Dec 19, 26 $2169
2021:
Jan 9, 16, 23, 30, Feb 6, 13, 20, 27, March 6, 13, 20, 27 $2169
April 3, 10, 24 $2079
Icelandic Adventure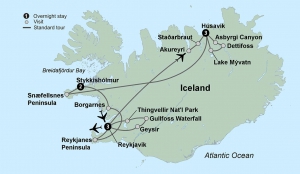 10 days/9 nights 13 meals
Set out on a small group journey that reveals Iceland's adventurous landscapes and cultural heritage. Explore old town Reykjavik during a walking tour. Witness the stunning Golden Circle first hand. See Thingvellir National Park and the unbelievable Gullfoss waterfall. Immerse yourself in Iceland's great outdoors with a 3-night stay in a remote, countryside farmhouse. Enjoy the opportunity to ride an Icelandic horse through the countryside -OR- join a local guide for a photography experience featuring this enigmatic creature. Go whale watching in Skjalfandi Bay with specialized RIB zodiac boats. Travel the Diamond Circle and spend time at Lake Myvatn before taking a dip in the nearby Nature Baths. Explore the Dimmuborgir Lava Formations and the Skútustaðagígar pseudo-craters. Learn about the traditional methods of catching and preserving Greenland shark before trying a taste. Climb aboard a mountain truck to explore the Snæfellsjökull glacier immortalized in Jules Verne's Journey to the Centre of the Earth. Savour Icelandic delicacies during an exclusive tasting while being immersed in uninterrupted mountain scenery. Choose between a guided hike to a glacier -OR- a walk through a rugged lava field. Complete your tour with a dip in the famous Blue Lagoon.
2020: May 12, 14 $5099 May 21 $5249
June 2, 16, 23, 30, July 7, 14, 21, Aug 4, 11, 18, 25 $5849
Sept 3, 8, 15, 17, 22 $5699
Tropical Costa Rica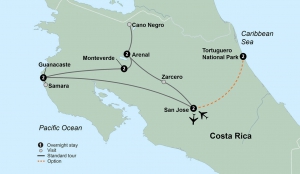 9 days – 14 meals
Lush forests and stunning waterfalls…rumbling volcanoes and endless coastlines…Costa Rica is a paradise teeming with exotic plants and incredible animals. Luxuriate at a resort for two nights at Playa Carrillo, Guanacaste, known for its breathtaking beauty and fine sandy beaches. Spend two nights in Monteverde's lush cloud forest. Experience the forest canopy on your choice of a hanging bridges nature walk or an exhilarating zip lining tour. Explore part of the 20,000 acre nature preserve of Cano Negro on a riverboat adventure. Relax in the mineral-rich waters of a hot springs with views of Arenal Volcano. Explore San Jose's Plaza de Cultura and view the magnificent National Theatre. You will find a slice of paradise and so much more.
2021: Jan 9, 11, 18, 23, 25, 30 Feb 1, 8, 13, 15, 20, 22, 27 $2249
March 1, 6, 13, 15, 20, 22, April 10 $2249
April 17, 19, 24 $1999
COSTA RICA & PANAMA QUEST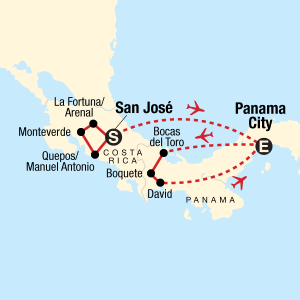 16 days, San José to Panama City
Service Level: Standard
Comfortable tourist-class accommodations with character; mix of public and private transport.
Physical Grading: 2 – Light
Light walking and hiking suitable for most fitness levels. Nothing too challenging.
Travel Style: Classic
All of the highlights, culture, access, and I-can't-believe-we-did-that moments, all at a great price.
Trip Type: Small Group
Small group experience
2020:
On Sale April  17 $2184 book  by Feb 29, 2020
2020:
May 1, 15, June 19, Sep 11 Oct 16 $2449
July 3, 17 Aug 15, Nov 13, Dec 11 $2569
Dec 18 $2679
2021:
Jan 15, 29, Feb 12, 26 March 5, 19 $2679
April 2, 16 $2569
Iceland's Magical Northern Lights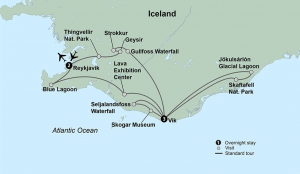 6 days/5 nights – 10 meals
The "land of fire and ice" is a place of many wonders, including the rare opportunity to see the spectacular aurora borealis – or northern lights. This tour will bring you on a search for that once-in-a-lifetime moment. Take an exhilarating evening northern lights cruise. Travel to the "Golden Circle," home to many of Iceland's most renowned natural wonders. Spend time at Thingvellir National Park, the nation's most historic area. Gaze at the spectacular Gullfoss waterfall – one of the world's most incredible cascades. At the Lava Exhibition Centre, learn about Iceland's volcanic history and its impact on daily life. Explore Skógar Museum and see traditional turf-built homes. Walk on a black volcanic sand beach. See Jökulsárlón glacial lagoon filled with floating icebergs. Relax in the warm, mineral-rich water of the natural geothermal pool, the Blue Lagoon. Spend your evenings gazing at the night sky in search of the elusive and dazzling northern lights.
2020:
March 16, 23, 25, 27 $2849
Natural Wonders of Costa Rica with Guatemala & Guanacaste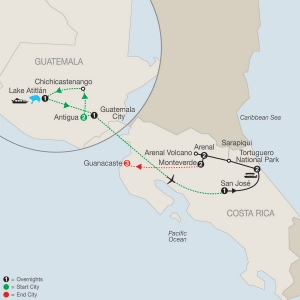 15 Day Tour from Guatemala City to Guanacaste
In Antigua, Guatemala, step back in history as you explore the ruins of churches and monasteries along with restored colonial buildings. Perhaps pick up a unique Guatemalan handicraft to bring back home from the open-air Indian market. Then travel to Costa Rica and witness bountiful wildlife in their natural habitat, enjoy relaxing dips in ecothermal hot springs, and learn about the Costa Rican culture on this thrilling adventure.
Among the many highlights of this tour is Tortuguero National Park, where you'll take a boat ride along remote, unspoiled sections of the park to view wildlife. Your guide will look out for the wildlife—including freshwater turtles, egrets, toucans, and monkeys—so you can sit back, relax, and take plenty of pictures. Another tour highlight is the Arenal Volcano, considered one of the most active volcanoes in the world. Relax as you soak in the ecothermal hot springs and perhaps watch the lava flow down the volcano—a spectacular sight! In Monteverde, visit the Santa Elena Cloud Forest Reserve, home to forest fauna such as jaguars, resplendent quetzal, monkeys, ocelots, and many species of birds—not to mention the large diversity of plant species. Even more amazing scenery awaits you in Guanacaste, where you'll have three nights to partake in the many activities, including rainforest canopy tours, river rafting, horseback riding, snorkeling, watching breathtaking sunsets, hiking, or just relaxing on the beach.
This tour to Costa Rica has it all—wildlife, scenic waterways, tropical rainforests, spectacular beaches, and knowledgeable guides to help you learn about Costa Rica.
2020:  Mar 3, 24 $5166
Costa Rica
7 day San Jose to San Jose
On this Costa Rica tour, you'll spend two nights each in San José, Monteverde, and Arenal.
The verdant cloud forest of Monteverde is one of the most bio-diverse areas on the planet. Here, search for wildlife as you explore Santa Elena Cloud Forest Reserve—home to jaguars, resplendent quetzals, pumas, monkeys, sloths, ocelots, many species of birds, and a large diversity of plant species—with an expert Naturalist. In Arenal, located in the shadow of Arenal Volcano (considered one of the world's most active volcanoes), visit the Arenal Hanging Bridges. Made up of 15 bridges suspended in the treetops, you'll see the flora and fauna from a different perspective. Be sure to have your camera ready for when your Naturalist points out monkeys, sloths, butterflies, birds, and other animals commonly seen here.
2020: $1019 p.p.
Prices are per person in single, double or triple room occupancy
Mar 7, 21 April 25, May 9, 30, June 13, 27, July 11, 25 Aug 1, Sept 5, Nov 28 Dec 12, 19
Trek Hidden Costa Rica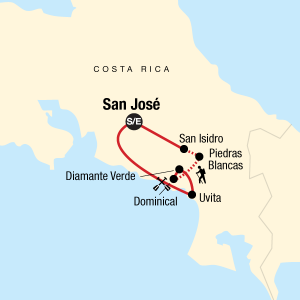 Think you know Costa Rica? Trade in the same old settings for the real deal. Trek into the heart of the jungle to live with three families in a remote village. Discover the emerald core of a diverse land while bunking down behind a massive waterfall in a hidden cave. Learn about the medicinal plants native to these parts and how to make sugar cane candy. This is a spectacular country with opportunities for waterfall rappelling, surfing, and whitewater rafting. This is what adventure is all about.
12 days San José to San José
Prices are per person in single, double or triple room occupancy.
On Sale! April 25, $1735 May 9, 23, June 27 $1742
Book by Feb 29, 2020
July , Aug 15 $2169 Sept 26 $2049
Nov, 7, 21, 28, $2169 Dec 12, 19, 26 $2299
2021: Jan 16, 23, 30 $2299
ICELAND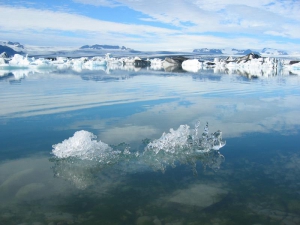 PACKAGE INCLUDES
International flights
Welcome transfers
Hotels
Breakfasts daily
Guided Tour
Departure dates in 2020:
March: 02 – 04 – 09 – 16 – 18 & 25 April: 01
MONTREAL  $3179
TORONTO  $2998
OTTAWA  $3179
HALIFAX  $3179
EDMONTON $3279
CALGARY  $3279
VANCOUVER  $3279
Read more…
Best of Iceland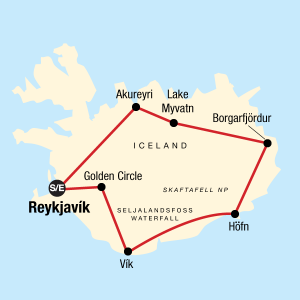 7 days
Reykjavík to Reykjavík
If you're looking for a fast but full visit around Iceland, this seven-day trip fits the bill perfectly. It has tons of hidden gems that you won't find anywhere else in the world, combined with free time to experience plenty of the highlights, like erupting geysers, visiting glacier lagoons, and exploring breathtaking waterfalls and black-sand beaches. Be sure to pack your sense of adventure and get ready to feel Iceland under your feet.
2020: April, May $2729 June $2949 July $3169
Costa Rica Adventure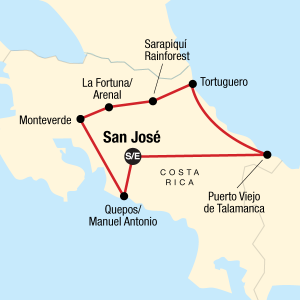 16 days
San José to San José
If you're looking for a taste of Costa Rica's world-class highlights but want to keep things spicy with a sampling of hidden treasures, this action-packed adventure tops the menu. In spite of its small size, Costa Rica is one of the most biologically diverse countries in the world with volcanoes, wildlife, rainforests, and beaches to explore. This adventure offers a great balance of guided excursions and free time. Optional activities abound — choose to get your adrenaline pumping or take it easy with a stroll through a butterfly garden.
2020: March 2, 5, 7, 12, 14, 16, 21, 28, 30 $2049
April 2, 4, 9, 11, 13, 16, 18, 23, 25, 30, May 2, 9, 14, 16, 23, 30 $1949
Maldives &  Marine Life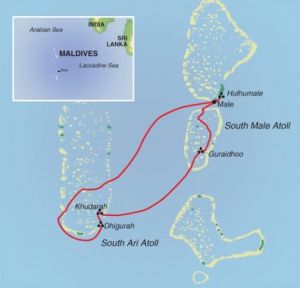 Discover the marine wildlife of the MaldivesAwake to the sun rising over the azure ocean, snorkel areas of stunning beauty and abundant marine life including Manta rays, Whale sharks, Green, Hawksbill and Olive Ridley turtles as well as Bottlenose and Spinner dolphins. Visit unspoiled islands by day and by night relax on deck gazing at the millions of stars above you. A traditionally crafted Turkish Gulet complete with sails is the perfect way to experience the magic of the Maldives.
Highlights
Spend 6 nights on a gulet in the Maldives
Discover unspoilt islands, pristine beaches and idyllic atolls
Snorkel with Whale sharks, sea turtles, a variety of marine life and Manta rays (in season)
6 nights in twin cabins on board the Felicity, all en suite facilities
Full day day Whale shark safari included
All meals included whilst onboard
What's included
All food included whilst on board
All accommodation
All transport and listed activities
Tour leader throughout
March 1, 8, Nov 8, 2020 $4175