Ecotourism & Adventures
Not every adventure leads through urban centres. See the world in its natural state with ecotourism. Foster your appreciation for nature and your understanding of ecological sustainability by visiting lands untouched by urbanization and industrialization. Clean air, clear water, and a genuine connection with the earth can be found in many places, but only on the paths less traveled.
Fall for the Tropics


Luxury getaway to two of the most visited locations in Costa Rica, Arenal Volcano area and Guanacaste. Stunning views of the Arenal Volcano, private thermal springs surrounded by gardens and luxury cabins with beachfront access to Hermosa Beach in Guanacaste.
• Private transfer from SJO airport to Arenal Kioro
• 3 nights in Arenal Volcano area at Hotel Arenal Kioro at Suite room
• La Fortuna Waterfall hike tour
• Unlimited use of Arenal Kioro Hot Springs
• Shuttle transfer from Arenal (Kioro) to Guanacaste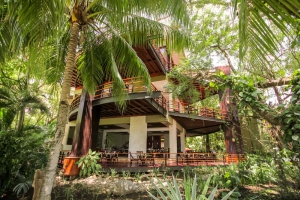 • 4 nights in Guanacaste (Pacific) at Hotel Bosque del Mar at Garden View Suite
• Private transfer from Bosque del Mar to Liberia airport
• Daily breakfasts included
• Free WiFi
• All taxes included
Sep 1st to Oct. 31st, 2019
8 Days starting at
$1,118 USD per person
ICELAND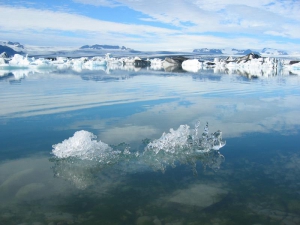 PACKAGE INCLUDES
International flights
Welcome transfers
Hotels
Breakfasts daily
Guided Tour
Departure dates in 2019:
October: 02 -09 – 16 – 21 & 30
November: 06 – 11 – 13 – 20 & 27
December: 04 & 11
Departure dates in 2020:
January: 08 – 15 – 22 & 29
February: 03 – 05 – 10 – 12 – 17 & 19
March: 02 – 04 – 09 – 16 – 18 & 25 April: 01
MONTREAL | CAD $3179
TORONTO | CAD $2998
OTTAWA | CAD $3179
HALIFAX | CAD $3179
EDMONTON | CAD $3279
CALGARY | CAD $3279
VANCOUVER | CAD $3279
Read more…
Best of Iceland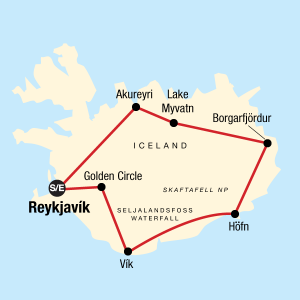 7 days
Reykjavík to Reykjavík
If you're looking for a fast but full visit around Iceland, this seven-day trip fits the bill perfectly. It has tons of hidden gems that you won't find anywhere else in the world, combined with free time to experience plenty of the highlights, like erupting geysers, visiting glacier lagoons, and exploring breathtaking waterfalls and black-sand beaches. Be sure to pack your sense of adventure and get ready to feel Iceland under your feet.
June 5, 11, 25 $2507
July 5, 6, 10, 16, 25, 31, August 14, 15, 24, 25 $2694
Book by May 30, 2019
Costa Rica Adventure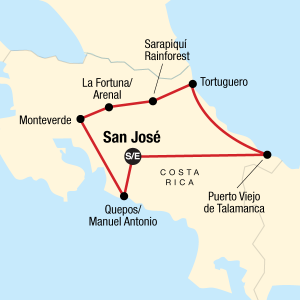 16 days
San José to San José
If you're looking for a taste of Costa Rica's world-class highlights but want to keep things spicy with a sampling of hidden treasures, this action-packed adventure tops the menu. In spite of its small size, Costa Rica is one of the most biologically diverse countries in the world with volcanoes, wildlife, rainforests, and beaches to explore. This adventure offers a great balance of guided excursions and free time. Optional activities abound — choose to get your adrenaline pumping or take it easy with a stroll through a butterfly garden.
June 1, 8, 22, July 8, 11, 25 $1699
August 15, 22, 31 $1871
Book by May 30, 2019
Explore Costa Rica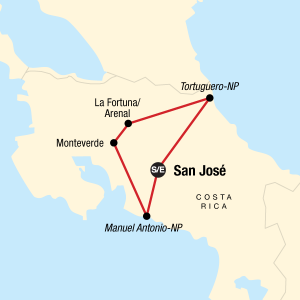 14 DAYS – SAN JOSÉ TO SAN JOSÉ
Costa Rica may be small but it offers big adventure. This two-week tour ventures off the beaten path to a lush and wild world. Stop in at a reforestation project, visit a sea turtle conservancy program, opt to zip-line through the jungle canopy, and have a soak in volcanic hot springs. Riding a wave of "pura vida," experience pure travel joy.
May 26, $2062 June 23, 30 $2199 July 7 $2439
August 11 $2681 Sept 8 $2474
Book by May 30, 2019
TASTE OF ICELAND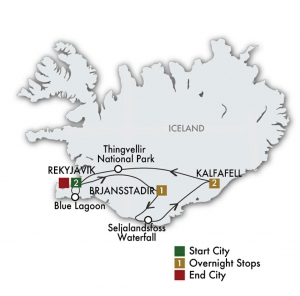 6 DAYS/5 NIGHTS / 10 MEALS
TOUR HIGHLIGHTS
Authentic Local Experiences:
Visit Reynisfjara, the black sand beach and basalt rock formations, that legend has it were formed by trolls centuries ago.
INSIDER TIP! There's no bad time to visit Iceland. If you want to see the Northern Lights, they are most viewable September through April –though this spectacular, elusive display is always dependent on atmospheric conditions.
From May through August, you'll enjoy long days of sunlight and comfortable temperatures.
Dining Experiences:
5 breakfasts (B), 2 lunches (L) including lunch at Fridheimar Tomato Farm, and 3 dinners (D) including dinner at the Blue Lagoon
Trip Highlights:
Skaftafell National Park
Gullfoss Waterfall
The Blue Lagoon
Thingvellir National Park
Jokulsarlon Glacier Lagoon
Northern Lights (September – April)
Hotels:
Fosshotel Reykjavik, Reykjavik (1 night)
Fosshotel Hekla, Brjansstadir (1 night)
Fosshotel Nupar, Kalfafell (2 nights)
Fosshotel Reykjavik, Reykjavik (1 night)
2019 tours
June 1, 6, 20, 25 $3745
July 24, August 6, 11 $3805
Sept 3, 8 $3485
Oct 3, 8, 24, 29 $3415
Nov 4, 9 $3285
Dec 10, 15 $3095
Maldives &  Marine Life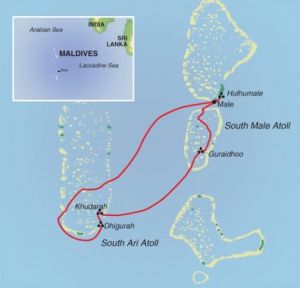 Discover the marine wildlife of the MaldivesAwake to the sun rising over the azure ocean, snorkel areas of stunning beauty and abundant marine life including Manta rays, Whale sharks, Green, Hawksbill and Olive Ridley turtles as well as Bottlenose and Spinner dolphins. Visit unspoiled islands by day and by night relax on deck gazing at the millions of stars above you. A traditionally crafted Turkish Gulet complete with sails is the perfect way to experience the magic of the Maldives.
Highlights
Spend 6 nights on a gulet in the Maldives
Discover unspoilt islands, pristine beaches and idyllic atolls
Snorkel with Whale sharks, sea turtles, a variety of marine life and Manta rays (in season)
6 nights in twin cabins on board the Felicity, all en suite facilities
Full day day Whale shark safari included
All meals included whilst onboard
What's included
All food included whilst on board
All accommodation
All transport and listed activities
Tour leader throughout
Nov 2 $4085 Dec 15, 22 $3985 Jan 19, 26, Feb 2, March 1, 8, Nov 8, 2020 $4175
Discover Costa Rica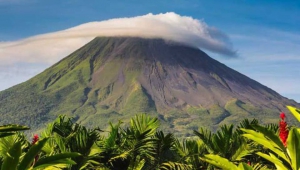 Costa Rica is renowned for having proportionately more protected land than any other country, making it ripe for wildlife tourism. What is less known is the marvellous, often bizarre variety of animals from catatonic sloths, screaming Howler monkeys, screeching toucans and nesting Green turtles. Throw in the Caribbean and Pacific coastlines and it is easy to see why so many return.
Highlights
Unrivalled wildlife viewing — Howler monkeys, caiman and sloths
Visit the beaches and waterways of Tortuguero, an important nesting site for Green turtles
Verdant rainforest, lush mangroves, lava fields and serene cloud forests
Wonderful naturalist guides who will share their love of Costa Rica with you!
Relax on idyllic Pacific coast beaches
Stay in comfortable eco-friendly lodges and hotels
Travel by air-conditioned bus and boat
14 nights in comfortable hotels and eco-lodges
Some departures with specialist birdwatching guide
Green turtle nesting season: July to October
What's included
All breakfasts, 8 lunches, 6 dinners
All accommodation
All transport and listed activities
Tour leader throughout
Arrival and departure transfers
July 13, August 3 $4085 July 27, August 10, 17 $4275 Oct 12 $4465
Amazon Riverboat Adventure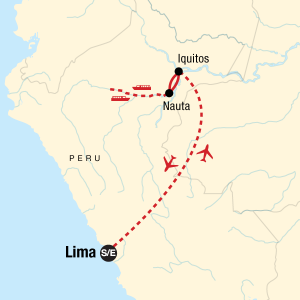 7 days Lima to Lima
Hop aboard a riverboat and experience the Amazon in style. Led by an Amazon Reserve naturalist guide, your cruise will include daily excursions by motorized skiff designed to reveal the exotic wildlife that calls the rainforest home — with any luck you'll spot sloths, toucans, or pink dolphins! And, with plenty of time for exploration in Pacaya–Samiria National Reserve, you'll have the chance to experience the jungle up close. The cuisine on-board is regional and provides a unique and delicious window into local culture. Gain a rare glimpse of how life "on the river" is lived and experience the magic of the Amazon on this once-in-a-lifetime riverboat adventure.
July 15, August 26 $1434
July 1,  $1639  Book by May 30, 2019
Galápagos — North & Central Islands aboard the Eden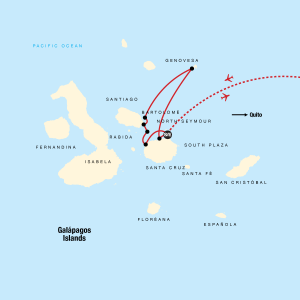 7 days Quito to Quito
See nature documentaries and animal biology textbooks come to life on this seven-day sailing around the Galápagos' north and central islands. On this unique territory, you'll spot some of the rarest, most treasured animal species on the globe. See red-footed boobies at El Barranco (one of two locations to spot the bird), snorkel around underwater craters to witness incredible marine life, and visit the Charles Darwin Research Station to spot giant Galápagos tortoises. Your journey is hosted aboard the latest addition to the G Adventures fleet— Eden — equipped with amenities that have your comfort and exploratory spirit in mind.
May 18 $2954
June 15, july 13, 27 $3071
June 29 $2879
Book by April 30, 2019
GALÁPAGOS LAND & SEA — CENTRAL & EAST ISLANDS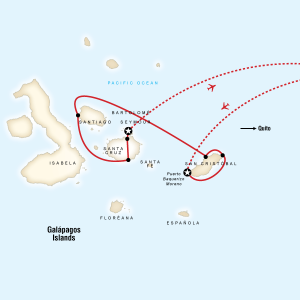 7 days, Quito to Quito
Encounter the island chain that has enchanted explorers since Darwin first weighed anchor off its shores.
Explore the incredible wildlife of the Galápagos archipelago in the company of an expert Naturalist Guide.
Giant tortoises, sea lions and island birds are in abundance here,
and you'll have the chance to spot them all in visits to Santiago Island,
Punta Pitt, and Cerro Brujo, and many more fascinating locales.
In the evenings, return to the Xavier to reflect on the day's adventure
under a canopy of stars. Finish off with a night on Santa Cruz island for some
beach time and to see tortoises in the wild.
One night on Santa Cruz
Three nights cruising through the Galápagos National Park aboard the Xavier
Visit to see the giant tortoises
Watching three species of boobies and two species of frigatebirds nesting together at Punta Pitt
Snorkelling with rays and sea turtles in the shadow of Kicker Rock
Witnessing the towering volcanic cliffs and the dark-sand beaches of Santiago island
Duration: 7 days
Start/Finish City: Quito to Quito
May 28 $3899 June 11 $3699 June 25, $3779 July 9, 23 Aug 6 $3023
August 20 $2959 Sept 17, Oct 1, 15, 29 $3699
Nov 12, 26 $3779
Trekking in Iceland – The Laugavegur Trail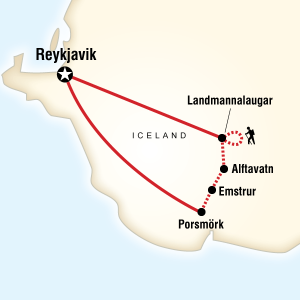 Iceland is one of those rare places on Earth that feels more science-fiction than fact,
even when you're actually there.
Get as close as you can to the incredible scenery by hiking
the challenging route of the Laugavagur Trail
where you'll pass multi-coloured slopes, ice caves, and sweeping landscapes.
Camp out for four nights, and enjoy valley hikes in the area with the group.
Whether it's from the inclines or just from the view, prepare to have your breath taken away.
Explore the ever-changing geographical wonderland of Iceland
Trek one of Iceland's famous route: the Laugavegur Trail
Cross fields of flowers and rivers while taking in views of the surrounding glaciers
Stop at the stunning Seljalandsfoss waterfall
Duration: 7 days
Start/Finish City: Reykjavík to Reykjavík
Service Level: Camping
June 15, 22, Sept 14 $2849
July 6, 20, August 3, 17 $2736
August 31 $3069
Costa Rica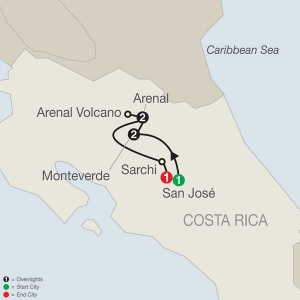 With its abundant wildlife and splendid beauty, it's no wonder Costa Rica is synonymous with pura vida—the good life. On this Costa Rica tour, you'll spend two nights each in San José, Monteverde, and Arenal. 
The verdant cloud forest of Monteverde is one of the most bio-diverse areas on the planet. Here, search for wildlife as you explore Santa Elena Cloud Forest Reserve—home to jaguars, resplendent quetzals, pumas, monkeys, sloths, ocelots, many species of birds, and a large diversity of plant species—with an expert Naturalist. In Arenal, located in the shadow of Arenal Volcano (considered one of the world's most active volcanoes), visit the Arenal Hanging Bridges. Made up of 15 bridges suspended in the treetops, you'll see the flora and fauna from a different perspective. Be sure to have your camera ready for when your Naturalist points out monkeys, sloths, butterflies, birds, and other animals commonly seen here.
Add this short tour to your Costa Rican holiday!
May 4, 18, Aug 8, Sept 21, 28, Oct 12, Nov 1, 16, Dec 7, 14, 2019  $869 based on double occupancy