Solo Travel
Booking a solo vacation with Sundial Travel will ensure that we handle all the fine details, and help you choose the right trip.
Safety is a concern for many solo travelers, and with the companies we work with, you will have a great safe and smooth trip. The experienced guides know the places to go and where not to go.
You can choose to travel with a small group or alone – either way we can streamline the travel planning.   These tours aren't just for single people, they are for anyone who wants to travel solo.   You can see the world but not alone.
​
IRISH ESCAPE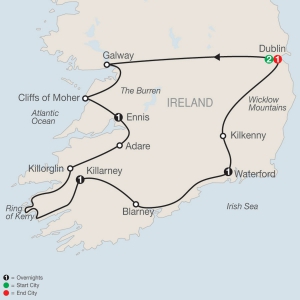 7 DAY TOUR FROM DUBLIN TO DUBLIN
Escape to the lush landscapes, charming cities, and friendly people of Ireland during the low season so you can experience it all without the crowds and, most importantly, without the high-season prices. This Ireland tour is an ideal introduction to the Emerald Isle for first-time visitors who have limited time. You'll relish in some of Ireland's most magnificent scenery as well as its most famous towns. You'll start and end in Dublin, and you'll also have overnights in Ennis, Killarney, and Waterford. Highlights of this tour include the 668-foot Cliffs of Moher on Ireland's west coast, where you'll savor breathtaking views of these sheer cliffs dropping into the ocean, and the Ring of Kerry, a 100-mile panoramic drive through rugged and awe-inspiring landscapes. Words cannot capture the magnificence of this natural beauty; it must be witnessed in person!
2023:
Dec 3, 9, 10 $1759 Dec 13 $1959
2024:
Jan 8, 14, 20, 21, 28 $1489
Feb 3, 4, 11, 17, 18, 25 $1759
Feb 28, Mar 2, 3 $1869
Mar 9, 10 $2029 Mar 13 $2229
Mar 16, 17, 23, 24 $2029
Single supplement waived!
Best of Australia & New Zealand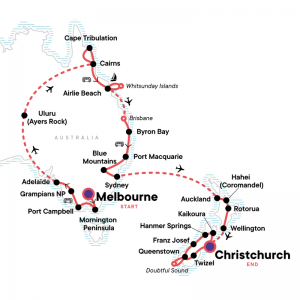 38 days Adelaide to Christchurch
We don't just label any tour as "ultimate". But when you're 40 days in length and loaded with the best experiences Australia and New Zealand have to offer, well, that's the only word that'll do this level of adventure justice. Starting in Melbourne, you'll make your way to the beaches of Victoria, Grampians National Park, the Daintree Rainforest, the Blue Mountains, Fiordland National Park, and a traditional Maori village — and that's not including a million-ish other places in between. If you're looking for the total Down Under experience, this is it.
We don't just say any trip is the "best of". But when you're 38 days in length and loaded with the best experiences Australia and New Zealand have to offer, well, that's the only way to do this level of adventure justice. Starting in Adelaide, you'll make your way to the beaches of Victoria, Grampians National Park, the Daintree Rainforest, the Blue Mountains, Fiordland National Park, and a traditional Maori village — and that's not including a million-ish other places in between. If you're looking for the total Down Under experience, this is it.
2023:
Sept 19, Oct 17 $11699
Nov 28, Dec 12 $12599
single? a roomate will be matched up with you.
SCOTTISH HIGHLANDS ESCAPE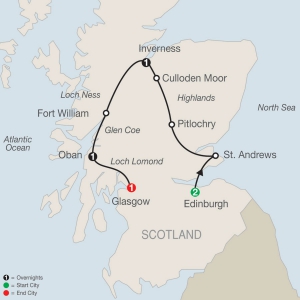 6 DAY TOUR FROM EDINBURGH TO GLASGOW
Take an exciting Caledonian adventure through the highlands from Edinburgh to Glasgow on this guided vacation in Scotland! Enjoy the moors even more by visiting during the off season, with fewer crowds and lower prices. Begin in Edinburgh to visit the Castle and admire Scotland's Crown Jewels. Visit the home of golf at St. Andrews. Stop in the Victorian mountain resort of Pitlochry and admire its Scottish Baronial architecture, then cross the battleground at Culloden Moor. Spend the night in the Highland capital of Inverness, and prepare for a day of glorious Scottish scenery on your drive along the shores of Loch Ness. Keep an eye out for the elusive Nessie! Take a spirited tour of Ben Nevis whisky distillery, and admire even more beautifully rugged landscapes from Glen Coe to Oban on the western coast of Scotland.
SINGLE SUPPLEMENT WAIVED FOR 2023/2024
2023:
Oct 29, Nov 5, 26 $1539
Dec 3, 10 $1399
2024:
Jan 7, 21 $1269
Jan 27 $1449
Feb 11, 18, Mar 3 $1539
March 10, 17 $1679
March 23 $1849 March 24 $1679
North of Ireland Escape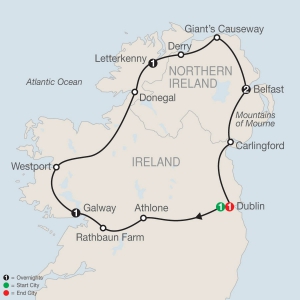 Escape to the beauty and history of the "Emerald Isle" on your guided tour of Ireland. Enjoy your getaway into the green valleys and sweeping seashores without the large crowds or costs of the "busy" travel season. You'll begin in the fair city of Dublin. Admire statue-lined O'Connell Street, Dublin's main thoroughfare, and elegant Georgian squares with their red-brick townhouses and colorful doors behind the wrought-iron fences. You'll also see Trinity College and St. Patrick's Cathedral along the way.
Leave the bustle of Dublin for the green landscapes of Ireland's countryside, and visit Rathbaun Farm. You'll learn about Ireland's sheep-farming practices, and try your hand at scone baking in the farmhouse kitchen. You'll travel on to western Ireland's colorful harbor city of Galway, with its vibrant shops, cafés, and traditional pubs. On your way to Northern Ireland, pass through Westport, Donegal, and Letterkenny. Then, enjoy a guided walk on Derry's Old Town walls, and visit the amazing natural formation of the Giant's Causeway—massive interlocking basalt columns that dramatically extend across the seashore.
Spend two nights in Belfast, with plenty to see in Northern Ireland's capital city, including the fascinating Titanic Experience. On your way back to Dublin, stop in Carlingford. This Cooley Peninsula town is famous for its oyster farms, medieval buildings, and 12th-century King John's Castle overlooking the city. Spend the last night of your escorted tour of Ireland where you began, in Dublin. You'll see why this escape through Ireland's beauty and history is made even better without the crowds of the high season on your affordable, guided Ireland vacation.
2023:
Oct 28 $1889 Oct 29 $1719
Nov 12, 19, 26 $1719
Dec 3, 10 $1579
2024:
Jan 14 $1449 Jan 20 $1619
Feb 3, 17 $1759 Feb 11, 18 $1579
March 2 $1889 March 3 $1719 March 17, 24 $1799
Single supplement waived
JORDAN ESCAPE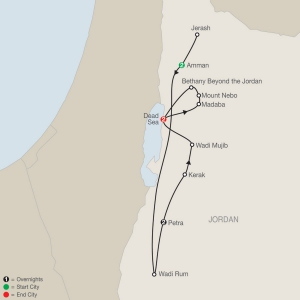 7 Day Tour from Amman to Dead Sea
Your off-season guided tour of Jordan begins in the capital city of Amman and concludes at the Dead Sea—one of the lowest spots on Earth. Marvel at Jordan's many fascinating sites, but without the crowds or prices of the busy season! Visit Amman—one of the world's oldest continuously inhabited cities with a history spanning nine millennia—to see the Roman amphitheater and Jerash, a well-preserved Greco-Roman city buried for centuries under desert sands. Enjoy a guided sightseeing of the UNESCO World Heritage Site of Petra—one of the New 7 Wonders of the World. Walk down the Siq, a narrow gorge with spectacular colors between its high cliffs, and stand in awe of the famed Treasury site, carved out of the sheer sandstone cliff in the 1st century BC. Sip tea in a real Bedouin tent—a tradition of the semi-nomadic Bedouin people still inhabiting this region.
SINGLE SUPPLEMENT WAIVED FOR 2023/2024
2023:
Nov 15 $2259
Nov 19, 20, 29, Dec 3, 10 $1889
2024:
Jan 14, 21 $1759
Jan 24 $1949 Jan 28 $1759
Feb 4, 11 $2029 Feb 7 $2259 Feb 18, 25 $2119
IMPERIAL ESCAPE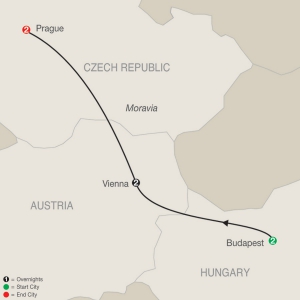 7 DAY TOUR FROM BUDAPEST TO PRAGUE
On this guided vacation of Central Europe, experience the rich history and most popular destinations without the crowds—and even better—without the high-season prices. This Central Europe escorted tour is a magnificent journey through the former Habsburg Empire offering romantic castles, churches, villas and modern architecture, vineyards, breweries, first-class shopping, art, and culinary delights. Both vibrant and relaxing, your adventure begins in magical Budapest, and combines another two of Central Europe's most popular cities: Vienna and Prague.
Enjoy sightseeing of the must-see sights with a Local Guide in all cities: in Budapest, enjoy the treasures of the city with a panoramic view from Fishermen's Bastion and admire the 13th-century Matthias Coronation Church, the coronation spot of several Hungarian monarchs; in Vienna, among the many sights you will see, visit St. Stephen's Cathedral, a symbol of Vienna; and in Prague, visit the 1000-year-old Hradčany Castle grounds, the largest castle complex in the world. Marvel at the Astronomical Clock, built in 1410, and once the envy of all Europe. From the exciting cities and historical sights to the special experiences, this Central Europe escorted vacation has something for everyone, including a low-season price that you won't want to miss!
Single supplement waived for select 2023/2024 
2023:
Nov 25 $1889
2024:
Jan 13, 20, 27 $1619
Feb 3, 10, 17, $1759 Feb 24 $1889 Feb 25 $2159
March 2 $1889 March 3 $2159 March 9 $1969 March 10 $2259
March 16 $1969 March 17 $2259
Greek Escape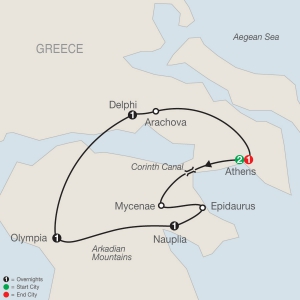 7 Day Tour from Athens to Athens
You've seen photos of the ancient Acropolis in Athens, dating back to the 5th century BC—now's your chance to see it in person on this escorted Greek vacation. You've watched the Olympics on TV—now's your chance to walk among the ruins in Olympia, where the Olympics began in 776 BC. You've eaten at Greek restaurants—now's your chance to enjoy an authentic Greek cooking demonstration, where you'll learn how to make the traditional Greek tzatziki appetizer.
History comes alive on your guided visits to many of Greece's ancient sites. In addition to the Acropolis and Olympia, you'll also visit the ruins in Mycenae, dating from 1,350 to 1,200 BC and described in Homer's epic poem, "The Iliad." Also see the amazingly well-preserved, 2,300-year-old open-air theater in Epidaurus. In ancient Greece, people traveled to Delphi to seek the wisdom of the Oracle. Learn about the Oracle, tour the excavations, and visit the Archaeological Museum. To add to your Greek experience enjoy a sirtaki dance lesson and try a glass of Ouzo. Plus, you'll be accompanied by an expert Tour Director who will bring this country to life by sharing its history, stories, and insider secrets. From the picturesque fishing villages to ancient historic sights, the Greek Escape has it all!
Headsets throughout the tour.
Free Wi-Fi available on your motor coach and in most hotel lobbies.
Single supplement waived 
2023:
Oct 29 $1789 Nov 19, Dec 10 $1649
2024:
Jan 28 $1519 Feb 4, 11, 18, 25 $1649
March 3 $1789
March 10, 17 $1919
PERU ESCAPE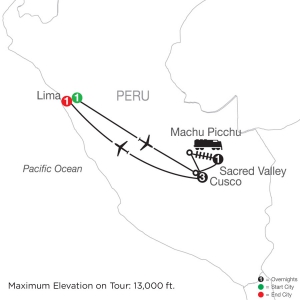 7 Day Tour from Lima to Lima
Discover the wonders of Peru on this week-long vacation featuring the must-see highlights of the Land of the Incas at a price that tells you now is the time! Your Lima sightseeing features the San Francisco Monastery along with the Plaza de Armas to see the Government Palace and the Cathedral. Fly to Cusco where you will be whisked into the Sacred Valley of the Incas where you will learn about the importance of the camelids in this area and see the ancient weaving techniques still in use today at Awanakancha. After time to explore the famous Indian market of Pisac, settle into your lush mountain-side hotel. Take the train through Urubamba Valley and spend a day at the impressive Machu Picchu ruins. Your tour of this ancient site reveals the many mysteries shrouded high in the clouds and rainforest. On your return to Cusco, your sightseeing tour includes visits to Sacsayhuaman, built in the early 12th century, and the Kenko Temple. These are just some of the many highlights you'll see on this wonderful Peru vacation designed for savvy, value-minded travellers.
2023:
Aug 6, Spet 10, Oct 8, Nov 5 Dec 3 $1997
2024:
Jan 18, Feb 11, March 10, 24 $2298
April 7, 21, May 19 $2298
June 2 $2382 June 30 $2298
July 14, 21, Aug 11, Sept 8, 22, 29, Oct 13 $2298
Oct 27, Nov 17, Dec 1 $2328
2025:
Jan 26, Feb 9, 23, March 9, 23 $2517
April 6, 13, 20, May 4, 18 $2517
June 1, 29, July 13, 20 Aug 10 $2517
Spet 7, 21, 28, Oct 12, 26 $2517
Nov 16, 30 $2517
Prices are per person in single, double or triple room occupancy.
COSTA RICA ESCAPE