Solo Travel
Booking a solo vacation with Sundial Travel will ensure that we handle all the fine details, and help you choose the right trip.
Safety is a concern for many solo travelers, and with the companies we work with, you will have a great safe and smooth trip. The experienced guides know the places to go and where not to go.
You can choose to travel with a small group or alone – either way we can streamline the travel planning.   These tours aren't just for single people, they are for anyone who wants to travel solo.   You can see the world but not alone.
​
GREEK ESCAPE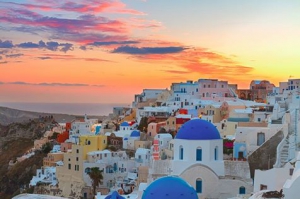 7 Day Tour from Athens to Athens
You've seen photos of the ancient Acropolis in Athens, dating back to the 5th century BC—now's your chance to see it in person on this escorted Greek vacation. You've watched the Olympics on TV—now's your chance to walk among the ruins in Olympia, where the Olympics began in 776 BC. You've eaten at Greek restaurants—now's your chance to enjoy an authentic Greek cooking demonstration, where you'll learn how to make the traditional Greek tzatziki appetizer. All this and more awaits you on this Greek Escape.
History comes alive on your guided visits to many of Greece's ancient sites. In addition to the Acropolis and Olympia, you'll also visit the ruins in Mycenae, dating from 1,350 to 1,200 BC and described in Homer's epic poem, "The Iliad." Also see the amazingly well-preserved, 2,300-year-old open-air theatre in Epidaurus. In ancient Greece, people travelled to Delphi to seek the wisdom of the Oracle. Learn about the Oracle, tour the excavations, and visit the Archaeological Museum. To add to your Greek experience enjoy a sirtaki dance lesson and try a glass of Ouzo
2019: Nov 17 $1139 Dec 1, 8, 15 $999
2020: Feb 2, 9 $999
Prices are per person in single, double or triple room occupancy.
South of Ireland Escape
6 Day Tour from Limerick to Dublin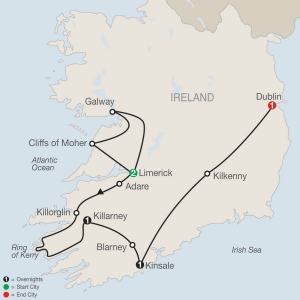 Travel through Ireland's rugged landscapes and welcoming locales during the off season and see your luck change! From Limerick to Dublin, you'll experience the beauty and charm of the Emerald Isle. Take an excursion from Limerick to the spectacular Cliffs of Moher
Nov 10, 17, 24, Dec 1, 8, 15, 2019 Jan 19, 26, Feb 2, 16, 23, 2020 $889
March 1, 8, 15, 22, 29 $1009
Prices are per person in single, double, or triple room occupancy
The Blue Danube River cruise for Solo Travellers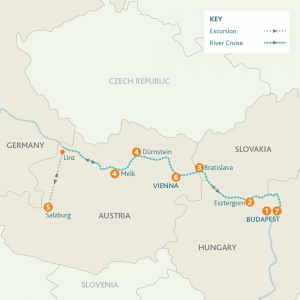 Budapest to Budapest
Nov 1, 2019 $2189 USD
Nov 4, 2019 $2709 USD
April 3, or Nov 2, 2020 $2249 USD
7 nights on board a 5-star ship
7 visits & tours
Full board (drink package available for $159 usd)
Complimentary on-board tea & coffee
Complimentary on-board Wi-Fi (speeds may vary)
Expert cruise director and concierge
All port charges & taxes
Rhine, Strasbourg & Heidelberg River Cruise for Solo Travelers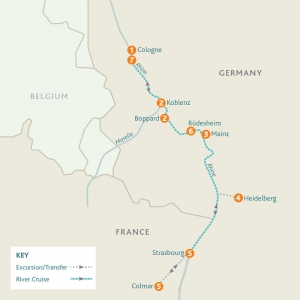 8 days from only $3,619 USD
Exclusive departure for solo travelers – No single supplements
Departing October 21, 2019 & October 31, 2020
7 nights on board a 5-star ship
8 visits & tours
Full board (drink packages available $159usd)
Complimentary on-board tea & coffee
Complimentary on-board Wi-Fi (speeds may vary)
Expert cruise director and concierge
All port charges & taxes
Brazil & Argentina Escape with Santiago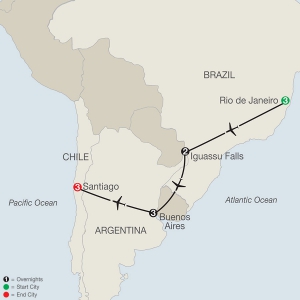 12 Day Tour from Rio de Janeiro to Santiago
From historic, vibrant cities to spectacular natural surroundings, your escape to Brazil and Argentina shares the best of Buenos Aires, Rio de Janeiro, Iguassu Falls, and Chile's capital city of Santiago.
2020: Jan 17, Mar 13, 20 $3188
Prices are per person in single, double or triple room occupancy
Call us for more details!
Moroccan Escape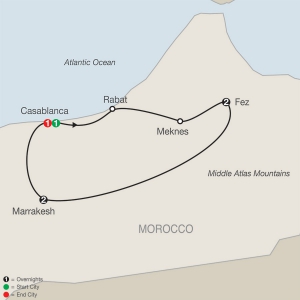 7 Day Tour from Casablanca to Casablanca
Your escorted tour of Morocco is an escape from the crowds typically found at busier times of the year. Begin your vacation with a welcome dinner in legendary Casablanca. Follow North Africa's infamous Barbary Coast to the capital-city Rabat—once the haven for 16th-century pirates—and take a drive to see the massive medieval battlements and Royal Palace. Throughout the week, you'll encounter incredible historic and cultural sites. Marvel at the architecture and history of Meknes—the 11th-century military settlement, turned into an impressive city in the Spanish-Moorish style by the legendary Sultan Moulay Ismail. On your guided sightseeing tour, you'll see the monumental gated walls that surround the city, elaborate mosques, the palace, and you'll also visit the Royal Stables—built by the Sultan to house 12,000 royal horses.
Nov 3, 10, 17, 24, 2019 March 1, 8, 15, 2020 $1009
Dec 1, 15, 2019 Jan 26, Feb 2, 16, 2020 $889
Costa Rica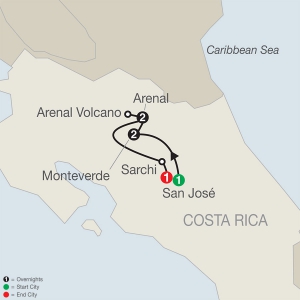 7 day San Jose to San Jose
On this Costa Rica tour, you'll spend two nights each in San José, Monteverde, and Arenal.
The verdant cloud forest of Monteverde is one of the most bio-diverse areas on the planet. Here, search for wildlife as you explore Santa Elena Cloud Forest Reserve—home to jaguars, resplendent quetzals, pumas, monkeys, sloths, ocelots, many species of birds, and a large diversity of plant species—with an expert Naturalist. In Arenal, located in the shadow of Arenal Volcano (considered one of the world's most active volcanoes), visit the Arenal Hanging Bridges. Made up of 15 bridges suspended in the treetops, you'll see the flora and fauna from a different perspective. Be sure to have your camera ready for when your Naturalist points out monkeys, sloths, butterflies, birds, and other animals commonly seen here.
2019: August 10, Sept 21, Oct 12, Nov 2, 16, Dec 7, 14 $869
2020: Jan 4, 11, 18, Feb 8, 15, 22 March 7, 21 $929
Prices are per person in single, double or triple room occupancy.
Culinary River Cruises through Europe
Enter a food-lover's paradise in the land of haute cuisine—France! Immerse yourself in the country's delectable flavours, decadent aromas, and delightful textures. Join the included Taste of Normandy excursion and visit the award-winning Domaine St. Hippolyte, a picturesque hillside cheese farm surrounded by a fragrant grove of apple trees. Here, you will be served a lovely lunch, with a tasting of cheeses produced right at the farm. On board, a pastry demonstration, special crêpes lunch, cheese & wine tasting, and food-and-wine-pairing dinner hosted by the Master of Wine will send your taste-buds into overdrive
A Culinary Experience in Burgundy & Provence
March 31, 2020 from $3259
**single supplement waived for this sailing
Chianti Walking & Wine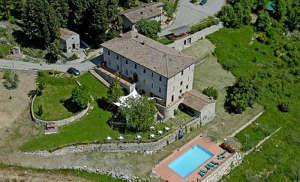 Book by June 13, 2019
August 17, 24, 31, Sept 28, 2019 $1995  Now $1845
Single room $2480 Now $2330 (willing to share program available)
Discover picturesque towns and delicious wines in Tuscany
With its Renaissance cities, mediaeval villages and cypress-lined avenues snaking through vineyards, southern Tuscany is the perfect place for a relaxing guided walking holiday. Based at the tranquil Villa Casalta, on our tour we visit beautiful San Gimignano, the market town of Greve in Chianti, the UNESCO World Heritage Site of Siena and the magnificent city of Florence. During the week we sample several varieties of the world-renowned local Chianti and have the opportunity to learn more about Italian wine at the Wine School of Siena.
Highlights
Walk the classic rolling hills of Tuscany
You will spend 7 nights at Villa Casalta, a renovated farmhouse with swimming pool and en suite facilities. The villa is family-run and known for the fine home-made food prepared with traditional ingredients and locally produced wines and olive oil. Free Wi-Fi available.
Enjoy the fabulous Chianti wines
Key information
7 nights renovated farmhouse with panoramic swimming pool
5 days gentle walking and sightseeing
Low altitude throughout
Centre-based holiday
Countries visited: Italy
What's included
All breakfasts, 5 dinners, 3 wine tastings
All accommodation
All transport and listed activities
Tour leader throughout
Walking on the Greek Islands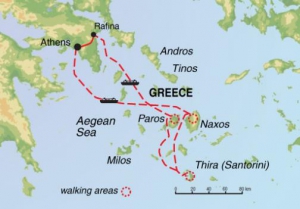 Walks on Santorini, Paros and Naxos –  8 days
The Greek islands have much more to offer than most would think: archaeological treasures, history, culture, dramatic landscapes overlooking an azure coloured sea and, of course, delicious food. Our week starts on the beautiful island of Naxos, before heading to Santorini and Paros. Exploring the irresistible island of Santorini on foot will certainly be the highlight of our week. Hopping from one wonderful island to the other, we enjoy a relaxed week of gentle walks through picturesque villages, lush valleys and sandy beaches.
Highlights
Discover the three islands of Naxos, Santorini and Paros
Gentle walks amid idyllic scenery and remote villages
Enjoy delicious local Greek cuisine
7 nights in 3-star hotels with en suite rooms
3 full days and 2 half days walking on 3 islands
Travel by public transport, boat/ferry and coach
Low altitude throughout
Countries visited: Greece
What's included
All breakfasts
All accommodation
All transport and listed activities
Tour leader throughout
Arrival & departure transfers
Book by June 13 and take off $150 per person!
2019: Sep 8, 22, Oct 13 $2085 Oct 27 $1995
2020: April 5 $1935 April 26, May 10, 17 $1995 May 24 $2035
Travelling solo but willing to share? We can set you up!
**single supplement for your own room $418 to $456
The Scots Irish Tour- 11 days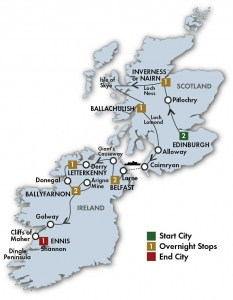 Authentic Local Experiences:
Reserved seats for the Royal Edinburgh Military Tattoo on August 4 – 20 departures.
Step aboard the Royal Yacht Britannia and see behind the scenes of the Queen's former floating home.
Sip an Irish coffee at the South Pole Inn where you'll learn about Tom Crean, an Irish explorer who bravely journeyed to the South Pole.
Full daily breakfast (except Day 1)
All on-tour transportation including shuttles and ferries
Welcome get-together drink with your group
Free Wi-Fi on coaches so you can stay connected along the way
No SINGLE SUPPLEMENT!
July dates $4320 August $4645 September $4450
BRITISH ESCAPE WITH RETURN TO LONDON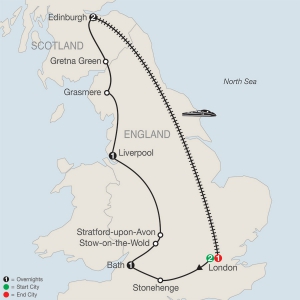 8 DAY TOUR FROM LONDON TO LONDON
On this tour, the traditions and intrigue of Britain are calling you. Experience the fascinating cities and countryside of this beautiful land without the crowds—and even better—without the high-season prices. A concise Britain guided tour takes you to the historical must-see sites from London to Edinburgh. History buffs will delight in seeing mysterious, prehistoric Stonehenge (just imagine how those stones got there!); the Roman Baths in Bath, constructed around 70 AD and today one of the best-preserved Roman remains in the world; Liverpool, once a great Victorian city and Atlantic seaport, and renowned as the birthplace of the Beatles; and Edinburgh, home to many Scottish monarchs, including Queen Margaret, who died here in 1093.
Nov 3, 10, 17, 24, 2019 $1549
Dec 1,8, 15, 2019 Jan 12, 19, 26, Feb 2, 9, 16, 2020 $1429
Feb 23, March 1, 8, 15, 22, 29, 2020 $1549
Prices are per person in single, double or triple room occupancy.
SCOTTISH HIGHLANDS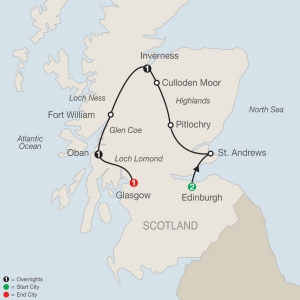 6 Day Tour from Edinburgh to Glasgow
Take an exciting Caledonian adventure through the highlands from Edinburgh to Glasgow on this guided vacation in Scotland! Enjoy the moors even more by visiting during the off season, with fewer crowds and lower prices. Begin in Edinburgh to visit the Castle and admire Scotland's Crown Jewels. Visit the home of golf at St. Andrews. Stop in the Victorian mountain resort of Pitlochry and admire its Scottish Baronial architecture, then cross the battle ground at Culloden Moor. Spend the night in the Highland capital of Inverness, and prepare for a day of glorious Scottish scenery on your drive along the shores of Loch Ness. Keep an eye out for the elusive Nessie! Take a spirited tour of Ben Nevis whisky distillery, and admire even more beautifully rugged landscapes from Glen Coe to Oban on the western coast of Scotland.
Nov 3, 10, 17, 24, 2019 March 1, 8, 15, 22, 29, 2020 $1009
Dec 1, 8, 15, 2019 Jan 5, 12, 19, 26, Feb 2, 9, 16, 23, 2020 $889
Prices are per person in single, double, or triple room occupancy.
CROATIA SAILING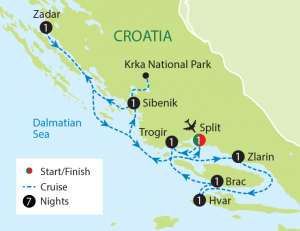 ​Sail past secret coves, red-roofed villages and ancient olive groves on this island-hopping cruise across the glorious Adriatic Sea. Along the way, discover chic towns, sparkling waterfalls and secluded beaches, sample delicious local wine and cuisine, and take in magnificent views from the highest point in the Adriatic islands.
8 Days from $3,149
What's included
Tour Manager as your host
Return flights from Gatwick with Easyjet
7 nights on board MS Eos
17 meals: 7 breakfasts, 6 lunches, 4 dinners
All excursions included
Specialist Local Guide
Welcome 'Eos' cocktail & farewell dinner
Overseas transfers & other transportation
Porterage
Dedicated Just You representative to greet you at all UK airports
Audio Guide
Included excursions
Tour of Trogir & visit to a Croatian tailor
Krka National Park
Wine tasting at a local vineyard
Tasting of wine & homemade olive oil on board
Tour of Sibenik
Tour of Zadar
Tour of the sophisticated island of Hvar
Visit the island of Brac
Enjoy a glass of wine at the top of Vidova Gora – the highest peak of the Adriatic islands
Tour of Split & the fascinating Diocletian's Palace
Captain's dinner on board
Farewell dinner on board
8 days – own cabin
Sept 21 $3699
Sept 28 $3449
Oct 5 $3149
GREECE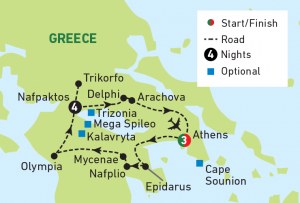 Discover the highlights of Greece's capital, Athens, including the iconic Acropolis, and cross the famous Corinth Canal. You'll also visit Olympia, where the Olympic Games were first played in 776 BC, and explore ancient Delphi for a further fascinating glimpse into the past.​
8 Days from $2,399
What's included
Tour Manager as your host
7 nights in 3 and 4-star hotels
11 meals: 7 breakfasts, 1 lunch, 3 dinners
Specialist Local Guide
Welcome drink & farewell get-together
Overseas transfers on arrival & other transportation
Porterage & Audio Guide
Included excursions
Explore the Greek capital, Athens
Visit Mycenae, Epidaurus & Nafplio
Explore Olympia, site of the original Olympic Games​
Visit the Monastery in the mountain village of Trikorfo & cruise to Trizonia island​
Visit the sacred site of Delphi & the village of Arachova​​
8 days with your own room
Sept 2 $2499
Costa Rica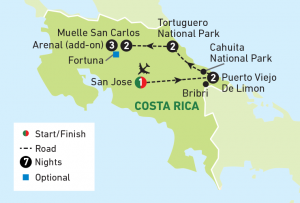 8 Days from $4,149
Luscious tropical forests, flowing waterways, untouched beaches and mesmerising wildlife make Costa Rica a true paradise. Expect an exaggeratedly relaxed pace of life and embrace it. Take your time soaking up the wonders of this seductive country. Maybe sip a coffee along the way – it'll probably never taste better – coffee plants are cultivated to perfection here. Long to experience a cloud forest, see bright-beaked toucans and vocal howler monkeys – look no further!
What's included
Tour Manager as your host
7 nights in 4-star hotels & jungle lodges
14 meals: 7 breakfasts, 4 lunches, 3 dinners
Specialist Local Guide
Welcome drink
Overseas transfers & other transportation & Porterage
Included excursions
​Visit an indigenous Bribri community to learn about their culture & traditions
Enjoy a traditional Bribri lunch, learn how chocolate is made & sample organic bananas dipped in freshly made chocolate sauce
Visit Tortuguero Village & the Caribbean Conservation Center
Enjoy two guided boat tours through Tortuguero National Park
Experience the Mi Cafecito Coffee Tour
8 days with guaranteed single room
Nov 23, 2019 $4149
Jan 11, Feb 11, 2020 $4499
Oberammergau Passion Play Innsbruck & the Dolomites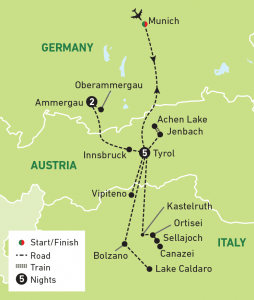 The Oberammergau Passion Play is only performed every 10 years. On this tour you'll experience it in 2020 and also explore the Italian Dolomites.
What's included:
7 nights in 3 or 4* hotels
15 meals: 7 breakfasts, 1 lunch, 7 dinners
Specialist Local Guides
All excursions included
Welcome & farewell drink
Overseas transfers & other transportation & Porterage
Included excursions
Entrance to the Oberammergau Museum
Watch the Oberammergau Passion Play & take home an official programme
Treasure hunt & tour of Innsbruck
Ride the Achensee Cog Railway
Cruise on Lake Achen
Visit Vipiteno
Torch-lit walk
Bolzano & South Tyrol
Scenic tour through the Dolomites
8 days with guaranteed solo room
July 13, August 19, Sept 19, 2020 $4499
Peru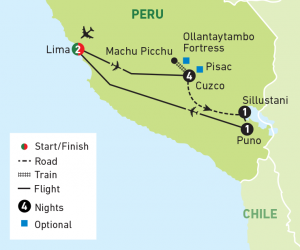 9 Days from $3,999
​​Follow in the footsteps of intrepid adventurers in Peru's mountain wilderness. Explore the remains of the Incas' final stronghold in the 'lost city' of Machu Picchu, visit beautiful colonial towns and discover the world's highest navigable lake on this fascinating trip.
What's included
Tour Manager as your host
7 nights in 4-star hotels, 1 night's homestay on one of Lake Titicaca's islands
15 meals: 8 breakfasts, 4 lunches, 3 dinners
Specialist Local Guide
Welcome drink
Overseas transfers on arrival & other transportation & Porterage
Included excursions
Tour of Lima including the cathedral Visit the Incan citadel of Machu Picchu
Cuzco tour including Sacsayhuman Fortress
Lake Titicaca's Uros Islands
Sample the lifestyle of the locals during a 'Homestay' on Amantani Island in Lake Titicaca
Taquile Island & its unique traditions
9 days with a guaranteed single room
August 8 $4649
Oct 10 $4199
Nov 7 $3999
March 15, 2020 $4349
Breathtaking New Zealand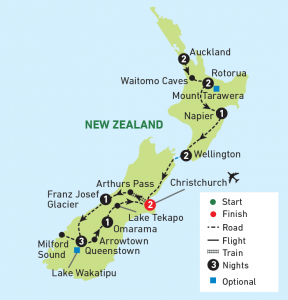 15 Days from $8,749
​Discover the emerald-green landscapes, thermal springs and hot geysers of the North Island, then journey to the South Island with its snow-capped mountains, shimmering glaciers and sparkling lakes on this holiday showcasing New Zealand's natural wonders and fascinating cities.
What's included
​Tour Manager as your host
14 nights in 3 to 4-star hotels​
17 meals: 14 breakfasts, 1 lunch, 2 dinners
​Welcome & farewell drinks
Specialist Local Guides
Overseas transfers on arrival & other transportation & Porterage
Included excursions
​Waitomo glow worm grotto
Auckland, Wellington, Christchurch & Napier sightseeing
Te Puia Thermal Reserve
TranzAlpine Express
Cruise on Milford Sound
15 days with a guaranteed solo room
March 2, 2020 $9049
March 16, or Oct 26, 2020 $8749
Imperial Cities & The Road of the Kasbahs
Jordan is a Middle Eastern country with a rich heritage. Amman hosts a grand Roman amphitheatre and magnificent citadel. And nearby the Dead Sea, where a high salt content means you to float weightlessly in the water, is not to be missed. Petra, once a wealthy city, was painstakingly carved out of the sandstone cliffs and what remains is no less impressive.
What's included
10 nights in 3 & 4-star hotels
20 meals: 10 breakfasts, 1 Lunch, 9 dinners
Tour Manager & Local Guides
Porterage
Included excursions
Casablanca tour
Visit to Rabat
Guided visit to Meknes – the Moroccan Versailles
See the Roman Ruins of Volubilis
Dinner in a traditional Moroccan riad
Sightseeing tour of Fes & the Medina
Sunset 4-wheel drive into the desert
Travel through Todgha Gorge & the Road of a Thousand Kasbahs
Visit to Kasbah Taourit
Taroudant visit
Essaouria visit
Marrakech city tour
Moroccan cookery class
Moroccan folklore show
11 days – single room guaranteed
Sep 21, 2019 $3449
Prague, Vienna & Budapest
​This trio of Eastern European capitals all have their own unique charms. Discover them as you stroll Prague's medieval streets, admire Vienna's opulent architecture set against a backdrop of alpine scenery and explore Budapest's impressive sites.
What's included
Tour Manager as your host
7 nights half board in 4* hotels
14 meals: 7 breakfasts,7 dinner
Specialist Local Guide
Welcome drink & farewell get together
Porterage & Audio Guide
Included excursions
See Prague's highlights on a walking tour
See Vienna's famous sights including the Schönbrunn Palace
Enjoy a Czech beer party with live music
Visit the historic town of Eisenstadt
Dinner in an Austrian restaurant with local specialities
See both sides of Hungary's capital Budapest
Enjoy a farewell dinner aboard a floating restaurant in the centre of Budapest​
8 days – guaranteed solo room
July 17, Sept 4, 2019 $2399
Oct 9, $2249
A Taste of INDIA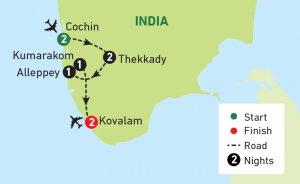 India is intense, it is like nowhere else on earth. From the grand Taj Mahal to bustling Delhi, shanty towns to glittering architecture, every aspect is mind blowing. Hectic, vibrant markets lure the masses, and everywhere you go, heady aromas fill the air and colourful spices bring a zing to every meal. Immensely captivating and intriguing – India is a country to experience time and time again. ​​Famed for its aromatic spices, peaceful backwaters and lush landscape, Kerala is an enchanting destination. Learn about the art of Kathakali dance, discover Kovalam's ancient Chinese fishing nets, search for the elusive tiger and relax on the country's best beaches.
What's included
Tour Manager as your host
8 nights in 4 & 5-star hotels and a houseboat
19 meals: 8 breakfasts, 3 lunches, 8 dinners
PLUS
Specialist Local Guide
Welcome drink & farewell get-together
Overseas transfers on arrival & other transportation & Porterage
Included excursions
​Cochin tour
Cooking demonstration & lunch with a local chef
Kathakali dance show
Traditional 'Sadya' dinner with optional authentic dress
Spice plantation visit
Game viewing by boat
Local village tour in Kumarokam
Optional excursions
Thekkady nature trek
9 days – guaranteed your own room
Oct 18, Nov 15, 2019 & Oct 27, Nov 24, 2020 $3249
Feb 4, 10, 2020 $3299
Kenyan Safari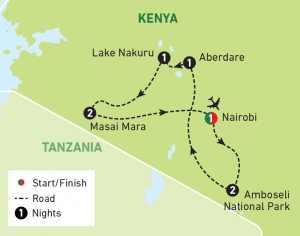 ​Track Africa's most thrilling animals, including the 'Big Five', as you head off on safari across the vast savannahs of four national parks, including Amboseli and the Masai Mara. You'll also take in mesmerising views of Mount Kilimanjaro and relax in lodges where you're surrounded by wildlife and a touch of luxury.
WHAT'S INCLUDED
Tour Manager as your host
7 nights full board in a shared room* in lodges of a good standard
All excursions included
PLUS…
Specialist Local Guide
Overseas transfers & other transportation & Porterage
​INCLUDED EXCURSIONS
Journey through the Great Rift Valley
Game drives in Amboseli National Park with views of Mount Kilimanjaro
Lake Nakuru National Park and Masai Mara Game Reserve safaris
Sundowner and breakfast out in the bush
2019:
Sept 11 $4949
Oct 16 $4599
Nov 20 $4399
South Africa Solo Tours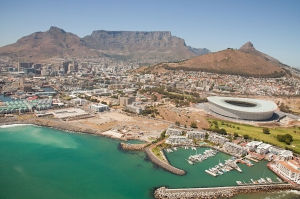 South Africa is a beautiful country graced by fabulous weather and with some of the most spectacular beaches, coastlines and scenery in the world. Exotic wildlife is found in abundance. From Table Mountain in Cape Town to the penguins of Boulders Beach, the Garden Route's dramatic coastline and the wondrous wilderness of Kruger National Park, South Africa is diverse, mesmerising and tempting beyond doubt.
​Ascend Table Mountain, search for the 'Big Five' on safari in Kruger National Park and tour Soweto on this unforgettable South African tour.
Inclusions:
11 nights in 3 & 4-star hotels
19 meals: 11 breakfasts, 1 lunch, 7 dinners
Specialist Local Guide
Welcome & farewell get-together
Overseas transfers & other transportation
Porterage
Included excursions
​Cape Town city tour & visit to Table Mountain
Cape Point, the penguins of Boulders Beach & Kirstenbosch Botanical Gardens
Cango Caves & ostrich farm
Drive along the Garden Route
Storms River Mouth in Tsitsikamma National Park
Soweto tour
Game drive in Kruger National Park
Scenic panorama route
Optional excursions
Winelands tour & tasting
Cape Town township
Cruise & lunch in Featherbed Nature Reserve in Knysna
Game Drives at Kruger National Park
Guaranteed Solo room
2019:
Sept 11, 25 $5449 Oct 9, Nov 6 $5599
2020:
Feb 5 $5549 March 11, Sept 19 $5599
Walking the Amalfi Coast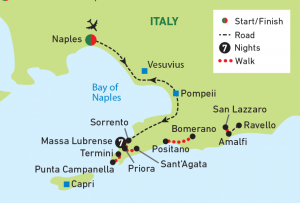 Admire picturesque villages and stunning views as you get out and about in the great outdoors and explore the beautiful Amalfi Coast on foot.
7 nights half board in a 3-star hotel
14 meals: 7 breakfasts, 7 dinners
Specialist Local Guide
Welcome drink & farewell get-together
4 guided walks
Overseas transfers & other transportation
Porterage
Audio Guide
Included excursions
Sorrento walk
Amalfi & Ravello walk
Punta Campanella walk
Path of the Gods walk​
8 days: Sept 17 $2149 Oct 8, 2019 $1949 Guaranteed solo room
Highlights of Tuscany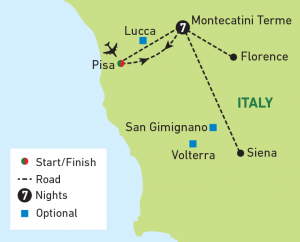 8 Days from $1,699
​Explore Tuscany's rolling countryside, which is dotted with olive groves, vineyards and medieval hilltop towns. This tour also takes you to Pisa, home of the famous Leaning Tower, and Florence, Italy's mesmerising 'Art City'.
7 nights in a 4-star hotel
11 meals: 7 breakfasts, 4 dinners
Specialist Local Guide
Complimentary wi-fi on board your coach
Welcome drink & farewell get-together
Overseas transfers on arrival & other transportation​
Porterage: Audio Guide
Included excursions
​Florence
Pisa
Siena
8 days: solo room guaranteed
2019:
Sept 16 $1949
Sept 9 $1999
August 19, Sept 2 $2049
Oct 7 $1799
Oct 14, $1699
ROME & SORRENTO ESCAPE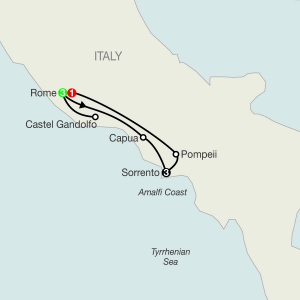 8 Day Tour from Rome to Rome
Experience the sights and bites of delicious Rome, Sorrento, and more with an off-season escape to Italy—without the higher prices and crowds of the busy season. Begin in the eternal city of Rome. Visit the Colosseum to imagine the spectacle of gladiator games, and see the Roman Forum, the heart of ancient Rome. Join an exclusive visit to the centuries-old Papal Palace and Barberini Gardens at Castel Gandolfo. Visit the Vatican Museums and Sistine Chapel to see Michelangelo's ceiling paintings and The Last Judgment. Also visit St. Peter's Square and Basilica to see the artist's magnificent La Pietà. Sculpted in Carrara marble, this Renaissance masterpiece depicting Christ in his Mother's lap is the only piece Michelangelo signed. Visit Capua's Amphitheater and hear of Spartacus' gladiator training here. In lovely Sorrento, see St. Antonino's church, named for the city's patron saint, and enjoy a free day to relax in this beautiful setting. En route back to Rome, explore legendary Pompeii—the excavated Roman city that was destroyed in 79 AD by Mount Vesuvius' eruption, and preserved by ash. Conclude your Italian escape in Rome with a farewell dinner at a local restaurant.
Nov 2, 9, 16, 23, 30, 2019 Feb 29, March 7, 14, 21, 2020 $1519
Jan 25, Feb 1, 8, 15, 22, 2020 $1389
Prices are per person in single, double, or triple room occupancy.
Sicilian Escape
7 Day Tour from Palermo to Taormina Riviera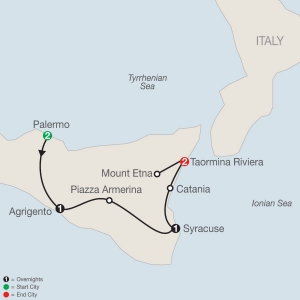 Escape to Sicily for seven days of beauty, cuisine, and history—without the crowds you'd find in the high-season. Begin in Palermo and meet your Tour Director and traveling companions for a welcome dinner at your hotel. Spend the following day on a guided sightseeing tour of Palermo's ornate Piazza Bellini and Capo Market. See the stunning baroque features of the Church of the Immacolata, and visit the historic Palermo Cathedral. Enjoy the panoramic view of the Conca d'Oro in Monreale, and visit the 12th-century Norman Cathedral with its treasured byzantine mosaics.
Walk through the 24-centuries-old Valley of the Temples with your Local Guide in Agrigento, visit Piazza Armerina's Villa Romana del Casale to admire the world's largest collection of Roman mosaics. In Syracuse, the birthplace of mathematician Archimedes, you'll take a guided visit to the archaeological site of the 5th-century-BC Greek Theater, Garden of Paradise, Ear of Dionysus, Altar of Hieron II, Roman Amphitheater, and the Cordmaker's Cave. Travel to Catania, where you'll sample Sicily's famous Arancino, and spend two nights on the spectacular Taormina Riviera, your base for a fascinating excursion to Mount Etna—the largest active volcano in Europe. Explore Taormina, and complete your Sicilian Escape with a fabulous farewell dinner at a local restaurant. You'll treasure the time spent exploring Sicily's famous sights and stunning scenery—without the crowds of the busy travel season on this spectacular guided tour of Sicily!
Nov 3, 10, 17, 2019 March 1, 8, 15, 22, 2020 $1199
Dec 1, 2019 Jan 23, 2020 $999
Prices are per person in single, double, or triple room occupancy.
BELLA ITALIA ESCAPE
7 Day Tour from Venice to Rome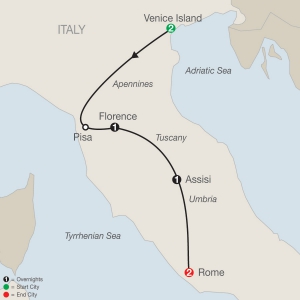 On this escape to beautiful Italy, experience three of Italy's most iconic cities Venice, Florence, and Rome—without the crowds of the high-season, or the high prices associated with busy travel months. What better way to start your escorted vacation to Italy than with a welcome dinner with your travel companions in Venice? Your Venetian experience also includes a private boat ride, a guided walking tour; a visit to St. Mark's Square, its byzantine Basilica, the Doges' Palace, and the Bridge of Sighs. Also watch the age-old tradition of glassblowing by a local artisan. Travel to Pisa—home of the famous Leaning Tower—before continuing on to Florence, considered to be the "Cradle of the Renaissance." Florence is an art-lovers dream and your sightseeing highlights such masterpieces as Michelangelo's David statue in the Academy of Fine Arts. You'll also travel to Assisi to visit the Basilica of St. Francis—named after the saint who sought the virtues of humility, forgiveness, simplicity, and best known for his love of God.
Nov 2, 9, 16, 23, 30, 2019 Feb 15, 22, 29, March 7, 14, 21 $1639
Dec 7, 14, 2019 Jan 25, Feb 8 $1389
Prices are per person in single, double, or triple room occupancy.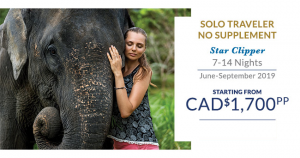 It is time for Solo Sailors to embark on a Unique Adventure! Visit the island of ancient temples, wild jungles, and vibrant cities.  Not to mention the magnificent diving and snorkelling!
Bali 7 night sailings June 22, July 6, August 10, 24 Sept 14 from $1700 cdn
Sail from Bali to many of the islands that form the Indonesian archipelago and choose the offer that suits you best!
Select 7-14-night sailings on Star Clipper are available now
to help you explore and immerse into the history, culture, natural landscapes and cuisine of this region.
Bali 14 night sailings Sept 21, 28 or Oct 4 from $3400 cdn
Christmastime on the Rhine
5 Day River Cruise Basel to Wiesbaden Nov 30 to Dec 4, 2019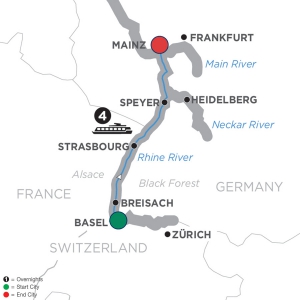 Panoramic Balcony suite for $2164 cdn p.p.
This Christmas river cruise begins in Switzerland and takes you down the Rhine River to France and Germany, with beautiful passing landscapes and quaint villages festively lit and decorated—a unique and unforgettable way to celebrate the season!
Board your ship in Basel, Switzerland, then stop in Breisach, considered the gateway to Germany's Black Forest. An area of unrivalled natural beauty, best known for Black Forest ham, cherry cake, and the cuckoo clock. There is no better setting than at this time of year when smoke curls from the chimneys of the traditional Black Forest houses. Strasbourg, France, located on the border with Germany, perfectly blends the cultures of both countries. The city is home to one of the oldest and finest Christmas markets in Europe—dating back to the 16th century. Take in the aromas of mulled wine, spice cakes, and biscuits. Bask in the holiday atmosphere as you visit Strasbourg Cathedral, a gothic masterpiece made of red sandstone, and containing ancient murals and fascinating astronomical clock.
You'll go on an excursion to Heidelberg, Germany, to visit the fascinating ruins of Heidelberg Castle, towering magnificently over the city. This time of year, an ice rink can be found at the foot of the castle and the Christmas market is spread over five town squares. Delight in the holiday cheer with Glühwein (hot mulled wine), bratwursts, and other regional delicacies. There's plenty of time to find just the right Christmas present amongst the array of crafts, Christmas decorations, and gifts before this magical European river cruise ends in Mainz, Germany.
Nov 30 to Dec 4, 2020 Panoramic Balcony $3007 cdn p.p.    SINGLE SUPPLEMENT WAIVED
Dec 11 to Dec 15, 2020 Panoramic Balcony $3029 cdn p.p.   SINGLE SUPPLEMENT WAIVED
Classic Peru – For Solo Travellers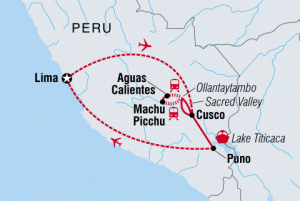 Experience classic Peru touring South America's ancient Inca sites.
Visit South America and travel to Peru on an adventure from mountains to jungle, and seasides to great plains. Visit Peru's incredible natural and historical highlights on this awesome adventure. Retrace the steps of the Incas to Machu Picchu, admire colonial cities, explore vibrant markets and meet the locals in this South American country with a difference. Return home with incredible memories of the panoramas and people of Peru.
Why you'll love this trip
Discover the breath of Peru's diverse heritage, from the gorgeous Spanish colonial architecture of Lima to the Aymara and Quechuan Indian cultures of Puno.  Marvel at the mother of all Inca cities, magical Machu Picchu. Enjoy a guided tour of the ruins and free time to explore on your own
Meals
8 breakfasts, 1 lunch, 1 dinner
Transport:  Plane, Train, Boat, Taxi, Private Vehicle, Public bus
Accommodation
Homestay (1 night), Hotel (7 nights)
Enjoy plenty of time in gorgeous Cusco, the perfect place to launch into further outdoor adventures, or simply relax and take in mountain views
The floating reed islands of Uros on Lake Titicaca are astounding in concept, construction and history. Take a boat tour on the world's highest navigable lake and stay with a local family there
Sept 14, 2019 $2750 want your own room add $415
April 11, Sep 12, 2020 $2885 want your own room add $415
April 13, Sept 14, Dec 7, 2020 $2750 want your own room add $415
**International air not included
CLASSIC CITIES OF ITALY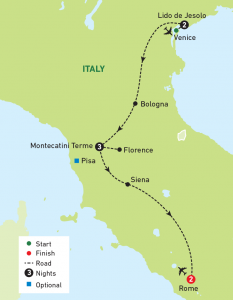 Italy's cities are a showcase for all that is great about this fascinating country. On this fantastic journey you'll discover Venice's famous waterways, the artistic splendour of Florence, Rome's historic grandeur and much more. ​
Book this tour and you will get your own room at no extra cost!
8 day tour
May 2 $2199 June 6 $2249 Sept 12 $2299 Oct 3 $2199
Inclusions
7 nights in 3 and 4-star hotels
10 meals: 7 breakfasts, 3 dinners
Specialist Local Guide
Welcome drink
Overseas transfers on arrival & other transportation
Porterage
Audio Guide
Included excursions
​Venice tour including St.Mark's Square & the Grand Canal
Discover the beautiful city of Bologna
Explore historic Florence on a walking tour
Tour of medieval Siena
Rome's highlights, including the Colosseum & Vatican City
Optional excursions
​Pisa, home of the famous Leaning Tower
Farewell dinner in a local restaurant​
Uffizi Gallery Museum in Florence – Skip the line
Vatican Museum & Sistine Chapel in Rome – Skip the line