Travel is an experience best shared and travelling connects young clients to forever friendships, turning the experience of a lifetime into a lifetime of experiences.  Some of us are born to explore. If you want to travel, do it while you're young.
Explore all of the places on your bucket list with a group of like-minded 18-39 year old travellers who share your passion for real experiences, life-long memories and epic adventures. You can travel solo but you will not be alone.  You will be matched with a roommate and will meet  a group of people seeking the same adventures!
Bali, Beaches & Boat Rides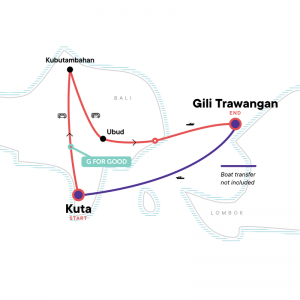 9 days Kuta to Gili Trawangan
Now's the time to explore Bali on your terms with this tour that's affordable for young travellers. Surf on gloriously blue ocean waves in Kuta, stop for the perfect shot at Buddhist temples and lotus ponds in Ubud, and relax with a drink at a beachfront bar (or two!) on Gili Trawangan. With a mix of free time, cultural highlights, and savoury must-tastes, this tour is the surest way to soak in all the magic of Bali, in just nine beautiful days.
Travel Style: 18-to-Thirtysomethings
2022:
Oct 3, 31 $1119
Nov 21, Dec 19 $1049
2023:
Jan 23 Feb 6, March 6, 13 April 3, 10 $1049
May 8, 22, June 5, 19 $1119
July 3, 10, 17, 24, 31, Aub 14, 21, 28, Sept 11,25 $1179
Oct 23 $1119
Nov 6, 27, Dec 4, 18, 25 $1049
Cuban Rhythms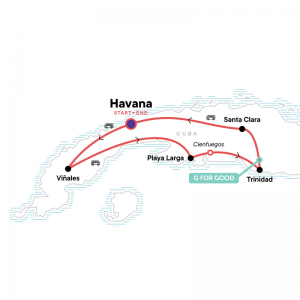 For too many people, Cuba is nothing more than a beach resort. That's crazy; the island practically buzzes with energy and you should do likewise — get moving. Journey through the culture-soaked streets of Trinidad and Old Havana for your fill of drinking and dancing. The music here pours out of open windows. Hit the beach and explore the outdoors, then connect with the locals in homestays and make friends for life as you hit the sites with other young people like yourself. Boring? Impossible!
2022:
Aug 7, 21 $943
Sept 4, 11, Oct 2, 16, 30 $903
Cuba Snorkelling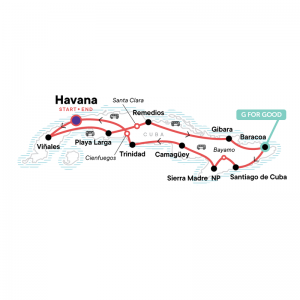 There's more to Cuba than sandy beaches and cigars. Beyond its beautiful coastlines and tobacco farms lies a place filled with more adventure than you can imagine. Dive into the ocean for incredible snorkelling, learn to whip up some of the finest mojitos from the local experts of Playa Larga, and find your rhythm as you salsa dance in the cradle of the Cuban Revolution. Whether you're in it for the food or the fiestas, this 15-day venture will have all the ingredients needed to spice up your journey.
2022:
Sept 10, Oct 8 $1679
Hawaiian Adventure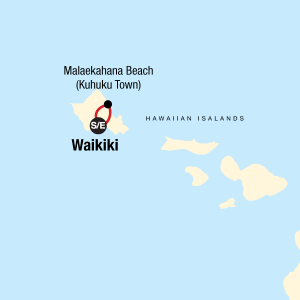 Beachin' and Boarding
7 days: Waikiki to Waikiki
Get your beach fix with this week-long rip through Hawaii. Discover the hidden gems of Waikiki you can only find with your locally based CEO, rest up at a hostel just steps from the beach, and grab a paddle for a kayak ride that supports national park restoration. Want more beach vibes? Catch up on some much needed sleep in wooden beach huts before grabbing a board and catching some waves.
2022:
Aug 22, Sept 19 $1599 Oct 17 $1499 Nov 21 $1699
Northern Thailand: Back Roads Bangkok to Chiang Mai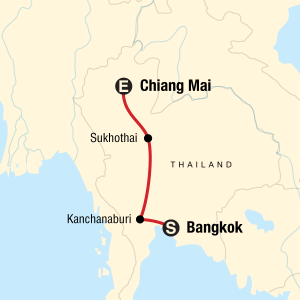 7 days Bangkok to Chiang Mai
maximum group size is 12
You, seven days, northern Thailand, and extra health and safety measures. Begin in Bangkok before visiting historic World War II sites in Kanchanaburi, including the famous bridge over the River Kwai. Explore Erawan National Park, Sukhothai temples by bicycle, then streetfood-crawl your way around Chiang Mai, with lots of free time for whatever floats your boat.
Tours start on Saturdays or Sundays
2022:
Aug 6, 7, 13, 14, 20, 21, 27, 28 $749
Sept 3, 4, 10, 11, 17, 18, 24, 25 $699
Oct 1, 2, 8, 9, 15, 16, 22, 23, 29, 30 $749
Nov 5, 6, 12, 13, 19, 20, 26, 27 $749
Thailand & Vietnam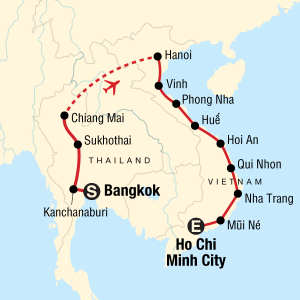 21 days Bangkok to Ho Chi Minh City
Do it all, and then some, on this 21-day tour of Thailand and Vietnam that features extra health and safety measures. Kicking off in Bangkok, enjoy the big city before heading to Sukhothai for a temple bike, then Chiang Mai for street food crawls, night markets, and a whole lot more. In Vietnam, take in the highlights of Hanoi and Ho Chi Minh, then soak up Nha Trang's beautiful beaches and all the natural awesomeness the area has to offer.
Tours start on Saturday & Sunday
2022:
Aug 2399
Sept, Oct $2349
Nov, Dec $2399
Vietnam: Hanoi to Ho Chi Minh City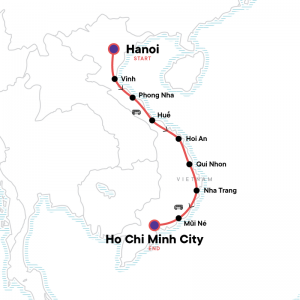 Got 15 days? Then you've got an action-packed tour of Vietnam that hits all the highlights, and features extra health and safety measures. With your CEO leading the way, wander Hanoi's lively Old Quarter, paddleboat through ridiculously spectacular caves, take a motorbike tour of all the must-see spots, then catch your breath on Nha Trang's beautiful beaches.  Departs Fridays and Saturdays
2022:
July, Aug $1599
Sept, Oct $1499
Nov, Dec $1599
Spain, Portugal & Morocco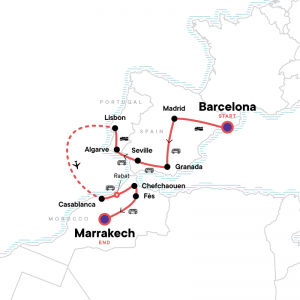 16 days Barcelona to Marrakech
When you're visiting Portugal and Spain, Morocco's just a quick trip away. So we've added this captivating North African country on a 16-day tour that spans continents. Get going with Spain's lively culture and incredible architecture (think Gaudi buildings in Barcelona and Moorish design in Seville) before heading to Portugal to see the beautiful Algarve coast and the vibrant capital of Lisbon. If Morocco's picturesque blue city of Chefchaouen doesn't leave you breathless, the bustling medinas of Fès just might.
2022:
Aug 5, 26, Sept 9, 16 23, 30 $2519
Oct 14, 21 $2519
Maldives Cruising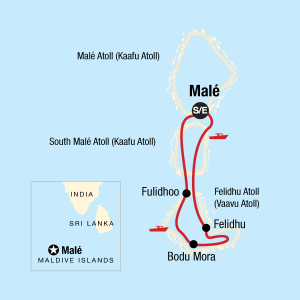 7 days Male to Male
Cruise around the extraordinary islands of the Maldives aboard a traditional dhoni taking in sun, sand, and the clearest water you've ever seen. Turquoise lagoons and perfect beaches make for Insta-worthy island vacay content, while snorkelling amongst the spectacular corals of the Indian Ocean will give you taste of local life. Join like-minded travelers as you indulge yourself in this tropical paradise.
2022:
Aug 4 $2169 Aug 19 $2079
Sept 2, 16, 30 Oct 14, 28 $2169
Nov 11, 25, Dec 9, 23 $2259
Nepal: Mountains and Temples – Plus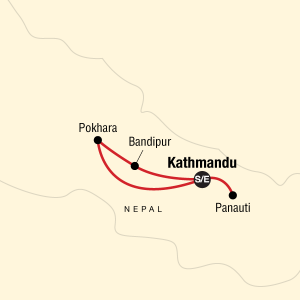 10 days Kathmandu to Kathmandu
Ten days is all it takes to experience what makes Nepal so ridiculously amazing. This tour starts and ends in Kathmandu and packs incredible views, temples, hikes, food, and moments into every step along the way. Experience local living and ancient Magar culture in Panauti. Opt to para sail or just stroll along Phewa Lake at Pokhara. Have your mind blown as you hike alongside one of the world's most beautiful mountain ranges.
2022:
Aug 20, Sept 3 $949
Sept 17, Oct 1, 22 $1059
Nov 5, 19, Dec 3, 17 $1019
Rajasthan: Laneways & Local Villages – Plus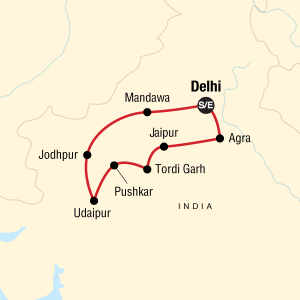 15 days Delhi to Delhi
Buckle up for this 15-day tour that'll have you exploring some of India's most incredible kingdoms, cities, towns, and villages. Set out on a walking tour of Mandawa, known today as Rajasthan's "open-air art gallery". Admire the beautifully frescoed havelis, or traditional townhouses, which once housed wealthy traders and their families. Soak in the sights of a vibrant city on the crossroads of ancient caravan routes.
2022:
Aug 20, Sept 3, 17 $949
Oct 8, 22 $1019
Nov 5, 19, Dec 3, 17 $1079