Croatia's extraordinary coastline is indisputably its main attraction. The first thing that strikes you is the remarkable clarity of the water. When it's set against a dazzling white pebbly beach, the water sparkles with a jewel-like intensity in shades of emerald and sapphire. There are long sandy beaches– perfect for lazy days spent lounging and reading till you heart is content. There are lots of water activities to lure you off your sun lounger – snorkelling, diving, kayaking, windsurfing and sailing, just for starters.
Michelin stars have been awarded to two Croatian restaurants, effectively boosting the country's reputation as a top gourmet destination. Check the Culinary Delights page for Culinary tours of this region.
---
SAILING CROATIA – SPLIT TO DUBROVNIK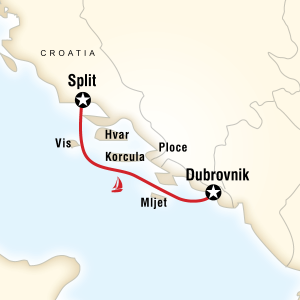 8 days, Split to Dubrovnik
Whether you're looking for relaxed afternoons lazing on the deck of a yacht or time to indulge in the nightlife, this eight-day sailing trip aims to please. Discover charming villages and stunning scenery as you sail from Split to Dubrovnik on a small yacht. Matchmaking won't be needed to help you fall in love with the country, culture, or the region's beauty during hikes to castles and waterfalls. Toss in beach barbecue and snorkelling and you have an incredible yet affordable island getaway.
2022:
Aug 6, 13, 20, 27 $2049
Sept 3, 10, 17, 24 $1929
Oct 1, 8 $1799
Dalmatian Coast & Montenegro Sailing
15 days
Split to Dubrovnik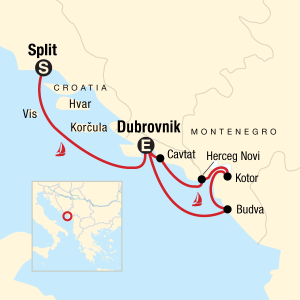 Stretch out your vacation days lounging on a yacht deck with this sailing trip that covers the Dalmatian coast from Split to Dubrovnik, along with plenty of time in Montenegro. Feel the warm sun on your face with the refreshing spray of seawater as you venture from coastal town to coastal town, stopping to swim, snorkel, or relax on beaches before exploring the rich history behind this storied Old World region. Local food and wine are in abundance, giving you delicious homegrown flavour that's difficult to forget. When it comes to Croatia, every experience is filled with memories that ignite all the senses.
2022:
Oct 1, 8 $3249
Sept 3, 10, 17, 24 $3429 August 6, 13, 20, 27 $3599
Croatia is the newest bucket list item for savvy travelers
Fun Facts:
*  It is a country with over 125,000 years of history, and the site of many scenes in Game Of Thrones
*  Croatia has a long wine tradition, Zinfandel's father hailed from this country in fact
*  Croatia boasts 8 national and 11 natural parks, fresh water from all rivers, and a place where food in grown in a healthy and traditional manner
*  The Adriatic, which surrounds Croatia's coast and 1,200 islands, is one of the clearest seas in the world
*  It is an extremely safe destination
*  8 UNESCO locations
*  Awards abound…Zadar was voted the best European destination in 2015, while Zagreb was voted the best Christmas destination in 2015
*  Big inventions that shape our lives today came from Croatian inventors; pencil, neck tie, alternative current, and even the parachute