Sport Travel
Hear the roar of the crowd, lights shining overhead. Experience the world's greatest and most competitive sporting events. The Olympic Games, the F1 Grand Prix, and the FIFA World Cup are just a few of the events that attract sports fans from around the world. Be a part of the action with a sports getaway for you and your friends.
Or would you rather be the action? Take your game to the next level and become an international player. World-class golf courses, renowned mountain slopes, and rivers that rush along exotic landscapes. No matter how hard you compete, new challenges are out there, waiting to be tackled. Get your team together and get ready to play.
THAILAND HIKE, BIKE & KAYAK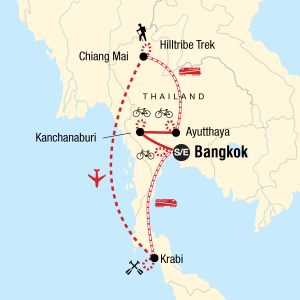 14 days, Bangkok to Bangkok
Perfect for those who believe the best way to appreciate paradise is by jumping right into it. This adventure will have you hiking through forests and rice paddies, cycling through provincial villages, and experiencing Thailand's intriguing combination of culture and the great outdoors. Kayak the turquoise waters of the Andaman and discover coral coves and white-sand beaches. With the services of a Chief Experience Officer (CEO) and your accommodation and transport taken care of, this trip offers great value as it introduces the main sights of Thailand while offering up plenty of flexibility so you can experience an adventure you'll never forget.
June 29, July 13, 27, Oct 19, Nov 2, 16, 30 $1954
Sept 14 $1869
Dec 14, 21, 26, 2019    Jan 11, 25, Feb 8, 15, 29, 2020 $2039
Book by June 01, 2019
BARBADOS EVENTS
Dive Fest (July 3 – 7): Whether you can swim, float, dive, or prefer to soak up some sun on the beach, this festival has something for everyone! Dive Fest will feature water awareness programs, scuba and freediving demonstrations and trials, beach clean ups, conservation tips, lionfish hunting and tasting, as well as scuba dives all over the island – including the exhilarating east coast!
Open Water Festival (November 6 – 10): Join hundreds of other swimmers and open water enthusiast in Barbados' turquoise waters for races of 3.3, 5 and 10 km. Swimmers this year also have a chance to rub shoulders (or fins) with Oceans Seven swimmer, Cameron Bellamy!
Run Barbados Marathon (December 6 – 8): The island's largest running event is perfect for marathoners seeking to test their endurance against a tropical backdrop. Participants will run through the beautiful capital city and UNESCO World Heritage Site, Bridgetown and its spellbinding natural harbour at Carlisle Bay. Canada Running Series has worked with the festival for over 20 years in bringing groups of Canadians down to come for the run, and stay for the fun! Contact Sundial Travel!
Peru Multisport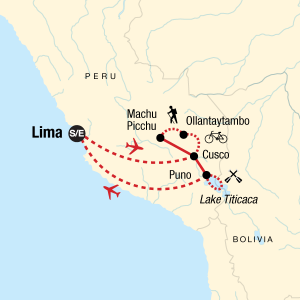 15 days Lima to Lima
How do you improve a trip that already includes the Sacred Valley, the Inca Trail, and Lake Titicaca? Throw in some bikes, a few kayaks, and loads of high-energy thrills, that's how! Peru Multisport connects immersive cultural interaction and classic Peruvian landmarks with challenging physical activities tailored specifically for adrenaline junkies and fitness freaks. Climb and bike your way from small villages to astounding monuments, then explore Lake Titicaca from a kayak; a perspective few visitors ever get the chance to see. Need more? Consult your CEO; they'll keep your zest for adventure satisfied.
Soak in the views on a bike in the Sacred Valley
Climb the Inca Trail to Machu Picchu
Kayak Lake Titicaca
Mingle with the locals and learn about traditional life
Savour the Altiplano scenery
Devour seafood in Lima
May 18 $2399 July 6 $2600
Aug 3, 17, 31 Sep 21, 28 $3059
Oct 5, 12, 19, 26 $2899
Book by April 30, 2019
Cycling in Tuscany
7 days Rome to Chianciano Terme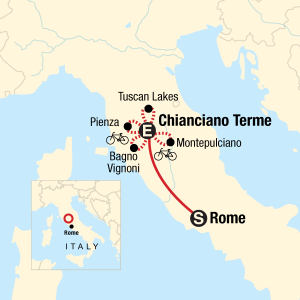 What better way to experience the beauty of Tuscany than from the seat of a bike? A mixture of on- and off-road biking awaits on a ride through some of the most gorgeous, yet challenging countryside you'll find anywhere. Explore beautiful hill towns, stunning lakes, and have the option to soak in thermal hot springs. When you are not riding, take in the view of the rolling Tuscan hills from your hotel rooftop and relax with a glass of wine.
June 19, July 14, August 11 $1580
Book by April 24, 2019
The Best of the Dolomites: Hiking & Gourmet
Experience the best of the Dolomites, hike amid glorious landscapes, enjoy luxury hotels, gourmet cuisine, professional mountain guides and exclusive service.
You'll visit some of the most incredible areas in the Dolomite Mountains, the chic town of Cortina d'Ampezzo, the impressive peaks at the Tre Cime di Lavaredo, you'll explore two natural parks and absorb the rich history of the 'Ladin' culture.
Complement the hiking with incredible traditional Italian cuisine and delicious gourmet dishes at a Michelin-star restaurant
Free Wi-Fi in every property
Upgrade upon availability, early check-in, late check-out upon availability
Cost per person starting at €2,990 – Guided.  Call us for more information.
Colombia Multisport & Lost City Trek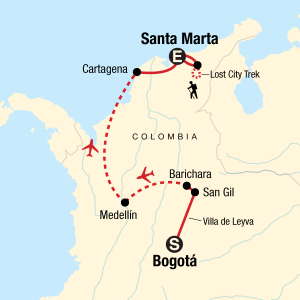 17 days Bogotá to Santa Marta
Earn another stamp in your passport on this thrilling 17-day tour that takes you through challenging terrain, remote villages, and incredible natural landscapes. After visiting some of Colombia's vibrant cities, you'll continue to the highlight of this trip: a multi-day trek to the Lost City of Teyuna through farmlands, the deep jungle, and small Kogi communities. By the end, you'll have gained a new appreciation for all that Colombia has to offer.
May 23, July 18 $3110     Book these two dates by April 30, 2019
Sept 19, Oct 24, Nov 21 $3479
Dec 18 $3829
Jan 9, 30, Feb 20, 2020 $3659
Colombia Multisport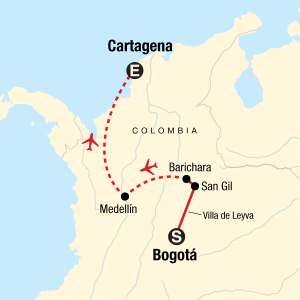 11 days Bogotá to Cartagena
Get your blood pumping in one of South America's most vibrant countries on this 11-day tour of Colombia. It's made for active travellers that want an adrenaline rush with their worldly explorations. Hike among palm trees and succulents in national parks, embark on a 9km (5.6 mi) walk along cobblestone pathways to a colonial town, and go whitewater rafting in Suarez Canyon. With additional stops at cities like Cartagena and Medellin, this is a well-rounded tour that shows you multiple sides of this fascinating country.
May 23 $2122 July 18 $2405
Book by April 30, 2019