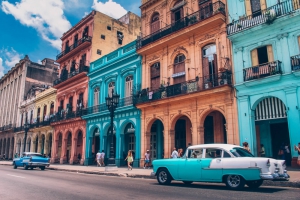 If you choose to visit Cuba, you will enjoy the beautiful white sand beaches, colourful reefs with the most friendly locals.
The most well-known tourist spot in Cuba is the resort town of Varadero located on a 22 mile long peninsula lined with all-inclusive resorts, nightspots with live music and a gateway to Cuba's rich history. Two hours from Varadero, you will find Havana, the capital of Cuba, where you will find attractions in classic 1950s-era American automobiles in perfect condition.
Cayo Santa María is a small island off Cuba's northern coast. It's known for its beaches and water sports
On the island of Cayo Santa Maria. mangrove forests and lagoons abound here and beautiful coral reefs offer ideal snorkelling and scuba diving opportunities.
Cayo Coco, probably best known for its high-end luxury resorts and hopping nightlife.
Holguin also offers many ways to experience Cuban culture.
There are also many great fishing spots where you can try your luck catching mahi mahi, amberjack, grouper and barracuda.
CUBA LIBRE & SAILING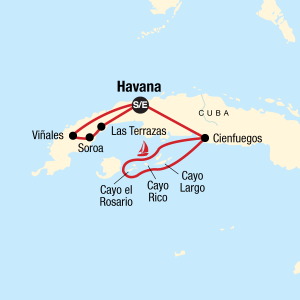 13 days, Havana to Havana
Roaming over its green hills or sailing along its tiny, white-sanded islands, you'll wonder what took you so long to see "the other Cuba." This unique combo adventure on land and water will take you places most people don't know even exist. Meander through the lush, laid back communities of Cuba's "Garden Province" and dive into local culture for a night at a unique homestay. Sail aboard a catamaran to tour (and lay on) the secluded beaches of the thinly populated Canarreos Archipelago islands. Experience life in the sun you've always hoped was real.
2020: On Sale! April 27 $2399 May 11, 18, June 15, 24 $2422
Book by Feb 29, 2020
Mar 2, 30, April 6, July 6, Aug 3 $2999
Melia Las Dunas 4+*
Cayo Santa Maria, Cuba
All-Inclusive service tourist resort with unrivalled attractions
Wide variety of gastronomic options
Romantic locations for weddings and places for events
Cubamigos Club for a more enjoyable family stay
Smoke-Free Hotel
Places designed especially for families and children and a relaxation area with a tranquil and romantic ambience.
Spacious lobby with water mirrors, unique gastronomic boulevard and cultural square
Rooms with exclusive Luxury services and added values for families
Iberostar Selection Playa Pilar 4+*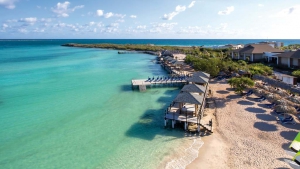 Cayo Coco, Cuba
An upscale contemporary oceanfront hotel in Cayo Guillermo, Iberostar Selection Playa Pilar boasts stunning views and is a short walk to Playa Pilar beach. This family friendly resort offers a supervised Kids Club and the only water playground in the area! Accommodations include well-appointed rooms and suites with flat screen TVs, a balcony or terrace, air conditioning and 24-hour room service. Guests enjoy complimentary daily activities like Tai Chi classes or dance lessons, and non-motorized water sports like snorkelling and windsurfing. Three delicious à la carte restaurants and one international buffet offer a wide selection of cuisines that will appeal to all tastes.
Ocean Vista Azul 5*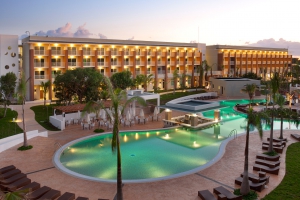 Varadero, Cuba
With a cliff-top location and stunning sea views, the Ocean Vista Azul is a new five-star resort, surrounded by two idyllic beaches and crystal-clear waters. The hotel offers a spectacular infinity pool, bright, spacious rooms, themed restaurants, the Despacio Beauty Centre and the Privilege service with Exclusive Rooms and Services. The hotel also has a full programme of family entertainment. Ocean Vista Azul all inclusive buffet and à la carte restaurants have a varied gastronomic offer and alcoholic beverages. The hotel is just a 5-minute walk from Varadero's main square and 700 meters from Josone Park.
IBEROSTAR SELECTION BELLA VISTA VARADERO 5*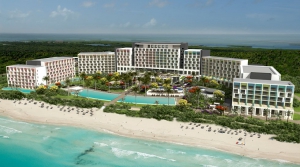 Varadero, Cuba
Located barely 10 metres from the sand of a world-famous beach, the complex is surrounded by a lovely and beautifully kept tropical environment. There are activities for the little ones (who won't want to leave the children's pool) and for the adults (some of whom won't want to leave the golf course), as well as facilities tailored for every need and welcoming staff who make this hotel one of the best in Varadero. And it's All Inclusive…
CORAL LEVEL AT IBEROSTAR SELECTION HOLGUÍN 5*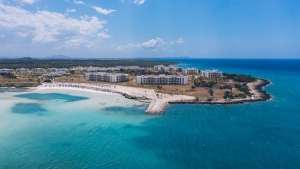 Holguin, Cuba
Adult only
Take in the splendour of the eastern Cuban coast from the heights of the exclusive terrace. A butler is on hand and books you the best table at your preferred restaurant. Can you ask for more? Naturally: free Wi-Fi, access to facilities designed for adults, a private walkway to the beach, one of most sought-after rooms in the best location in the complex.…
The Iberostar Selection Holguín Coral Level experience guarantees your holidays will be the brightest, most peaceful days of your year. Located on the seafront in Pesquero, Coral Level gives you the key to a superior experience and personalised service.
THE CORAL LEVEL AT IBEROSTAR SELECTION ENSENACHOS HOTEL 5*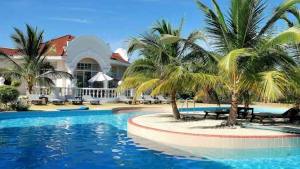 Adult only
Cayo Santa Maria, Cuba
New! Ensenachos Beach waits to reveal its best secrets: exquisitely beautiful water and some of the world's most important coral reefs.
The Coral Level villas forming this area of the hotel are designed for adults and offer great luxury, with a living room, kitchen, terrace with jacuzzi, and extra quality in every detail. You'll also be surrounded by the lush, unspoilt nature of this little Cuban bay.
As if that wasn't enough, this exclusive environment also boasts butler service, a private pool and gourmet restaurant in addition to all the 5-star facilities at the Iberostar Selection Ensenachos hotel.
Blau Varadero 4*
Located directly on the beach, the 4-star Blau Varadero offers an unforgettable Cuban experience for adults only.
What sets Blau Varadero apart from other Varadero resorts are their beautiful plant-based decorations. Hanging from the celling to the floor of the resort you can see gorgeous plant leaves and flowers.
The all-inclusive package includes buffet meals, live music, a la carte restaurants, unlimited drinks, 24/hour snacks, activities such as windsurfing, catamaran, kayak, pedal boats and sailing, one free scuba diving lesson, nightly entertainment and dancing lessons!
395 Rooms, Swimming pools, Jacuzzi, Buffet restaurant, 2 À la carte restaurants, Lobby bar, Pool bar and piano bar, Mini club
Melia-International 5*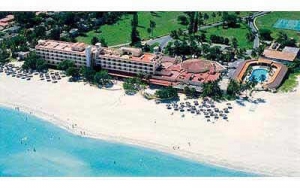 Newly renovated and reopened beachfront Melia Internacional is now a shining star hotel in Varadero. This all-inclusive 5-star property serves both families and adults. The Level service is available for all ages.
Melia Internacional has an Adults Only section at the resort with private check in and out, lounge area, bar, upgraded rooms and more!
946 Rooms in 9 storey building, 6 Swimming pools, jacuzzi, 2 Buffet restaurants, 7 À la carte restaurants: Gourmet ($), Mediterranean, Mexican, Italian, Japanese, Tex Mex and Cuban, Snack bars, Ice cream shop, 15 Bars, 2 tennis courts for all guests, Wi-Fi is included for everyone and is available all over the resort
Paradisus Princesa Del Mar 5*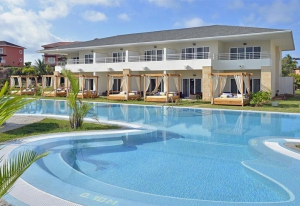 Paradisus Princesa Del Mar is an all-inclusive, 5-star adults only eco-resort. It is located directly on the beach, at the end of Hicacos Peninsula. Absolutely stunning location for destination weddings, honeymoons and incentive travel.
630 Rooms, Buffet restaurant, Large swimming pool, 5 À la carte restaurants: Italian, French, Japanese, Oriental, & Cuban
6 bars, 7 Whirlpools (throughout the complex in various sections), 2 plunge pools, 4 night-lit tennis courts, Billiards, Darts , Shuffleboard, Table tennis, Aerobics, Fitness centre , Full European Spa ($), Night club
Ocean Vista Azul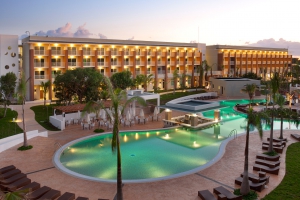 Ocean Vista Azul is a 5-star property, but unlike other 5-star resorts our team visited, this one is facing the ocean. It offers an incredible infinity pool with an ocean view on the ground level.
Perfect for families and adults, Ocean Vista Azul has accommodations and amenities for everyone! The family friendly part of the resort offers larger rooms, a pool and a Daisy Club (activities for the youngest members of the family run by professional supervisors). In the adults-only section travellers can enjoy a Privilege section with exclusive rooms and services.
470 rooms, 2 swimming pools (1 infinity pool) , Jacuzzi, 6 restaurants and 8 bars, Despacio Beauty Centre, Fitness centre, Daisy Club and Teenclub, Blue Team, Sports area and water sports, Theatre, Boutique, 24h All Inclusive, Night shows daily
Labranda Varadero 3*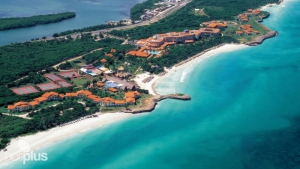 Labranda Varadero is an all-inclusive resort perfect for solo travellers, families, or groups looking for a fun-filled 7-night stay. It's nestled between white sand and palm trees with 443 rooms and access to two exclusive beaches.
KEY FACTORS:
• 8km from Varadero City Center
• Private beach
• Daily entertainment
• 4 restaurants and 5 bars
• Disco
• Unlimited domestic alcohol beverages and non-alcoholic beverages
• Non-motorized aquatic sports (kayaking, sailing, snorkelling, aerobics)
• Gym and Sauna
• Daily activity program for children and adults
• Professional and friendly staff