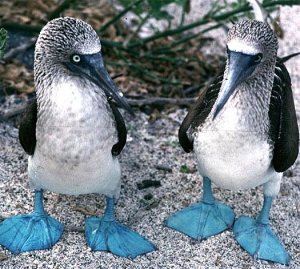 The Galápagos Islands, part of the Republic of Ecuador, are an archipelago of volcanic islands distributed on either side of the equator in the Pacific Ocean surrounding the centre of the Western Hemisphere, 906 km west of continental Ecuador. The islands are known for their large number of endemic species and were studied by Charles Darwin during the second voyage of HMS Beagle. His observations and collections contributed to the inception of Darwin's theory of evolution by means of natural selection.
Galapagos with Quito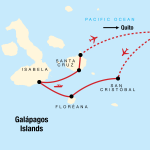 10 days Quito to Papallacta
Strike a balance between genuine encounters with Mother Nature and the comfort of land accommodations on this 10-day Galápagos tour. Explore Ecuador's capital, Quito, on your own before hopping on a flight to the Galápagos Islands where an incredible diversity in wildlife awaits. Spot blue-footed boobies on Isla Lobos, visit a sea lion nursery, and go birdwatching in the highlands of Floreana. With upgraded hotels and private speedboat transfers, you'll be well-rested and ready to take in the unique splendour that these islands offer.
Encounter marine iguanas and blue-footed boobies
Snorkel among volcanic formations
Dip into the Papallacta hot springs
Walk on the black-sand beaches of Floreana Island
Visit the Giant Tortoise Breeding Centre
Dine at community restaurants
2021:
Nov 21, Dec 26 $33761
2022:
Jan 16, Feb 13 $3599
Mar 13 $3914
---
GALÁPAGOS MULTISPORT WITH QUITO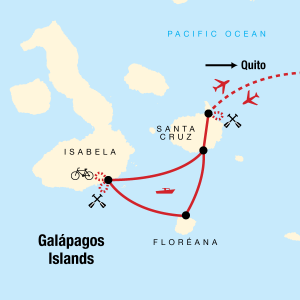 10 days, Quito to Quito
This adventure is perfect for those who want to experience the incredible wildlife and scenery of the Galápagos Islands but prefer to sleep on shore. Go ashore at the lesser-visited island of Isabela and spend your days with playful sea lions, giant manta rays, and the Galápagos giant tortoise. This adventure offers a great balance of guided excursions and free time, with optional activities abound.
2021:
Oct 23 $2846
Nov 20, 27, Dec 11, 181, 25 $3118
2022:
Jan 1, 29, Feb 12, 26 $3016
March 12, 26, April 9, 23, May 7, 21 $3212
June 4, 18 $3118
July 1, 16, 30, Aug 13, 27 $3212
Sep 10, 24 $3118
Oct 8, 22 $3016
Book by Oct 31, 2021