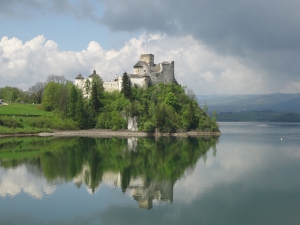 Picturesque cities such as Kraków and Gdańsk vie with energetic Warsaw for your urban attention. Elsewhere, woods, rivers, lakes and hills beckon for some fresh-air fun.
Poland's roots go back to the 10th century, leaving more than a thousand years of twists and turns and kings and castles to explore. WWII history buffs are well served. Tragically, Poland found itself in the middle of that epic fight, and monuments and museums dedicated to these battles – and to Poland's remarkable survival – can be seen everywhere. There's a growing appreciation, too, of the country's rich Jewish heritage. Beyond the deeply affecting Holocaust memorials, synagogues are being sensitively restored, and former Jewish centres such as Łódź and Lublin have heritage trails where you can trace this history at your own pace.
Eastern Europe, Croatia and the Balkans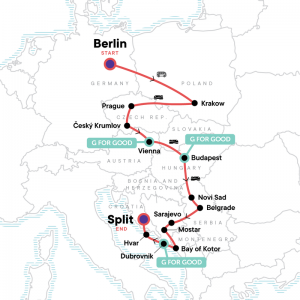 28 days Berlin to Split
This epic cross-European adventure offers an intriguing combination of Central Europe's castles and romantic squares with the Balkans' own historic towns and wondrous landscapes. But this trip isn't a cobweb-enshrouded history tour — you'll connect with village life, immerse yourself in urban centres, and get active with outdoor pursuits, including kayaking in Montenegro and hiking through diverse country. With 28 days devoted to this journey, this is your chance to discover what still feels like a well-kept secret.
2021:
Sept 5 $4989
July 18, Aug 8 $5184
2022:
April 3, 17 $4589
May 29, June 12 $4989
Book by June 30, 2021
The Best of Eastern Europe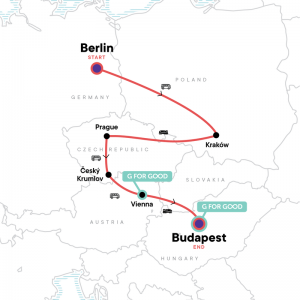 14 days Berlin to Budapest
From fairytale Czech towns to Budapest, the Pearl of the Danube, experience the unique culture, food, and history of Eastern Europe. This two-week trip through six Eastern European countries offers an intriguing combination of urban centres, village life, and outdoor pursuits. Visit castles, churches, and romantic town squares, indulging in Berlin's café culture and Prague's beer.
2021:
Aug 8 $2762
Sept 1, 5, 12, 19 $2668
Oct 24, Nov 21, Dec 19 $2337
2022:
Jan 9, Feb 13, March 13, April 3, 17 $2464
May 15, 29, June 12 $2668
Book by June 30, 2021
Discovering Poland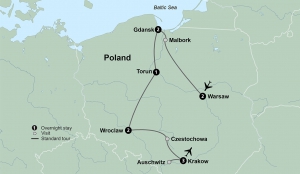 Warsaw, Gdansk, Torun, Wroclaw & Krakow
12 days/11 nights
Embark on an in-depth journey through Poland. Tour the thriving capital city of Warsaw. Reborn after World War II, it is again one of Europe's great cultural centres. Walk the meandering lanes of historical Krakow where you will see Wawel Castle, once home to the kings of Imperial Poland. The somber history and tragic reality of Auschwitz is unveiled during a moving visit. Behold the Black Madonna while visiting the Jasna Góra Monastery. Discover Polish culture at a folklore dinner and show in Krakow. Make tasty gingerbread in Torun. Stand on the dock where union workers formed the Solidarity Anti-Communist movement in 1989 in Gdansk. Explore the ancient city squares and UNESCO World Heritage sites of Torun, Wroclaw, Warsaw, Gdansk and Krakow.
14 meals: 10 breakfasts and 4 dinners
2021:
Sept 10, 18 $2999
July 10, Aug 21, Oct 9, 16, 23 $2899
Dec 4 $2599
2022:
April 23 $2999
POLAND ESCAPE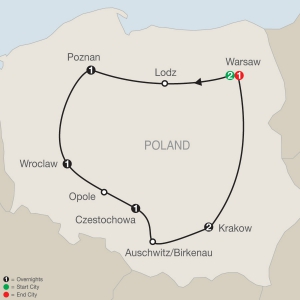 9 Day Tour from Warsaw to Warsaw
Discover remarkable culture and history on your guided tour of Poland. Escape for nine days in the affordable and less-crowded off season to explore this country rich in proud tradition. Begin in Warsaw—gateway city between East and West—for remarkable sightseeing, from the 14th-century Cathedral of St. John to remnants of the Jewish ghetto. Travel to the historic factory town of Łódź, home to the grand Poznanski Palace. In the University town of Poznań, see the baroque St. Peter and Paul Cathedral and Old Market Square before dining on regional specialties.
Learn about the turbulent history of Silesia and its historical capital, Wroclaw. Admire its fine patrician houses during a guided tour and a visit to the Market Square. Stop in Opole, one of Poland's oldest cities, and continue to Czestochowa. Visit the Jasna Góra Monastery—home to the Black Madonna, venerated as the "Queen of Poland" and the country's national symbol.
As you travel to Krakow, stop at the Auschwitz and Birkenau concentration camps for a guided tour of the notorious and chilling sites of the Holocaust. The following day, join a guided walk through Krakow's historic Jewish center in the Kazimierz Quarter to enjoy its cafés, antique shops, and art galleries. Explore the Remuh Synagogue and 14th-century St. Mary's Church before returning to Warsaw to conclude your off-season travel to Poland with a farewell dinner.
2021:
Oct 2, 9, 16, 30, Nov 6, 13, 20, 27 $1529
2022:
Feb 12, 19, 26 $1459
March 5, 12, $1529
March 19, 26 $1749
Prices are per person in single, double, or triple room occupancy.