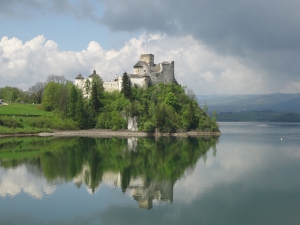 Picturesque cities such as Kraków and Gdańsk vie with energetic Warsaw for your urban attention. Elsewhere, woods, rivers, lakes and hills beckon for some fresh-air fun.
Poland's roots go back to the 10th century, leaving more than a thousand years of twists and turns and kings and castles to explore. WWII history buffs are well served. Tragically, Poland found itself in the middle of that epic fight, and monuments and museums dedicated to these battles – and to Poland's remarkable survival – can be seen everywhere. There's a growing appreciation, too, of the country's rich Jewish heritage. Beyond the deeply affecting Holocaust memorials, synagogues are being sensitively restored, and former Jewish centres such as Łódź and Lublin have heritage trails where you can trace this history at your own pace.
The Baltic States, Russia & Scandinavia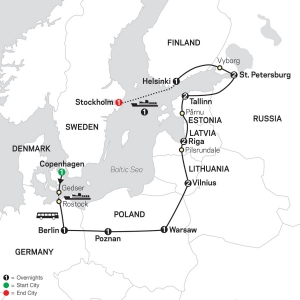 16 Day Tour from Copenhagen to Stockholm
On this Baltic States, Russia, and Scandinavia tour package, you'll journey from Denmark to Sweden traveling through Germany, Poland, Russia, Finland, and the Baltic States of Lithuania, Latvia, and Estonia. Along the way, you'll experience UNESCO World Heritage Sites, old cities, beautiful scenery, and fascinating historic sights—with overnights in Poznan and St. Petersburg and the capital cities of Copenhagen, Berlin, Warsaw, Vilnius, Riga, Tallinn, Helsinki, and Stockholm.
Enjoy included sightseeing of the must-see attractions in many of the cities you'll visit on your affordable tour of the Baltic States, Russia, and Scandinavia. In Copenhagen, see the famous Little Mermaid statue. Walk through Vilnius' Old Town and Riga's Old Town, both UNESCO World Heritage Sites dating to the 11th century and with historic buildings that are gothic, renaissance, baroque, and classical styles.
Walk through Tallinn's Old Town – also a UNESCO World Heritage Site with watch towers, cobbled lanes, and medieval houses. In St. Petersburg, Russia, a Local Guide will introduce you to the many palaces, parks, monuments, squares, wide boulevards, and 600 bridges that delight visitors. Helsinki's sightseeing highlights include the Lutheran Cathedral, completed in 1852.
Your affordable tour includes an overnight cruise—with music, dancing, and shopping on board—from Helsinki to Stockholm and a 2-hour ferry crossing from Denmark to Germany. Visit Latvia's 16th-century baroque Palace of Rundale, the former summer residence of the Duke of Courland. Stroll on the sandy beach in Parnu, Estonia's lively historic seaside town. Throughout your budget-minded Baltic, Russia, and Scandinavia tour, you'll be spoilt with scenic landscapes.
2020:  Oct 3 $3689
Oct 10 $3569
Central Europe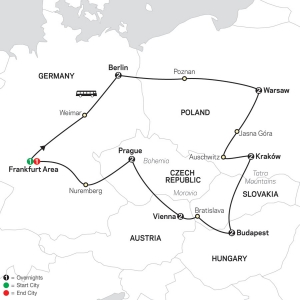 15 Day Tour from Frankfurt to Frankfurt
Learn about Central Europe's rich history and see its historical sites as you travel through the heart of Germany, Poland, Slovakia, Hungary, Austria and the Czech Republic.
One of the highlights of this Central Europe tour is a visit to Jasna Góra, the monastery near Czestochowa, an important pilgrimage spot. Its Black Madonna, a painting of the Virgin Mary, is a symbol of the country and venerated as the "Queen of Poland." While in Poland, you'll also stop in Auschwitz to visit what is left of the concentration camp, a chilling reminder of the Holocaust.
Sightseeing with a Local Guide—a local expert who knows the history, culture, and secrets of the city—is included in Berlin, Warsaw, Kraków, Budapest, Vienna, and Prague. Sights you'll see during your city tours include Berlin's Brandenburg Gate, dating to 1791; Budapest's Heroes' Square, representing 1,000 years of Hungarian history, Bratislava's old town center; Prague's Charles Bridge, dating to 1357 and one of Europe's oldest stone bridges, and the Astronomical Clock, built in 1410; and the Imperial city center of Vienna, the city of the Hapsburgs. . In Kraków, Poland's most beautiful city and cultural capital, see the charming Market Square, and Wawel Cathedral, which houses the tombs of Poland's royalty.
2020:   Oct 4, 11, 18 $2959
Dec 6 $2499
Dec 29 $2779
POLAND ESCAPE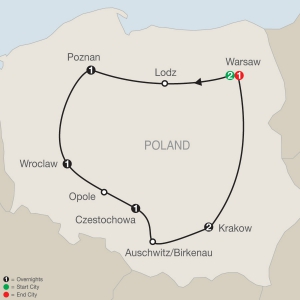 9 Day Tour from Warsaw to Warsaw
Discover remarkable culture and history on your guided tour of Poland. Escape for nine days in the affordable and less-crowded off season to explore this country rich in proud tradition. Begin in Warsaw—gateway city between East and West—for remarkable sightseeing, from the 14th-century Cathedral of St. John to remnants of the Jewish ghetto. Travel to the historic factory town of Łódź, home to the grand Poznanski Palace. In the University town of Poznań, see the baroque St. Peter and Paul Cathedral and Old Market Square before dining on regional specialties.
Learn about the turbulent history of Silesia and its historical capital, Wroclaw. Admire its fine patrician houses during a guided tour and a visit to the Market Square. Stop in Opole, one of Poland's oldest cities, and continue to Czestochowa. Visit the Jasna Góra Monastery—home to the Black Madonna, venerated as the "Queen of Poland" and the country's national symbol.
As you travel to Krakow, stop at the Auschwitz and Birkenau concentration camps for a guided tour of the notorious and chilling sites of the Holocaust. The following day, join a guided walk through Krakow's historic Jewish center in the Kazimierz Quarter to enjoy its cafés, antique shops, and art galleries. Explore the Remuh Synagogue and 14th-century St. Mary's Church before returning to Warsaw to conclude your off-season travel to Poland with a farewell dinner.
2020: Oct 3, 24, Nov 14 $1369 Nov 28 $1299
2021: Feb 13, 20, 27 $1299 March 6, 13, $1369 Mar  20, 27 $1559
Prices are per person in single, double, or triple room occupancy.