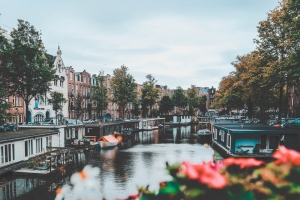 The Netherlands, a country in northwestern Europe, is known for a flat landscape of canals, tulip fields, windmills and cycling routes. Amsterdam, the capital, is home to the Rijksmuseum, Van Gogh Museum and the house where Jewish diarist Anne Frank hid during WWII. Canalside mansions and a trove of works from artists including Rembrandt and Vermeer remain from the city's 17th-century "Golden Age."
EUROPEAN SAMPLER WITH LONDON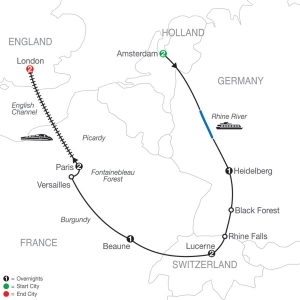 Like a Lazy Susan generously plated with cured herring, breaded schnitzel, rich fondue, and beef bourguignon, this aptly named European Sampler invites you to sink your teeth into four delectable countries and cultures. Designed to introduce you to the best of Holland, Germany, Switzerland, and France, this 9-day tour of Europe is an awakening for more than just your taste buds. All of your senses will perk up as you leisurely cruise along Amsterdam's bridge-covered canals, dreamily float down the romantic Rhine, and journey through Germany's picturesque Black Forest, Burgundy's rolling green vineyards, and the white-capped peaks of the Swiss Alps. Along the way, you can expect a heaped helping of cities and villages, castles and palaces, and hand-carved cuckoo clocks to enhance your time in the most flavorful regions of Europe.
2022:
July 30, Sept 17 $3919
Spet 24 $3869
Oct 8 $3779
2023: Book by Aug 31 for these rates:
April 22 $3563 May 6 $3491 May 20 27, June 3 $3628
June 17 $3580
July 1, 15 $3491 July 24 $3527
Aug 26 $3491 Sept 2 $3842 Sept 9 $3527
Sept 16, 23 $3842 Oct 7 $3707
EUROPEAN TAPESTRY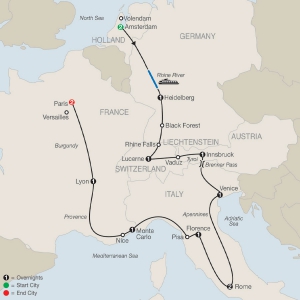 14 Day Tour from Amsterdam to Paris
A tapestry takes distinct colors and threads, and weaves them together into a beautiful design. That's exactly what this European tour—European Tapestry—does. It weaves together the distinct cities, cultures, landscapes, and food of seven countries to make a beautiful vacation to Europe. Start with sightseeing and a canal cruise in Amsterdam and end with sightseeing and a cruise on the River Seine with spectacular views of the Eiffel Tower and Notre Dame Cathedral in Paris. In between, see some of Europe's must-see attractions, such as the Lion Monument in Lucerne; St. Mark's Square in Venice; the Colosseum, Sistine Chapel and Vatican Museums in Rome; Signoria Square in Florence, the center of the city's political life since the 14th century; and the amazing Leaning Tower in Pisa.
But that's not all. Have a beer at a local café in Heidelberg; take a romantic Rhine cruise past castle-crested cliffs and terraced vineyards; learn about woodcarving from a local woodcarver in Germany's Black Forest and taste the traditional Black Forest Cake; enjoy dinner at a Venetian restaurant to try out local specialties; and a highlight of this European tour is an overnight stay in Monte Carlo. Globus has worked hard behind the scenes to ensure your time and fun is maximized. That's why we've included VIP access in this tour of Europe. That means that rather than waiting in long lines at places such as the Vatican Museums and Colosseum in Rome, you'll be inside the attractions and enjoying this amazing vacation. It's just one more way this European tour is sure to delight!
Headsets throughout the tour.
Free Wi-Fi available on your motorcoach and in most hotel lobbies.
2022:
July 16 $5139 Sept 17 $5519 Sept 24 $5489
2023: For these great rates, book by Aug 31, 2022
April 8 $4706 April 15, 22 $4787
April 29 $5768 May 6 $5228 May 13 $4913 May 20 $4886
May 27 $5012 June $4886 June 10 $5192 June 17 $5075
June 24 $4841
July 1, 8, 15, 22 $4625
Aug 12 $4643 Aug 26 $5417
Sep 2 $5039 Sept 16 $5120 Sept 23 $4940
HOLLAND, LUXEMBOURG & BELGIUM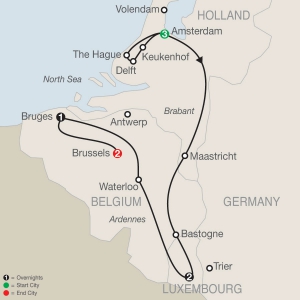 9 Day Tour from Amsterdam to Brussels
For those who wish to visit the Benelux countries at a leisurely pace, look no further, this Holland, Luxembourg & Belgium tour is the perfect vacation. Spend three nights in Amsterdam, two-night stays in Luxembourg and Brussels, and one night in the medieval town of Bruges. The must-see attractions in each city have been included, such as a canal cruise in Amsterdam, the impressive Vrijthof Square in Maastricht, the 17th-century Cathedral of Our Lady in Luxembourg, and the Grand-Place in Brussels, the central square surrounded by baroque guild houses and the gothic Town Hall. Visit famous museums, such as the Rijksmuseum in Amsterdam, which houses priceless paintings by Rembrandt and other Dutch masters, and the Bastogne War Museum in the Ardennes. Visit the famous Keukenhof Flower Park (departures from March 28 to May 9) or the original Heineken factory (departures from May 16 to October 3). History buffs will be delighted on the visit to Waterloo, Napoleon was defeated in the famous Battle. Highlight of this tour is Bruges, one of Western Europe's most perfectly preserved medieval towns. Enjoy guided sightseeing and a canal cruise, and Belgian bonbon tasting a unique experience.
2022:
Aug 6 $3959 Sept 17 $3699
2023:
Book by Aug 31, for these great rates
March 25 $3266 April 1 $3356 April 7 $3455 April 15 $3356
April 22 $3153 April 29 $3356
May 6 $3725 May 13 $3356 May 27, June 10 $3437
June 24 $3788
July 8, Aug 19 $4357
Sept 1, 16 $3329 Sept 30 $3527