The South Pacific is big place – incredibly vast and blue, covering 11 million square miles stretching from the top of Australia to the Hawaiian Islands. Celebrated by artists and writers, from Paul Gauguin to James Michener, these thousands of tiny coral and volcanic-stone dots are home to fascinating peoples and cultures. Some islands – such as Tahiti and Fiji – are well known, while others not so much.
Sail the Cook Islands & the Society Islands

11 nights with FREE air from Los Angeles
Hidden beneath the emerald foliage on the "Garden Island" of Huahine, you'll find hidden temples surrounded by rare orchids, ancient archeological sites, and panoramic views that are sure to take your breath away. What more could you ask for?
Spend two long, luxurious days in storied Bora Bora. You've seen the photos and magazine covers, but the real deal is even more beautiful that you could have ever imagined. Take it all in with a dip in the lagoon or a sunset sail.
Live the life idyllic with a memorable day on Motu Mahana, our own private slice of paradise. On this exclusive islet, treat yourself to sand between your toes, the shade of swaying palm trees, a sumptuous barbecue lunch, and, of course, drinks sipped from coconuts
2022:
March 5 from $5930 USD
June 25, Aug 27, from $6330 USD Dec 17 from $6010 USD
**please add on the taxes of $220 USD per person
Tahiti & the Society Islands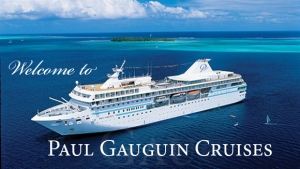 7 nights with free air from Los Angeles
Discover your own island inspiration in the destination that enchanted painter Paul Gauguin, author James A. Michener, and countless others. In one wonderful week, you'll explore the best of the South Pacific, with stops in lush Huahine, beautiful Bora Bora, and postcard-perfect Moorea. Once you've made these islands your home—even if just for a week—they'll always be calling for you to return.
2021:
Dec 22, 29 $6645 USD
Oct 16, 23, 30 Nov 6, 13 $6045 USD
2022:
Jan 5, Feb 9 $5110 USD
Jan 15, 22, 29, Feb 19, 26 $3800 USD
Mar 26, April 2, 30, May 4, 14, June 4, 11, 18, $5370 USD
July 16, 23, Aug 13, 20, Sept 17 $5370 USD
Oct 29, Nov 5, 12, Dec 3, 10 $3800 USD
BEST OF NEW ZEALAND WITH FIJI
17 Day Tour from Coral Coast to Queenstown
It's true that sheep outnumber people in New Zealand six to one, but lucky for ewe, this untamed land also boasts an impressive number of soaring mountains, lush rainforests, and stunning fiords. The North Island's Bay of Plenty sets the stage for the abundance of spectacular sights you'll see on both of New Zealand's breathtaking islands. Rotorua's shooting geysers are only surpassed by the South Island's soaring Southern Alps, which you'll reach from charming Christchurch by way of the scenic TranzAlpine train. Throughout your tour of New Zealand, you'll have the opportunity to walk along the Franz Josef Glacier, warm your toes in natural hot springs, and partake in all of the fun that Queenstown, the "Adventure Capital of the World," has to offer. With so many ways to work up an appetite, you'll appreciate a special barbecue on a local farm and a traditional cooked-in-the-ground hot stone Hangi dinner.
Gear up for New Zealand's North and South Islands with the ultimate island kickoff. Start your tour of New Zealand with a 3-day Monograms vacation to Fiji to soak up the fun and sun of the Coral Coast and the genuine warmth of the islanders.
This tour is limited to an average of just 20 guests per departure. There's always room to roam with extra space between you and other travelers—while still getting up close and personal to the experiences you've been dreaming of. Small-Group Discoveries include all the features of a traditional Globus escorted tour, complete with expert Tour Director, Driver, and Local Guides who ensure that your health and safety is our top priority. A Small-Group Discovery South Pacific vacation is the perfectly sized tour—without the crowds.
2021:
Oct 12 $9009 Oct 19 $8240
Nov 2 $8382
2022:
Jan 4, 18 $8658
Feb 1 $9580 Feb 15, March 1 $8754
March 15 $9713 March 29 $8754