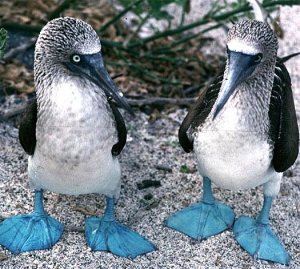 The Galápagos Islands, part of the Republic of Ecuador, are an archipelago of volcanic islands distributed on either side of the equator in the Pacific Ocean surrounding the centre of the Western Hemisphere, 906 km west of continental Ecuador. The islands are known for their large number of endemic species and were studied by Charles Darwin during the second voyage of HMS Beagle. His observations and collections contributed to the inception of Darwin's theory of evolution by means of natural selection.
GALÁPAGOS CENTRAL ISLANDS & INCA DISCOVERY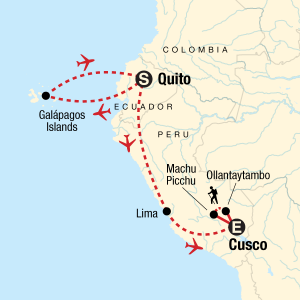 14 days, Quito to Cusco
From the unique wildlife of the Galápagos to the towering peaks of Peru, discover two of South America's iconic highlights in one comprehensive adventure — explore the Galápagos aboard the Xavier III before flying into the Andean highlands. As one of the larger tour operators in the Galápagos, our exclusively operated fleet of yachts offers great value and in Peru we run our own treks, ensuring the fair treatment of our porters and the quality of food and equipment as you follow the Inca Trail to Machu Picchu. Experience the intense variety and striking beauty of two of South America's most dramatic regions.
2020: Sept 22 Oct 20 $5599
Oct 6 $5849 Nov 3, 17, Dec 1 $6039
Dec 15, 29 $6219
GALÁPAGOS MULTISPORT WITH QUITO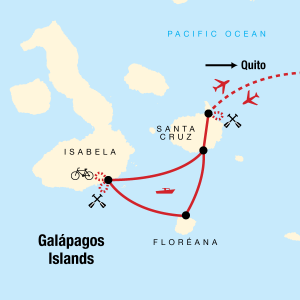 10 days, Quito to Quito
This adventure is perfect for those who want to experience the incredible wildlife and scenery of the Galápagos Islands but prefer to sleep on shore. Go ashore at the lesser-visited island of Isabela and spend your days with playful sea lions, giant manta rays, and the Galápagos giant tortoise. This adventure offers a great balance of guided excursions and free time, with optional activities abound.
2020: April 25 May 16, 23 $2949 Book before Feb 29, 2020
March 7, April 16, May 2, July 4, 11, 18, 25, Aug 1, 15, 29 $3469
June 6, 20, 27, Sept 12, 26 Oct 24 Nov 7, 14, 21 Dec 5, 12, 19, 26 $3399
GALÁPAGOS — NORTH & CENTRAL ISLANDS ABOARD THE EDEN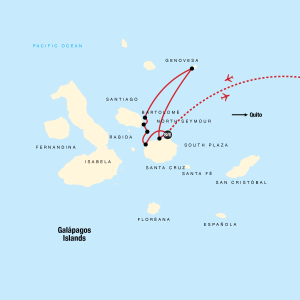 7 days, Quito to Quito
See nature documentaries and animal biology textbooks come to life on this seven-day sailing trip around the Galápagos' north and central islands. On this unique territory, you'll spot some of the rarest, most treasured animal species on the globe. See red-footed boobies at El Barranco (one of two locations to spot the bird), snorkel around underwater craters to witness incredible marine life, and visit the Charles Darwin Research Station to spot giant Galápagos tortoises. Your journey is hosted aboard the latest addition to the G Adventures fleet— Eden — equipped with amenities that have your comfort and exploratory spirit in mind.
2020: May 2 $3795 May 30 $4671 Book before Feb 29, 2020
June 13, Sept 5, 19 $5599
June 27, July 11, 25, Aug 8, 22, Nov 28, Dec 12 $5719
Dec 26 $5839
ABSOLUTE PERU & GALÁPAGOS CENTRAL ISLANDS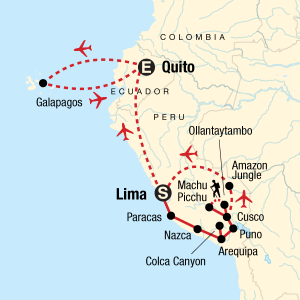 27 days, Lima to Quito
Explore Peru's southern coast, its Incan Highlands and the Galápagos Islands. From the soaring heights of the Inca Trail to the steamy jungle stay at the exclusive G Lodge Amazon, this epic journey includes an all-encompassing tour of Peru and four nights exploring the Galápagos. As one of the biggest tour operators in the region, our exclusive fleet of yachts offers great value, and in Peru, we run our own treks, ensuring the fair treatment of our porters and the quality of food and equipment as you follow the Inca Trail to majestic Machu Picchu.
2020:
April 15, July 22, Nov 11, 25, Dec 9 $8449
August 5 $8649
Aug 19, Sept 2, 16, 30, Oct 28 $8099
Oct 14 $8299
Ecuador Mainland & the Galápagos Islands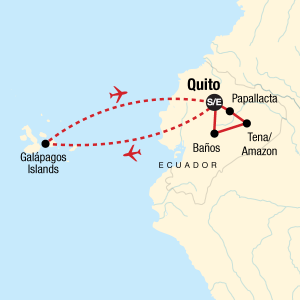 14 days, Quito to Quito
If you're already exploring Ecuador on terra firma you're this close to the eco-lover's paradise: the Galápagos, so we've brought both together in one 14-day tour. Start with all the on-land highlights like the Amazon, the stunning landscapes in the Ecuadorian highlands, and get an unforgettable experience staying right in the Amazon jungle. Experience the Galápagos aboard the Xavier III where comfy cabins, giant tortoises, and sea lions will have you wanting to jump ship — but only to go snorkelling, of course.
2020:
$4599 Feb 20, Aug22 , Sept 19 Oct 17, 31
$4799 March 21, July 25, Nov 14, 28, Dec 12
$4969 May 2, 16
2021:
$4599 Jan 9, 23, Feb 6, 20, March 6, June 12,  Aug 21, Sept 18, Oct 2, 16, 30
$4799 June 26, July 10, 24, Aug  7, Nov 13, 27, Dec 11
$4969 April 20, May 1, 15, Dec 25