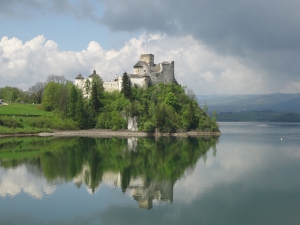 Picturesque cities such as Kraków and Gdańsk vie with energetic Warsaw for your urban attention. Elsewhere, woods, rivers, lakes and hills beckon for some fresh-air fun.
Poland's roots go back to the 10th century, leaving more than a thousand years of twists and turns and kings and castles to explore. WWII history buffs are well served. Tragically, Poland found itself in the middle of that epic fight, and monuments and museums dedicated to these battles – and to Poland's remarkable survival – can be seen everywhere. There's a growing appreciation, too, of the country's rich Jewish heritage. Beyond the deeply affecting Holocaust memorials, synagogues are being sensitively restored, and former Jewish centres such as Łódź and Lublin have heritage trails where you can trace this history at your own pace.
POLAND ESCAPE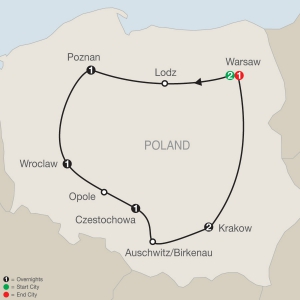 9 Day Tour from Warsaw to Warsaw
Discover remarkable culture and history on your guided tour of Poland. Escape for nine days in the affordable and less-crowded off season to explore this country rich in proud tradition. Begin in Warsaw—gateway city between East and West—for remarkable sightseeing, from the 14th-century Cathedral of St. John to remnants of the Jewish ghetto. Travel to the historic factory town of Łódź, home to the grand Poznanski Palace. In the University town of Poznań, see the baroque St. Peter and Paul Cathedral and Old Market Square before dining on regional specialties.
Learn about the turbulent history of Silesia and its historical capital, Wroclaw. Admire its fine patrician houses during a guided tour and a visit to the Market Square. Stop in Opole, one of Poland's oldest cities, and continue to Czestochowa. Visit the Jasna Góra Monastery—home to the Black Madonna, venerated as the "Queen of Poland" and the country's national symbol.
As you travel to Krakow, stop at the Auschwitz and Birkenau concentration camps for a guided tour of the notorious and chilling sites of the Holocaust. The following day, join a guided walk through Krakow's historic Jewish center in the Kazimierz Quarter to enjoy its cafés, antique shops, and art galleries. Explore the Remuh Synagogue and 14th-century St. Mary's Church before returning to Warsaw to conclude your off-season travel to Poland with a farewell dinner.
2019: Oct 19, Nov 9, 16 $1259
2020: March 14, 28 $1259
A PORTRAIT OF POLAND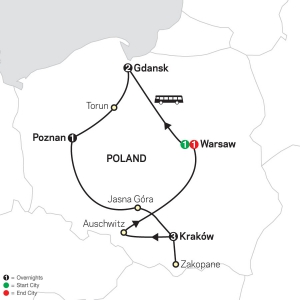 9 Day Tour from Warsaw to Warsaw
A rich cultural heritage, fascinating history, and beautiful landscapes make Poland an interesting place to discover. On this Poland tour, you'll spend two nights in Warsaw and Gdansk, three nights in Kraków, and one night in Poznan. Along the way, learn about Poland's history and visit some of its historic cities with their charming old towns, and some UNESCO World Heritage Sites.
Enjoy sightseeing with a Local Guide—an expert in the city's history, sights, culture, and secrets—in Warsaw, Gdansk, Torun, Poznan, and Kraków. Torun is the birthplace of renaissance astronomer Copernicus and a UNESCO World Heritage Site. In the Middle Ages, it was a prominent trade center as a member of the Hanseatic League. Dating back to the 7th century, Kraków is known as Poland's most beautiful city and cultural capital. Here, your sightseeing features the Market Square, one of Europe's loveliest squares, along with Wawel Hill. Gdansk is a beautiful port city on the Baltic Sea which played an important role in recent history by facilitating the events that brought to the fall of the Berlin wall.
On this Poland tour, you'll visit Jasna Góra, the monastery near Czestochowa, an important pilgrimage spot. Its Black Madonna, a painting of the Virgin Mary, is a symbol of the country and venerated as the "Queen of Poland." You'll also visit what is left of the Auschwitz concentration camp, a chilling reminder of the Holocaust.
Enjoy an included excursion to Zakopane, a mountain resort in the Tatras, a favourite holiday spot for locals and visitors. You'll have a chance to do a little hiking or to relax taking in the spectacular views.
2020:
May 2, 9, 16, 30, June 6, 20, 27, August 22, 29, Sept 5 $1759
July 11, August 1, 8, $1669
Sept 12 $1599
Prices are per person based on double room occupancy.