London
London is the largest city in Western Europe, and it has a history much broader than its borders and even richer than the royal family. Visitors to the city can experience historical sites by a guided tour or at their own pace, and they have access to the modern entertainment venues and shopping outlets along with the vast, gorgeous parks for which the city known. For those looking to fill their vacation with a strong mix of education and entertainment, London is an ideal destination at any age.
London & Paris Escape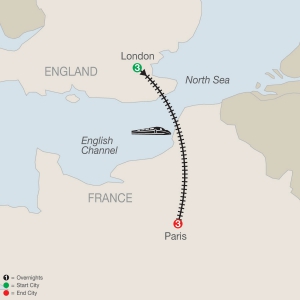 7 Day Tour from London to Paris
See the sights you want to see in London and Paris with local expert guides, but without the crowds or high-season prices. Your escorted vacation in London begins with a welcome dinner and a narrated nighttime cruise on the Thames River to admire the illuminated Tower Bridge, and the Houses of Parliament. You'll spend three nights in London to see the iconic sites of this historic city—from Big Ben to Buckingham Palace, and visit St. Paul's Cathedral. Enjoy ample free time to explore London's many places of interest on your own as well, before boarding a high-speed train to Paris.
Enjoy a 3-night stay in Paris, with included sightseeing featuring the Arc de Triomphe, Concorde Square, Champs-Élysées, and a Seine cruise. You'll also have precious free time to spend exploring the "City of Light" on your own—to see the Louvre Museum or just pass time leisurely in a French café. Whatever you choose to do, your guided tours of London and Paris favorites is certain to be enjoyable with fewer crowds in the off-season!
2022:
Oct 30, Nov 6, 20 $1889 Dec 4 $1749
2023:
March 12 $1889
EUROPEAN SAMPLER WITH LONDON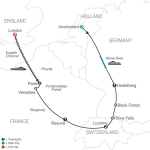 Like a Lazy Susan generously plated with cured herring, breaded schnitzel, rich fondue, and beef bourguignon, this aptly named European Sampler invites you to sink your teeth into four delectable countries and cultures. Designed to introduce you to the best of Holland, Germany, Switzerland, and France, this 9-day tour of Europe is an awakening for more than just your taste buds. All of your senses will perk up as you leisurely cruise along Amsterdam's bridge-covered canals, dreamily float down the romantic Rhine, and journey through Germany's picturesque Black Forest, Burgundy's rolling green vineyards, and the white-capped peaks of the Swiss Alps. Along the way, you can expect a heaped helping of cities and villages, castles and palaces, and hand-carved cuckoo clocks to enhance your time in the most flavorful regions of Europe.
2022:
July 30 $4347
Aug 13 $4628, Aug 27 $4311
Sept 3, 10, 17 $4347, Sept 24 $4302
Oct 1 $4628, Oct 8 $4221
CELTIC HIGHLIGHTS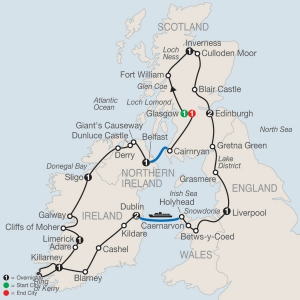 13 Day Tour from Glasgow to Glasgow
From their breath-taking scenery to their vibrant cities and small towns, this fascinating tour delivers the best of Scotland, England's Lake District, North Wales, and the Emerald Isle. You'll start and end in Glasgow and overnight also in Inverness and Edinburgh in Scotland; Liverpool, England; Dublin, Killarney, Limerick, and Sligo in Ireland; and Belfast, Northern Ireland. Throughout the tour, you'll learn about the history and cultures as you visit some of the areas' must-see attractions. For example, in Belfast you will visit the Titanic Experience to learn more about this ship and its ill-fated maiden voyage.
You'll also experience stunning scenery on this Britain and Ireland tour. Keep your eyes peeled for the Loch Ness monster in Scotland's beautiful Highlands. Travel through the incomparable landscapes of Snowdonia National Park in Wales, with picturesque villages, mountains, and lakes. Follow Ireland's Ring of Kerry, a 100-mile panoramic drive with sparkling seascapes, brightly colored farmhouses, and the breath-taking panorama of the Lakes of Killarney. Visit the spectacular 668-feet Cliffs of Moher and awe-inspiring Giant's Causeway, composed of thousands of basalt columns formed millions of years ago.
2022:
July 25 Aug 1, Sept 5, 12 $4679
Aug  22, $4889
Sept 26 $4639
Oct 3 $4059
2023:
April 24 $4409
May 1, 8, 15, 29 June 5, 12, 26 July 3, 17, 24, 31, Sept 4, 11 $4481
Aug 7, 14, 21 $4670
Sept 25 $4445
Oct 2, $3923
BRITAIN & IRELAND IN DEPTH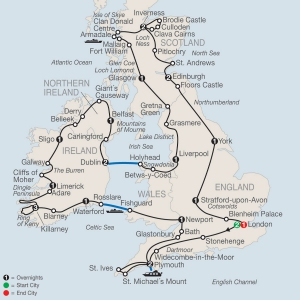 24 Day Tour from London to London
Traveling through the small towns and larger cities, this Britain and Ireland tour is our most complete view of the British Isles. On any tour through Britain and Ireland you'd expect to visit ancient ruins, majestic castles and palaces, magnificent cathedrals, and historical sights. That's why Globus has included visits to prehistoric Stonehenge; the ancient Roman ruins in Bath; Edinburgh Castle, dating to the 12th century; Holyrood Palace (when available), The Queen's official residence in Scotland; Floors Castle, Scotland's largest inhabited castle; Blenheim Palace, birthplace of Sir Winston Churchill; Brodie Castle with its outstanding art collection and magnificent library; and St. Paul's Cathedral, Sir Christopher Wren's masterpiece.
You'd also expect lush landscapes and breathtaking scenery. That's why Globus has included a cruise on Plymouth Sound, one of the world's great natural harbors; a drive on the 100-mile Ring of Kerry, with its rugged and magnificent landscapes; stunning scenery on Ireland's Dingle Peninsula; the spectacular 668-foot Cliffs of Moher; Northern Ireland's awe-inspiring Giant's Causeway, formed millions of years ago; a scenic drive through Snowdonia National Park in Wales; England's tranquil Lake District; the Isle of Skye, with some of Scotland's best scenery; and much more.
2022:
July 26 Aug 9 $8159 Aug 23 $8559
Aug 30, Sept 6, 13 $7939
Sept 20 $7829
FROM THE SHANNON TO THE THAMES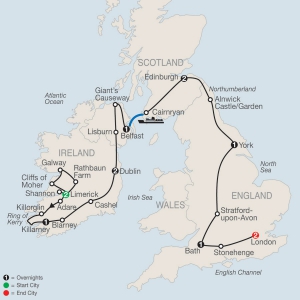 13 Day Tour from Limerick to London
You've seen photos of London's Big Ben—now's your time to see it in person. You've heard about Dublin's friendly culture—now's your time to experience it. You've read William Shakespeare's plays—now's your time to visit his birthplace in Stratford-upon-Avon. You've heard of the ill-fated Titanic—now's your time to travel to Belfast and learn about how it was built. You've seen photos of Stonehenge—now's your chance to stand in front of it. You've seen photos of Edinburgh Castle—now's your chance to see it. All of this—and much more—are included on this Ireland, Scotland and England tour. Your tour starts in Limerick, Ireland and ends in London, England. In between, you'll see breath-taking landscapes, visit historical sights, see the famous landmarks, and learn about the cultures and histories of these countries. You'll overnight in Limerick, Killarney, Dublin, Belfast, Edinburgh, York, Bath, and London.
Throughout this tour, you'll witness spectacular scenery, including the 668-foot Cliffs of Moher on Ireland's west coast, with breath-taking views of these rugged cliffs dropping into the ocean, and the Ring of Kerry, a 100-mile panoramic drive through rugged and magnificent landscapes. In Northern Ireland you'll see Giant's Causeway, a UNESCO World Heritage Site formed millions of years ago. Words cannot capture the magnificence of all of these natural beauties; you must witness them in person!
2022:
July 27 $4807
Aug 10 $460
Sept 21 $4157