London
London is the largest city in Western Europe, and it has a history much broader than its borders and even richer than the royal family. Visitors to the city can experience historical sites by a guided tour or at their own pace, and they have access to the modern entertainment venues and shopping outlets along with the vast, gorgeous parks for which the city known. For those looking to fill their vacation with a strong mix of education and entertainment, London is an ideal destination at any age.
VACATION IN BRITAIN AND IRELAND AND SAVE!
From tiny pubs to Big Ben, Cosmos knows what you're looking for in a vacation to Britain and Ireland – the sights, the scenes, the locals and the legends. So we get you straight to the Crown Jewels of London and the hidden gems of Dublin. We see that you cross Abbey Road and other famous sights off your list. And we weave in the landscapes and the lore with the luck of the Irish – providing guided sightseeing, essential transportation and convenient hotels along the way. On a Cosmos vacation to Britain and Ireland, you'll see the coast, the countryside, the castles and the cathedrals – with plenty of time to taste the crumpets.
Book a select 2020 Cosmos Europe vacation to receive the $50 per person discount on the land price. Booking must be made, under deposit and discount applied by March 9, 2020 for travel in 2020.
EUROPEAN SAMPLER WITH LONDON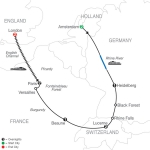 Like a Lazy Susan generously plated with cured herring, breaded schnitzel, rich fondue, and beef bourguignon, this aptly named European Sampler invites you to sink your teeth into four delectable countries and cultures. Designed to introduce you to the best of Holland, Germany, Switzerland, and France, this 9-day tour of Europe is an awakening for more than just your taste buds. All of your senses will perk up as you leisurely cruise along Amsterdam's bridge-covered canals, dreamily float down the romantic Rhine, and journey through Germany's picturesque Black Forest, Burgundy's rolling green vineyards, and the white-capped peaks of the Swiss Alps. Along the way, you can expect a heaped helping of cities and villages, castles and palaces, and hand-carved cuckoo clocks to enhance your time in the most flavorful regions of Europe.
2022:
April 23 $4373, May 7 $4311, May 14 $4727, May 21, 28 $4347
June 4 $4347, June 11 $4759, June 18 $4400
July 2, 16 $4311, July 30 $4347
Aug 13 $4628, Aug 27 $4311
Sept 3, 10, 17 $4347, Sept 24 $4302
Oct 1 $4628, Oct 8 $4221
Book by Sept 13, 2021
Click edit button to change this text.
CELTIC HIGHLIGHTS
13 Day Tour from Glasgow to Glasgow
From their breath-taking scenery to their vibrant cities and small towns, this fascinating tour delivers the best of Scotland, England's Lake District, North Wales, and the Emerald Isle. You'll start and end in Glasgow and overnight also in Inverness and Edinburgh in Scotland; Liverpool, England; Dublin, Killarney, Limerick, and Sligo in Ireland; and Belfast, Northern Ireland. Throughout the tour, you'll learn about the history and cultures as you visit some of the areas' must-see attractions. For example, in Belfast you will visit the Titanic Experience to learn more about this ship and its ill-fated maiden voyage.
You'll also experience stunning scenery on this Britain and Ireland tour. Keep your eyes peeled for the Loch Ness monster in Scotland's beautiful Highlands. Travel through the incomparable landscapes of Snowdonia National Park in Wales, with picturesque villages, mountains, and lakes. Follow Ireland's Ring of Kerry, a 100-mile panoramic drive with sparkling seascapes, brightly colored farmhouses, and the breath-taking panorama of the Lakes of Killarney. Visit the spectacular 668-feet Cliffs of Moher and awe-inspiring Giant's Causeway, composed of thousands of basalt columns formed millions of years ago.
2021:
Aug 2, Sept 6, 13 $4293
Aug 30, Sept 20 $4645
Aug 9, 16, 23 $4483
Sept 27 $4265 Oct 4 $3761
2022:
April 25 $4409
May 2, 9, 16, 23, 30, June 6, 13, 20, 27,$4481
July 4, 18, 25 Aug 1, Sept 5, 12, 19 $4481
july 11, Aug 29 $4841
Aug 18, 15, 22 $4670
Sept 26 $4445 Oct 3 $3923
BRITAIN & IRELAND IN DEPTH

24 Day Tour from London to London
Traveling through the small towns and larger cities, this Britain and Ireland tour is our most complete view of the British Isles. On any tour through Britain and Ireland you'd expect to visit ancient ruins, majestic castles and palaces, magnificent cathedrals, and historical sights. That's why Globus has included visits to prehistoric Stonehenge; the ancient Roman ruins in Bath; Edinburgh Castle, dating to the 12th century; Holyrood Palace (when available), The Queen's official residence in Scotland; Floors Castle, Scotland's largest inhabited castle; Blenheim Palace, birthplace of Sir Winston Churchill; Brodie Castle with its outstanding art collection and magnificent library; and St. Paul's Cathedral, Sir Christopher Wren's masterpiece.
You'd also expect lush landscapes and breathtaking scenery. That's why Globus has included a cruise on Plymouth Sound, one of the world's great natural harbors; a drive on the 100-mile Ring of Kerry, with its rugged and magnificent landscapes; stunning scenery on Ireland's Dingle Peninsula; the spectacular 668-foot Cliffs of Moher; Northern Ireland's awe-inspiring Giant's Causeway, formed millions of years ago; a scenic drive through Snowdonia National Park in Wales; England's tranquil Lake District; the Isle of Skye, with some of Scotland's best scenery; and much more.
2021:
Sept 7 $7115
Aug 24, $7656
Aug 10 $7305
Sept 21 $7029
2022:
May 3, 31, July 12, Sept 6 $7415
May 17, June 14, Aug 23 $7973
July 26, Aug 9 $7613
Sept 20 $7316
BRITISH ESCAPE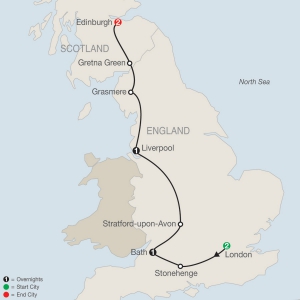 7 Day Tour from London to Edinburgh
On this Escape, visit the must-see landmarks and experience the culture of Britain without the crowds—and even better—without the high-season prices. It's the perfect, concise Britain escorted tour that offers you the unforgettable sights of this great land! Have your camera ready to capture all the magnificent experiences as you travel from London to Edinburgh. History buffs will delight in seeing mysterious, prehistoric Stonehenge (just imagine how those stones got there!); the Roman Baths in Bath, constructed around 70 AD and today one of the best-preserved Roman remains in the world; Liverpool, once a great Victorian city and Atlantic seaport, and renowned birthplace of the Beatles; and Edinburgh, home to many Scottish monarchs, including Queen Margaret, who died here in 1093.
Literary fans will enjoy visiting Shakespeare's birthplace in Stratford-upon-Avon, and Grasmere, home to William Wordsworth. But that's not all…a London Guide will show you all the city's famous landmarks, from Buckingham Palace to the Prime Minister's Downing Street and Westminster Abbey; and in Edinburgh, you'll tour the castle and see Scotland's Crown Jewels. From the historical sights to the beautiful scenery to the special experiences, this guided tour of England and Scotland is a great way to sample everything Britain has to offer at a price that screams, "Let's go!"
Free Wi-Fi available on your motorcoach and in most hotel lobbies.
Prices are per person in single, double or triple room occupancy.
Single supplement waived for 2021/2022
2021:
Oct 31, Nov 7, 14, 21 $1569
Nov 28, Dec 5, 12 $1419
2022:
Jan 16, 23, Feb 6, 13 $1419 Feb 20 $1569
March 6, 13, 20, 27 $1569
ESSENTIAL EUROPE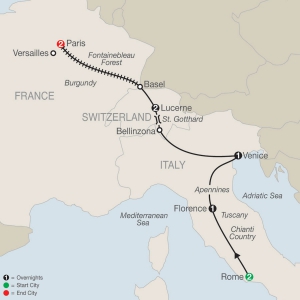 9 Day Tour from Rome to Paris
This amazing escorted vacation in Europe explore the essential destinations in Italy, Switzerland and France. Begin your journey in the eternal city of Rome, with guided sightseeing of the Vatican Museums and the Sistine Chapel. See Michelangelo's ceiling paintings and The Last Judgement, and visit St. Peter's Square and Basilica to see the artist's only signed sculpture, the Pieta. Imagine gladiators fighting as you near the Roman Forum for a visit to the ancient Colosseum. Continue through Italy to stay in Florence—the cradle of the Renaissance. Visit the Academy of Fine Arts to see Michelangelo's masterpiece, David. Stand before the magnificent cathedral to admire Giotto's Bell Tower and the Baptistry's heavy bronze "Gates of Paradise," and sculptures of Signoria Square. From Florence, travel to Venice, entering the city by private boat. Visit St. Mark's Square to admire its Byzantine basilica, clock tower, Doges' Palace, and the Bridge of Sighs. See a traditional glass blower create works of art, and enjoy an authentic pasta dinner and a private water-taxi ride on Venezia's Grand Canal. On to the Swiss Alps! Stop in Bellinzona to sip famed regional Merlot with a wonderful view from Castelgrande. Continue to Lucerne amid the grandeur of the Alps and St. Gotthard Pass. See Lucerne's Lion Monument to Swiss Guards of the French Revolution, and cross the Chapel Bridge to explore the lovely city. From Basel, take a high-speed train to Paris. Spend two nights in the "City of Light" for sightseeing, a Seine River cruise, and lots of free time to explore.
Headsets throughout the tour.
Free Wi-Fi available on your motorcoach and in most hotel lobbies.
2021:
Aug 22 $4336
Sep 5,  $4508 Sept 19 $4518
FROM THE SHANNON TO THE THAMES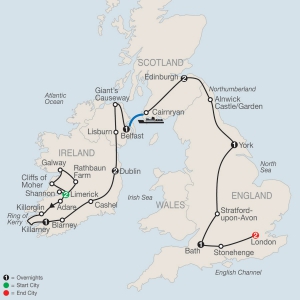 13 Day Tour from Limerick to London
You've seen photos of London's Big Ben—now's your time to see it in person. You've heard about Dublin's friendly culture—now's your time to experience it. You've read William Shakespeare's plays—now's your time to visit his birthplace in Stratford-upon-Avon. You've heard of the ill-fated Titanic—now's your time to travel to Belfast and learn about how it was built. You've seen photos of Stonehenge—now's your chance to stand in front of it. You've seen photos of Edinburgh Castle—now's your chance to see it. All of this—and much more—are included on this Ireland, Scotland and England tour. Your tour starts in Limerick, Ireland and ends in London, England. In between, you'll see breath-taking landscapes, visit historical sights, see the famous landmarks, and learn about the cultures and histories of these countries. You'll overnight in Limerick, Killarney, Dublin, Belfast, Edinburgh, York, Bath, and London.
Throughout this tour, you'll witness spectacular scenery, including the 668-foot Cliffs of Moher on Ireland's west coast, with breath-taking views of these rugged cliffs dropping into the ocean, and the Ring of Kerry, a 100-mile panoramic drive through rugged and magnificent landscapes. In Northern Ireland you'll see Giant's Causeway, a UNESCO World Heritage Site formed millions of years ago. Words cannot capture the magnificence of all of these natural beauties; you must witness them in person!
2021:
Aug 25, Sept 8 $4293
Aug 11 $4483
Sept 22 $3989
2022:
May 4, June 1, 15, 29, July 13, Aug 24 $4481
May 18, July 27 $4807
Aug 10 $460
Sept 21 $4157