Explore Central America holidays and discover the best time and places to visit.  With cerulean seas and verdant forests, magnificent Maya ruins and smoking volcanoes, Central America is like a tropical fairy tale – except all of it is real.
Amazing natural beauty. Whether it's rainforests, tropical beaches, lava-spewing volcanoes or massive lakes you are after, Central America has them in spades. Home of ancient Mayan ruins. Explore ancient archeological sites in Mexico, Gautemala and Honduras, some of which are monumental in size while others are smaller and tucked deep in the jungles, making you feel like Indiana Jones making a new discovery.
Costa Rica Natural Wonders
11-day tour package of Costa Rica with flights! Be charmed by the tropical rainforests, natural hot springs, volcanoes, unspoiled beaches, and the abundant wildlife. An amazing slice of Nature!
Package includes:
International flights, transfers, hotels, 15 meals, excursions
1 night San Jose, 2 nights in Tortuguero, 2 nights in La Fortuna, 2 nights in Monteverde,
2 nights Jaco Beach and 1 night San Jose
2022:
departing Calgary:
Sept 11, Oct 23 Nov 20 $2498
April 3 $2598
departing Vancouver or Edmonton:
Sept 10, Oct 22, Nov 19 $2498
April 2 $2598
Costa Rica Quest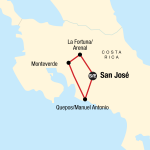 9 days San José to San José
Nature called you to Costa Rica — now here you are, suspended in the jungle canopy, locking eyes with a curious monkey. This action-packed tour of Costa Rica's highlights is perfect for the adventurer with limited time who wants to explore the region's diversity. Get your adrenaline pumping, follow a trail to the base of a waterfall, melt away in thermal springs, or relax on a beach — your guide will help you find the secluded spots only the locals know.
Soak in the thermal hot springs of Arenal Volcano
Search for the elusive quetzal bird in the cloud forest
Watch the sunset over the Pacific
Learn about sugar cane and coffee production at a local planta
2022:
Aug 6, 13, 20, 27 $1475
Sept 3, 10, 17, 24 Oct 1, 8, 15, 22 $1724
Volcano Trail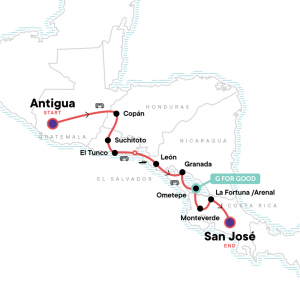 17 days: Antigua Guatemala to San José
From the laid-back vibes and waves of the Pacific Coast to tropical rainforests alive with jungle melodies, take the road less travelled on this trip through Guatemala, Honduras, El Salvador, Nicaragua, and Costa Rica with other travellers your own age. This is one of our most exciting trips, filled with breathtaking scenery and a chance to experience local culture with a two-night community guesthouse stay on the island of Ometepe. Enjoy a blend of public and private transportation, which not only keeps costs down but also gives you a chance to really meet the locals.
2022:
July 26 $1655  Aug 28 $1784
Sept 4, 11,  18, 25 $1699
Book by July 3, 2022 
Central America Journey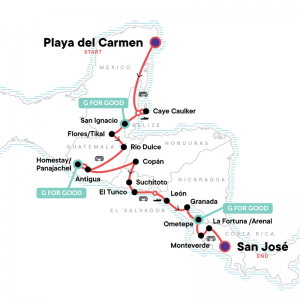 32 days: Playa del Carmen to San José
Escape the resorts and discover something extraordinary in Central America. Visit seven countries on this adventure and experience mighty ruins, clear Caribbean waters, Pacific waves, rainforests, and breathtaking scenery along the way. Explore indigenous Mayan villages and meet locals for an immersive experience that few travellers get to know. While you're free to choose your own adventure, your accommodation and transportation are included. Our expert CEOs will help you make the most of your time. Take a trip that's packed with all the things you need and nothing you don't – 32 days of maximum adventure at minimum cost.
2022:
2022:
Aug 27 $3212
Sept 10, 17, 24 $3059
Book by July 3, 2022
Oct 1, 15, 29 $2879
CLASSIC BELIZE & TIKAL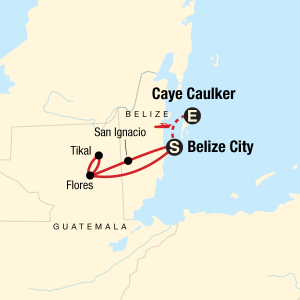 9 days, Belize City to Caye Caulker
If we had to describe the Belizean pace it would be somewhere between slowly rolling waves and the inquisitive speed of a ruin explorer. Embracing just that mix of curious and chill, this nine-day itinerary will let you tour Mayan ruins, cycle around stunning islands, and enjoy plenty of time to hang out on the beach or dive into the famous Blue Hole. Be speedy, or a bit sloth-like — we'll help you discover Central America either way.
2022:
July 30 $1183
Aug 27 $1257
Sept 24 $1257
Book by July 3, 2022
Caribbean Colombia Express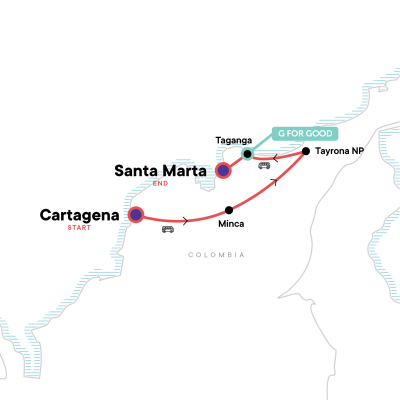 8 days
Take it from us — the nature of Colombia and the Caribbean is like nowhere else on Earth. On this one-week trip packed with active highlights and laid-back moments, you'll get the best of beach relaxation and wilderness exploration. Beach time and Tayrona National Park are on the bill here, including chances for hikes down picturesque trails and spending time with the Gotshezhy Wiwa Indigenous community to learn about their customs and traditions. Get back to nature in the jungle town of Minca — it's the great outdoors with a chill Caribbean twist.
2022:
July 10 $1679 Aug 7, 21 $1784
Sept 4, 18, 25 $1656
Book by July 3, 2022
Mayan Discovery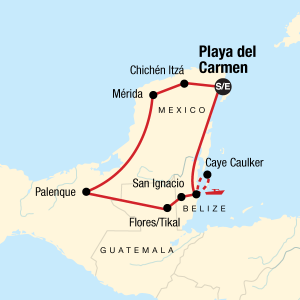 15 days
Playa del Carmen to Playa del Carmen
Mayan ruins peeking out from verdant jungle, street vendors hawking their wares on colonial streets, pristine white-sand beaches sparkling under the Caribbean sun — now this is the real Yucatán. On this unique 15-day journey, you'll tour the ruins at Chichén Itzá and Palenque, and head deep into the jungle of Guatemala to experience the ruins of Tikal. You're free to choose your own adventure! So escape the resort packages and witness all the incredible wilderness, wildlife, and Mayan culture — past and present
2022:
Aug 16, 20 Sept 17 $1826
Book by July 3, 2022