Greece
The birthplace of the Olympics and democracy, Greece is a country with an extraordinarily grand history that's been kept alive through the preservation of ancient architecture and cultural sites. The capital city of Athens is home to many such marvels, including the Pantheon temple on the Acropolis and the historic Plaka district. Other regions of the country, however, feature their own dazzling sights and landmarks, which include renowned Mediterranean beaches alongside forested, mountainous topography such as the famous Mount Olympus, mythological home to the ancient Greek gods. Greece is also known for its spectacular Mediterranean cuisine that's as distinctive and colourful as the coastline itself. But whichever sense you hope to please, the many islands and attractions of Greece will surely have something to excite you.
---
---
Greece & Italy
16 days/14 nights
Calgary to Venice – two nights in Venice with breakfast daily
Train to Florence – two nights in Florence with breakfast daily
Train to Rome – 3 days at your leisure to visit Rome – breakfast daily
Fly to Athens – one night in Athens with breakfast
Ferry from Athens to Paros – 4 night in Paros with breakfasts
Ferry to Naxos – one night in Naxos with breakfast
Naxos to Athens with two nights in Athens with breakfast
Departing Calgary, Edmonton or Vancouver
2022:
Sept 25, Oct 2, 9 $3799
Iconic Aegean with 4-Night Cruise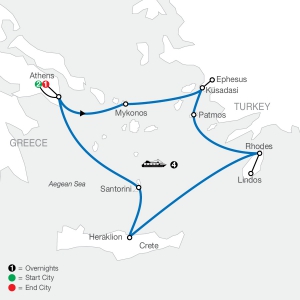 8 days Athens to Athens
Looking for a vacation to Greece that includes sightseeing, sailing, learning, lounging, discovering, and dancing? Eureka, this is it! Just as the Greek mathematician Archimedes supposedly shouted this exclamation after his great discovery, so will you as you float through the ancient ruins of Athens and then set sail for a 4-night Aegean Sea cruise to the historic coast of Turkey and the sunny Greek Isles. In between poolside chilling, you'll discover the hottest sights of the Greek Islands—the towering windmills of Mykonos, the fortress-lined Old Town of Rhodes, Crete's Bronze Age settlement of Knossos, and Santorini's serene whitewashed and blue-roofed villages. Get ready for ruins and resorts, baklava and beaches, and ouzo and oodles of fun on this relaxing land and cruise tour of gorgeous Greece.
7 breakfasts, 4 lunches, 4 dinners
2022:
July 16, 23, Aug 27 $3431
Sept 3, 10, 17, 24 $3561
Oct 1, $3441 Oct 8 $3291
2023:
April 22 $2986
April 29, May 6, 13, 20, 27, June 3, 17, 24 $3166
July 1, 8, 15, 22, 29 $3166
Aug 5, 12, 19, 26 $3166
Sept 2, 9, 16, 23 $3328
Sept 30, Oct 7 $3085
Book by July 31, 2022
Budapest to Istanbul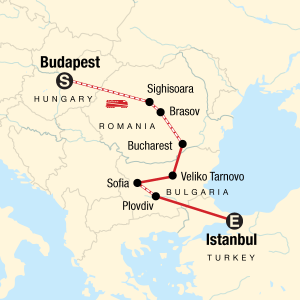 13 days
From pastoral countryside to forbidding forests and fairytale villages, this tour from Budapest to Istanbul is definitely the road less travelled, but absolutely a worthy adventure to take. Over 13 days, you'll explore the weathered architecture of Budapest, grand Ottoman palaces, "Dracula's Castle" in Transylvania, and much more. With an intriguing combination of cultural colour and exploration, you'll come away with a real feel for this lesser-explored corner of Europe.
2022:
Aug 7, 21 $2411
Sept 4, 18 $2312
Oct 2 $2204
Authentic Greek Islands
16-day authentic Greek Island package with flights! Discover Athens and relax on the incredible islands of Paros, Naxos, and Santorini! Experience our most popular hassle-free package to Greece.
Inclusions:
-Round-trip international flights between Canada to Athens
-Greetings and transfers between the airport, the hotels, and the ports
-All the ferries between Athens and the islands
-All breakfasts
-All taxes
-2 nights in Athens
-4 nights in Paros
-4 nights in Naxos
-4 nights in Santorini
Departing Calgary, Edmonton or Vancouver
Sept 18 $3399 Sept 25, 28, Oct 2, 9 $3299
Sailing Greece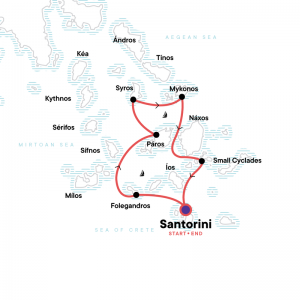 10 days Santorini to Santorini
A yacht adventure is the ideal way to experience what many consider the world's most beautiful islands in Greece. Sail aboard our 15m (52 ft) yachts, with time for hiking, snorkeling, and relaxing. Explore ancient archaeological sites and taverna-lined harbours, dine on fresh seafood and don't forget to try the Ouzo! This 10-day round trip from Santorini will give you the chance to explore some of the treasures of the Greek Islands.
2022:
Aug 5, 15, 24, Sept 4, 14$2329
Sept 24, Oct 4 $2149
Sailing Greece – Mykonos to Mykonos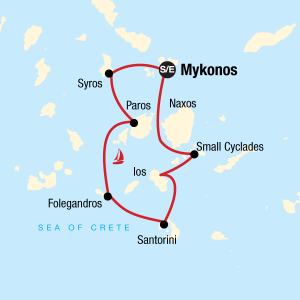 10 days, Mykonos to Mykonos
If we're describing what a true perfect circle looks like, there's no need to look much further , than the Cyclades, or "Circular Islands." Go where the weather (and your skipper) takes you, whether that's exploring ruins, stopping by a microbrewery for a taste, or relaxing on golden sands. See the famous windmills of Mykonos and sail through Santorini's caldera, all while enjoying the view from aboard our yacht along the way.
2022:
Aug 9, 19, 29 Sept 8 $2329  Sept 18, 28 $2149
HIKING CRETE: GORGES & COASTAL WALKS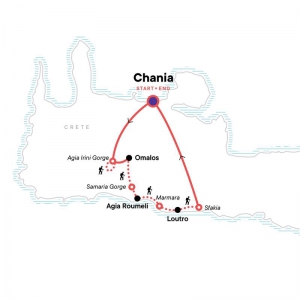 7 days Chania to Chania
If you like the feel of being transported to another world, you'll feel right at home on this hiking tour of the rocky landscapes of Crete. Get your trekking fill in the Samaria Gorge, the White Mountains, and parts of the southern coast before exploring local towns only accessible by foot or boat. Topped off with a delicious meal prepared by a local family, this Greek adventure will taste, look, and feel out of this world.
What's included?
Guided hikes to Agia Irini Gorge, Samaria Gorge, St Pavlos and Marmara, Loutro, and Sfakia
Dinner and Greek Dancing with Local Cretan Family, Loutro
All transport between destinations and to/from included activities
Local Guide Throughout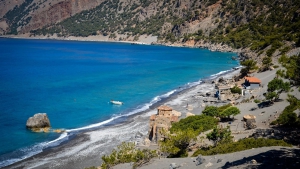 2022:
Sept 4, 11, 25, Oct 9 $1399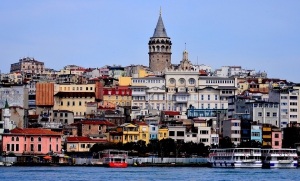 Turkey
Whether it's 18 holes on a golf course, watersports, camping, hiking, canyoning, or relaxing on golden beaches, no matter what the season. You can't go wrong when coming to Turkey.
From Unesco sites to traditional craftsmanship. From iconic religious buildings to the arts and crafts of the Grand Bazaar, Turkey is drenched in the richness of everything that is cultural.
Fresh local natural produce makes Turkey the ideal place to get your palette trying new flavours. Authentic Ottoman cuisine, the perfect assortment of grilled meat, fresh seafood and not to forget the rich honey enriched desserts!