India is a geographically diverse land that enjoys almost all the physical features and geographical locations, from the monolithic mountains of the Himalayas to the Golden Sands of the Thar Desert, and from the snowcapped mountains to pristine sandy beaches. States of Himachal Pradesh, Rajasthan, Kerala, Goa, Uttaranchal and Tamil Nadu are famous for their exciting attractions and are visited by millions of travellers from all over the world.
DELHI TO KATHMANDU ADVENTURE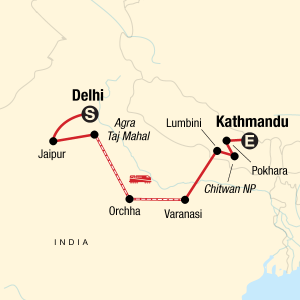 15 days, Delhi to Kathmandu
If you're looking to experience the diversity of India and Nepal, this 15-day trip contrasts the colourful culture of India with the pristine serenity of Nepal's Himalayan mountains. From the ghats that line the banks of the Ganges in Varanasi to a 4×4 safari in Chitwan National Park, the expert guides will take you through a region of unsurpassed natural beauty and spirituality before revealing to you the rugged Himalayan landscape of Nepal's magical capital, Kathmandu
Explore the vibrant streets of Agra
Uncover bustling Delhi and beautiful Jaipur
Enjoy a sunset cruise on the River Ganges
Travel by 4×4 on a safari in Chitwan National Park
Experience Nepal's mountain views
2020:
Oct 9, 10, 12, 17, 19, 26, 31 $1716
Nov 7, Dec 5, 7 $1818
2021:
Jan 2, 16, Feb 15, 22, Mar 15, 22, 27 $1716
April 10, 17, 24, May 15, June 26 July 10, 17, 24, 31 $1614
Aug 7, 21 $1614
Book by Aug 31, 2020
Incredible India and Dubai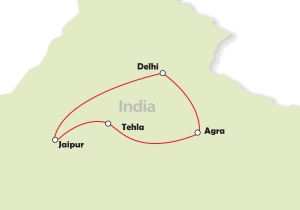 15 Days
From $3699 with international air included
Delhi – Jaipur – Tehla – Agra – Delhi – Dubai City – Abu Dhabi – Dubai
Experience India's beautiful landscapes, atmospheric towns, and renowned cultural destinations, including ancient temples, British colonial treasures, and an abundance of UNESCO World Heritage Sites. The tour is ideal for first-time travelers to India who want a broad range of fascinating experiences in some of the country's most intriguing places.
Dubai is a city and emirate in the United Arab Emirates known for luxury shopping, ultramodern architecture and a lively nightlife scene. Burj Khalifa, an 830 meter-tall tower, dominates the skyscraper-filled skyline. At its foot lies Dubai Fountain, with jets and lights choreographed to music. On artificial islands just offshore is Atlantis, The Palm, a resort with water and marine-animal parks.
Fly on Emirates airlines!
• Prices are per person based on double occupancy (two to a room)
• Airport taxes are all included. ($680/pp)
• Single Supplement: $1,299
Price Includes
• International airfare from Toronto/Vancouver in economy class and airport taxes.
• Arrival and departure transfers
• 4-5 Star hotel accommodation
• Meals as indicated in the programs
• All transportation in the destination
• Entrance fees to scenic attractions as indicated
• English-speaking tour guide
Nov 29, 2020 $3699
Oct 18, Nov 8, 2020 $3799
• Add on airfare from other cities:
Calgary, Edmonton, Victoria $300, Saskatoon, Regina, Winnipeg, Halifax, St. John $400,
Ottawa, Montreal, Quebec city $300
Explore India & Nepal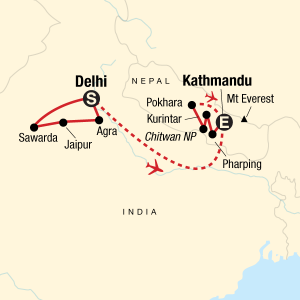 17 days Delhi to Katmandu  National Geographic tour
Discover northern India's famed Golden Triangle and get immersed in Nepalese culture on a 17-day journey. Explore the Taj Mahal and encounter the iconic colors of Rajasthan. Spend a night at a Buddhist monastery and meet with one of the brave women from SASANE, a program that trains former victims of trafficking to become paralegals. From epic sights to intimate encounters, every moment packs a big punch.
Walk the backstreets of Delhi with a local guide
Experience the essence of serenity with an overnight stay at a Buddhist Monastery
Learn how to make Nepalese momos (dumplings)
Enjoy local living with an overnight homestay in a rural village
2020:
Oct 11 $3999
Dec 13 $4449
2021:
Feb 21, Mar 14 $4229
April 4, Sept 12, 26, Oct 10 $3999
Oct 24, Nov 7, 21 $4229
Dec 12, 19, 26 $4449
Wellness India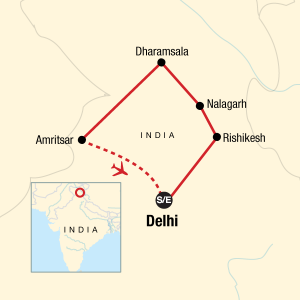 11 days
Imagine yourself awakening from a 5,000-year-long slumber. Your soul will feel similarly revitalized after uncovering the history of all things wellness in India. This 11-day tour covers some of the country's most hallowed spiritual ground while also ensuring you catch the iconic sites of Northern India. Upon your arrival in Delhi, you'll be introduced to the incredible diversity within India's culture. Continue your discovery with a three-night stay at an ashram in Rishikesh where you'll learn the history of yoga and meditation, before reaching Dharamshala, home of the Dalai Lama. As your eyes open on the final morning of your journey, you'll see the world — and yourself — with a newfound warmth.
Stay in an Ashram on the banks of the Holy Ganges River
Participate in a Hindu Aarti ceremony
Learn about Tibetan culture and the Dalai Lama
Taste traditional Indian cuisine
Zone out with optional meditation sessions
2020:
Oct 25, Dec 27 $1954
2021:
Jan 24, Mar 28, May 23, July 25, Aug 22 $1954
Book by August 31, 2020
2021:
Sept 26, Oct 24, Nov 28, Dec 26 $2299
Essential India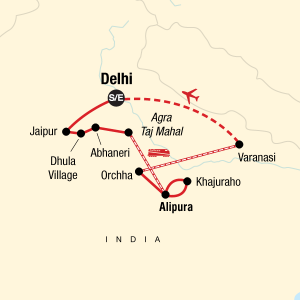 15 days
From the intricate saris of Rajasthan to the beautiful symmetry of the Taj Mahal, this compact journey is a photographer's delight and the perfect introduction to India. You'll float past the ghats on the Ganges River to encounter the spiritual heart of Hinduism in Varanasi and get off the beaten path exploring carved stepwells and quaint temples in rural villages. With the perfect combination of included activities and free time to explore the nation's rich heritage, you're sure to be caught up in India's incredible tapestry of life.
2020:
Oct 9, 11, 16, 25, 30 $1495
Nov 27, Dec 13, 20, 27 $1546
2021:
Jan 24, Feb 14 $1546
March 12, 26, $1495
April 11, May 1, June 6, July 18, Aug 1, 29 $1444
Book by August 31, 2020
2021:
Sept 12, 26 $1699
Oct 3, 17, 24, $1759
Nov 12, 21 $1819
Dec 3, 5, 12, 19 $1819