IRELAND
Nestled in the heart of the country is a haven of picturesque villages, stunning tracks, trails and waterways and brilliant bars and restaurants. Ireland's rural heartland, which stretches outwards from the banks of the Shannon bisecting the island into its various provinces and counties, has something for every visitor – it's yours to uncover.
BRITAIN & IRELAND IN DEPTH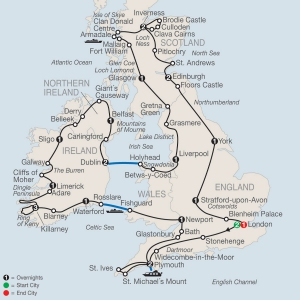 24 Day Tour from London to London
The drawbridges are down. The silver is polished. The tea is steeping from meadow to moor. One lump or two? How about five?! Showing you the sweet sights of five captivating countries over 24 days, our most in-depth tour of Britain and Ireland truly pours on the charm. Royals and writers, artists and architects, real-life warriors and fictional spies—you'll walk in the footsteps of them all throughout the legendary cities, seaside villages, and quaint countryside hamlets of England, Wales, Ireland, Northern Ireland, and Scotland. Coast to coast, castle to castle, and pub to pub, you'll drink in the classic landmarks and landscapes, the famous rivers and ruins, the breathtaking islands and Highlands, and the celebrated stories behind them all. From Abbey Road to Penny Lane and Stonehenge to Clava Cairns, this is the rock star of all Britain and Ireland vacations.
2022:
July 26, Aug 9 $8459
Sept 6, $8239 Sept 20 $8129
2023:
May 2, 30, June 27, July 11, Sept 5 $7415
May 16, June 13, $8144
July 25, Aug 8 $7613
Aug 22 $8126 Sept 19, $7316
IRISH ESCAPE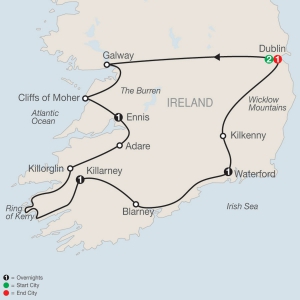 7 DAY TOUR FROM DUBLIN TO DUBLIN
Escape to the lush landscapes, charming cities, and friendly people of Ireland during the low season so you can experience it all without the crowds and, most importantly, without the high-season prices. This Ireland tour is an ideal introduction to the Emerald Isle for first-time visitors who have limited time. You'll relish in some of Ireland's most magnificent scenery as well as its most famous towns. You'll start and end in Dublin, and you'll also have overnights in Ennis, Killarney, and Waterford. Highlights of this tour include the 668-foot Cliffs of Moher on Ireland's west coast, where you'll savor breathtaking views of these sheer cliffs dropping into the ocean, and the Ring of Kerry, a 100-mile panoramic drive through rugged and awe-inspiring landscapes. Words cannot capture the magnificence of this natural beauty; it must be witnessed in person!
2023:
Dec 3, 9, 10 $1759 Dec 13 $1959
2024:
Jan 8, 14, 20, 21, 28 $1489
Feb 3, 4, 11, 17, 18, 25 $1759
Feb 28, Mar 2, 3 $1869
Mar 9, 10 $2029 Mar 13 $2229
Mar 16, 17, 23, 24 $2029
Single supplement waived!
Emerald Isle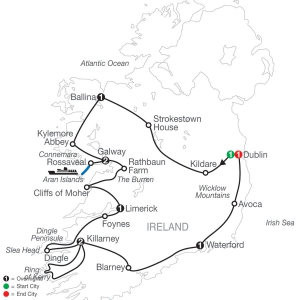 10 days Dublin to Dublin
It may come as a surprise that the beloved Irish tune "When Irish Eyes Are Smiling" was written by a trio of American songwriters. That's the moving influence of this enchanting and captivating land. So when are Irish eyes smiling? At every moment on this undiscovered tour of Ireland – as you stroll down the lively streets of Dublin, sip Guinness in a boisterous pub on the Dingle Peninsula, take a horse-drawn jaunting-car ride through the Killarney countryside, and even bake scones on a quaint Irish sheep farm in the medieval town of Galway. By way of the most dramatic coastal and pastoral scenery, this tour of Ireland leads you to the lesser-known gems of the Emerald Isle as well as the cliffs, castles, and famous crystal you've long heard of. As you hum along the winding Ring of Kerry and the rocky Aran Islands, this tour of Ireland "will steal your heart away."
2024:
April 12 $3559 April 19 $3869 April 26 $4389
May 3, 10, 17, 24, 31 $3999
June 7, 14 $3949 June 21 $4389 June 28 $3949
July 5, 12, 19 $3949
Aug 2, 16, 23 $4389 Aug 9, 30 $3949
Spet 6, 13 $3999
Sept 20 $3899
CELTIC HIGHLIGHTS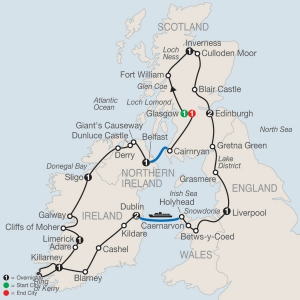 13 Day Tour from Glasgow to Glasgow
From their breath-taking scenery to their vibrant cities and small towns, this fascinating tour delivers the best of Scotland, England's Lake District, North Wales, and the Emerald Isle. You'll start and end in Glasgow and overnight also in Inverness and Edinburgh in Scotland; Liverpool, England; Dublin, Killarney, Limerick, and Sligo in Ireland; and Belfast, Northern Ireland. Throughout the tour, you'll learn about the history and cultures as you visit some of the areas' must-see attractions. For example, in Belfast you will visit the Titanic Experience to learn more about this ship and its ill-fated maiden voyage.
You'll also experience stunning scenery on this Britain and Ireland tour. Keep your eyes peeled for the Loch Ness monster in Scotland's beautiful Highlands. Travel through the incomparable landscapes of Snowdonia National Park in Wales, with picturesque villages, mountains, and lakes. Follow Ireland's Ring of Kerry, a 100-mile panoramic drive with sparkling seascapes, brightly colored farmhouses, and the breath-taking panorama of the Lakes of Killarney. Visit the spectacular 668-feet Cliffs of Moher and awe-inspiring Giant's Causeway, composed of thousands of basalt columns formed millions of years ago.
2022:
Aug 1,  $4679
July 11, Aug 29, Sep 19 $5059
Aug 8, 15, 22, Sept 5, 12$4679
Sept 26 $4639
Oct 3 $4059
North of Ireland Escape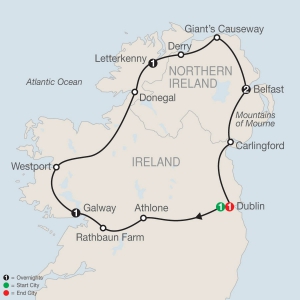 Escape to the beauty and history of the "Emerald Isle" on your guided tour of Ireland. Enjoy your getaway into the green valleys and sweeping seashores without the large crowds or costs of the "busy" travel season. You'll begin in the fair city of Dublin. Admire statue-lined O'Connell Street, Dublin's main thoroughfare, and elegant Georgian squares with their red-brick townhouses and colorful doors behind the wrought-iron fences. You'll also see Trinity College and St. Patrick's Cathedral along the way.
Leave the bustle of Dublin for the green landscapes of Ireland's countryside, and visit Rathbaun Farm. You'll learn about Ireland's sheep-farming practices, and try your hand at scone baking in the farmhouse kitchen. You'll travel on to western Ireland's colorful harbor city of Galway, with its vibrant shops, cafés, and traditional pubs. On your way to Northern Ireland, pass through Westport, Donegal, and Letterkenny. Then, enjoy a guided walk on Derry's Old Town walls, and visit the amazing natural formation of the Giant's Causeway—massive interlocking basalt columns that dramatically extend across the seashore.
Spend two nights in Belfast, with plenty to see in Northern Ireland's capital city, including the fascinating Titanic Experience. On your way back to Dublin, stop in Carlingford. This Cooley Peninsula town is famous for its oyster farms, medieval buildings, and 12th-century King John's Castle overlooking the city. Spend the last night of your escorted tour of Ireland where you began, in Dublin. You'll see why this escape through Ireland's beauty and history is made even better without the crowds of the high season on your affordable, guided Ireland vacation.
2023:
Oct 28 $1889 Oct 29 $1719
Nov 12, 19, 26 $1719
Dec 3, 10 $1579
2024:
Jan 14 $1449 Jan 20 $1619
Feb 3, 17 $1759 Feb 11, 18 $1579
March 2 $1889 March 3 $1719 March 17, 24 $1799
Single supplement waived
ESSENTIAL BRITAIN & IRELAND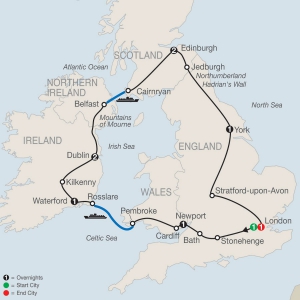 10 Day Tour from London to London
Spectacular scenery combined with fascinating architectural remains and energetic cities—all of this awaits you on this fabulous Britain and Ireland tour. Your tour starts and ends in London with overnights in between in Newport, Wales; Waterford and Dublin in Ireland; Edinburgh, Scotland; and York, England.
If you're a fan of castles, you'll enjoy your visit to Edinburgh Castle, dating back to the 12th century, once residence of Scottish monarchs and today home to the Scottish Crown Jewels; and Kilkenny Castle, in Ireland, built in 1195 to control a fording-point of the River Nore and the junction of several route ways. Even older than these castles are the Roman baths in Bath, constructed around 70 AD and today one of the best-preserved Roman remains in the world, and Stonehenge. You'll visit both of these on this Essential Britain & Ireland tour. You'll also visit Shakespeare's birthplace in Stratford-upon-Avon and the House of Waterford Crystal in Waterford, where you'll see the highly-skilled craftsmen at work in the production of this famous crystal.
2022:
July 31 $3293
Aug 7, 14, 21, 28 $3293 Aug 28 $3329
Sept 4, 11 $3149 Sept 18 $3113 Sep 25 $3095
Oct 2 $3284 Oct 9 $3095 Oct 16 $2969
INTRODUCTION TO IRELAND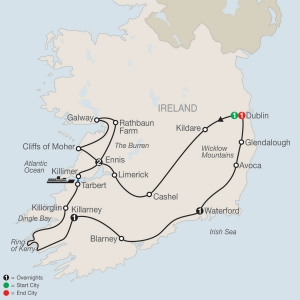 7 Day Tour from Dublin to Dublin
This Ireland tour is an ideal introduction to the Emerald Isle for first-time visitors who have limited time. You'll experience some of Ireland's most magnificent scenery as well as its most famous towns. You'll start and end in Dublin, and you'll also overnight in Ennis, Killarney