Scotland, the U.K.'s northernmost country, is a land of mountain wildernesses such as the Cairngorms and Northwest Highlands, interspersed with glacial glens (valleys) and lochs (lakes). Its major cities are Edinburgh, the capital, with its iconic hilltop castle, and Glasgow, famed for its vibrant cultural scene. Scotland is also famous for golf, the game first played at the Old Course at St Andrews in the 1400s.
Scottish Outland Adventure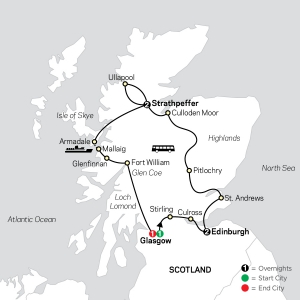 7 DAY TOUR FROM GLASGOW TO GLASGOW
Take a journey into the fabled land of adventure on this affordable vacation in Scotland. From the elegant Georgian squares and 12th-century cathedral in Glasgow, you'll travel to legendary Edinburgh, stop in Stirling to admire the prized castle of Scottish kings and symbol of the country's independence. Enjoy a full day of guided sightseeing in Edinburgh, including 200-year-old New Town—home to famous scientists, inventors, and novelists. Visit Edinburgh Castle to see the Crown Jewels and, for specific departures, be thrilled by the Royal Military Tattoo presented on the castle's esplanade in a mass spectacle of Scottish pipe bands, music, dance, and pageantry by performers from around the world.
Next, you'll take the elegant Forth Road Bridge to St. Andrews—the home of golf, the cross Firth of Tay and head into the Highlands. You'll stop on the way in the Victorian mountain resort of Pitlochry before crossing haunting Culloden Moor, where the Jacobites made their final stand in 1746. Continue into the Highlands for an overnight stay in Strathpeffer and a west coast excursion through spectacular Scottish landscapes and vistas. Your Scottish adventure leads you through the heather-clad moors of the western Highlands to Lochalsh and the Isle of Skye. Then, via ferry across the Sound of Sleat, it's back to the mainland. Take in the scenic highlights on your way back to Glasgow, including Glenfinnan and the monument to fallen clansmen, the viaduct that is recognizable to Harry Potter fans, and many other historic spots. Drive along the "bonnie banks" of Loch Lomond as well. Your value-minded vacation in Scotland is an experience of spectacular landscapes, legends, and lore.
July 16, 30 $1889
Aug 13 $2119 Aug 27 $1889
Sept 10 $1889 Sept 24 $1799
BRITAIN & IRELAND IN DEPTH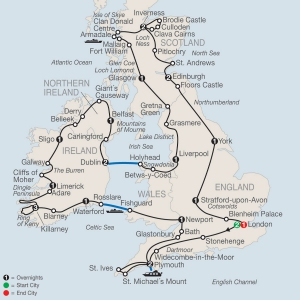 24 Day Tour from London to London
Traveling through the small towns and larger cities, this Britain and Ireland tour is our most complete view of the British Isles. On any tour through Britain and Ireland you'd expect to visit ancient ruins, majestic castles and palaces, magnificent cathedrals, and historical sights. That's why Globus has included visits to prehistoric Stonehenge; the ancient Roman ruins in Bath; Edinburgh Castle, dating to the 12th century; Holyrood Palace (when available), The Queen's official residence in Scotland; Floors Castle, Scotland's largest inhabited castle; Blenheim Palace, birthplace of Sir Winston Churchill; Brodie Castle with its outstanding art collection and magnificent library; and St. Paul's Cathedral, Sir Christopher Wren's masterpiece.
You'd also expect lush landscapes and breathtaking scenery. That's why Globus has included a cruise on Plymouth Sound, one of the world's great natural harbors; a drive on the 100-mile Ring of Kerry, with its rugged and magnificent landscapes; stunning scenery on Ireland's Dingle Peninsula; the spectacular 668-foot Cliffs of Moher; Northern Ireland's awe-inspiring Giant's Causeway, formed millions of years ago; a scenic drive through Snowdonia National Park in Wales; England's tranquil Lake District; the Isle of Skye, with some of Scotland's best scenery; and much more.
2022:
July 26 Aug 9 $8159 Aug 23 $8559
aug 30, Sept 6, 13 $7939
Sept 20 $7829
CELTIC HIGHLIGHTS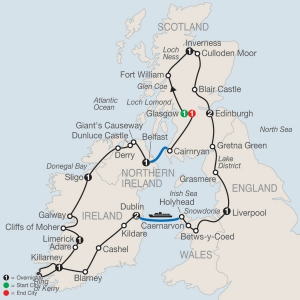 13 Day Tour from Glasgow to Glasgow
From their breath-taking scenery to their vibrant cities and small towns, this fascinating tour delivers the best of Scotland, England's Lake District, North Wales, and the Emerald Isle. You'll start and end in Glasgow and overnight also in Inverness and Edinburgh in Scotland; Liverpool, England; Dublin, Killarney, Limerick, and Sligo in Ireland; and Belfast, Northern Ireland. Throughout the tour, you'll learn about the history and cultures as you visit some of the areas' must-see attractions. For example, in Belfast you will visit the Titanic Experience to learn more about this ship and its ill-fated maiden voyage.
You'll also experience stunning scenery on this Britain and Ireland tour. Keep your eyes peeled for the Loch Ness monster in Scotland's beautiful Highlands. Travel through the incomparable landscapes of Snowdonia National Park in Wales, with picturesque villages, mountains, and lakes. Follow Ireland's Ring of Kerry, a 100-mile panoramic drive with sparkling seascapes, brightly colored farmhouses, and the breath-taking panorama of the Lakes of Killarney. Visit the spectacular 668-feet Cliffs of Moher and awe-inspiring Giant's Causeway, composed of thousands of basalt columns formed millions of years ago.
2023:
July  17, 24, 31, Sept 4, 11 $4481
Aug 7, 14, 21 $4670
Sept 25 $4445
Oct 2, $3923
SCOTTISH HIGHLAND FLING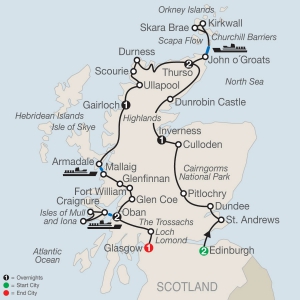 10 Day Tour from Edinburgh to Glasgow
This 10-day escorted tour of Scotland's highlands starts with two nights and sightseeing in Edinburgh before crossing Forth Road Bridge to St. Andrews—the home of golf. Then it's off to the highlands through the grand Grampian Mountains to Culloden, where Scottish clans met their fate in the famous battle there. Spend the night in the Highland capital, Inverness, and take a guided tour of a whiskey distillery before heading on to the majestic Dunrobin Castle. Board a ferry from John o'Groats at Britain's mainland most northerly tip for an excursion to the Orkney Islands. Cross the historic Churchill Barriers at Scapa Flow, then taste the local ale at the famed Orkney Brewery. Visit Skara Brae's 5,000-year-old ruins of a Neolithic village, and the mystical stone circle of the Ring of Brodgar, regarded as the Orkneys' "Stonehenge". Travel along the rugged scenery of the North Coast 500 route, and pass through Durness and Scourie to enjoy traditional fish & chips in the old fishing port of Ullapool. Explore the beautiful Isle of Skye, then ferry across the Sound of Sleat back to the mainland. See the Jacobite monument in Glenfinnan and the viaduct made famous in the Harry Potter films. Travel through Fort William beneath Ben Nevis (the highest mountain in British Isles), and beautiful Glen Coe. Stay the night in Oban—gateway to Scotland's Hebridean Islands, including the isles of Mull and Iona on today's excursion. Travel through the Trossachs' stunning landscapes, and stop at Loch Lomond en route to Glasgow to conclude your spectacular guided vacation in Scotland.
Headsets throughout the tour.
Free Wi-Fi available on your motorcoach and in most hotel lobbies.
2023:
July 13, 20 $3626
Aug 3, 10, 17, 24$3824
Sept 7, 14, 21 $36262  Sept 28 $3527
SCOTTISH HIGHLANDS ESCAPE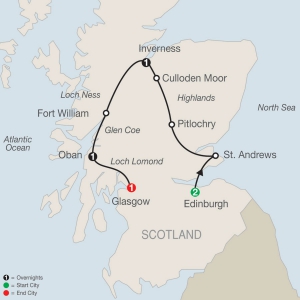 6 DAY TOUR FROM EDINBURGH TO GLASGOW
Travel through the serene glens, lush forests, and rushing rivers of The Trossachs—Scotland's first national park. Relish in the lovely views of Loch Lomond. Take a drive through Glasgow to see its 12th-century cathedral, stately university buildings, and elegant Georgian squares built in the heyday of the tobacco barons. Finally, gather with your traveling companions, and raise a glass to this bonnie jaunt of a guided vacation in Scotland.
Free Wi-Fi available on your motorcoach and in most hotel lobbies.
SINGLE SUPPLEMENT WAIVED FOR 2022/2023
2023:
Oct 29, Nov 5, 26 $1539
Dec 3, 10 $1399
2024:
Jan 7, 21 $1269
Jan 27 $1449
Feb 11, 18, Mar 3 $1539
March 10, 17 $1679
March 23 $1849 March 24 $1679
Highlights of Scotland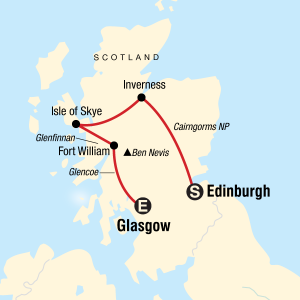 7 days
Edinburgh to Glasgow City
Classic folklore and stunning landscapes make Scotland a compelling destination for historians, those looking to explore their Scottish roots, and pop culture fiends who follow famous TV shows that film here. This seven-day tour takes you through all the best cultural highlights with visits to important Jacobite sites in Inverness like Culloden Moor and picturesque spots (like the Glenfinnan Viaduct) along with moments to soak in the country's natural beauty in Cairngorms National Park. In between, you'll have the opportunity to try traditional Scottish fare (yes, we're talking about haggis!) and learn about how whisky is made with a tour and tasting. It's the best way to satiate your inner history and whisky aficionado, in equal measure.
Follow the historic Jacobite rising in Inverness
Learn about whisky-making with a tasting and guided tour
Opt to kayak among beautiful Scottish landscapes in Cairngorms National Park
Catch a glimpse of the highest mountain in the British Isles — Ben Nevis
See the viaduct in Glenfinnan made famous by Harry Potter
Uncover the legend of Loch Ness
2022:
Aug 14 $2879 Sept 4, 11, $2753
Scottish Escape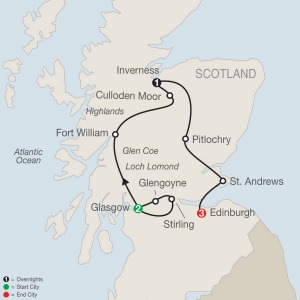 7 Day Tour from Glasgow to Edinburgh
This off-season Scottish Escape tour is the perfect way to appreciate the beauty of Scotland's rural landscapes, as well as the energy of its cities and iconic sites. Your escorted vacation begins in Scotland's largest city—Glasgow. You'll take a guided tour of a whisky distillery, visit Stirling Castle—home to Scotland's Kings and Queens—and explore the sights of Glasgow as well. Travel along the "Bonnie Banks" of Loch Lomond, and see awe-inspiring Rannoch Moor, Glen Coe, Loch Linnhe, and Fort William beneath Ben Nevis. Keep an eye out for the Loch Ness monster, and learn about historic conflicts between Scottish clans.
Spend the night in the Scottish highland capital of Inverness, and see the mountain resort of Pitlochry, and the legendary home of golf at St. Andrews. Cross the Forth Road Bridge to Edinburgh, to spend three nights to see the historic sites, such as Edinburgh Castle and stunning views. Make your escape to see the best of Scotland, while enjoying reduced crowds and prices on the off-season. You'll enjoy your guided tour of Scotland all the more!
SINGLE SUPPLEMENT WAIVED FOR 2022
2022:
Oct 30 $1169 Nov 5 $1249
Nov 6, 20 $1169
Nov 27 $1069 Dec 4, 11 $919
2023:
Jan 8, 22 $1019 Jan 28 $1179
Feb 12, 19, Mar 5, $1169 March 12, 29, 26 $1299