Spain
There is so much to do in Spain. Travel the colourful country side, visit the city of Madrid, the beaches of Majorca, or the mountain villages.  Dance the night away with the legendary flamenco dancers while sipping on a glass of sangria. You'll enjoy the history, the art and shopping. And don't forget the "running of the bulls that takes place in August in Pamplona!
Top 6 Reasons Why the Azores are Every Traveller's Dream
The Azores islands are at the hottest new destination for travellers and we teamed up
with photographer, videographer and Azores-enthusiast Chris Hau
to give you a list of the top 6 reasons why the Azores truly has something for everyone
Click edit button to change this text.
Portugal
Outside the cities, Portugal's beauty unfolds in all its startling variety. You can go hiking amid the granite peaks of Parque Nacional da Peneda-Gerês or take in the pristine scenery and historic villages of the little-explored Beiras. Over 800km of coast offers more places to soak up the splendour. Gaze out over dramatic end-of-the-world cliffs, surf stellar breaks off dune-covered beaches or laze peacefully on sandy islands fronting calm blue seas.
Best of Southern Spain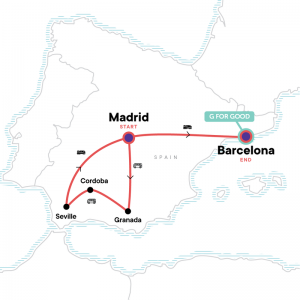 8 days Madrid to Barcelona
With some destinations, you always have to compromise on something, whether it's cuisine, history, or just things to do. Luckily, in southern Spain, there's no such thing. This tour covers the major highlights of Andalucia (southern Spain): the ornate palace of Alhambra in Granada, Córdoba (an architectural mainstay of Islamic culture), and the Andalucian capital of Seville, home of flamenco dancing. Pair it all up with time in Madrid and Barcelona, and you'll never run out of fun things to do, eat, or see.
2021:
August 7, 28 $1998
Sept 11, 18, 25 $1886
Oct 9, 16, 30, Nov 13, Dec 26 $1699
2022:
Jan 15, Feb 12, March 19, April 9, 16, 23, May 7, 14, 21 $1784
June 4, 11, 18 $1886
Book by May 31, 2021
Spain, Portugal, and Morocco Adventure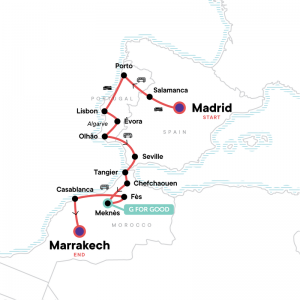 15 days
Madrid to Marrakech
Quite a few civilizations have left their imprint on Spain, Portugal, and Morocco, but perhaps none so permeating as the Moors. Get your feet wet in Moorish culture in the Iberian peninsula, home of Spain and Portugal. Surround yourself in the beautiful architecture of a traditional "pousada" with an overnight in Évora, before exploring Spain's fiery Andalucian capital of Seville. Cool it all down in Morocco, within the city of Chefchaouen's striking blue walls. Don't miss out on a tour that's as drenched with flavours, colours, and history as the three countries that comprise it.
2021:
Sept 5, 19, 26, Oct 3, 31 $2932
Nov 21 $2464 Dec 12 $2932
2022:
Jan 2, 30, Feb 13, 27 $2549
March 13, 20, 27, April 10, 17, 24, May 8, 15, 22 $2932
June 12, 19, 26 $2745
Book by May 31, 2021
Classic Spain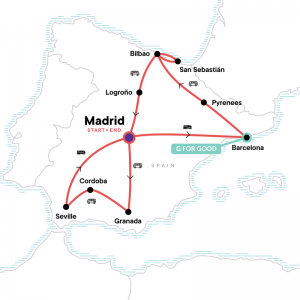 15 days Madrid to Madrid
In Spain, a country that's filled with flavour, artistry, and passion, there's no such thing as going halfway. Start in the south, where the Andalucian capital of Seville will introduce you to the most firey of dances — the flamenco. Head north and get a taste of Spain's Basque and Catalan provinces: vibrant Barcelona, unhurried San Sebastián, Logroño's famous cuisine, cosmopolitan Madrid, and the mighty Pyrenees. Each region of Spain has their own distinct character, style, and language to offer.
2021:
Aug 28 $3790
Sept 11, 25 $3595
Oct 16, 30 $3229
2022:
April 9, 23, May 7, 21 $3399
June 4, 18 $3595
Book by May 31, 2021
Sailing in the Canary Islands

7 days San Miguel Marina to San Miguel Marina – Maximum 10 guests
A yacht adventure is the ideal way to experience what many consider the world's most beautiful islands: the Canary Islands. Sail for seven days aboard our 15m (52 ft) yacht, with time for hiking, snorkeling and relaxing. Explore historical sites and cafe-lined harbours, and dine on fresh seafood.
2021:
Oct 23, 30 $1869
Nov 6, 13, 20, 27, Dec 4, 11, 18, 25 $1799
2022:
Jan 1, 8, 15, 22, 29, Feb 5, 12, 19, 26, March 5, 12, 19, 26 $1799
April 2, 9, 16, 23 $1869
Hiking the Canary Islands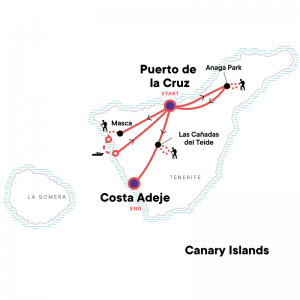 6 days Puerto de la Cruz to Costa Adeje
Like to work up a sweat while you explore the world? This tour of the Canary Islands is a gold mine. Brush through the leafy forests of Anaga, explore Tenerife Island, hike through the Barranca Canyon and Las Cañadas del Tiede, and then kick back for boat rides, wine tasting, and beach time.
**Explore the island of Tenerife
**Hike Anaga's leafy laurisilva forests
**Gaze out on the Mars-like landscape of Las Caãdas del Tiede
**Bask in free time on the gold sand beaches of Costa Adeje
**Boat through the Los Gigantes cliffs
2021:
Sept 24, Oct 8, Nov 12 $1519
Dec 17, $1599
2022:
Jan 7, 21, Feb 4, 18, March 4, 18, April 1, $1449
May 6, 20, June 3, 17 $1519
Walk the Camino de Santiago, Spain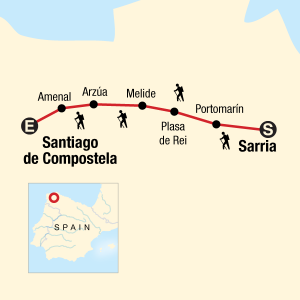 If you're looking to take on your own pilgrimage — along a route filled with beautiful countryside and rustic villages of Northern Spain — start here, at the Camino de Santiago. On this eight-day trip, complete the last 100 km of the pilgrimage route to Santiago and receive a "compostela" at the finish to prove your accomplishment. Refuel with tasty Spanish food and take the time to stop and smell the flowers — it's active but at a slower, more picturesque pace.
Complete the last 100km of the pilgrim's trail and receive your "compostela"
Walk through small villages and towns
Enjoy hearty and delicious Spanish food
Walk into the cathedral in Santiago de Compostela
8 days
2021:
Aug 15, 29 $1399
Sept 5, 14, 19, 21, 28 $1649
Oct 3, 10 $1599
Ultimate Spain & Portugal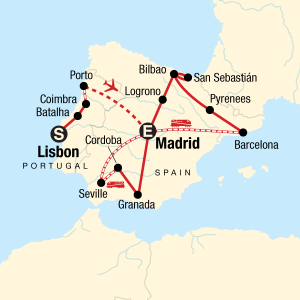 21 days As former imperial superpowers, Spain and Portugal have centuries of history and captivating culture to draw upon. You, on the other hand, have only 21 days. Make 'em count! This comprehensive adventure across the Iberian Peninsula presents travellers with the chance to explore these two nations through their cuisine, architecture, and idyllic countryside. Here, you'll wander the wondrous streets of Lisbon, Porto, Barcelona, and Madrid, step up into the Pyrenees, relax in glorious San Sebastián, and live the local culture alongside the locals themselves. Spain and Portugal: Europe's greatest two-for-one deal!
2021:
Aug 22, Sept 5, 19 $4980
Oct 10, 24 $4445
2022:
April 3, 17, May 1, 15, 29 $4674
June 12, 26 $4980
Book by May 31, 2021
Best of Portugal & Spain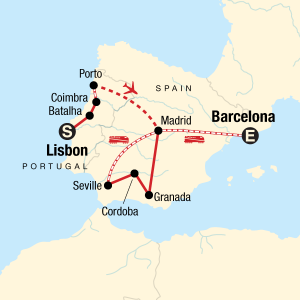 14 days Lisbon to Barcelona
Dynamic culture, compelling history, to-die-for cuisine — the Iberian Peninsula really is a true example of riches for every sense and interest. On this adventure, you'll soak up the Moorish history of Lisbon and Cordoba, be treated to a lively flamenco performance in Seville, explore the astounding red-clay fortress of the Alhambra, and witness Gaudí's Barcelona with your own eyes. If that sounds like a lot, be prepared; we've only just begun.
Savour traditional Portuguese food in Lisbon's oldest neighbourhood
Taste coastal Porto's famous export in a port wine cellar
Soak in the lively atmosphere and scenery of Madrid
Discover Seville's Moorish influence
Learn to make tapas in Barcelona
2021:
Aug 1, 22 $3467
Sept 5, 12, 19 $3263
Oct 3, 10, 24, Nov 7, Dec 20 $2889
2022:
Jan 9, Feb 6, March 13, April 3, 10, 17 May 1, 8, 15, 29 $3059
June 5, 12, 26 $3263
Book by May 31, 2021