Spain
There is so much to do in Spain. Travel the colourful country side, visit the city of Madrid, the beaches of Majorca, or the mountain villages.  Dance the night away with the legendary flamenco dancers while sipping on a glass of sangria. You'll enjoy the history, the art and shopping. And don't forget the "running of the bulls that takes place in August in Pamplona!
Top 6 Reasons Why the Azores are Every Traveller's Dream
The Azores islands are at the hottest new destination for travellers and we teamed up
with photographer, videographer and Azores-enthusiast Chris Hau
to give you a list of the top 6 reasons why the Azores truly has something for everyone
Click edit button to change this text.
Portugal
Outside the cities, Portugal's beauty unfolds in all its startling variety. You can go hiking amid the granite peaks of Parque Nacional da Peneda-Gerês or take in the pristine scenery and historic villages of the little-explored Beiras. Over 800km of coast offers more places to soak up the splendour. Gaze out over dramatic end-of-the-world cliffs, surf stellar breaks off dune-covered beaches or laze peacefully on sandy islands fronting calm blue seas.
Madeira Hiking

6 days Santana to Funchal
When you think about a series of islands that's famous for its wine and sunshine, your initial reaction probably isn't to hike all across it. We're here to prove that it should be. Immerse yourself in Madeira's mesmerizing flavours, volcanic landscapes, and rich culture and history on this six-day Portugal hiking adventure.
2023:
Dec 16 $1189
2024:
Feb 3, 17, Mar 2, 23, 30, $1189
April 13, 20, 27, $1249 May 11, 18, 25, $1322
Jun 8, 22 $1376
Book by Nov 30, 2023 
Best of Northern Spain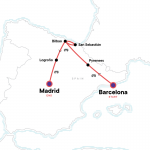 Barcelona to Madrid -8 days
Spain has been described as less of a country than a collection of small nations all working together. Each region has its own distinct character, style, even language. This quick eight-day trip introduces you to Spain's Basque and Catalan provinces the best way: through food, art, culture, and first-person contact. Vibrant Barcelona, unhurried San Sebastián, Bilbao's fabulous architecture, Logroño's famous cuisine, cosmopolitan Madrid, and the mighty Pyrenees, all in just over a week?
2023:
April 1, 15, 29 $1869
Sailing in the Canary Islands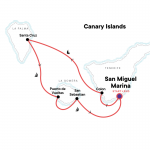 7 days San Miguel Marina to San Miguel Marina – Maximum 10 guests
A yacht adventure is the ideal way to experience what many consider the world's most beautiful islands: the Canary Islands. Sail for seven days aboard our 15m (52 ft) yacht, with time for hiking, snorkeling and relaxing. Explore historical sites and cafe-lined harbours, and dine on fresh seafood.
2022:
Oct 22, 29 $1427
Best of Southern Spain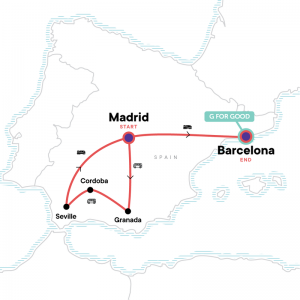 8 days Madrid to Barcelona
With some destinations, you always have to compromise on something, whether it's cuisine, history, or just things to do. Luckily, in southern Spain, there's no such thing. This tour covers the major highlights of Andalucia (southern Spain): the ornate palace of Alhambra in Granada, Córdoba (an architectural mainstay of Islamic culture), and the Andalucian capital of Seville, home of flamenco dancing. Pair it all up with time in Madrid and Barcelona, and you'll never run out of fun things to do, eat, or see
2022:
July 30 Aug 13, 20 $1997
Sept 3, 10, 17, 24 $1997 Oct 1, 8, 15, 29 $1889
Nov 5, 26 $1889
the Azores the Jewel of Portugal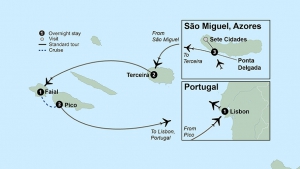 Enter an untouched paradise on an adventure through the Azores, the archipelago gems of Portugal. Explore the entire rim of the Sete Cidades Caldera. Indulge in a traditional cozido das furnas meal, cooked by the heat of the volcanic earth. Descend into Algar do Carvao, the "Cavern of Coal" lava tube, with an expert guide. Enjoy a light home-hosted lunch featuring local meats and cheeses. Spend 3 nights in a lava stone house. From thermal pools and lush craters to local farms and volcanic cuisine, delve into the culture of Portuguese island life.
12 days/11 nights
17 Meals: 10 Breakfasts, 2 Lunches, 5 Dinners
2022:
Aug 26, Sept 16 $2399
Oct 14 $2199
2023:
April 7 $2199
Highlights of Portugal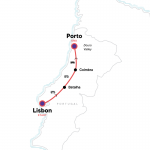 In Portugal, the sun is bright, the food is delicious, and the living is easy. Wander the hilly streets of coastal Lisbon, where you can munch on a custard tart while gazing at sun-dappled architecture. Get your fill of history and culture at UNESCO World Heritage Sites like the Monastery of Batalha, Coimbra University, and the picturesque town of Sintra (optional). End the tour in Porto, where the majestic Douro Valley begs for you to lounge back with a glass of port wine in hand. Felicidades! And welcome to Portugal.
2022:
Aug 7, 28, $1439
Sept 4, 11, 18, 25 $1403
Oct 9, 23, 30 $1349
Portugal by Motorcycle
SELF RIDE TOUR – CENTER AND SOUTH OF PORTUGAL
8 DAYS / 7 NIGHTS from Lisbon to Albufeira
Arrival transfer in Lisbon and departure transfer in Faro
• 2 nights at 4*Hotel Vila Galé Cascais
• 1 night at 4*Hotel Vila Galé Evora
• 1 night at 4* Pousada de Beja
• 1 night at The Prime Hotel Monte Gordo
• 1 night at 4* Jupiter Algarve Hotel
• 1 night at 4*Hotel Vila Galé Cerro Alagoa /Albufeira
• Daily breakfast
• 1x Motorcycle-hire for 2 person Grp K2 (BMW R1250GS) – 8 day motorcycle-hire from Hertz with P/U
at Lisbon Hertz Station and D/O at Albufeira or Lisbon Hertz Station (See Hertz motorcycle hire general
conditions below) – limited at 300KM/day of rental (extra km's charged at 0.36€/KM)
Not included · International flights – Entrances fees to s