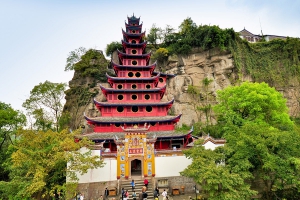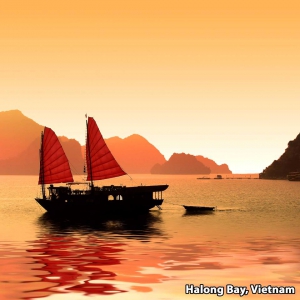 Asia
The Asian continent is home to some of the most spectacular cities in the world, like Kyoto, Toyko, Hong Kong, Seoul, Singapore, Beijing, Bangkok and Siem Reap, Cambodia jus to name a few. These major cities are complemented by vast countryside, making up an appealing combination throughout Asia of secluded and fast-paced environments.
Not only is Asia known for it's mouth-watering dishes, but it is also known for its many street vendors. Instead of the best food being found in fancy restaurants like you may typically be used to, you can actually find some of the tastiest meals from the carts and stalls lining the streets in many Asian cities. If you are on a mission for street food, some of the top cities where you will find success are Penang, Bangkok, Fukuoka, Hanoi, Singapore, and Seoul, just to name a few.
Asia is home to more temples than any other continent in the world. It is also the place where many of the world's mainstream religions and beliefs were born. Therefore, a visit to Asia would not be complete without stopping to see at least a few of its majestic temples. Angkor Wat, one of the most famous temples, is the largest religious monument in the world and is located in Cambodia. Balanced on the edge of a 3,000 foot high cliff, the Taktsang Dzong temple is a well-recognized symbol of Bhutan. Finally, the Temple of Heaven dating back to the early 1400s is an impressive site to see and is also surrounded by a large public park, the grounds where many locals will practice tai chi throughout the week. However, these few barely scratch the surface of the incredible architecture, history, and detail that is found in the many temples throughout Asia.
THAILAND ISLAND HOPPING – WEST COAST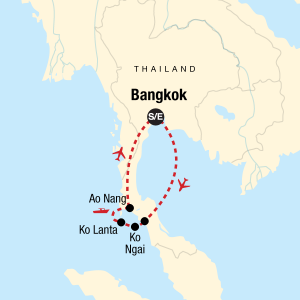 8 days, Bangkok to Bangkok
Thailand's known for its unrivalled beaches, so forget setting foot on just one. This eight-day tour lets you hop around some of the best beaches along the Andaman Sea, discover the hues of Ko Mook's Emerald Cave, and snack on some tasty barbecue on the shores of Ko Lanta. Find that sweet spot just for you, whether that means getting your thrills from optional activities like whitewater rafting, or just picking a place where you can hang out and watch the waves.
2022:
July 22 $1599
Nov 21, 25 $1719 Dec 19, 23 $1839
2023:
Jan 9, 27, Feb 3, 17 $1839
March 24 $1719
April 17, 21, May 12, June 9 $1599
Bali, Beaches & Boat Rides
9 days Kuta to Gili Trawangan
Now's the time to explore Bali on your terms with this tour that's affordable for young travellers. Surf on gloriously blue ocean waves in Kuta, stop for the perfect shot at Buddhist temples and lotus ponds in Ubud, and relax with a drink at a beachfront bar (or two!) on Gili Trawangan. With a mix of free time, cultural highlights, and savoury must-tastes, this tour is the surest way to soak in all the magic of Bali, in just nine beautiful days.
Travel Style: 18-to-Thirtysomethings
2022:
April 4, 25 $839 May 9, 23, June 6 $895
June 20, Aug 8, 22, Sept 12 $943
Oct 3, 31 $895 Nov 21 $839 Dec 19 $1049
Book by Feb 28, 2022
Indochina Encompassed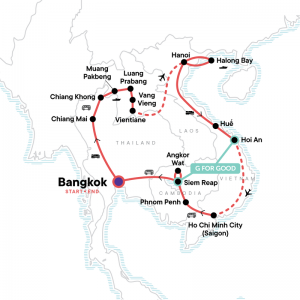 29 days Bangkok to Bangkok
From the vibrant cityscape of Bangkok to Halong Bay's magnificent limestone karsts, this trip encompasses the highlights of Indochina. Marvel at the wonders of Angkor Wat, sail the Mekong, and savour noodles in Hoi An. Shop for souvenirs in Ho Chi Minh City and join the locals sipping coffee at a lakeside café in Hanoi. With hotels, transport, and a number of included activities arranged by our CEOs, this adventure offers up the perfect combination of must-see highlights and free time.
2022:
May 7, 21  $4164
June 18, July 2, 30, Aug 13 $4385
Aug 27, Sept 3, 17, 24 $4464
Oct 8, 15, 22, 29 $4385
Book by Mar 31, 2022
Classic Bali & Lombok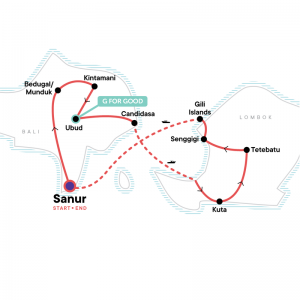 14 days Sanur to Sanur
Snorkel the warm tropical waters and watch Balinese shadow puppets dance in the night. Marvel at floating palaces and temples. Experience the best of Bali and Lombok on this adventure, offering you the perfect combination of guided excursions and free time to explore these fascinating islands at your own pace. Cool your heels in secluded waterfall pools and relax in the laid-back Gili Islands. Our CEOs will bring you off the beaten path, where you'll meet these islands' locals and gain insight into a completely different way of life.
2022:
May 8, 15, June 5 $1979
July 24, 29, Aug 14, 21, 28 $2081
Sept 11, Oct 23,  $1869
Book by Mar 31, 2022
Borneo – East Sabah Adventure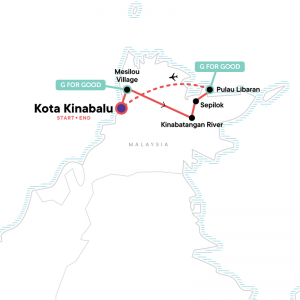 Depart from Kota Kinabalu, Malaysia
Between its intriguing wildlife, skyscraper-height jungle canopies, and gorgeous coastlines teeming with tropical fish, this magical stretch of Borneo is positively bursting with stuff to see and do. This eight-day adventure promises to keep you busy; time spent marvelling at nature's glory on Libaran Island, close encounters with orangutans at a rehabilitation centre, prowling the streets of Kota Kinabalu by night, and otherworldly wonders in the jungle. Borneo has it all, and in east Sabah, it's all close at hand.
2022:
May 15, 22 $1597
June 12, July 8, 17, 31, Aug 5, 7, 14, 26, 28 $1679
Sept 11, Oct 2, 23 $1597
Book by Mar 31, 2022
Essential Vietnam & Cambodia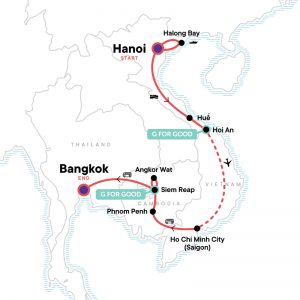 17 days Hanoi to Bangkok
A wide-ranging adventure showcasing the region's natural wonders and fascinating cultures, this 17-day trip offers a combination of guided excursions and free time to explore beaches, ruins, urban culture, and awe-inspiring landscapes. Cruise the Mekong for a day and overnight on a traditional sailing junk boat in Halong Bay. Witness the heights of Cambodia's past at Angkor Wat, and contemplate its lows by walking the infamous Killing Fields. Although many activities are included, there is still plenty of time to explore on your own and create the ultimate adventure.
2022:
Feb 3, 7, 10, 17, 19, 20, 21, 23 28, march 2, 7, 10, 19 $2239
March 16, 17, 19, 20, 21, 23, 24,27 $2143
April 2, 6, 7, 11, 13, 14, 16, 21, 28 $2143
May 2, 5, 14, 16, 19, 26, 30 $2039
June 2, 9, 15, 20, 23, 27, 30 $2143
July 4, 7, 9, 11, 14, 18, 20, 21, 23, 30 $2143
Aug 1, 4, 11 $2143
Aug 8, 22, 25 Sept 1, 5, 8, 15, 22, 29 $2039
Oct 6, 10, 13, 20, 24, 26, 27, 29, 31 $2143
BEST OF CAMBODIA & NORTHERN THAILAND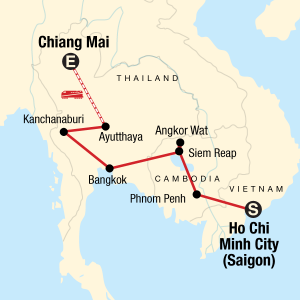 15 days, Ho Chi Minh City to Chiang Mai
Ancient ruins, fascinating cultures, and bustling cityscapes await on this 15-day tour through Vietnam, Cambodia, and Thailand. See Angkor Wat at sunrise with the help of a local expert, embark on a boat tour through Bangkok's small canals, and explore historical cities in the old capital city of Ayutthaya. Along the way, you'll get plenty of opportunities to learn about local villagers and traditional cultures through overnight homestays so that you're truly earning those stamps in your passport.
2022:
Feb 4, 11, 25 $1798
March 4, 18, 25 $1679
Aril 1, 8, 15, 29, May 17 $1759
June 10, 24 July 8, 22, Aug 5 $1919
Sept 16 $1769
Oct 7, 28 $1919
Classic Bali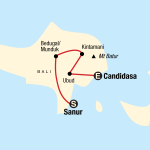 8 days
Sanur to Candidasa
From pristine beaches to temples surrounded by jungle, Bali is a land loaded with cultural and natural highlights. This well-packed adventure offers up the perfect blend of the must-sees with free time to get off the beaten path — where the people you'll encounter are just as likely to be memorable locals as other travellers. With its excellent food, artists, and culture, there's more to this beloved island than just getting a little extra sun.
Relax on stunning beaches
Uncover the unique culture of Ubud
Explore Hindu temples
Marvel at the power of active volcanoes
2022:
March 6, 20 $769
April 3, 24, May 8, 15, 22 $879
June 5, 12, 26 $935
July 16, 24, 29 Aug 12, 14, 21, 28 $983
Sept 11, 18, Oct 7, 23, 30 $879
Mekong River Cruise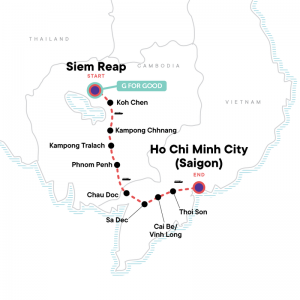 8 days Siem Reap to Ho Chi Minh City
Experience the beauty of both Cambodia and Vietnam during this eight-day river cruising journey. Take in Wat Phnom, the Grand Palace, the S21 Museum, and the Tra Su Bird Sanctuary and prepare to see things you'll never forget (but bring your camera anyway). Get a true taste of river cruising while visiting the Cai Be floating market and the fishing port of Kampong Chhnang, where you'll learn about fish farming, pottery, and sugar palm production. Opt for bikes, tuk tuks, or local boats to get around and see rice paddies, monasteries, and local businesses.
2022:
March 11 $2211
March 25 $2029 April 8 $2319
July 17, Aug 14, Sept 11 $2119 Oct 9 $2319
SAILING THAILAND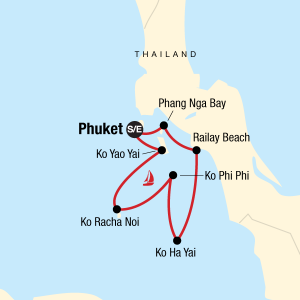 7 days, Phuket to Phuket
Go island-hopping in Thailand and experience some of the best snorkelling in the world. Enjoy a week aboard our sailing catamaran and discover what makes Thailand special. With an experienced captain navigating the southern islands, you'll drop anchor at highlights and secret spots perfect for a swim. Work up an appetite snorkelling, dine on Thai cuisine, and sleep moored under the stars. This trip is perfect on its own or as an add-on with our other Thai adventures.
2022:
March 5, 12, 19, 26 $1483
April 2, 9, 16, 23 $1599
Oct 22, 29 $1599
Nov 5, 12, 19, 26 $2119
JAPAN EXPRESS: OSAKA TO TOKYO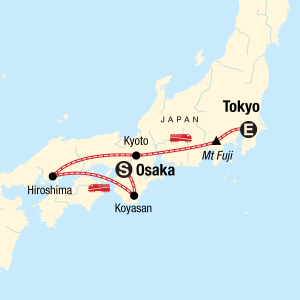 9 days, Osaka to Tokyo
From the Buddhist monks of Kōyasan to the high rollers of Tokyo, see the many faces of Japan on this condensed tour beginning in Osaka. Savour the region's culinary delicacies and the beautiful views at Mt Fuji. You'll stay in a traditional ryokan and really soak up local culture in onsen hot springs. A great combination of the traditional and the contemporary, this adventure provides a taste of the rich culture of Japan.
2022:
March 4, 11, 16, 18, 19, $3626
March 23, 25, 26, 30 $3824
April 1, 2, 6, 8, 9, 13, 15 $3824
April 20, 22, 27, 29 $3725
May 4, 6, $3725
May 11, 13, 18, 20, 25, 27 $3626
June 3, 10, 17, 24 $3626
July 1, 8, 15, 20, 22, 27, 29, Aug 3, 5, 10, 12, 17, 19, 26 $3626
Sept 2, 9, 21, 23, 27, 30 $3725
Oct 5, 7, 12, 14, 19, 21, 26, 28 $3725
Classic Vietnam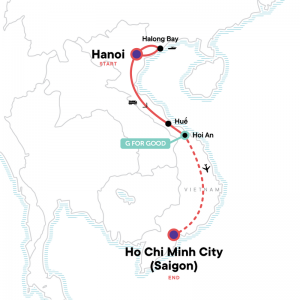 10 days Hanoi to Ho Chi Minh City
Sail through limestone karsts aboard a traditional junk boat and walk the streets of imperial capitals. From vibrant Hanoi, the natural beauty of Halong Bay, the atmospheric imperial capital of Huế, and the charms of Hoi An to the modern day life of Saigon, experience the energy of Vietnam in 10 jam-packed days. An experienced Chief Experience Officer will lead you to must-see highlights with time in between to do your own thing.
2022:
March 2, 3, 7, 9, 10, 12 $1263
March 16, 17, 19, 20, 21, 23, 24, 27, Aprkl 2, 6, 7, 11, 13, 14, 16, 21, 25, 28 $1215
May 2, 5, 7, 16, 19, 26, 30 June 2, 9 $1159
June 16 20, 23, 27 $1215
July 4, 7, 9, 11, 14, 18, 20, 21, 23, 30 Aug 1, 4, 8, 11 $1215
Aug 18, 22, 25, Sept 1, 5, 8, 15, 19, 22, 26, 29 $1159
Oct 6, 10, 12, 13, 17, 20, 22, 24, 26, 27, 29 $1215
Indonesia Java, Bali & Lombok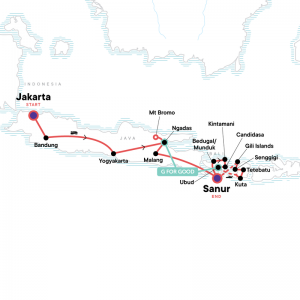 22 days Jakarta to Sanur
Yeah, we've seen you perusing the Bali, Lombok, and Java trips and thinking, "Why don't they just put all three of them together?" Here you go: All the natural splendour, bustling cities, remote villages, and exotic wildlife of Indonesia's most popular territories in one convenient, 22-day bundle. Explore the volcanoes of Yogyakarta, endless rainforests, the rugged and untouched beauty of Lombok, bustling Jakarta, and blissful Sanur's white-sand beaches. The adventure of a lifetime is out there. Sometimes, all you have to do is ask.
2022:
March 12 $2484
April 16 $2839 May 7 $3039
July 16, Aug 6, Sept 3 $3223
Oct 15 $3039
---
THAILAND AND LAOS ADVENTURE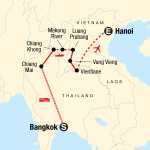 14 days, Bangkok to Hanoi
From the energy of Bangkok to the calm of Laos, this trip is a study in contrasts. Visit temples in Chiang Mai then spend the evening exploring the night market. Sail the Mekong into the heart and soul of Laos. An experienced Chief Experience Officer  will make sure you get the most out of your tour, but will leave plenty of time for you to do your own thing. We utilize many forms of transport (both public and private) to maximize time spent exploring the history and culture of this unforgettable region.
Explore Bangkok's canals
Discover Buddhist temples
Float down the mighty Mekong River, Get wet in the spray of waterfalls
2022:
Jan 5, 15, 22, 29, Feb 5, 16, 23, 26 March 5, 12 $2143
March 19, 26 April 2, 9, 16, 23, June 18, July 2, 30, Aug 13, Oct 8, 15, 22, 29 $1999
May 7, 21, June 4, Aug 27, Sept 3, 17, 24 $1839