South of Ireland Escape
6 Day Tour from Limerick to Dublin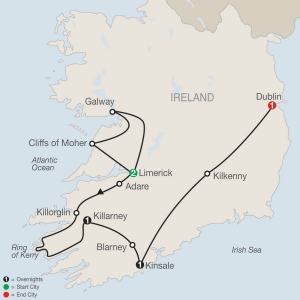 Travel through Ireland's rugged landscapes and welcoming locales during the off season and see your luck change! From Limerick to Dublin, you'll experience the beauty and charm of the Emerald Isle. Take an excursion from Limerick to the spectacular Cliffs of Moher
Nov  17,  Dec 1, 8, 15, 2019 Jan 19, 26, Feb 2, 16, 23, 2020 $889
March 1, 8,  22,  $1009
Prices are per person in single, double, or triple room occupancy
JEWELS OF IRELAND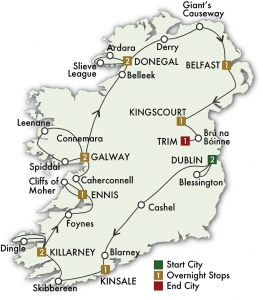 14 Days/13 Nights
Enjoy an Irish coffee at the South Pole Inn where you'll learn about Tom Crean, an Irish explorer who bravely journeyed to Antarctica.
Relax as you take in a special step-dancing display at the Cabra Castle Hotel.
Dining Experiences:
13 breakfasts (B), 1 lunch (L) and 10 dinners (D) including Taylors Three Rock and a medieval castle banquet.
Trip Highlights:
Blasket Centre, Brú na Bóinne, Dingle Bay Cruise, Donegal Castle, Giant's Causeway, Slieve League Cliffs,
Titanic Belfast, Hillsborough Castle
2019:
Sept 1, 8, 13 $5415 Sept 20 $5225 Sept 27 $4965
Oct 4 $4770 Oct 6, 18 $4645
Irish Spirit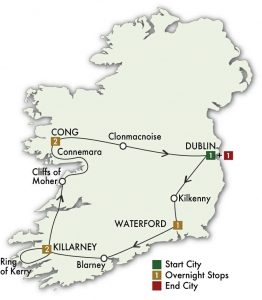 8 days Dublin to Dublin
There's no shortage of "traditional Irish pubs" in Killarney! Head out for an evening and chat with locals over a pint and some music.
Walk in the footsteps of John Wayne and Maureen O'Hara as you tour the village where The Quiet Man was filmed
Visit the Jameson Distillery Midleton and learn the story of Irish whiskey.
Dining Experiences
7 breakfasts B
1 lunch L
5 dinners D including a fun Irish Night in Killarney, and a traditional Irish dinner and show at the Abbey Tavern
Trip Highlights
GPO Museum in Dublin
Cliffs of Moher
Clonmacnoise Monastic Site
Kilkenny Castle
Ring of Kerry
Skellig Experience
The Lodge at Ashford Castle
Aug 3, 17, Sept 7 $3480 Aug 15, Sept 5, $3545 Sept 21 $3290 Oct 5, 12 $3030
TASTE OF ICELAND & IRELAND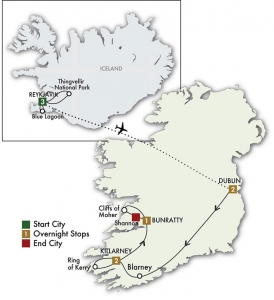 The flight between Iceland and Ireland is included in the price of this tour.
Authentic Local Experiences
See some of Ireland's most scenic landscapes on the famous Ring of Kerry drive.
Tour the famed Golden Circle, Iceland's most popular tourist route, for a wonderful introduction to Iceland's beauty and heritage.
You may see the Northern Lights from September to April – Iceland is one of the best places in the world to spot this beautiful solar phenomenon.
Dining Experiences
8 breakfasts (B), 2 lunches (L) including lunch at Fridheimar Tomato Farm in Iceland, and 3 dinners (D) including a medieval castle banquet in Ireland.
Trip Highlights
Gullfoss Waterfall
The Blue Lagoon
Strokkur Geysir
Reykjavik City Tour
Northern Lights (September – April)
Blarney Castle
Cliffs of Moher
Ring of Kerry
Sept 1 $4775 Sept 15 $4705 Oct 31 $3865 Nov 28 $3485
The Scots Irish Tour- 11 days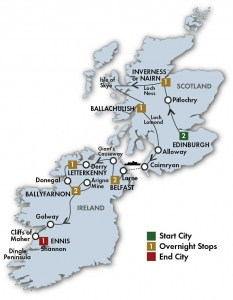 Authentic Local Experiences:
Reserved seats for the Royal Edinburgh Military Tattoo on August 4 – 20 departures.
Step aboard the Royal Yacht Britannia and see behind the scenes of the Queen's former floating home.
Sip an Irish coffee at the South Pole Inn where you'll learn about Tom Crean, an Irish explorer who bravely journeyed to the South Pole.
Full daily breakfast (except Day 1)
All on-tour transportation including shuttles and ferries
Welcome get-together drink with your group
Free Wi-Fi on coaches so you can stay connected along the way
August  11, 13, 18, $4770  Tattoo Tour included
Oct 4 $3805
Oct 16 $3545
Oct 30 $3415
TASTE OF SCOTLAND & IRELAND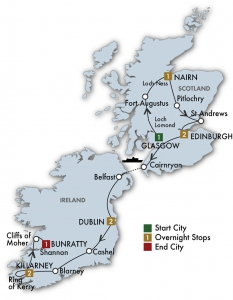 Expect an unforgettable evening of music, ceremony, theatre and dance with reserved seats for Royal Edinburgh Military Tattoo on July 30 to August 20 departures.
Enjoy farm life as you sample fresh baked scones with tea and watch a sheep herding demonstration
Discover the rich history and local lore of Edinburgh, Galway and Dublin with local guides
Trip Highlights: 10 days
Blair Athol Distillery, Blarney Castle, Cliffs of Moher, Edinburgh Castle, Loch Ness Cruise, Skellig Experience, Titanic Belfast
9 breakfasts (B), 2 lunches (L) and 6 dinners (D) including a Scottish evening in Edinburgh and a festive medieval castle banquet.
Tuesday, Fridays and Sunday departures in June & July $4255 to $4320
IRISH & SCOTTISH SAMPLER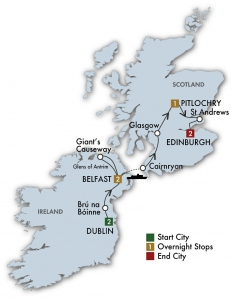 8 days/7 nights
Expect an unforgettable evening of music, ceremony, theatre and dance with reserved seats for the Royal Edinburgh Military Tattoo on July 29 – August 19th departures
Discover the unique flavors of Belfast as a local guide leads you on a fun walk of some top food and drink spots around Belfast city center.
Visit Brú na Boinne to learn about the Neolithic people who built the ancient passage tombs at Newgrange and Knowth – older than the pyramids and mysterious marvels to this day.
Trip Highlights:
Blair Athol Distillery, Dalkey Castle, Edinburgh Castle, Giant's Causeway, Pollok House, Scenic Glens of Antrim,
St Andrews, St. Michan's Church Dublin, Hillsborough Castle
7 breakfasts, 6 dinners including Taylors Three Rock Pub dinner and traditional show, a Scottish evening in Edinburgh and a tasting tour in Belfast.
August 25 $3545 Royal Edinburgh Tattoo tour
Sept 9, 16, $3095 Sept 30 $2965 Oct 7 $2645 Oct 14 $3160
IRISH PUB TOUR
8 Days, from $2450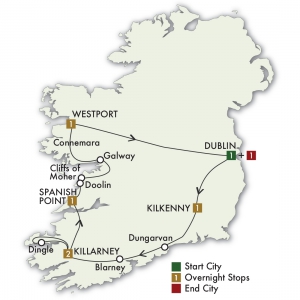 Learn about Ireland's folk traditions and tales as you explore cozy pubs around the country, including story-telling at Dublin's Oldest Pub, the Brazen Head, and dinner and music at Kate Kearney's Cottage. Visit Teeling Whiskey Distillery and Guinness Storehouse. Stay in Kilkenny, Killarney and Westport, towns renowned for lots of lively pubs.
Authentic Local Experiences
Enjoy an Irish coffee at the South Pole Inn where you'll learn about Tom Crean, an Irish explorer who bravely journeyed to the South Pole.
Discover the rich history of Kilkenny's Medieval Mile as you explore with a local guide.
Happen upon live music on a Pub Crawl through Westport, a beautiful planned town from the 18th century.
Dining Experiences
7 breakfasts, 1 lunch at McGann's Pub in Doolin and 7 dinners including The Church Cafe Bar and Restaurant, Celtic Whiskey Bar (including a Tasting and Chocolate Pairing), and the 12th-century Brazen Head Pub folk dinner.
Trip Highlights
Blarney Castle; Cliffs of Moher; Guinness Storehouse Tour; Smithwick's Experience; Teeling Distillery; South Pole Inn with Irish coffee
Dingle Peninsula; Sheepdog Demonstration
July 10, 13, 27, August 7, 10, Sept 7 $2835
Sept 14, 18 $2770; Sept 25, Oct 2 $2645; Oct 5, 9 $2515
Oct 15, 19, $2450
South of Ireland Escape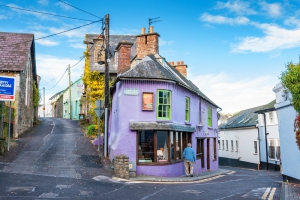 6 day tour from Limerick to Dublin
Travel through Ireland's rugged landscapes and welcoming locales during the off season
and see your luck change! From Limerick to Dublin, you'll experience the beauty and charm of the Emerald Isle.
Take an excursion from Limerick to the spectacular Cliffs of Moher.
Explore the buzzing harbour city of Galway, and be amazed at the 100-mile panoramic drive on the Ring of Kerry.
From the town of Killarney, travel to Blarney and get a chance to kiss
The Stone of Eloquence. Enjoy free time in the picturesque fishing-port town of Kinsale.
Take in the old-world charm of Kilkenny, then continue to Dublin's "Fair City" for an orientation drive to
see O'Connell Street's statues, red-brick townhouses of the Georgian squares,
Trinity College, and St. Patrick's Cathedral. Find the luck of the Irish on an off-season escape and guided tour of Ireland.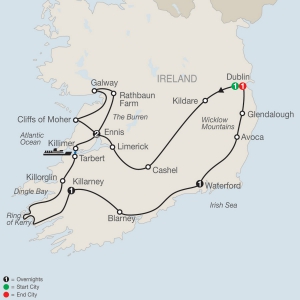 Land Only
November 3, 10, 17 $889
December 01, 08, 15 $889
Prices are per person in single, double or triple room occupancy.
WILD ATLANTIC WAY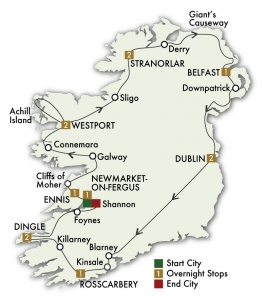 2019 Ireland's Wild Atlantic Way 13 days/12 night Land Tour
TOUR HIGHLIGHTS
Authentic Local Experiences
Spend a day exploring Achill Island, with its soaring cliffs, windswept beaches, rich heritage and deserted boglands.
Get a taste of the Sligo Food Trail with a foraging adventure, followed by a tasting of the wild edibles you find.
Dining Experiences
12 breakfasts (B), 3 lunches (L) and 9 dinners (D) including Abbey Tavern traditional Irish dinner and show, and a festive medieval castle banquet
Trip Highlights
Cliffs of Moher; Down Cathedral; Giant's Causeway; Jaunting car ride in Killarney
Sheep Herding Demonstrations; Sligo Food Trail; Titanic Belfast; Westport House
Aug 19, Sept 2 2019 $4385
July 1, August 26, Sept  23, 2019 $5225
Oct 7, 2019 $4000
IRISH ESCAPE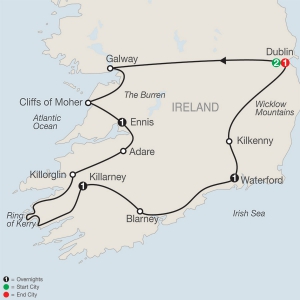 7 day tour Dublin to Dublin
Escape to the lush landscapes, charming cities, and friendly people of Ireland during the low season so you can experience it all without the crowds and, most importantly, without the high-season prices. This Ireland tour is an ideal introduction to the Emerald Isle for first-time visitors who have limited time. You'll relish in some of Ireland's most magnificent scenery as well as its most famous towns. You'll start and end in Dublin, and you'll also have overnights in Ennis, Killarney, and Waterford. Highlights of this tour include the 668-foot Cliffs of Moher on Ireland's west coast, where you'll savor breathtaking views of these sheer cliffs dropping into the ocean, and the Ring of Kerry, a 100-mile panoramic drive through rugged and awe-inspiring landscapes. Words cannot capture the magnificence of this natural beauty; it must be witnessed in person!
You'll also have time to enjoy bustling Dublin, the "Fair City," Adare with its pretty thatched cottages; medieval Waterford, home to the famous crystal; and Kilkenny, one of Ireland's prettiest and liveliest towns. From the scenic beauty to the unique interactions and experiences with the down-to-earth locals, this Ireland tour is sure to delight all of your senses, and at a price you just can't miss!
7 nights land only tour
Nov 2, 6, 9, 13, 16, 17, 20, 23, 27, 30 2019 $1179
Feb 15, 16, 22, 23, 29, March 1, 4,7, 8, 11, 14, 15, 18, 21, 22, 25, 2020 $1179
Dec 1, 7, 8, 14, 15 $999
Jan 4, 5, 11, 12, 18, 19, 25, 26, $999
Feb 1, 2, 8, 9 $999
NORTHERN IRELAND ESCAPE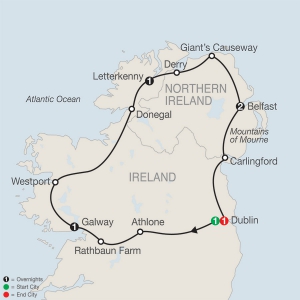 Escape to the beauty and history of the "Emerald Isle" on your guided tour of Ireland.
Begin your escape into the green farms and sweeping seashores without the large crowds
or costs of the "busy" travel season. You'll begin in the fair city of Dublin.
See the statues lining O'Connell Street—Dublin's main thoroughfare with its
red-brick townhouses and colourful doors behind the wrought-iron fences of elegant Georgian squares.
You'll also see Trinity College and St. Patrick's Cathedral along the way.
Leave the bustle of Dublin for the green landscapes of Ireland's fields, with a visit to Rathbaun Farm.
You'll see a sheep-dog corral sheep, and be invited to bake your own scones in the farmhouse kitchen.
You'll travel on to West Ireland's colorful harbor city of Galway, with its vibrant shops,
cafés, and traditional Irish pubs. You'll travel to Northern Ireland—
passing through Westport, Donegal, and Letterkenny. Enjoy a guided walk in Derry's Old Town,
and visit the amazing natural formation of Giant's Causeway—
massive basalt columns that dramatically extend across the seashore.
Spend two nights in Belfast, with plenty to see in Northern Ireland's capital city,
including the fascinating Titanic Experience.
You'll stop in Carlingford on your return trip to Dublin.
This Cooley Peninsula town is famous for its oyster farms, medieval buildings,
and 12th-century King John's Castle which overlooks the city.
Spend the last night of your escorted tour of Ireland where you began, in Dublin.
You'll see why this escape through Ireland's beauty and history is made even better
without the crowds of the high season on your affordable, guided Ireland vacation.
7 nights land only
Nov 2, 23, 9, 10, 16,17, 23, 24, 30 $999
Dec 1, 7, 8, 14, 15 $999
Jan 5, 12, 18, 19, 26 $999
Feb 1, 2, 9, 15, 16 ,23 $999
March departures $1139
INTRODUCTION TO IRELAND
This Ireland tour is an ideal introduction to the Emerald Isle for first-time visitors who have limited time. You'll experience some of Ireland's most magnificent scenery as well as its most famous towns. You'll start and end in Dublin, and you'll also overnight in Ennis, Killarney, and Waterford. Highlights of this tour include the 668-foot Cliffs of Moher on Ireland's west coast, where you'll savor the breathtaking views of these rugged cliffs dropping into the ocean, and the Ring of Kerry, a 100-mile panoramic drive through rugged and magnificent landscapes. Words cannot capture the magnificence of these natural beauties; you must witness them in person!
You'll also enjoy guided tours of the House of Waterford Crystal, where you'll see the highly-skilled artisans at work in the production of this famous crystal, and the Irish National Stud in Kildare, home to thoroughbred champions. Plus, Globus has arranged special experiences to give you a true local perspective. For example, you'll enjoy coffee and scones that you'll bake at Rathbaun Farm, a picturesque thatched farmhouse where you'll learn about Ireland's sheep-farming practices. You'll also enjoy an Irish coffee demonstration in Waterford.
From the scenic beauty to the charming experiences, this Ireland tour is sure to delight all of your senses!
JULY 4, 7, 11, 21, 28 $2288
AUGUST 1, 4, 8, 15, 18, 22, 25, 29 $2288
SEPTEMBER 1, 5, 8, 12, 19, 22, 26, 29, OCT 6 $2288
OCTOBER 13 $2212
OCTOBER 20 $2136
Country Roads of Ireland
April to September 2019 – 12 days from $3895 per person
Experience the wild, enchanting coastal routes as you explore the Emerald Isle. Along the way you'll encounter ruined castles, quiet lakes, natural wonders and legendary characters.
HIGHLIGHTS
Dublin: During your orientation with the Travel Director, see the Custom House, Guinness Storehouse, Dublin Castle and the Georgian townhouses as you travel down O'Connell Street and along the River Liffey.
Cahir: See one of the largest castles in Ireland.
Cork: Relish this university city with its interesting waterways and grand Georgian parades of houses.
Blarney: Dangle from the ramparts to kiss the Stone of Eloquence, and never be lost for words again!
Killarney: Enjoy hearing of the history of Killarney during your city orientation.
Ring of Kerry: Venture into a world of towering cliffs, lush lakelands and remote villages, as you travel the magical Ring of Kerry. Journey through Sneem, pass the Black Mountains, Moll's Gap and admire Queen Victoria's Ladies View.
Dingle Peninsula: Enjoy a scenic drive to Slea Head.
Adare: Experience a village walk through the main street lined with thatched cottages.
Cliffs of Moher: Stop by the Exhibition Centre and overlook the Wild Atlantic Way from these majestic cliffs.
Galway: Enjoy an orientation tour of the many landmarks in Galway such as the Lynch Memorial, Church of St. Nicholas, Spanish Arch and Eyre Square.
Drumcliffe: Visit the final resting place of Irish poet William Butler Yeats.
Giant's Causeway: Learn about the towering hexagonal basalt columns – a geological spectacle to behold.
Ballygally: Explore this seaside town with your Travel Director.
Carrickfergus: See the immense Castle as your drive around it.
Scenic Drives: Irish scenery is some of the most beautiful in the world. Relax and admire the views as your travel past the Derrynasaggart Mountains, the Ring of Kerry, Dingle Peninsula, Burren, the Blue Stack Mountains of Donegal and the Antrim Coast.
Very limited space available! Contact Sundial Travel today