Cancun, Mexico
A popular spot among tourists nested on the tip of Mexico's beautiful east coast, Cancun features sunny beaches and luxurious resorts alongside historical Mayan ruins and a myriad of exotic, colourful creatures. Cancun's tourist resorts are especially renowned for their comfort and customer service. Enjoy the warm weather with a cold drink as the welcoming resort staff caters to your every whim. For tourists seeking a relaxing getaway, Cancun is the ultimate destination. However, those seeking an adventure could spend a lifetime exploring the remnants of the Mayan civilization that are spread throughout the area, some of which have been partially preserved and restored for the benefit of visitors. But no matter how one chooses to spend their time in Cancun, they're sure to experience the gorgeous scenery and sunshine.
Click on Chichen Itza to book excursion!

TOP 5 ACTIVITIES
CANCUN
A catamaran ride to Isla Mujeres & the underwater sculpture museum
Dive in a cenote (sink hole) – there's nothing like it!
Play tropical golf or take a lesson
Boat or jet-ski around the Nichupte Lagoon
Shop till you drop in one of the large open-sky malls
Grand Oasis Cancun – Cancun's only casino resort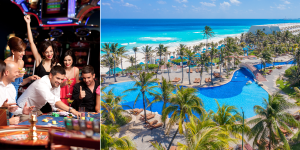 Located at the all-inclusive Grand Oasis Cancun, Red Casino is Cancun's only casino a resort – accessed from the hotel lobby, you'll find a wide variety of classic casino games with favourites such as roulette, blackjack, poker, slot machines, and a lot more! This beachfront resort boasts the ultimate Vegas-style experience with spectacular live entertainment, international dining, trendy bars, quarter-mile pool, opulent spa, and multiple beach clubs.
For an upgraded experience, The Pyramid at Grand Oasis is a luxurious resort-within-a-resort located on the same complex; guests enjoy everything Grand Oasis Cancun offers plus exclusive award-winning gourmet restaurants, bars, private beach clubs, and adults-only suites.
Effective April 1st, 2021, all foreign tourists to the state of Quintana Roo (which includes Cancun) must pay a new tourist tax of $224 Mexican pesos (approximately $14 CAD) per person. The tax is required for every traveller 15 years of age and older, and must be paid prior to departure from Quintana Roo.
Hotels are not involved with the collection of this tax. Your clients can pay the tax themselves or you can do it for them via the new VISITAX government website:  https://www.visitax.gob.mx/sitio/
Payment can be made either before or during their stay by filling out a quick form on the VISITAX website.  https://www.visitax.gob.mx/sitio/  Tourists travelling together can be included on the same form and processed as one transaction. The form will ask for number of people travelling, names, ages, passport number of each individual, and departure date.
Upon payment, the website will provide you with an individualized receipt for each traveller.
Once your clients have concluded their stay in Quintana Roo, they must show their receipt at the airport prior to boarding. Last minute payments can also be made with cash at Cancun International Airport.
Hyatt Ziva Riviera Cancun 5*
Puerto Morelos, Mexico  Opening September 2021!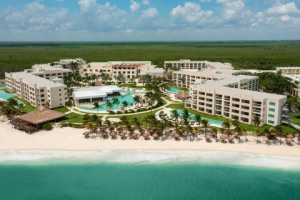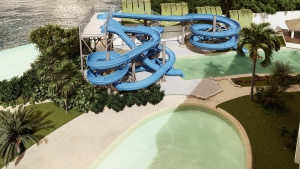 Hyatt Ziva premium all-inclusive resorts capture the delightful and vibrant experiences families seeking quality time with their loved ones need. Guests can make unforgettable family memories through effortless, on-site activities, a wide variety of culinary offerings reflecting local and global cuisines, and service from the heart designed to cater to multiple generations.
Surrounded by lush jungle and sparkling waters, Hyatt Ziva Riviera Cancun guests can uncover a true vacation paradise.
Unique room accommodations: The resort boasts luxurious and spacious suites with private balconies featuring stunning ocean views and special touches, including spa-like bathrooms with rainfall showers, hot tubs, turndown service, high-tech entertainment and complimentary minibars.
Expansive food and beverage offerings: Hyatt Ziva Riviera Cancun offers a variety of amenities including 17 globally inspired and locally authentic restaurants, bars, and lounges.
Water fun for everyone: Enjoy nine swimming pools including an ocean-view pool and a sprawling water park with tall slides and a kid's pool.
Wellbeing experiences: The resort also features a fitness center with state-of-the-art amenities, and a two-story Zen Spa inspired by pre-Hispanic Mayan culture with 13 indoor and eight outdoor treatment rooms designed to reflect the breathtaking, natural scenery.
Margaritaville St Somewhere
Holbox Island, Mexico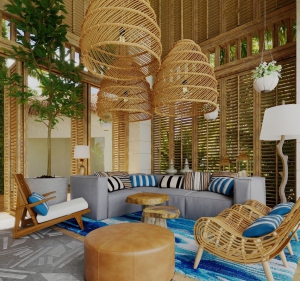 Margaritaville St. Somewhere Resorts, a new collection of casual luxury boutique resorts carefully curated for travelers seeking rejuvenation and relaxation in an intimate, personalized setting. This first location makes its debut in late 2021 with St. Somewhere Resort Punta Coco, Holbox Island in Mexico, operated by our partners at Karisma.
Isla Holbox is located off Quintana Roo, northwest of Cancun and just across the water from the port of Chiquila on the north coast of the Yucatán Peninsula. It's a long, narrow island one mile wide and 26 miles long, known for its calm, warm waters which reflect the jewel tones of the ocean. Residents and visitors enjoy swimming, fishing, standup paddle boarding, hiking, kayaking, and snorkeling. Don't leave without sampling the local cuisine with everything from fresh-caught seafood and Mexican craft beer to fresh-baked pastries for breakfast.
At the new St. Somewhere Resort, expect an intimate island location surrounded by the raw beauty of Isla Holbox, combined with exceptional service and distinctive guest experiences. Designed to appeal to both couples and families, St. Somewhere Resort will encompass the laid-back, escapist lifestyle Margaritaville fans know and love, with yacht-inspired architecture and its own boutique luxury twist. If you're looking to get off the grid yet keep your modern conveniences, St. Somewhere Resort Punta Coco, Holbox Island should be at the top of your list.
SUITES BY THE SEA
The resort's 39 suites, all accessible from the first floor, showcase colors and accents inspired by the sea and the greenery that surrounds the property, like whitewashed furniture, natural parota wood tables created by expert craftsmen, and more. With seven luxurious suite types to choose from, including options for plunge pools or direct access to the main pool and swim-up bar, in-room refreshment centers and sparkling water views, St. Somewhere Holbox invites guests to enjoy life by the sea.
Sensira Resort & Spa Riviera Maya 5*

Sensira Resort and Spa has 359 guest rooms and suites on Petempich Bay, near Puerto Morelos.
The property is also home to an adults-only wing called Amber, whose accommodations include exclusive amenities, butler service and access to a special lounge.
The resort features 13 restaurants and bars, from a snack bar called Las Brisas to La Finca de Ana, a Mexican restaurant with a gourmet menu.
The property's fine-dining eatery is Galeria des Sens, which includes a menu curated by leading Mexican Chef John Bertrand.
Treasure every moment of living with your family in this room, designed so that each one has their own space, their own setting but the same memory for life. These rooms have a separate space for children with three-level bunk beds and their own television and children's decoration, as well as another space for parents with a King Size bed and in some rooms with an additional Queen Size bed; minibar with drinks and nutritious snacks for the little ones. Capacity from 3 to 7 people.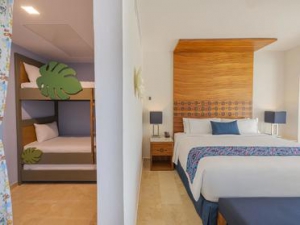 Oleo Cancun Playa 3+*
Cancun, Mexico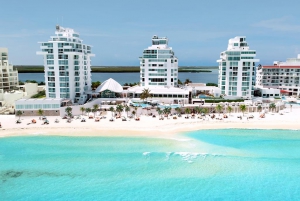 The All-Inclusive Plan at OLEO Cancun Playa includes a wide range of innovative services, which facilitate an unforgettably pleasurable experience in this Boutique Resort. Having as a priority the unbeatable personalized service for every guest, the hotel will conquer the heart of those who are looking for a moment of rejoicing facing the most privileged panoramic views of the Caribbean Sea.
As part of the ÓLEO Artist Service® all guests can enjoy:
VIP Concierge to take care of special requests before, during and after the stay.
Total-Rest Beds®, to ensure a repairing and renewing sleep with beds, pillows and sheets of exceptional quality.
Bathroom amenities for body care.
Bathrobes in all rooms and suites.
Minibar with water and soft drinks, restocked daily.
Room Service Menu available during the entire stay.
ÓLEO Scents®, our aromatherapy in select public areas.
Sun & Treats®, a personalized waiter service in pool and beach areas.
Tea-time®, an exclusive tea station with a select variety of flavors.
Complimentary broadband Wi-fi in the entire resort.
Now Natura Riviera Cancun 4+*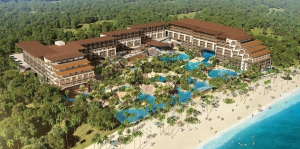 Opened March 1, 2020
This all-new Now Resort & Spa features well-appointed rooms and a variety of Unlimited-Luxury® offerings, including:
Nature elements around the resort, including an exotic fish pond
Cenote-inspired Now Spa by Pevonia®, offering guests the ability to pamper themselves with a variety of luxurious offerings
The Explorer's Club for Kids, featuring activities for children ages 3 to 12 supervised by Red Cross certified staff, offering programs with different activities based on science, nature and exploration.
The Core Zone Teens Club, a two-story entertainment center for teens ages 13-17, featuring daily activities and a vast array of sports and games for teenagers, including a variety of board games, video games and activities
Six bar options offering top-shelf brand domestic and international top-shelf spirits, including non-alcoholic bars for teens
Seven restaurant options ranging from kid-friendly to adults-only with options including kid-friendly menus, buffets, international à la carte restaurants, grilled snacks, a café and an ice cream parlor
A main infinity pool, activities pool and adults-only pool
We are also excited to share the following amenities are coming in April 2020:
Water park, including a children's splash pool, lazy river, a waterslide and a Rollglider aerial ride
Tennis court