Caribbean Holiday
Paradise in the bright blue Atlantic, the Caribbean islands are known for their beautiful weather and vibrant culture. It's a popular destination for tourists year-round thanks to the consistently warm weather, but it's the lifestyle that's the most alluring. Caribbean festivals are famous for their extravagance and excitement, and the celebrations are just as colourful as the scenery. And by the time the bustling dance floors and bars empty out, the region's sunny beaches will already be starting to liven up. Whether it's for sightseeing, sun-bathing, or scuba-diving, visitors will always find the exotic adventure they're looking for in the Caribbean islands.
Caribbean Colombia Express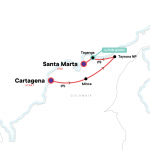 8 days
Take it from us — the nature of Colombia and the Caribbean is like nowhere else on Earth. On this one-week trip packed with active highlights and laid-back moments, you'll get the best of beach relaxation and wilderness exploration. Beach time and Tayrona National Park are on the bill here, including chances for hikes down picturesque trails and spending time with the Gotshezhy Wiwa Indigenous community to learn about their customs and traditions. Get back to nature in the jungle town of Minca — it's the great outdoors with a chill Caribbean twist.
2023:
Jan 7, Feb 11 $1784
March11,  April 8, 15, 22 $1854
May 6, 13, 20 June 3, 10, 17 $2294
Book by Dec 7, 2022
CLASSIC BELIZE & TIKAL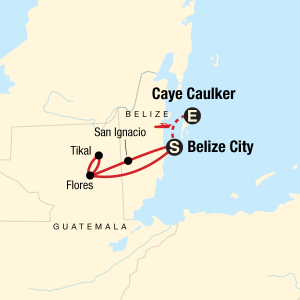 9 days, Belize City to Caye Caulker
If we had to describe the Belizean pace it would be somewhere between slowly rolling waves and the inquisitive speed of a ruin explorer. Embracing just that mix of curious and chill, this nine-day itinerary will let you tour Mayan ruins, cycle around stunning islands, and enjoy plenty of time to hang out on the beach or dive into the famous Blue Hole. Be speedy, or a bit sloth-like — we'll help you discover Central America either way.
2023:
Jan 7, Feb 4, 11, 18 $1189
Mar 4, 18, April 1, 15, 29 $1133
May 20, June 3, 17 $1384
Book by Dec 7 ,2022
Grand Memories Splash 5*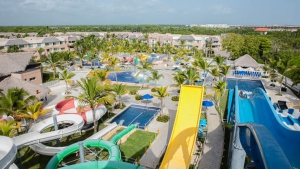 Located only a short walk away from one of the most pristine and beautiful stretches of Bavaro Beach, Grand Memories Splash is perfectly situated in a lush tropical setting, offering a new concept in all-inclusive resorts with unparalleled service and deluxe accommodations that perfectly fit into the genuine and magical ambiance of the Caribbean coast. This resort offers the savvy traveller access to a beautiful beach, golden sand, and an abundance of accommodation options with high-quality amenities. Grand Memories Splash caters to both couples' and families' unique vacation needs. With diverse dining options, indulge in the romance of the Mediterranean at the resort's Italian à la carte restaurant, which offers the perfect ambiance for special occasions and celebrations, or embark on a thrilling seafood adventure at the popular restaurant 'Under The Sea'.
Muthu Playa Varadero
Renovated a year ago, Muthu Playa Varadero, formerly known as Coralia Club Playa de Oro, is an all-inclusive, 5-star hotel very popular. Offering 385 rooms, the complex purchased by an Indian group will appeal to families. Next year, the hotel located 35 km from Varadero airport will add an Indian restaurant to its gastronomic offer; it will be the first of its kind in Varadero. The resort rooms will also be completely renovated shortly.
MGM Muthu Hotels will also open a 5-star resort complex for the LGBTQ market next year, the Gran Muthu Rainbow Cayo Guillermo, which will be the first to address LGBTQ customers in Cuba.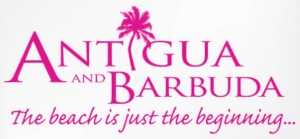 Save $200 per room with a minimum 7-night stay at hotels and resorts in Antigua.
Book for travel between August 4 and December 20, 2019!
Are you ready to visit the home of the Caribbean sun? Antigua is the sunniest island in the Caribbean and boasts 365 beaches – one for each day of the year. Discover the luxury of this eastern Caribbean island as it offers up world-renowned sailing, snorkelling and a history rife with exploration and adventure.
You can explore a unique rainforest in Antigua
There are many opportunities for active vacationers visiting Antigua. For nature enthusiasts looking to escape the heat, hike one of six trails at Wallings Nature Reserve, under a canopy of dense rainforest. Adventure seekers can zip line 350 feet high above the trees, for an unforgettable trip with Antigua Rainforest Canopy.
Antigua boasts 365 beaches & one of them is pink!
Barbuda is the sister island to Antigua and can be reached by small plane, helicopter or the most popular – an affordable ferry service. In just 90 minutes, your clients can step onto this idyllic island and immerse themselves in its natural beauty.
The picturesque Low Bay beach is composed of fine white sand and tiny pink sea shells washed ashore to give it a striking pink colour. The turquoise waters are perfect for swimming, snorkelling and spotting a variety of tropical fish rays and sea turtles.
One of the attractions of Antigua and Barbuda is the variety of accommodations on offer.
There are many deluxe properties catering to those in search of a high end luxury vacation. And there are also a variety of ITC choices such as the newly opened Royalton and the family friendly bungalow offered at the Verandah Resort and Spa. This property is offered by WestJet Vacations and is a great value option. The bungalows face two stunning beaches which Antigua is famous for.
Suites are equipped with a kitchenette, King bed and Queen size sleeper sofa to accommodate families. Amenities include four restaurants, 3 pools an on-site Kid's Club and 18-hole Mini Golf.
Jamaica
From the glorious glow of its sunsets, to the unique and engaging ways of its people, its alluring white sandy beaches, lush green mountains and sparkling waterfalls. The beauty of this island paradise has drawn visitors for centuries.
The Jamaican people are heavily reliant on tourism for their living. Fortunately, they have plenty to offer. This tiny island was home to the one and only Bob Marley. It was here that Ian Fleming wrote his James Bond novels. The clear waters and colourful reefs are perfect for scuba diving or snorkeling. There are fascinating historical sites such as plantations and old Georgian architecture. Everyone will be able to savour the spirit of Jamaica, which is as rich as the lilt of the local patois and the rhythms of the reggae music for which the island is famous.
ARUBA
Aruba is the smallest and most Western island of the Dutch Antilles, which, known locally as the ABCs, also include Bonaire and Curaçao. Aruba is a popular cruise destination. The beaches are so perfect they're almost cliched: miles of white, sandy beaches, turquoise waters and the requisite year-round sun. Over a million visitors arrive on this tiny island each year, enticed by its luxury resorts, first-class restaurants, 24-hour casinos and excellent watersport facilities.
Most visitors stay either in the capital, Oranjestad, or just to the north in one of the many resort complexes on Eagle and Palm beaches. The remainder of the island is much less developed and in the arid interior there is nothing more substantial than cacti and divi-divi trees, contorted by the consistently strong trade winds. For those who need more than sunbathing to get their kicks, there are plenty of activities available on the island. There is good diving and snorkelling along the reef on the protected leeward coast and the windsurfing is excellent a little further north at Fisherman's Hut. Deep-sea fishing can also be arranged through many of the hotel
Pineapple Beach Club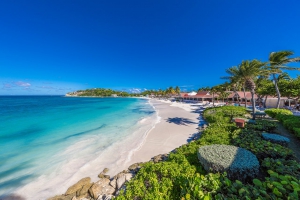 The Elite Island Resorts collection, boasts that the Pineapple Beach Club on Antigua, is the most laidback all inclusive adult only resort and is favoured by Canadian tourists. Snorkelling in the clear blue Caribbean sea, or take a sunset cruise on the
hobie cats. The resort offers stand-up paddle boarding, kayaking, swimming, windsurfing and tennis. Dive excursions
are also offered at a sister hotel the St Jame's Club. Two golf courses close by for the avid golfer.
The resort has a fitness centre and spa for full body treatments, yoga, & volleyball.