Caribbean Holiday
Paradise in the bright blue Atlantic, the Caribbean islands are known for their beautiful weather and vibrant culture. It's a popular destination for tourists year-round thanks to the consistently warm weather, but it's the lifestyle that's the most alluring. Caribbean festivals are famous for their extravagance and excitement, and the celebrations are just as colourful as the scenery. And by the time the bustling dance floors and bars empty out, the region's sunny beaches will already be starting to liven up. Whether it's for sightseeing, sun-bathing, or scuba-diving, visitors will always find the exotic adventure they're looking for in the Caribbean islands.
FREE Sailing Days!
Enjoy more exciting ocean sailing and tropical breezes with your favourite crew this year.  Book your vacation during the month of June and get a day or two of fun on us with our FREE Sailing Days* promotion!
*Offer Details
1 FREE day when you book a 7-day charter
2 FREE days when you book a 14-day charter
Destinations: Abacos, Antigua, Belize, British Virgin Islands, Grenada, St. Lucia, St. Martin
Travel dates: June 4 – December 13, 2019
Receive your FREE days by calling our vacation planners
Air Canada Vacations Winter Early-Bird Sale
$500 off per family + FREE travel protection with a deposit of only $50 per person!
Book by Jun 30, 2019
Take $500 off per family or $300 off per couple!
+ FREE Travel Protection* with a deposit of only $50 per person
Applicable to: vacation packages in Mexico, the Caribbean, South & Central America
*Get Air Canada Vacations CareFree & CareFlex Travel Protection plans FREE
Exclusive travel protection plans let you book vacations with peace of mind.
• The trusted CareFree plan makes travelling less stressful so you can focus on having a perfect vacation.
• The new CareFlex plan allows you to change your booking, transfer your package, and cancel with a full refund up to 3 days before departure.
Be sure to ask our travel advisor about these plans!
The Caribbean & Mexico
Where to go? That's the only question you'll have to ask yourself before experiencing your dream all-inclusive vacation in Mexico or the Caribbean. With so many sun destinations to choose from, your stay can be relaxing, inspiring, bold, or luxurious…anything you want it to be and more! From white-sand beaches to lush landscapes where the sun always shines, the choice is yours.
SINGLES WEEK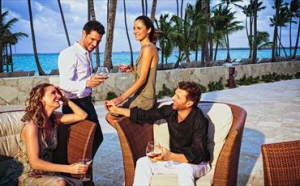 October 7 to 14, 2019
Barceló Hotel Group is pleased to invite you back to its successful Singles Week, which brings together singles from all over the world. Come and enjoy the Barceló Bávaro Beach – adults-only, oceanfront resort, with over a mile of fine white sand and protected by a coral reef, making the sea a magnificent natural swimming pool.
Nestled along Bávaro Beach and the Caribbean Sea, discover the adults-only, 24-hour all-inclusive Barceló Bávaro Beach – part of the Barceló Bávaro Grand Resort. With more than 580 rooms and suites, three restaurants, two bars and a large swimming pool, guests also enjoy full access to the entire Barceló Bávaro Grand Resort. Premium Level accommodations offer spectacular views, unlimited access to specialty restaurants, 24-hour room service, and more.
Discover this fantastic experience and enjoy an unforgettable vacation in the best Adults-Only resort in the Caribbean, the Barceló Bávaro Beach. In addition, enjoy dinners, themed parties, music, games, pool and beach parties, cocktails, excursions, photos and so much more.
7 NIGHTS ALL INCLUSIVE October 7 to 13, 2019
Based on double occupancy
Departing:
Calgary $1204
Edmonton $1195
Vancouver $1225
Regina $1265
Saskatoon $1195
Winnipeg $1140
Tornto $977
Ottawa $1099
Halifax $1225
Jamaica
From the glorious glow of its sunsets, to the unique and engaging ways of its people, its alluring white sandy beaches, lush green mountains and sparkling waterfalls. The beauty of this island paradise has drawn visitors for centuries.
The Jamaican people are heavily reliant on tourism for their living. Fortunately, they have plenty to offer. This tiny island was home to the one and only Bob Marley. It was here that Ian Fleming wrote his James Bond novels. The clear waters and colourful reefs are perfect for scuba diving or snorkeling. There are fascinating historical sites such as plantations and old Georgian architecture. Everyone will be able to savour the spirit of Jamaica, which is as rich as the lilt of the local patois and the rhythms of the reggae music for which the island is famous.
ARUBA
Aruba is the smallest and most Western island of the Dutch Antilles, which, known locally as the ABCs, also include Bonaire and Curaçao. Aruba is a popular cruise destination. The beaches are so perfect they're almost cliched: miles of white, sandy beaches, turquoise waters and the requisite year-round sun. Over a million visitors arrive on this tiny island each year, enticed by its luxury resorts, first-class restaurants, 24-hour casinos and excellent watersport facilities.
Most visitors stay either in the capital, Oranjestad, or just to the north in one of the many resort complexes on Eagle and Palm beaches. The remainder of the island is much less developed and in the arid interior there is nothing more substantial than cacti and divi-divi trees, contorted by the consistently strong trade winds. For those who need more than sunbathing to get their kicks, there are plenty of activities available on the island. There is good diving and snorkelling along the reef on the protected leeward coast and the windsurfing is excellent a little further north at Fisherman's Hut. Deep-sea fishing can also be arranged through many of the hotel
Pineapple Beach Club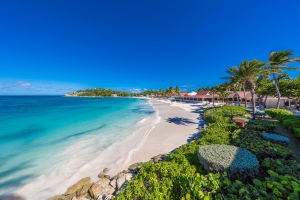 The Elite Island Resorts collection, boasts that the Pineapple Beach Club on Antigua, is the most laidback all inclusive adult only resort and is favoured by Canadian tourists. Snorkelling in the clear blue Caribbean sea, or take a sunset cruise on the
hobie cats. The resort offers stand-up paddle boarding, kayaking, swimming, windsurfing and tennis. Dive excursions
are also offered at a sister hotel the St Jame's Club. Two golf courses close by for the avid golfer.
The resort has a fitness centre and spa for full body treatments, yoga, & volleyball.
Viva Wyndham Fortuna Beach, Freeport Bahamas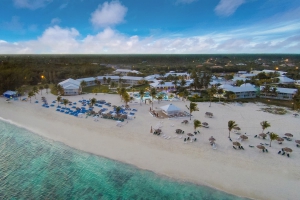 Viva Wyndham Fortuna Beach is situated overlooking a nearly 4,000 square feet stretch of white sand beach and crystal clear water. The island is home to the largest coral reef system in the world and 18 native bird species. The resort's onsite restaurants feature an eclectic blend of local cuisines with elements of international flavors, including Asian, Italian, Caribbean and American.
Viva Wyndham Fortuna Beach's all-inclusive package includes an extensive line-up of entertainment and activities such as trapeze, introductory dive lessons, water polo, paddle boarding, tennis, a gym and more.
A Tropical Resort Like No Other