Germany
Germany is known for its beverages, history, and landscape, but as one of Europe's largest and most diverse nations it has so much more to offer. Its regions vary in size and culture, each offering a different side of the country for its many visitors to experience. Beautiful historic architecture can be found throughout the country, including numerous palaces such as Neuschwanstein Castle and Nymphenburg, whose halls are open to touring sight-seers.
Despite the appearance of its old-world architecture, Germany is a very modern, progressive country with plenty of opportunity for shopping, live theatre, and enjoying the region's fine food and drink. German beer is especially famous for its craftsmanship and variety, which is celebrated annually with Oktoberfest, making fall a fantastic time to visit. Skiers will also revel in their chance to ride the Bavarian Alps , while others will still be able to appreciate the beauty of the vast mountain range. Germany offers its visitors a uniquely European mix of old and new culture amongst unparalleled aesthetic wonders.
---
---
Imperial Splendors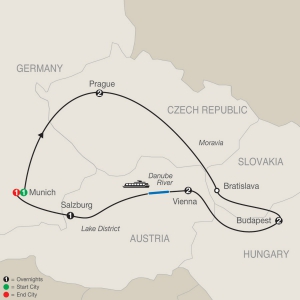 10 Day Tour from Munich to Munich
This tour is a magnificent journey through the former Habsburg Empire. It starts and ends in Munich with an orientation of the city. Along the way, you will overnight in Prague, Budapest, Vienna, and Salzburg.
You will enjoy guided sightseeing of the must-see attractions: in Prague, visiting the 1000-year-old Hradčany Castle grounds, the largest castle complex in the world, and the Astronomical Clock, built in 1410 and once the envy of all Europe; in Budapest, enjoy a panoramic view of the city from Fishermen's Bastion and visit 13th-century Matthias Coronation Church, the coronation spot of several Hungarian monarchs; and in Vienna, where, among the many sights, you'll visit awesome St. Stephen's Cathedral, a symbol of Vienna. In Salzburg, your walking tour includes beautiful Mirabell Gardens and magnificent Residenz Square.
2021:
April 18 $2996 May 1 $3059 May 16 $3329 May 30 $3095
June 13 $3689 June 27 $3032
July 11 $2095 July 25 $3212
Aug 8 $3095 Aug 22 $3023
Sept 5 $3194 Sept 19 $3599
GERMAN ESCAPE
7 DAY TOUR FROM BERLIN TO MUNICH
When you think of Germany, what comes to mind? Varied and beautiful countryside, medieval towns with their old-world charm, a contrasting capital city where history has blended old and new styles together, or perhaps savoring German food with a stein of beer. All of this and more is included on this marvelous guided tour of Germany from Berlin to Munich. Sightseeing in each city includes the must-see attractions. In Berlin, you'll visit Kaiser Wilhelm Memorial Church, badly damaged during the war and today a symbol of reconciliation. During your orientation in Dresden, visit the courtyard of Zwinger Palace, one of Germany's best-known baroque buildings. In Munich, visit the lively Marienplatz. Here, observe the famous Glockenspiel, which re-creates a 16th-century wedding.
Step back in history with a Local Guide when you visit Augsburg, one of Germany's oldest cities. Globus treats you to an incomparable experience—an overnight in medieval Rothenburg with its ramparts and towers, cobblestone lanes, and 16th-century houses. A farewell dinner at a local restaurant in Munich completes your German experience. Throughout this escorted tour of Germany, your Tour Director will share the ins and outs of its history, secrets, culture, and language. So all you have to do is sit back, relax, and enjoy this fantastic German Escape
2021: Feb 14, 21, 28 $1129 March 7, 14 $1299
Prices are per person in single, double or triple room occupancy.
Bavarian Highlights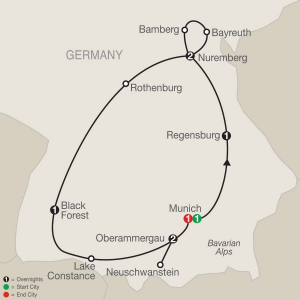 9 Day Tour from Munich to Munich
Lederhosen, Oktoberfest, pretzels, a beautiful Alpine backdrop, excellent beer, storybook castles, and medieval towns… this is Bavaria and on this Germany tour, you'll experience Bavaria's highlights. You'll overnight in Munich, Regensburg, Nuremberg, the Black Forest, and Oberammergau, and you'll visit many medieval towns along the way.
2021:
May 16 $2735 May 30 $2798
June 13, 27 $2879
July 11 $3041 July 25 $2798
Aug 8, 22 $2798
Sept 5 $2879 Sept 19 $3077
German Vista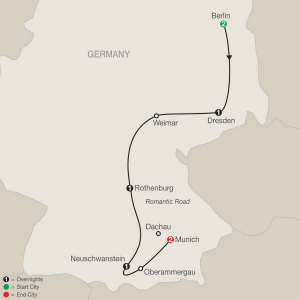 8 Day Tour from Berlin to Munich
Sightseeing in the main cities includes the must-see sights. Among the many attractions in Berlin, you'll visit Kaiser Wilhelm Memorial Church, badly damaged during the war and today a symbol of reconciliation. During your walking tour in Dresden, visit the courtyard of Zwinger Palace, one of Germany's best-known baroque buildings. In Munich, visit the lively Marienplatz with its Old and New Town Halls. Here, observe the famous Glockenspiel, which re-creates a 16th-century wedding. You'll also visit Weimar, where you'll enjoy a pleasant orientation walk through the town to its pretty market square, and in Oberammergau, see the theatre where the Passion Play is held every ten years. Highlights of this Germany tour are a drive along the Romantic Road past small villages to visit Neuschwanstein Castle, the fairy-tale castle of King Ludwig II nestled in the beautiful Bavarian Alps. Another unique experience Globus has included on this Germany tour is an overnight in medieval Rothenburg with its ramparts and towers, cobblestone lanes, and 16th-century houses. Of course, no vacation to Germany is complete without experiencing a lively Biergarten, and Globus has included a farewell dinner at one in Munich.
Per person rates based on double occupancy in Canadian dollars
2021:
May 16 $2321 May 23 $2501 May 30 $2321
June 6 $2321 June 13 $2798 June 20 $2321 June 27 $2555
July 4, 11, 18, 25 $2285
aug 1, 8, 15, 22 $2285 Aug 29 $2726
Sept 5 $2438 Sept 12 $2708 Sept 19 $3113 Sept 26 $2708