Greece
The birthplace of the Olympics and democracy, Greece is a country with an extraordinarily grand history that's been kept alive through the preservation of ancient architecture and cultural sites. The capital city of Athens is home to many such marvels, including the Pantheon temple on the Acropolis and the historic Plaka district. Other regions of the country, however, feature their own dazzling sights and landmarks, which include renowned Mediterranean beaches alongside forested, mountainous topography such as the famous Mount Olympus, mythological home to the ancient Greek gods. Greece is also known for its spectacular Mediterranean cuisine that's as distinctive and colourful as the coastline itself. But whichever sense you hope to please, the many islands and attractions of Greece will surely have something to excite you.
---
---
Exploring Greece and Its Islands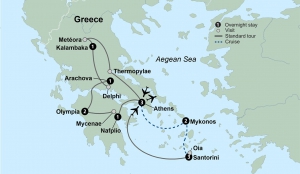 Featuring Classical Greece, Mykonos & Santorini
Discover the magnificent ruins of ancient Greece in their tranquil Mediterranean settings. This comprehensive journey explores Greece's most important ancient monuments, like the famed Temple of Zeus, archeological site of Olympia and ancient artifacts of Delphi. Explore Athens your way – choose a tour of the incredible Acropolis, or embark on a walking tour of some of the city's hidden gems. Visit a local farm in the countryside to see how olive oil and wine are produced. Learn how to cook traditional Mediterranean cuisine during a cooking demonstration. Wander the winding streets, vineyards, marketplaces and beaches of Mykonos and Santorini. Explore the excavations of the ancient city at Akrotiri, the most important prehistoric settlement found anywhere in the Eastern Mediterranean. In Athens, enjoy traditional cuisine, wine and entertainment at a family-owned taverna in the lively Plaka district. Learn the history of this fascinating country from local experts on guided tours of Athens, Meteora, Delphi, and Olympia.
15 days/14 nights: 22 Meals, 13 Breakfasts, 1 Lunch, 8 Dinners
2019: July 4 $4544 Sept 26 $4409 Oct 6, 10, 13, 17, 20 $3959
2020: March 29, April 2, 5, 16 $3959
Book by May 31, 2019
GREEK DELICACIES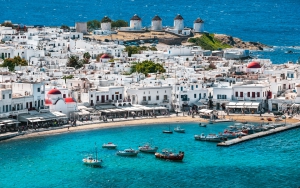 Athens, Mykonos, Santorini
10 days/9 nights
from $2299 per person
Hotels:  Athens Titania / Mykonos Alkistis / Santorini Aegean Plaza
Daily departure until Oct 31, 2019
THE PRICE INCLUDES:
9 night accommodation in double occupancy
9 breakfasts
Athens city tour and Acropolis Museum
Airport and port transfers
Ferry transfer Athens-Mykonos, Santorini-Athens
Hydrofoil from Mykonos-Santorini.
Greek Island Hopping
16 days/14 nights 
Your tour start and ends in Athens, with free time to explore the ancient city.
This tour includes round trip flights to Greece
14 nights' accommodations with daily breakfast (two in Athens, four in Naxos, four in Paros and four in Santorini);
High-speed ferry service between islands
Airport, hotel and port transfers
16 days/14 nights
departing May 7, 12, 14, 19, 26, June 5, 9, Sep 15, 18, 22, 26
from Montreal or Toronto from $2998 (taxes included)
from Calgary, Edmonton, Ottawa, Vancouver or Halifax from $3198 (taxes included)
departing August 15, 29, Sept 29, Oct 2, 6, 13
from Montreal or Toronto from $2879(taxes included)
from Calgary, Edmonton, Ottawa, Vancouver or Halifax from $3079 (taxes included)
for more details click here…Authentic Greek Islands
SAILING MYKONOS TO MYKONOS
10 days
If we're describing what a true perfect circle looks like, there's no need to look much further than the Cyclades, or "Circular Islands." Go where the weather (and your skipper) takes you, whether that's exploring ruins, stopping by a microbrewery for a taste, or relaxing on golden sands. See the famous windmills of Mykonos and sail through Santorini's caldera, all while enjoying the view from aboard your yacht along the way.
Explore the hills of Folegandros and city of Hora
Discover Santorini your way with hiking or vineyard tours
Relax on the famous Magganari Beach
Get up close to the blue-roofed buildings of Ios
Experience the nightlife on Mykonos
What's Included:
9 nights aboard a 15m (52 ft) sailing yacht. Fully licensed skipper. Snorkelling equipment.
Group size is 8.
May 18, 22, 28 $2049
June 1, 17, 27, Sept 25 $2149
July 7, 17, 27, August 6, 26, Sept 5, 15 $2259
ATHENS, MYKONOS, PAROS, SANTORINI
12 nights accommodation in double occupancy with breakfast daily. Athens & New Museum city tour. Unassisted transfers (only arrival transfer on Day 1 is assisted). Boat tickets: Athens-Mykonos (Ferry), Mykonos-Paros (Hydrofoil), Paros-Santorini (Ferry), Santorini-Athens (Hydrofoil).
Land Only – per person rates
April or October $2699
May, June, September $3099
July, August $3549