Greece
The birthplace of the Olympics and democracy, Greece is a country with an extraordinarily grand history that's been kept alive through the preservation of ancient architecture and cultural sites. The capital city of Athens is home to many such marvels, including the Pantheon temple on the Acropolis and the historic Plaka district. Other regions of the country, however, feature their own dazzling sights and landmarks, which include renowned Mediterranean beaches alongside forested, mountainous topography such as the famous Mount Olympus, mythological home to the ancient Greek gods. Greece is also known for its spectacular Mediterranean cuisine that's as distinctive and colourful as the coastline itself. But whichever sense you hope to please, the many islands and attractions of Greece will surely have something to excite you.
---
---
Turkey
Whether it's 18 holes on a golf course, watersports, camping, hiking, canyoning, or relaxing on golden beaches, no matter what the season. You can't go wrong when coming to Turkey.
From Unesco sites to traditional craftsmanship. From iconic religious buildings to the arts and crafts of the Grand Bazaar, Turkey is drenched in the richness of everything that is cultural.
Fresh local natural produce makes Turkey the ideal place to get your palette trying new flavours. Authentic Ottoman cuisine, the perfect assortment of grilled meat, fresh seafood and not to forget the rich honey enriched desserts!
HIGHLIGHTS OF GREECE ESCAPE PLUS 4-NIGHT ICONIC AEGEAN CRUISE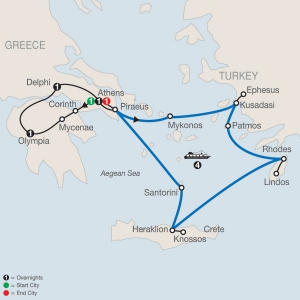 10 Day Tour from Athens to Athens
The iconic Greek Islands are yours to discover on a guided cruise and tour of Greece. You've dreamed of the sparkling blue waters of the Aegean Sea and strolling among whitewashed buildings above pristine beaches. Now you can have both with a guided tour of Greece and a Greek Islands cruise. History comes alive on your guided visits to many of Greece's ancient sites. In addition to the Acropolis and Olympia, you'll also visit the ruins in Mycenae, dating from 1,350 to 1,200 BC and described in Homer's epic poem, "The Iliad." In ancient Greece, people traveled to Delphi to seek the wisdom of the Oracle. Learn about the Oracle, tour the excavations, and visit the Archaeological Museum. To add to your Greek experience, enjoy a cooking demonstration where you learn to make traditional tzatziki; take a sirtaki dance lesson; and try a glass of Ouzo. Plus, you'll be accompanied by an expert Tour Director who will bring this country to life by sharing its history, stories, and insider secrets.
2020:
Oct 29, Nov 5 $2027 Nov 19 $1967
2021:
Mar 11, 18, 25 $2027 April 1, 8, 15 $2097
TURKISH ESCAPE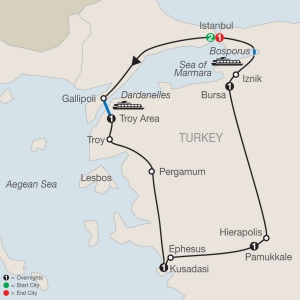 8 DAYS FROM ISTANBUL TO ISTANBUL
Turkey is a unique country with a unique identity straddling both Europe and Asia. Your 8-day Turkish Escape starts in Istanbul, a city of great diversity and a combination of tree-lined boulevards, cafés and cosmopolitan restaurants set against a backdrop where little has changed for centuries. During its 3,000 years of turbulent history, it has been home to the Greeks, Romans, Crusaders, Ottomans and the Turks themselves- all leaving their marks. Highlights of your sightseeing are inside visits to the 6th century Hagia Sophia, the largest church and for over a thousand years the largest covered space on earth and to the amazing Topkapi Palace which was the seat of the government of one of the greatest Empire of the Medieval age.
2021:
Feb 21 $1169
Feb 28, March 7 $1299
March 14, 21 $1369
Prices are per person in single, double, or triple room occupancy.
The Best of Turkey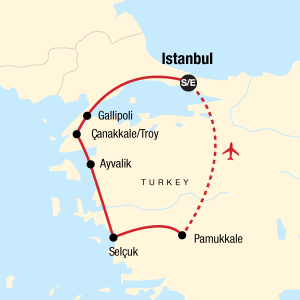 8 days
Istanbul to Istanbul
This trip is ideal for the traveller who is short on time but wants to experience as much of Turkey's stunning scenery and fascinating history as possible. Begin the journey at the WWI battlefield of Gallipoli, then leap into Greek myths and explore the remains of the legendary city of Troy before strolling along the streets of Ephesus. Don't miss the remarkable white cliff pools of Pamukkale before boarding a comfortable and convenient flight back to Istanbul. Return refreshed and ready to explore the city's bazaars, mosques, and tea houses.
Explore ancient historic cities
Discover ancient Roman ruins and amazing natural scenery
Taste delicious local cuisine
Walk through the astonishing white pools of Pamukkale
On sale!
2021:
Mar 20, April 17 $1104
May 22 $1257
June 5, July 17 $1189
Book by Sept 30, 2020
Book with Confidence!
For a limited time, tours departing before Dec. 31, 2020 can be cancelled and rebooked up to 14 days prior to departure and those departing between Jan. 1st 2021 and July 31, 2021 can be cancelled and rebooked up to 30 days prior to departure.
Travel with Confidence:
• Even smaller. Even better: maximum group size has been reduced to 12 travelers on most tours to ensure even smaller groups
• Private rides: Exclusive use of private transportation (except planes)
• My Own Room (plus extra legroom): My Own Room option is available for 50% off, and now includes extra space on all their private vehicles
• More "personal" personal space: All rooms on trip will be either double or single and have en-suite bathrooms
Sailing Greece – Mykonos to Mykonos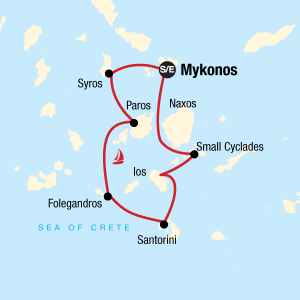 10 days, Mykonos to Mykonos
If we're describing what a true perfect circle looks like, there's no need to look much further , than the Cyclades, or "Circular Islands." Go where the weather (and your skipper) takes you, whether that's exploring ruins, stopping by a microbrewery for a taste, or relaxing on golden sands. See the famous windmills of Mykonos and sail through Santorini's caldera, all while enjoying the view from aboard our yacht along the way.
On sale!
2021:
May 2, 18 $1742
Book by Sept 30, 2020
Book with Confidence
Passengers who make bookings under the `Book with Confidence` travel policy for a tour departing between January 1 and June 30, 2021, will be permitted to cancel their confirmed tour services, pre- or post-tour accommodation services, extra services, or transfer services at any time prior to 30 days from the date of tour departure at no charge if they also rebook another tour service and/or reschedule travel to a later date, which later date must be within two years of the initial departure date
Greece Island Hopper
Featuring Athens, Mykonos and Santorini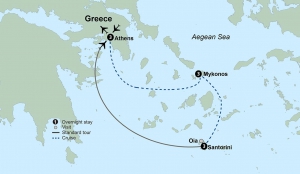 In Greece, discover a place where age-old legends and monuments intertwine with warm sunshine and island-style living. Tour Athens with a local guide. Explore the Acropolis, home to the famous Parthenon and the city's best lookout. Enjoy 3 days at leisure on the island of Mykonos, an Aegean paradise of sandy beaches and bustling energy. Uncover the past at the excavation site of Akrotiri. Make the most of a free day on the picture-perfect island of Santorini. From to the ruins of Athens to the bright rooftops of Mykonos and Santorini – embrace the country at its best.
11 days/10 nights
13 Meals: 9 Breakfasts, 4 Dinners
2021:
April 17, 20, 23 $3299
Greece: Ancient Ruins & Iconic Islands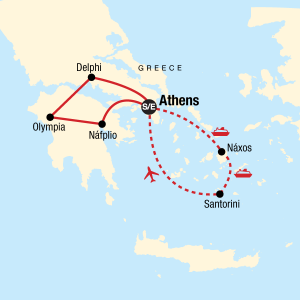 A National Geographic Tour
12 days, Athens to Athens
Step back in time on a journey to Greece, where iconic ruins bring ancient history to life. Explore the awe-inspiring monuments of Athens and the stunning Cyclades islands; and run and jump in the footsteps of ancient Greek athletes at the birthplace of the Olympic Games. Then venture to the olive-covered hills and rugged coasts of the Peloponnese, where some of Homer's Iliad and Odyssey played out; and savor the delightfully fresh flavors of Greek cuisine.
A National Geographic Journey
2021:
May 2, 16, 30 $3799
June 27, July 25, Aug 8, 22 $4069
Sept 5, 12, 19, 26, Oct 3 $3799