Hawaii
The state of Hawaii encompasses several Pacific islands, each with their own unique characteristics, but all of which share the tropical climate and culture that Hawaii is famous for. The warm weather lasts throughout they year, making the area an ideal getaway during the frozen winter months. Instead battling snowstorms, visitors can expect to enjoy exploring the vibrant choral reefs, sunbathing and surfing on the idyllic beaches, or teeing off on one of the state's many picturesque golf resorts. Some islands feature volcanoes which, aside from their inherent but alluring danger, provide a wondrous sight for hikers along with the region's native wildlife. The islands' birds feature unique, brilliant plumage while the vegetation of trees and flowers is equally as striking.
Call us to book your romantic Hawaii get-a-way!
HAWAII ADVENTURE – OAHU & KAUAI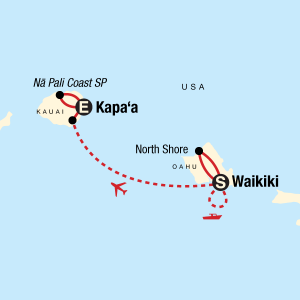 8 days
Waikiki to Kapa'a
Hawaii's good for way more than just sitting on a beach. There's natural beauty, welcoming locals, and, of course, world-famous waves to see. This one-week tour covers the best of Oahu and Kauai, combining included activities at must-see spots with free time to explore. You'll see Hawaii's cosmopolitan side in Honolulu's beachfront neighbourhood of Waikiki, along with a quiet side of the islands in picturesque towns like Kapa'a. Despite the archipelago's small size, you'll never run out of things to do or see. Aloha!
2021:
Jan 3, Feb 7, 21 $3969
Mar 7, 21, Apr 4 $3649
May 2, Jun 6, 20 $3449
Highlights of Hawaii – Maui & Big Island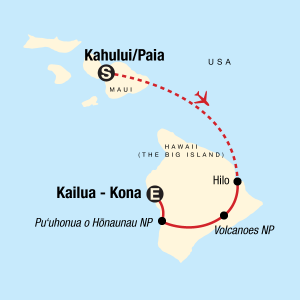 8 days, Kahului to Kailua-Kona
Ready to take a step beyond the typical relaxing vacation? Well, Hawaii's here for you. Enjoy the best of the islands without the hectic resort crowds. On Maui, spend time discovering this island paradise before shaking those hips at a luau. The last few days take you to Big Island (also known as Hawai'i) to heat up your vacation (literally!) with a visit to Volcanoes National Park. With chill-out time on the beach balanced with stunning national park visits, this tour ticks off all the boxes.
On sale!
2021:
Jan 10, Feb 14, 28 $4039
Mar 14, 28, April 11 $3849
May 9, 13, 2 $3649
Book by August 31, 2020