Paris
Paris, often called the city of lights, is the world's top destination for tourists, and it holds the title for good reason. The Eiffel Tower is the city's most-visited attraction, but Paris is also home to such architectural and aesthetic wonders as the Arc de Triomphe, the Louvre Museum, and the Notre-Dame Cathedral. Though French is the country's official language, Anglophones can often get by in tourist-friendly areas with only a few French phrases. A city of art, romance, and culture, Paris is guaranteed to provide an unforgettable adventure.
Call us to book your romantic Paris holiday.
---
GREAT CANADIAN WAR MEMORIAL TOUR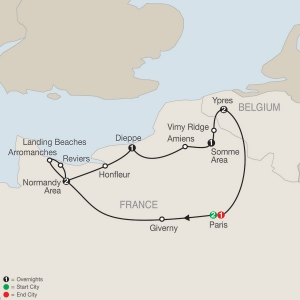 10 days
Save $150 per couple on select 2019 Globus Great Canadian War Memorial Tour.*
*Book by April 30, 2019
May 18    $3689   $3504
June 03  $4399   $4107
July 06  $3689   $3433
Sep 07    $3769   $3509
Sept 21    $3769   $3480
Oct 12      $3739   $3480
**international air not included.
Vacation Overview
Designed by Canadians for Canadians, this special tour pays tribute to all who have served their country in the Great War and World War II. Take in the museums, memorials and special sites throughout France and Belgium that commemorate the contribution of Canadian soldiers during these two wars, including: the impressive and inspiring Canadian National Vimy Memorial at Vimy Ridge, the Canadian Cemeteries in Bény-sur-Mer and Dieppe, as well as the Newfoundland Memorial Park at Beaumont Hamel. Other destinations visited include the Landing Beaches of Normandy, the Juno Beach Memorial Centre & Park, Amiens and Ypres in Belgium.
VIP Access
Skip the lines and get special treatment at the must-see attractions.
Perfect Hotels
We've done the work to find just the right hotels in just the right locations.
Tour Directors
Take your heads out of the guidebook and let expert guides make every destination fascinating.
Transportation
Leave the navigating to us – and just sit back and enjoy the ride.
Vacation Highlights
PARIS
Welcome dinner with wine at a local restaurant; guided sightseeing including Dome des Invalides and the Military Museum
GIVERNY
Visit Claude Monet's home and gardens
CAEN
Visit Ardenne Abbey site, orientation; visit the Memorial Museum for Peace
NORMANDY LANDING BEACHES
Visit the Canadian War Cemetery at Bény-sur-Mer and the Juno Beach Memorial Centre & Park
RANVILLE
Take pictures of the famous Pegasus Bridge and visit the Memorial Pegasus Meuseum
HONFLEUR
Cross the Normandy Bridge
DIEPPE
Visit the Canadian Cemetery; and the Jubilee Center
AMIENS
Visit the cathedral and memorial to Allied Forces
BEAUMONT–HAMEL
Visit the Newfoundland Memorial Park
VIMY RIDGE
Visit the WWI site and memorial; walk along the trenches and tunnels; visit the Interpretive Centre and Cabaret-Rouge British Cemetery
YPRES
Visit Cloth Hall and it's In Flanders Fields Museum; stop at Essex Farm Cemetery
PASSCHENDAELE
Guided sightseeing; visit the Canadian Memorial on the site of Crest Farm; stop at Tyne Cot Cemetery
Headsets throughout the tour
Meals
Full buffet breakfast daily; 4 three-course dinners, including a welcome dinner at a local restaurant in Paris