Paris
Paris, often called the city of lights, is the world's top destination for tourists, and it holds the title for good reason. The Eiffel Tower is the city's most-visited attraction, but Paris is also home to such architectural and aesthetic wonders as the Arc de Triomphe, the Louvre Museum, and the Notre-Dame Cathedral. Though French is the country's official language, Anglophones can often get by in tourist-friendly areas with only a few French phrases. A city of art, romance, and culture, Paris is guaranteed to provide an unforgettable adventure.
Call us to book your romantic Paris holiday.
---
French Escape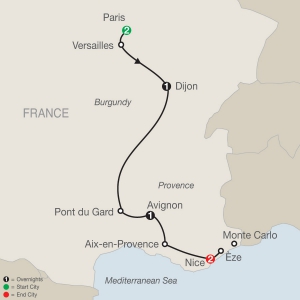 7 Day Tour from Paris to Nice 
A sample of everything France has to offer with overnights in Paris, Dijon, Avignon, and Nice. Highlights of this French tour include guided sightseeing of Paris with a Seine cruise to enjoy spectacular views of Notre Dame Cathedral and the Eiffel Tower.
A visit to the remarkable Palace and Gardens of Versailles is sure to delight. The principal residence of the French kings from the time of Louis XIV to Louis XVI, it is nothing short of spectacular. Other tour highlights are a stop at Pont du Gard to admire the largest remaining Roman aqueduct in France; walking tours in Avignon, Aix-en-Provence, and Nice; and a special welcome dinner in Paris, as well as a farewell dinner at a local restaurant in Èze to try some local specialties. These are just some of the many highlights included on this wonderful escorted tour of France
Nov 10, 17, 24, 2019 March 1, 8, 2020 $1519
Dec 8, 2019 Feb 9, 16, 2020 $1389
Prices are per person in single, double or triple room occupancy.
London and Paris Escape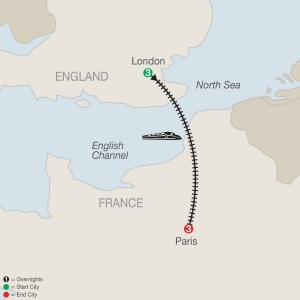 7 days
Your escorted vacation in London begins with a welcome dinner and a narrated nighttime cruise on the Thames River to admire illuminated Tower Bridge, St. Paul's Cathedral, and the Houses of Parliament. You'll spend three nights in London to see the iconic sites of this historic city—from Big Ben to Buckingham Palace, and more. You'll also ride the London Eye for unmatched views of the city and beyond from this giant observation wheel. Enjoy ample free time to explore London's many places of interest on your own as well, before boarding a high-speed train to Paris.  Enjoy a 3-night stay in Paris, with included sightseeing featuring the Arc de Triomphe, Concorde Square, Champs-Élysées, Notre Dame, and a Seine cruise.
Nov 17, 24, 2019 March 1, 8, 15, 2020 $1579
Dec 1, 8, 2019 Feb 2, 9, 16, 23, 2020 $1519
Prices are per person in single, double, or triple room occupancy.
GREAT CANADIAN WAR MEMORIAL TOUR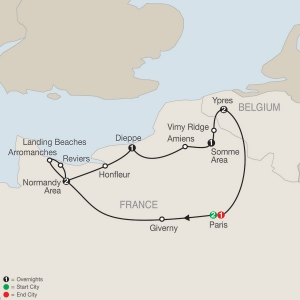 13 days
July 06     $4793
Sep 07 , 21     $4887
**international air not included.
Designed by Canadians for Canadians, this special tour pays tribute to all who have served their country in the Great War and World War II. Take in the museums, memorials and special sites throughout France and Belgium that commemorate the contribution of Canadian soldiers during these two wars, including: the impressive and inspiring Canadian National Vimy Memorial at Vimy Ridge, the Canadian Cemeteries in Bény-sur-Mer and Dieppe, as well as the Newfoundland Memorial Park at Beaumont Hamel. Other destinations visited include the Landing Beaches of Normandy, the Juno Beach Memorial Centre & Park, Amiens and Ypres in Belgium.
PARIS
Welcome dinner with wine at a local restaurant; guided sightseeing including Dome des Invalides and the Military Museum
GIVERNY
Visit Claude Monet's home and gardens
CAEN
Visit Ardenne Abbey site, orientation; visit the Memorial Museum for Peace
NORMANDY LANDING BEACHES
Visit the Canadian War Cemetery at Bény-sur-Mer and the Juno Beach Memorial Centre & Park
RANVILLE
Take pictures of the famous Pegasus Bridge and visit the Memorial Pegasus Meuseum
HONFLEUR
Cross the Normandy Bridge
DIEPPE
Visit the Canadian Cemetery; and the Jubilee Center
AMIENS
Visit the cathedral and memorial to Allied Forces
BEAUMONT–HAMEL
Visit the Newfoundland Memorial Park
VIMY RIDGE
Visit the WWI site and memorial; walk along the trenches and tunnels; visit the Interpretive Centre and Cabaret-Rouge British Cemetery
YPRES
Visit Cloth Hall and it's In Flanders Fields Museum; stop at Essex Farm Cemetery
PASSCHENDAELE
Guided sightseeing; visit the Canadian Memorial on the site of Crest Farm; stop at Tyne Cot Cemetery
Headsets throughout the tour
Meals
Full buffet breakfast daily; 4 three-course dinners, including a welcome dinner at a local restaurant in Paris