Paris
Paris, often called the city of lights, is the world's top destination for tourists, and it holds the title for good reason. The Eiffel Tower is the city's most-visited attraction, but Paris is also home to such architectural and aesthetic wonders as the Arc de Triomphe, the Louvre Museum, and the Notre-Dame Cathedral. Though French is the country's official language, Anglophones can often get by in tourist-friendly areas with only a few French phrases. A city of art, romance, and culture, Paris is guaranteed to provide an unforgettable adventure.
Call us to book your romantic Paris holiday.
---
BURGUNDY RIVER CRUISE ADVENTURE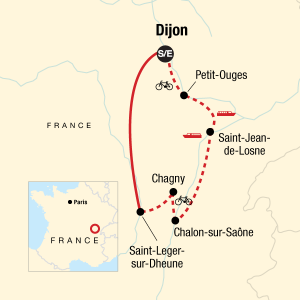 8 days, Dijon to Dijon
Blessed with some of the most gorgeous countryside in Europe, if not the world (not to mention perhaps the best wine around), Burgundy is a place everyone should explore at least once. And the best way to do it is from the deck of an ambling river barge. Visit small villages and first-rate wineries, bike through forests and vineyards on a provided bicycle, and soak up the glorious sunshine, all with the help of a charming little hotel that goes where you go. You won't get a better glimpse of Burgundy's pastoral pleasures than this.
2021:
June 4, 18, Oct 15 $3699
July 9, Aug 27b $3449
Sept 3, 10, 24 $3949  Oct 15 $3669
ESSENTIAL EUROPE

9 Day Tour from Rome to Paris
This amazing escorted vacation in Europe explore the essential destinations in Italy, Switzerland and France. Begin your journey in the eternal city of Rome, with guided sightseeing of the Vatican Museums and the Sistine Chapel. See Michelangelo's ceiling paintings and The Last Judgement, and visit St. Peter's Square and Basilica to see the artist's only signed sculpture, the Pieta. Imagine gladiators fighting as you near the Roman Forum for a visit to the ancient Colosseum. Continue through Italy to stay in Florence—the cradle of the Renaissance. Visit the Academy of Fine Arts to see Michelangelo's masterpiece, David. Stand before the magnificent cathedral to admire Giotto's Bell Tower and the Baptistry's heavy bronze "Gates of Paradise," and sculptures of Signoria Square. From Florence, travel to Venice, entering the city by private boat. Visit St. Mark's Square to admire its Byzantine basilica, clock tower, Doges' Palace, and the Bridge of Sighs. See a traditional glass blower create works of art, and enjoy an authentic pasta dinner and a private water-taxi ride on Venezia's Grand Canal. On to the Swiss Alps! Stop in Bellinzona to sip famed regional Merlot with a wonderful view from Castelgrande. Continue to Lucerne amid the grandeur of the Alps and St. Gotthard Pass. See Lucerne's Lion Monument to Swiss Guards of the French Revolution, and cross the Chapel Bridge to explore the lovely city. From Basel, take a high-speed train to Paris. Spend two nights in the "City of Light" for sightseeing, a Seine River cruise, and lots of free time to explore.
Headsets throughout the tour.
Free Wi-Fi available on your motorcoach and in most hotel lobbies.
2021:
June 13 $4578 June 27 $4453 July 11, 25  Aug 22 $4336
Sep 5,  $4508 Sept 19 $4518
EUROPEAN TAPESTRY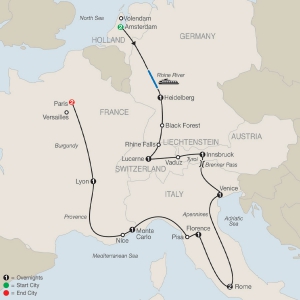 14 Day Tour from Amsterdam to Paris
A tapestry takes distinct colors and threads, and weaves them together into a beautiful design. That's exactly what this European tour—European Tapestry—does. It weaves together the distinct cities, cultures, landscapes, and food of seven countries to make a beautiful vacation to Europe. Start with sightseeing and a canal cruise in Amsterdam and end with sightseeing and a cruise on the River Seine with spectacular views of the Eiffel Tower and Notre Dame Cathedral in Paris. In between, see some of Europe's must-see attractions, such as the Lion Monument in Lucerne; St. Mark's Square in Venice; the Colosseum, Sistine Chapel and Vatican Museums in Rome; Signoria Square in Florence, the center of the city's political life since the 14th century; and the amazing Leaning Tower in Pisa.
But that's not all. Have a beer at a local café in Heidelberg; take a romantic Rhine cruise past castle-crested cliffs and terraced vineyards; learn about woodcarving from a local woodcarver in Germany's Black Forest and taste the traditional Black Forest Cake; enjoy dinner at a Venetian restaurant to try out local specialties; and a highlight of this European tour is an overnight stay in Monte Carlo. Globus has worked hard behind the scenes to ensure your time and fun is maximized. That's why we've included VIP access in this tour of Europe. That means that rather than waiting in long lines at places such as the Vatican Museums and Colosseum in Rome, you'll be inside the attractions and enjoying this amazing vacation. It's just one more way this European tour is sure to delight!
Headsets throughout the tour.
Free Wi-Fi available on your motorcoach and in most hotel lobbies.
2021:
June 5 $4436 June 12 $4715 June 19 $4616 June 26 $4440
July 3, 10, 17, 24 $4193
Aug 14 $4220 Aug 28 $4922
Sept 4 $4580 Sept 18 $4517 Sept 25 $4490
Trekking Mont Blanc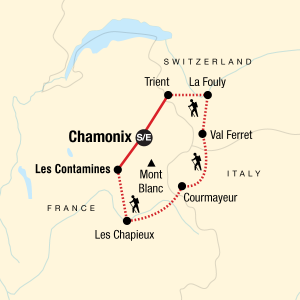 10 days Chamonix to Chamonix
Experience the rarified air of Europe as you trek the Alps from France to Italy and Switzerland along the Tour du Mont Blanc. This challenging hiking circuit will reward you with mesmerizing views of glaciers, steep valleys, and, of course, Mont Blanc itself. Travel across high passes and through Alpine meadows, recharging at night with delicious mountain cuisine in simple refuges. Challenge yourself to conquer one of the world's premiere hiking routes, uncovering the alpine heart of Europe on this incredible active adventure.
2021:
June 11, 13, 17, 19 $1794
June 26 July 1, 3,4, 8, 10, 15 $1835
July 16, 19, 22, 24, 26, 30 Aug 1, 2, 5, 9, 12, 14, 16, 19, 20 $1937
Aug 23, 27, 30 $1835
Aug 31, Sep 3, 5, 6 $1784