Prague
Almost untouched by the destruction of the second World War, Prague has steadily developed its culture since the ninth century, culminating in one of the world's most architecturally stunning and historically preserved cities. The Prague Castle is considered to be the largest ancient castle in the world, and it's just one of the many grand medieval structures that still occupy the city's cobblestone streets. Aside from the beautiful structures like the Charles Bridge and the Infant of Prague, visitors can take in the sights at the many art galleries and museums throughout Prague that feature art and artifacts both ancient and modern. As the capital city of the Czech Republic and a favourite amongst European tourists, Prague has enough allure to keep any sight-seer charmed.
Imperial Europe
10 days
EXPLORE THE HISTORY AND CULTURE OF MUNICH, PRAGUE, VIENNA, BUDAPEST AND SALZBURG ON THIS TRIP.
The towering spires of Imperial Europe may seem to touch the sky, but you'll want to keep your feet on the ground so you don't miss any of the many travel highlights and heart-warming surprises delivered on your visits to Prague, Bratislava, Budapest and Vienna.
2021:
Mar 5, 12, 19, 26, April 2 $2447
April 16, 23, 30 $2678
May 5, 7, 12, 14, 19, 21, 26, 28 $2723
June 2, 4, 9, 11, 16, 18, 25 $2723
July 2, 7, 9 $2723 July 16, 23, 30 $2678
Aug 6, 11, 13, 18, 25, 27 $2678
Imperial Splendors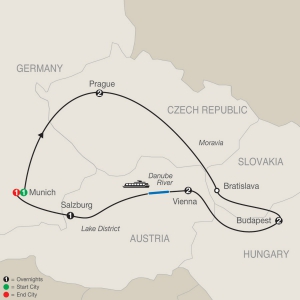 10 Day Tour from Munich to Munich
This tour is a magnificent journey through the former Habsburg Empire. It starts and ends in Munich with an orientation of the city. Along the way, you will overnight in Prague, Budapest, Vienna, and Salzburg.
You will enjoy guided sightseeing of the must-see attractions: in Prague, visiting the 1000-year-old Hradčany Castle grounds, the largest castle complex in the world, and the Astronomical Clock, built in 1410 and once the envy of all Europe; in Budapest, enjoy a panoramic view of the city from Fishermen's Bastion and visit 13th-century Matthias Coronation Church, the coronation spot of several Hungarian monarchs; and in Vienna, where, among the many sights, you'll visit awesome St. Stephen's Cathedral, a symbol of Vienna. In Salzburg, your walking tour includes beautiful Mirabell Gardens and magnificent Residenz Square.
2021:
April 18 $2996 May 1 $3059 May 16 $3329 May 30 $3095
June 13 $3689 June 27 $3032
July 11 $2095 July 25 $3212
Aug 8 $3095 Aug 22 $3023
Sept 5 $3194 Sept 19 $3599