South America
Andean peaks, Amazonian rainforest, Patagonian glaciers, Incan ruins, colonial towns, white-sand beaches and vertiginous nightlife: the wonders of South America set the stage for incredible adventures.
Hiking past ancient temples first laid down by the Incas, contemplating the awe-inspiring power of Iguazú Falls, or spend the day watching wildlife from a dugout canoe on one of the Amazon's countless igarapés (narrow waterways). Barrel down Andean roads by mountain bike, go white-water rafting on Class V rivers and surf amazing breaks off both coasts or head to the dramatic landscapes in Tierra del Fuego, go eye-to-eye with extraordinary creatures in the Galápagos, and scramble up tableland mountains in the Gran Sabana for a panorama that seems straight out of the Mesozoic era.
Caribbean Colombia Express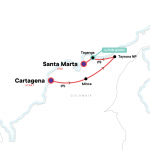 8 days
Take it from us — the nature of Colombia and the Caribbean is like nowhere else on Earth. On this one-week trip packed with active highlights and laid-back moments, you'll get the best of beach relaxation and wilderness exploration. Beach time and Tayrona National Park are on the bill here, including chances for hikes down picturesque trails and spending time with the Gotshezhy Wiwa Indigenous community to learn about their customs and traditions. Get back to nature in the jungle town of Minca — it's the great outdoors with a chill Caribbean twist.
2023:
Jan 7, Feb 11 $1784
March11,  April 8, 15, 22 $1854
May 6, 13, 20 June 3, 10, 17 $2294
Book by Dec 7, 2022
Ecuador Quest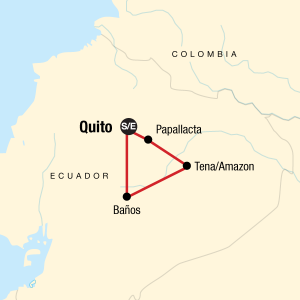 8 days
Quito to Quito
Strange how a country that's literally at the centre of the Earth can be overlooked, isn't it? Stranger still considering how amazing Ecuador is. This eight-day trip shows off its best, rolling natural wonders (the Amazon!), stunning landscapes (the Ecuadorian highlands!), rich culture (Quito!), and active pursuits like hiking, horseback riding, and mountain-biking everywhere you look. Good on its own, this trip also makes an ideal add-on to any Galápagos trip. Trust us. It's worth the time.
2023:
Jan 14, 28, Feb 4, 11, 25 March 11, 18, 25, April 8, 15, 22 $804
May 6, 13, 20 $1097  June 3, 10, 17 $1151
Book by Dec 7, 2022