South America
Andean peaks, Amazonian rainforest, Patagonian glaciers, Incan ruins, colonial towns, white-sand beaches and vertiginous nightlife: the wonders of South America set the stage for incredible adventures.
Hiking past ancient temples first laid down by the Incas, contemplating the awe-inspiring power of Iguazú Falls, or spend the day watching wildlife from a dugout canoe on one of the Amazon's countless igarapés (narrow waterways). Barrel down Andean roads by mountain bike, go white-water rafting on Class V rivers and surf amazing breaks off both coasts or head to the dramatic landscapes in Tierra del Fuego, go eye-to-eye with extraordinary creatures in the Galápagos, and scramble up tableland mountains in the Gran Sabana for a panorama that seems straight out of the Mesozoic era.
Inland & Amazon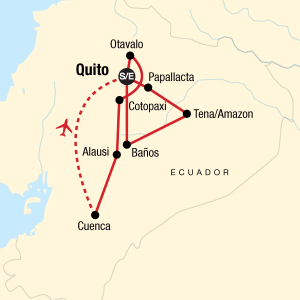 14 days
Quito to Quito
It's quite poetic that Ecuador is the centre of this big, beautiful planet of ours. In so few kilometres, the peaks of the Andes, the jungles of the Amazon, and historical cities all have some square footage here and with this 14-day journey you can see some of it all. Learn about the traditional Quichua culture in the Amazon, find treasures at a local handicraft market, and later slip into a world of "ahh" in a mountain hot spring.
2021:
Feb 10, Mar 27 $1999 May 8, 21, 29, June 5, July 3, Aug 7, 21, 28 $2249
Sept 18, Oct 16 $2129
Nov 13, 20, Dec 18, 25 $1999
2022:
Jan 15, 29, Feb 12, 26, Mar 12, 26, April 9, 23 $1999
May 7, 21 $2129
June 4, 18, July 2, 16, 30, Aug 13, 27 $2249
Sept 10, 24, Oct 8, 22 $2129
Nov 5, 19, Dec 17, 31 $1999
Ecaudor Quest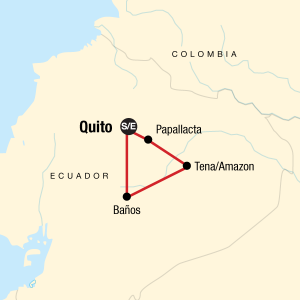 8 days
Quito to Quito
Strange how a country that's literally at the centre of the Earth can be overlooked, isn't it? Stranger still considering how amazing Ecuador is. This eight-day trip shows off its best, rolling natural wonders (the Amazon!), stunning landscapes (the Ecuadorian highlands!), rich culture (Quito!), and active pursuits like hiking, horseback riding, and mountain-biking everywhere you look. Good on its own, this trip also makes an ideal add-on to any Galápagos trip. Trust us. It's worth the time.
2021:
Feb 20, Mar 27, April 10 $999
May 8, 15 $1069 June 5, July 3 Aug 7, 21, 28 $1129
Sept 18, Oct 16 $1069
Nov 13, 20, Dec 18, 25 $999
2022:
Jan 15, 29, Feb 12, 26, Mar 12, 26, Apr 9, 23 $999
May 7m 21 $1069
June 4, 18, July 2, 16, 30 Aug 13, 27 $1129
Sept 10, 17, Oct 8, 22 $1069
Nov 5, 19, Dec 17, 31 $999
Colombia Multisport & Lost City Trek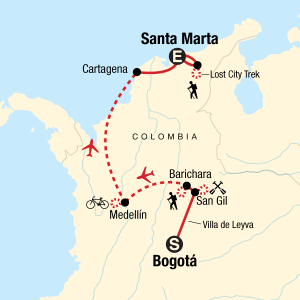 17 days Bogotá to Santa Marta
Earn another stamp in your passport on this thrilling 17-day tour that takes you through challenging terrain, remote villages, and incredible natural landscapes. After visiting some of Colombia's vibrant cities, you'll continue to the highlight of this trip: a multi-day trek to the Lost City of Teyuna through farmlands, the deep jungle, and small Kogi communities. By the end, you'll have gained a new appreciation for all that Colombia has to offer.
2021:
Feb 18 May 13, July 22, Aug 5 $2405
April 15 $2507
Sept 30, Oct 14, Nov 24 $2294
AMAZON TO THE ANDES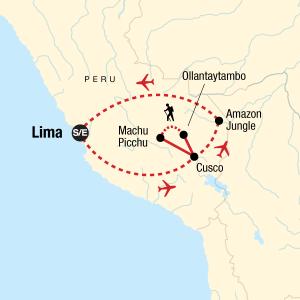 12 days, Lima to Lima
This adventure offers up an intriguing combination of beauty and contrasts in scenery, wildlife, and cultures, whether you're scanning the canopy for wildlife from the comfort of our intimate and exclusive G Lodge Amazon or climbing the ancient trail of the Incas to Machu Picchu, situated in the heavens of the Americas. Because we run our own treks, we can ensure the fair treatment of our porters and the quality of food and equipment which leaves you free to enjoy the beauty of the region.
2021:
Feb 6, 13 November dates $2549
March, Dec dates $2634
April Sept, Oct $2324
May, June, July August $2702
BRAZIL & ARGENTINA ESCAPE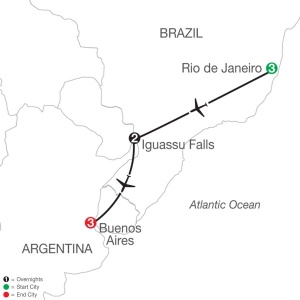 9 Day Tour from Rio de Janeiro to Buenos Aires
Escape to two of South America's iconic cities with a guided tour of Rio de Janeiro and Buenos Aires. Your escorted vacation in Brazil and Argentina is full of a variety of inclusions as well as unhurried time to explore and experience the colorful culture of each destination. First, you'll visit the exciting city of Rio de Janeiro—known for its beaches, vibrant atmosphere, welcoming people, and, of course, Samba music and dance! On your guided sightseeing tour of Rio, you'll take the cog railway 2,300 feet up to the summit of Corcovado Mountain to view the famous Christ the Redeemer statue. Take in the 360-degree view of Rio from above. Later, dine at a traditional Brazilian barbeque steakhouse or a churrascaria as it's called in Rio! You will also have a free day to explore on your own.
Next stop, Argentina and a crowning highlight of your Brazil and Argentina Escape – a trip to magnificent Iguassu Falls. You'll see one of the world's most spectacular natural sights, with the thundering falls cascading over a 2-mile-wide, 250-foot-high cataract. Witness the falls' brilliant rainbow effect on both the Brazilian and Argentine sides of the falls and take the ecological jungle train through the rainforest on the Argentine side to fully experience this natural wonder. Continue to Buenos Aires—known as the "Paris of South America" for its wide boulevards, outdoor cafés, and inviting shops. Go sightseeing with an expert Local Guide to see the city's historic landmarks, including Eva Peron's resting place at Recoleta Cemetery. And, no trip to Buenos Aires would be complete without a Tango show, which is included along with an Argentinean meal. You'll also enjoy a free day to explore the rich atmosphere of Buenos Aires on your own.
2021:
March 19, 26, May 21, June 25, July 16, Sept 24, Oct 29, Nov 19, Dec 10 $2794
2022:
Jan 21, Feb 18, Mar 11, 25 $2944
PATAGONIA HIKING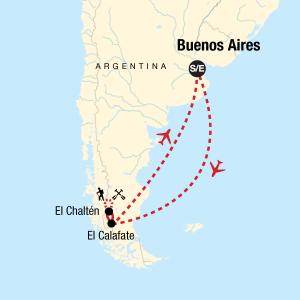 9 days, Buenos Aires to Buenos Aires
As a destination for active travellers, Patagonia is nothing short of iconic. The very best way to do this South American region justice is to hike all over it. Trek through the crisp air of El Chaltén (with its crazy beautiful Cerro Torre mountain) and then to the area near the imposing Perito Moreno Glacier. In between, marvel at the giant sky, vast views, and big city appeal of Buenos Aires while you revel in a sense of personal triumph. Patagonia's ready and waiting for you.
2021:
Feb 9, 16, 23 $2379
March 2, 9, 13, 23 $2515
Caribbean Colombia Express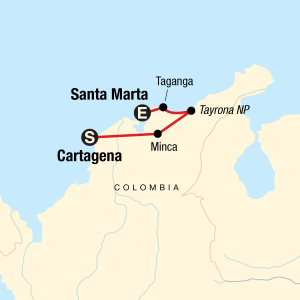 8 days
Cartagena to Santa Marta
The nature of Colombia and the Caribbean is like nowhere else on Earth. On this one-week trip packed with active highlights and laid-back moments, you'll get the best of beach relaxation and wilderness exploration. Beach time and Tayrona National Park are on the bill here, including chances for hikes down picturesque trails and spending time with the Gotshezhy Wiwa Indigenous community to learn about their customs and traditions. Get back to nature in the jungle town of Minca — it's the great outdoors with a chill Caribbean twist.
Relax to the Caribbean rhythms on the coast
Hike through lush jungle with an Indigenous guide
Meet the locals and learn about coffee in Minca
Indulge in fresh seafood and Colombian specialties
Spend a day with the Gotshezhy Wiwa Indigenous community
2021:
Feb 14, 28 $1614
March 7, 21, April 11, 18 $1716
May 9, 16, 30, June 13, 27 $1614
July 4, 18, 25 $1614
Brazil & Argentina Escape with Santiago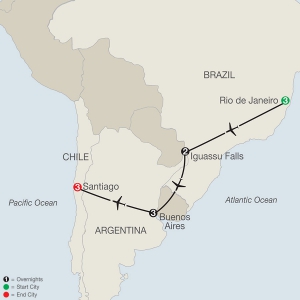 12 Day Tour from Rio de Janeiro to Santiago
From historic, vibrant cities to spectacular natural surroundings, your escape to Brazil and Argentina shares the best of Buenos Aires, Rio de Janeiro, Iguassu Falls, and Chile's capital city of Santiago.
2021:
March 19, 26 $1949
WONDERS OF BRAZIL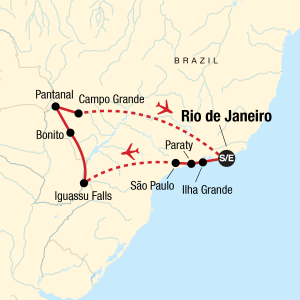 15 days, Rio de Janeiro to Rio de Janeiro
From the cobblestoned streets of colonial Paraty to remote interior wilderness, uncover the wonders of Brazil in two exciting weeks. Experience Iguassu Falls — a series of falls so massive it straddles two countries and so intriguing you'll need two days to fully appreciate the view. Not to be outdone, the Pantanal wetlands are teeming with wildlife like caiman, jaguar, and exotic birds. Finally, trade early morning songbirds for some samba in Rio and the rhythm of the beach. This adventure provides natural and cultural highlights and the best Brazil has to offer.
2021:
Feb 19, 23, 26 $3669
March 2, 5, 9, 12, June 11, 25 $3459
April 16, 23, 30 May 7, 14, 28 $3299
July 9, 16, 23, 30 $3669
ECUADOR BEACHES & COASTAL ADVENTURE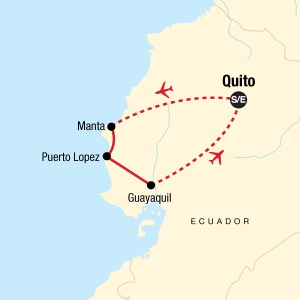 7 days, Quito to Quito
Head to the coast for a seven-day Ecuadorian exploration of culture, wildlife, and natural wonders. Learn about the port city of Manta's local fishing traditions, visit the Indigenous community of Agua Blanca (and soak in its therapeutic mud baths), then embark on a full-day trip to Isla del Plata to spot sea birds like blue-footed boobies and maybe even migrating whales if you're visiting from June to October. Your itinerary starts and ends in Quito so you can take time to explore Ecuador's lively capital.
2021:
Feb 14, $1099
Mar 21, April 4, May 16 $1169
ECUADOR BEACHES, AMAZON & HIGHLANDS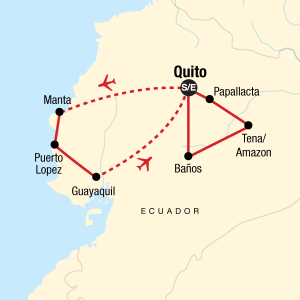 14 days, Quito to Quito
Reach new highs on this 14-day adventure through Ecuador that takes you from highlands to beaches and the Amazon jungle. See wildlife that rivals the Galápagos on Isla del Plata, choose your own adventure with thrilling activities in Baños, and learn about local life in the Ecuadorian Amazon by staying in a small village with a Quichua family. Ecuador is a multifaceted country and this itinerary gives you the opportunity to take in as many of its rich, fascinating perspectives as you can in two weeks.
2021:
Feb 14 $1999
March 21 $2129
Journey Through South America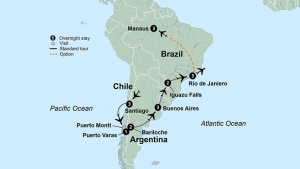 Featuring Santiago, Andean Lakes Crossing & Rio de Janeiro
Thundering waterfalls, lost cities, snowcapped volcanos, and world-renowned cuisine – all this and more awaits you in three dynamic South American countries. Take in the natural beauty of Chile's Patagonia and the Andean Lakes District. Feel the rhythm of the tango in Buenos Aires at a stunning dance performance. Stand in awe before Iguazu Falls, visiting from both the Argentine and Brazilian sides. Admire the viewpoint from the statue of Christ the Redeemer. As you journey through Chile, Argentina, and Brazil, encounter precisely what makes each nation as unique as they are united.
16 days/15 nights       21 Meals: 14 Breakfasts, 1 Lunches, 6 Dinners
2021: Feb 28 $4349