South America
Andean peaks, Amazonian rainforest, Patagonian glaciers, Incan ruins, colonial towns, white-sand beaches and vertiginous nightlife: the wonders of South America set the stage for incredible adventures.
Hiking past ancient temples first laid down by the Incas, contemplating the awe-inspiring power of Iguazú Falls, or spend the day watching wildlife from a dugout canoe on one of the Amazon's countless igarapés (narrow waterways). Barrel down Andean roads by mountain bike, go white-water rafting on Class V rivers and surf amazing breaks off both coasts or head to the dramatic landscapes in Tierra del Fuego, go eye-to-eye with extraordinary creatures in the Galápagos, and scramble up tableland mountains in the Gran Sabana for a panorama that seems straight out of the Mesozoic era.
Alluring Argentina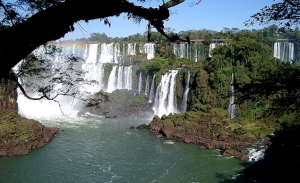 14 DAYS • 13 NIGHTS • 14 MEALS
FROM $4959 LAND ONLY
INCLUSIONS:
Roundtrip transfers within Argentina, domestic flights
• Meet and greet by our representatives • Accommodation,
meals, visits and excursions as per itinerary • English
speaking local guides • Taxes and fees • Airport/security
taxes and service charges: $205 CAD
HIGHLIGHTS:
Buenos Aires City Tour • Diner and Tango show • Excursion
in the Tierra Del Fuego National Park • Cruise on the Beagle
Chanel • Excursion to the Perito Moreno Glacier • Wine tour
and tasting in the Lujan de Cuyo & Maipú area • Iguaçu
Falls Argentinean side excursion
Per person in double occupancy, taxes included.
Valid for travel between Sept 1 and December 20, 2019.
Natural Wonders of Costa Rica with Guatemala & Guanacaste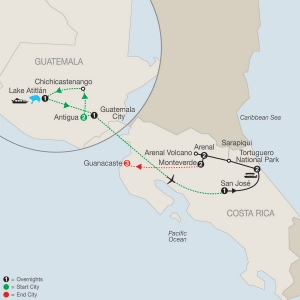 15 Day Tour from Guatemala City to Guanacaste
In Antigua, Guatemala, step back in history as you explore the ruins of churches and monasteries along with restored colonial buildings. Perhaps pick up a unique Guatemalan handicraft to bring back home from the open-air Indian market. Then travel to Costa Rica and witness bountiful wildlife in their natural habitat, enjoy relaxing dips in ecothermal hot springs, and learn about the Costa Rican culture on this thrilling adventure.
Among the many highlights of this tour is Tortuguero National Park, where you'll take a boat ride along remote, unspoiled sections of the park to view wildlife. Your guide will look out for the wildlife—including freshwater turtles, egrets, toucans, and monkeys—so you can sit back, relax, and take plenty of pictures. Another tour highlight is the Arenal Volcano, considered one of the most active volcanoes in the world. Relax as you soak in the ecothermal hot springs and perhaps watch the lava flow down the volcano—a spectacular sight! In Monteverde, visit the Santa Elena Cloud Forest Reserve, home to forest fauna such as jaguars, resplendent quetzal, monkeys, ocelots, and many species of birds—not to mention the large diversity of plant species. Even more amazing scenery awaits you in Guanacaste, where you'll have three nights to partake in the many activities, including rainforest canopy tours, river rafting, horseback riding, snorkeling, watching breathtaking sunsets, hiking, or just relaxing on the beach.
This tour to Costa Rica has it all—wildlife, scenic waterways, tropical rainforests, spectacular beaches, and knowledgeable guides to help you learn about Costa Rica.
2019: Oct 8, Dec 3 $5025
2020: Jan 14, Feb 4, 11, 18, Mar 3, 24 $5166
Brazil & Argentina Escape with Santiago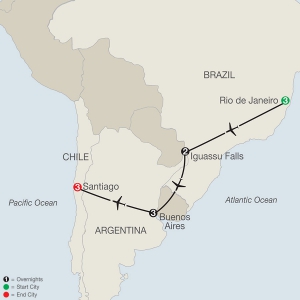 12 Day Tour from Rio de Janeiro to Santiago
From historic, vibrant cities to spectacular natural surroundings, your escape to Brazil and Argentina shares the best of Buenos Aires, Rio de Janeiro, Iguassu Falls, and Chile's capital city of Santiago.
2020: Jan 17, Mar 13, 20 $3188
Prices are per person in single, double or triple room occupancy
Call us for more details!
Brazil & Argentina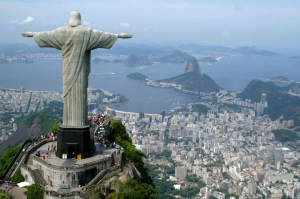 9 Day Tour from Rio de Janeiro to Buenos Aires
On your guided sightseeing tour of Rio, you'll take the cog railway 2,300 feet up to the summit of Corcovado Mountain to view the famous Christ the Redeemer statue. Take in the 360-degree view of Rio from above. Later, dine at a traditional Brazilian barbeque steakhouse or a churrascaria as it's called in Rio! You will also have a free day to explore on your own.
Next stop, Argentina and a crowning highlight of your Brazil and Argentina Escape – a trip to magnificent Iguassu Falls. You'll see one of the world's most spectacular natural sights, with the thundering falls cascading over a 2-mile-wide, 250-foot-high cataract. Witness the falls' brilliant rainbow effect on both the Brazilian and Argentine sides of the falls and take the ecological jungle train through the rainforest on the Argentine side to fully experience this natural wonder. Continue to Buenos Aires—known as the "Paris of South America" for its wide boulevards, outdoor cafés, and inviting shops. Go sightseeing with an expert Local Guide to see the city's historic landmarks, including Eva Peron's resting place at Recoleta Cemetery. And, no trip to Buenos Aires would be complete without a Tango show, which is included along with an Argentinean meal. You'll also enjoy a free day to explore the rich atmosphere of Buenos Aires on your own.
From historic, vibrant cities to spectacular natural surroundings, your escorted vacation in Brazil and Argentina offers the best of Buenos Aires, Rio de Janeiro, and the incredible Iguassu Falls. Your guided tour of South America treasures is the perfect escape to a whole new world.
2019: Sept 13, Oct 11, 25, Nov 1, 8, Dec 6 $2221
2020: Jan 17, March 13, 20 $2331
Prices are per person in single, double or triple room occupancy.