JAPAN EXPRESS: OSAKA TO TOKYO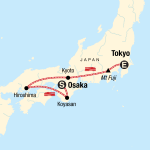 9 days, Osaka to Tokyo
From the Buddhist monks of Kōyasan to the high rollers of Tokyo, see the many faces of Japan on this condensed tour beginning in Osaka. Savour the region's culinary delicacies and the beautiful views at Mt Fuji. You'll stay in a traditional ryokan and really soak up local culture in onsen hot springs. A great combination of the traditional and the contemporary, this adventure provides a taste of the rich culture of Japan.
2021:
Sept 3, 10, 24, 2, 29, Oct 3, 8, 17, 29 $3374
Nov 3, 5, 12 $3374
Nov 19, Dec 10, 24 $2932
2022:
Jan 21, Feb 11, 18, 25 $3187
March 4, 11, 16, 18, 19, $3374
March 23 25, 26, 30 $3569
April 1, 2, 6, 8, 9, 13, 15 $3569
April 20, 22, 27, 29, May 4, 6, 11, 13, 18, 20, 25, 27 $3374
June 3 10, 17, 24 $3374
Book by May 31, 2021