BANGKOK
As the capital and largest city of Thailand, Bangkok represents both its modernity and the evolution of its rich heritage. With soaring high-rises and a plethora of contemporary shopping centres and entertainment, Bangkok is one of Asia's most progressive and advanced cities. As it is a very popular tourist destination, the locals are very accommodating to foreigners, and even those who speak only English should have no problem navigating and taking in the city. But for those who are hoping to absorb the traditional Thai culture, it can easily be found throughout the city, most notably on the island of Rattanakosin, also called the "Old City". Ancient palaces and Buddhist temples are awe-inspiring sights and are a great gateway to learning about the city's heritage. Bangkok blends old and new world experiences to provide a vacation that's as unique as it is enlightening.
ICONIC THAILAND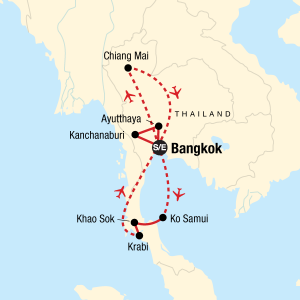 15 DAYS, BANGKOK TO BANGKOK
Hit the highlights of Thailand on a 15-day adventure that strikes a balance between cultural landmarks and stunning beaches, activity and relaxation. Up north, ponder the River Kwai and eat your way through Chiang Mai. Then head to the southern shores for some downtime at Ko Samui and Krabi. Along the way, bask in the radiance of golden temples, enjoy long-tail boat rides, and learn to cook authentic Thai food. National Geographic tour!
June 9, July 7, August 4, Sept 29, Oct 27, Nov 10, 24 $3659
THAILAND FAMILY ADVENTURE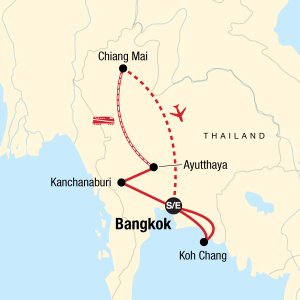 12 days, Bangkok to Bangkok
Why do some families go all the way to Thailand just to lie on the beach? We don't know either. Our family adventure mixes a whole lot of bona fide Thai experiences – everything from a longboat tour of Bangkok, a meeting with a hill tribe community, a cooking class in Chiang Mai and a sombre visit to the infamous bridge over the River Kwai – with a little bit of sand and surf!
July 14, 21,  $1317 Book by June 30, 2019
July 4, August 4, Dec 22, 29, 2019 Jan 5, 2020 $1549
THAILAND HIKE, BIKE & KAYAK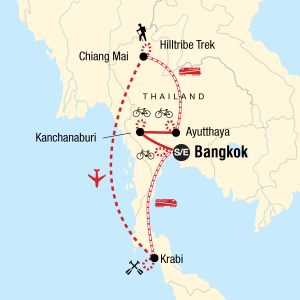 14 days, Bangkok to Bangkok
Perfect for those who believe the best way to appreciate paradise is by jumping right into it. This adventure will have you hiking through forests and rice paddies, cycling through provincial villages, and experiencing Thailand's intriguing combination of culture and the great outdoors. Kayak the turquoise waters of the Andaman and discover coral coves and white-sand beaches. With the services of a Chief Experience Officer (CEO) and your accommodation and transport taken care of, this trip offers great value as it introduces the main sights of Thailand while offering up plenty of flexibility so you can experience an adventure you'll never forget.
2019:
June 29, July 13, 27, Oct 19, Nov 2, 16, 30 $1954
Sept 14 $1869
Dec 14, 21, $2039
2020:
Jan 11, 25, Feb 8, 15, 29 $2039
Book by June 10, 2019
SAILING THAILAND – PHUKET TO PHUKET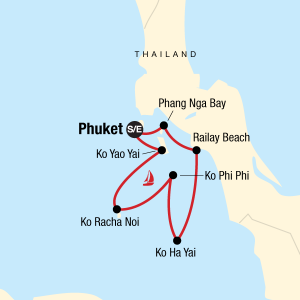 7 days, Phuket to Phuket
Go island-hopping in Thailand and experience some of the best snorkelling in the world. Enjoy a week aboard our sailing catamaran and discover what makes Thailand special. With an experienced captain navigating the southern islands, you'll drop anchor at highlights and secret spots perfect for a swim. Work up an appetite snorkelling, dine on Thai cuisine, and sleep moored under the stars. This trip is perfect on its own or as an add-on with our other Thai adventures.
Saturday sailings:
Sept 28 $1599  Book this date by June 30, 2019
Oct 5, 12, 19, 26 $2429
Nov 1, 9, 16, 30, 2019 Feb & March 2020 sailing $2559
Dec 7, 14, 21, 28, 2019 Jan 4, 11, 25, 2020 $2679
Jan 18, 2020 $2249
Indochina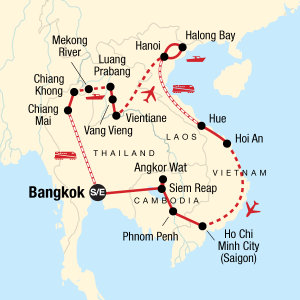 29 days, Bangkok to Bangkok
From the vibrant cityscape of Bangkok to Halong Bay's magnificent limestone karsts, this trip encompasses the highlights of Indochina. Marvel at the wonders of Angkor Wat, sail the Mekong, and savour noodles in Hoi An. Shop for souvenirs in Ho Chi Minh City and join the locals sipping coffee at a lakeside café in Hanoi. With hotels, transport, and a number of included activities arranged by the tour Guides, this adventure offers up the perfect combination of must-see highlights and free time.
July 20, 22, Oct 3 $3654
August 19, Sept 9 $3501
August 26, Sept 16, 30 $4119
Nov, Dec, 2019 Jan, Feb March 2020 $4459
Book by June 30, 2019
THAILAND ISLAND HOPPING – WEST COAST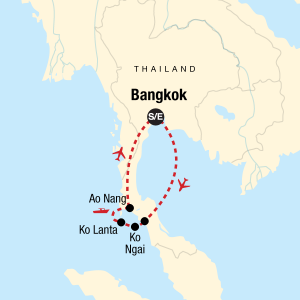 8 days, Bangkok to Bangkok
Thailand's known for its unrivalled beaches, so forget setting foot on just one. This eight-day tour lets you hop around some of the best beaches along the Andaman Sea, discover the hues of Ko Mook's Emerald Cave, and snack on some tasty barbecue on the shores of Ko Lanta. Find that sweet spot just for you, whether that means getting your thrills from optional activities like whitewater rafting, or just picking a place where you can hang out and watch the waves.
Nov 3, 19, 24, 26 Dec 1, 8, 22, 24, 29, 2019 $1206
Jan 5, 12, 15, 19, 26, Feb 2, 9, 12, 16, 23, 2020 $1206
Book with deposit by June 10, 2019
CLASSIC THAILAND – EAST COAST
14 days, Bangkok to Ko Tao
With a fascinating culture, beautiful natural landscapes, and some of the tastiest street food on the globe, Thailand is a adventurers' haven. Embark on this 14-day tour along the country's east coast to get a unique glimpse into this Southeast Asian country with some additional northern Thailand highlights. Explore the smaller "klong" canals of the Chao Phraya river, stay overnight in a traditional floating rafthouse in Kanchanaburi, and tour the majestic Bridge on the River Kwai. There's plenty of time to relax on Thailand's tropical sands and bond with your travel mates at beach bars in between.
July 15, 22, Oct 14 $2339 Aug 26, Sept 2, 9, 16 $2149
August 19, Sept  23 $1827 Book by June 30, 2019
THAILAND AND LAOS ADVENTURE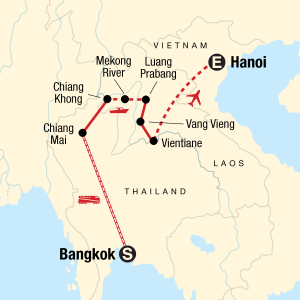 14 days, Bangkok to Hanoi
From the energy of Bangkok to the calm of Laos, this trip is a study in contrasts. Visit temples in Chiang Mai then spend the evening exploring the night market. Sail the Mekong into the heart and soul of Laos. An experienced Chief Experience Officer (CEO) will make sure you get the most out of your tour, but will leave plenty of time for you to do your own thing. We utilize many forms of transport (both public and private) to maximize time spent exploring the history and culture of this unforgettable region.
Explore Bangkok's canals
Discover Buddhist temples
Float down the mighty Mekong River
Get wet in the spray of waterfalls
July  13,  22, 27, 29,  Oct 3 $1614
August 19, Sept 9, 30, $1572 
August 5 & October $1899
August 26, Sept 16 $1849
Nov, Dec, 2019 Jan, Feb March 2020 $1969
Book by June 30, 2019
Thailand Long Stay in Pattaya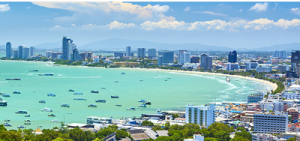 23 days – 21 nights – 20 breakfasts
Stay in the Bayview Pattaya which is 1 1/2 hour drive from Bangkok. This hotel is one of the best locations in town- just meters from the beach and next door to the all new Central Festival shopping mall.
Oct 31 to Nov 22, 2019 from Vancouver $2649 taxes included
Add ons from other Canadian cities available.
EXOTIK LEGENDS
17 DAYS / 15 NIGHTS
BANGKOK, CHIANG MAI, CHIANG RAI, SINGAPORE, BALI, HONG KONG
For the traveller wanting a complete tour of the Orient, this covers the most popular destinations. Visit Bangkok and northern Thailand, the city-state of Singapore, Bali-Island of the Gods, and finally, the ever popular Hong Kong. And if that's not enough, extend your stay with a visit to Cambodia or Laos. The possibilities are endless! This will truly be a trip to remember.
September 6 to Oct 31, 2019 from Vancouver $4899 from Toronto $5299
Add-on fares for other departure cities: Victoria CAD$ 70, Kelowna, Kamloops CAD$ 135
Calgary, Edmonton CAD$ 200, Winnipeg, Regina, Saskatoon CAD$ 270 Halifax, St.Johns NF CAD$ 365,Ottawa CAD$ 95
INCLUSIONS:
· Return air transportation from Vancouver or Toronto on Cathay Pacific Airways
· Canadian airport taxes from: (CAD $470)
· Domestic flights as per itinerary
· Return airport transfers
· English speaking local guides
· Accommodations in double occupancy
· Meals and sightseeing as per itinerary
Not included · Gratuities to hotel personnel, guides and drivers · Beverages · Optional excursions · meals not included.
3 nights Bangkok, 3 nights Chiang Mai, 3 nights Singapore, 3 nights Bali, 3 nights HongKong