Croatia's extraordinary coastline is indisputably its main attraction. The first thing that strikes you is the remarkable clarity of the water. When it's set against a dazzling white pebbly beach, the water sparkles with a jewel-like intensity in shades of emerald and sapphire. There are long sandy beaches– perfect for lazy days spent lounging and reading till you heart is content. There are lots of water activities to lure you off your sun lounger – snorkelling, diving, kayaking, windsurfing and sailing, just for starters.
Michelin stars have been awarded to two Croatian restaurants, effectively boosting the country's reputation as a top gourmet destination. Check the Culinary Delights page for Culinary tours of this region.
Eastern Europe, Croatia and the Balkans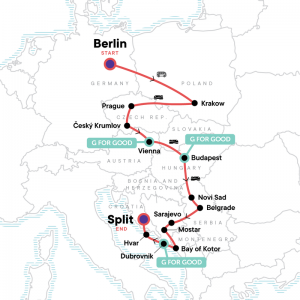 28 days Berlin to Split
This epic cross-European adventure offers an intriguing combination of Central Europe's castles and romantic squares with the Balkans' own historic towns and wondrous landscapes. But this trip isn't a cobweb-enshrouded history tour — you'll connect with village life, immerse yourself in urban centres, and get active with outdoor pursuits, including kayaking in Montenegro and hiking through diverse country. With 28 days devoted to this journey, this is your chance to discover what still feels like a well-kept secret.
2021:
June 13, 20, Sept 5 $4989
July 18, Aug 8 $5184
2022:
April 3, 17 $4589
May 29, June 12 $4989
Book by April 30, 2021
---
SAILING CROATIA – SPLIT TO DUBROVNIK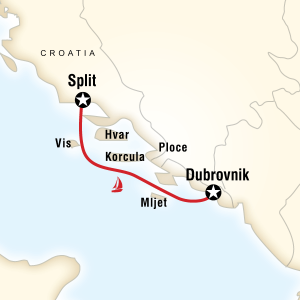 8 days, Split to Dubrovnik
Whether you're looking for relaxed afternoons lazing on the deck of a yacht or time to indulge in the nightlife, this eight-day sailing trip aims to please. Discover charming villages and stunning scenery as you sail from Split to Dubrovnik on a small yacht. Matchmaking won't be needed to help you fall in love with the country, culture, or the region's beauty during hikes to castles and waterfalls. Toss in beach barbecue and snorkelling and you have an incredible yet affordable island getaway.
2021:
July 3, 10, 17, 24 Aug 7, 14, 21, 28 $2049
Sept 11, 18, 25 $1929 Oct 2, 9 $1649
2022:
April 23, 30, May 7, 14, 21, 28 $1799
June 4, 11, 18, 25 $1929
July 2, 9, 16, 23, 30 $2049
Aug 6, 13, 20, 27 $2049
Sept 3, 10, 17, 24 $1929
Oct 1, 8 $1799
Croatia & the Balkans
15 days Budapest to Split
The Balkans are just getting noticed as a great European travel destination — we can't believe it took so long! Situated on the balmy shores of the Adriatic and home to some of the most wondrous landscapes, monuments, and villages you'll ever see, this part of the world still feels like a well-kept secret. This adventure showcases the region's compelling history and scenery while allowing time for outdoor pursuits like kayaking and hiking. You may not know much about Croatia and the Balkans now, but once you've been, you'll be hard-pressed to stop talking about them.
2021:
June 26, Sept 4, 18 $2549
July 3, 17, 31, Aug 21 $2600
Dalmatian Coast & Montenegro Sailing
15 days
Split to Dubrovnik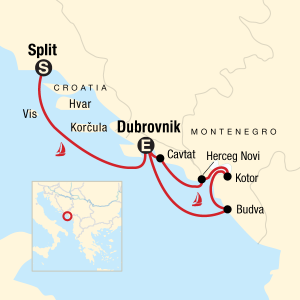 Stretch out your vacation days lounging on a yacht deck with this sailing trip that covers the Dalmatian coast from Split to Dubrovnik, along with plenty of time in Montenegro. Feel the warm sun on your face with the refreshing spray of seawater as you venture from coastal town to coastal town, stopping to swim, snorkel, or relax on beaches before exploring the rich history behind this storied Old World region. Local food and wine are in abundance, giving you delicious homegrown flavour that's difficult to forget. When it comes to Croatia, every experience is filled with memories that ignite all the senses.
2021:
Sept 4,  25 $3429
July 3, 10, 17, 24,  Aug 7, 14, 21, 28 $3599
Oct 2, $3249
2022:
April 30, May 7, 14, 21, 28, Oct 1, 8 $3249
June 4, 11, 18, 25, Sept 3, 10, 17, 24 $3429 July 2, 9, 16, 23, 30, August 6, 13, 20, 27 $3599
Croatia is the newest bucket list item for savvy travelers
Fun Facts:
*  It is a country with over 125,000 years of history, and the site of many scenes in Game Of Thrones
*  Croatia has a long wine tradition, Zinfandel's father hailed from this country in fact
*  Croatia boasts 8 national and 11 natural parks, fresh water from all rivers, and a place where food in grown in a healthy and traditional manner
*  The Adriatic, which surrounds Croatia's coast and 1,200 islands, is one of the clearest seas in the world
*  It is an extremely safe destination
*  8 UNESCO locations
*  Awards abound…Zadar was voted the best European destination in 2015, while Zagreb was voted the best Christmas destination in 2015
*  Big inventions that shape our lives today came from Croatian inventors; pencil, neck tie, alternative current, and even the parachute
CROATIA EXPLORER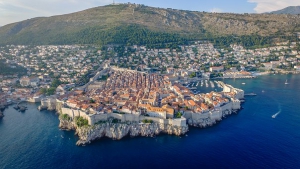 Zagreb, Split, Hvar, Dubrovnik
Croatia's stunning natural beauty and rich cultural history is on full display on this tailor-made journey down the Adriatic coast.
Arriving to Croatia's lively capital, Zagreb, you'll begin your journey toward the coast, with a visit en route of the country's majestic Plitvice Lakes National Park, where you can walk on wooden bridges through lush greenery surrounded by stunning aquamarine waters, and picturesque waterfalls. Arriving to Split, you'll meet with a private guide and explore the old city, home to the UNESCO World Heritage listed Diocletian's Palace. From Split, travel to the island of Hvar, from where you'll embark on a sea kayaking excursion into the waters of the Adriatic. Take to a renowned winery for a meal and wine tasting en route to Dubrovnik, where you'll explore the medieval old town with a private guide. Walk the iconic medieval city walls, meander charming lanes winding through the core, and imagine a time when life was this different. Welcome to Croatia.
8 days from $3,144 per person*
Walk the curved wooden pathways through Plitvice Lakes National Park.
Private guided walking tours of Split, and Dubrovnik with its medieval city walls.
Go sea kayaking on the Adriatic.
Sip regional wines on a wine tasting excursion.
Selection of premium accommodations throughout.