Atlantic Canada is a region of Canada comprised of four provinces that's world-famous for the Bay of Fundy and the Cape Breton Cabot Trail. You'll find memorable experiences in nature, food, history and culture throughout this entire region. In this video, we feature two of the region's beautiful provinces. New Brunswick and Nova Scotia are two out of three Maritime provinces located in Atlantic Canada. Both of these provinces have their distinct qualities, but one of the best things they share is the Bay of Fundy – a place where the tide rises to 48 feet and a colossal 160 billion tons of seawater crash in and out of the bay every day. Thanks to this, the vibrant cities, charming towns and great outdoors – magic moments come easy to Atlantic Canada. In this video, you can discover a few of them.
MARITIMES ADVENTURE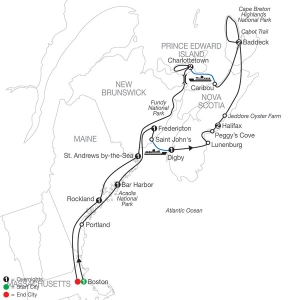 13 DAY TOUR FROM BOSTON TO BOSTON
She sells seashells by the seashore – and fresh lobster, steamed mussels, and seared scallops, too. Lemon and drawn butter will become your new best friends on this coastal tour of Maine and all three of Canada's Maritime provinces. As you make your way from rocky beaches to charming fishing villages, you'll savor the catches of the day – and the views of a lifetime. The granite peaks of Acadia National Park, the giant stone formations of Hopewell Rocks, and the rolling Highlands of Cape Breton present incredible natural wonders while manmade treasures abound as well. See the famous lighthouse at Peggy's Cove, the Anne of Green Gables farmhouse, and the quaint settlement of St. Andrews By-the-Sea. While the local fisherman of New Brunswick, Nova Scotia, and Prince Edward Island will happily demonstrate their rugged lifestyles, you'll sink into the luxuries of two pampering resorts – the Digby Pines and the historic Algonquin.
2022:
Sept 3, 14, 17 $4454
Aug 20 $5120 Sept 10 $5030
WONDERS OF THE MARITIMES & SCENIC CAPE BRETON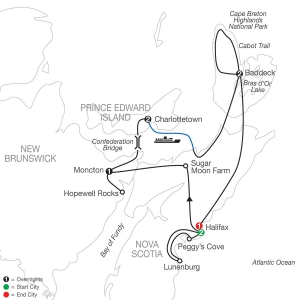 9 DAY TOUR FROM HALIFAX TO HALIFAX
If you can't take the beat, get out of the kitchen! One of the highlights of a visit to the Canadian Maritimes is the Ceilidh (kay-lee), or kitchen party, a Gaelic celebration of music, dancing, and storytelling. In addition to this traditional maritime merriment, this tour of the Canadian Maritimes and Cape Breton has cooked up plenty of unique experiences in this picturesque part of the world. Get your camera ready for Canada's most photographed lighthouse in Peggy's Cove, your windbreaker zipped for the highest and widest tides at Hopewell Rocks, and your taste buds ready for a traditional fish cake breakfast, sugar camp lunch, and fresh lobster dinner. Throughout Nova Scotia, New Brunswick, Prince Edward Island, and Cape Breton, tiny fishing villages, giant whales, and the grandest of scenery will be calling your name, as will Cape Breton's historic Alexander Graham Bell Museum.
2022:
Aug 4, 18, Sept 1, 3, 10, 22, 24 $3221
July 28, Aug 25 $3509
Sept 8 $3636 Sept 15 $3500
NEWFOUNDLAND & LABRADOR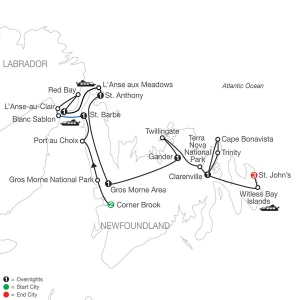 12 Day Tour from Corner Brook to St. John's
Mornin' sunshine! Not only are the residents of Newfoundland and Labrador the first to see the sunrise in North America, they're also lucky enough to see floating icebergs, spouting whales, and plunging puffins on a regular basis. Pack your shades for the quaint lighthouses, rainbow- colored houses, and other bright sights this tour of Newfoundland and Labrador has to offer, including three UNESCO World Heritage Sites. Witness the exceptional beauty and unique geological features of Gros Morne National Park, walk in the footsteps of Vikings at L'Anse Aux Meadows National Historic Site Red Bay, and immerse yourself in the life of a 16th-century whaler at the Red Bay Basque Whaling Station. A ferry crossing between Newfoundland and Labrador – plus scenic cruises around Bonne Bay and the Witless Bay Islands – offer additional vantage points of this windswept, wondrous land. Don't forget to toast the stunning sunset with a local iceberg beer or a shot of Screech.
Breakfast daily, 3 lunches, 6 dinners
2022:
Aug 1, 9, 22, 23, 29 Sept 5, 7 $3815
July 26, Aug 14 $4202
GREAT CANADIAN RAIL JOURNEY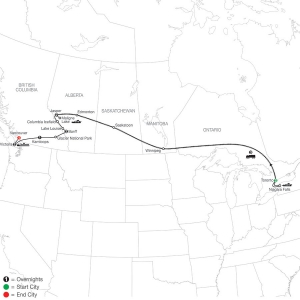 14 DAY TOUR FROM TORONTO TO VANCOUVER
Redirect your train of thought on this epic rail journey across captivating Canada. Nestled in your first-class, art deco train car aboard VIA Rail's The Canadian, you can cruise and snooze your way through five picturesque provinces – although you won't want to miss a moment of the panoramic scenery outside your window. After feeling the energy of Toronto and the mist of Niagara Falls, you'll board your premier transcontinental train to chug past the sparkling lakes of Ontario, the golden prairies of Manitoba, the winding rivers of Saskatchewan, and the sun-dappled forests of Alberta. But the journey doesn't conclude at the end of the line. You'll continue by luxury motorcoach to the most beautiful national parks of the Canadian Rockies, including Jasper, Banff, Yoho, and Glacier National Park. Roast s'mores at a riverside barbecue in historic Kamloops before s'more fun in the British-infused city of Victoria and the multicultural metropolis of Vancouver.
2022:
July 25, Aug 8, 22, 29 $6974
Aug 15 $7234
QUEBEC IN DEPTH WITH THE GASPE PENINSULA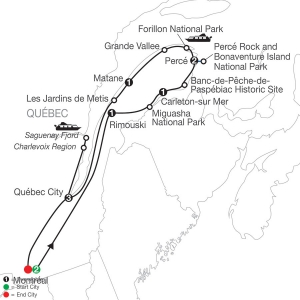 11 DAY TOUR FROM MONTREAL TO MONTREAL
Who says you have to cross the Atlantic to dive into European culture? Croissant-scented cobblestone avenues are much closer than you think. Follow your nose to the café-lined promenades of Québec City, your ears to the music-filled streets of Montréal, and your eyes to the sweeping views of the Gaspé Peninsula on this eleven-day tour of French Canada. Along the way, say bonjour to tiny fishing villages, giant beluga whales, and the grandest of views as you cruise around the imposing Percé Rock and the sensational Saguenay Fjord. From the banks of the St. Lawrence River to the cliffs of the gulf, your taste of the Old World awaits. Sip strawberry wine made from the fields by the sea, savor a "Taste the Gardens" lunch at the famous Les Jardins de Métis, and visit a family-owned fromagerie in the rolling-hill region of Charlevoix. On this flavorful vacation to French Canada, you'll say "cheese" in more ways than one.
Breakfast daily, 3 lunches, 3 dinners
2022:
Aug 24, 31 Sept 7 $3886
Sept 14 $4220
GLACIER NATIONAL PARK & THE CANADIAN ROCKIES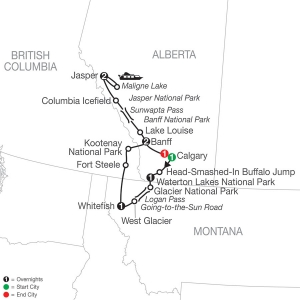 9 DAY TOUR FROM CALGARY TO CALGARY
What do you get when you combine ancient glaciers, a legendary icefield, and all the wonders beneath the snow-capped Canadian peaks? One of the coolest vacations there is! This nine-day tour through the Canadian Rockies and Montana's Glacier National Park is an adventure filled with wild history, wild scenery, wildlife, and wild rides. Aboard a famous vintage Red Jammer, a massive ice explorer, a glass-walled boat (and even a flightseeing helicopter should you choose) you'll relish the best views of big skies, bighorn sheep, and even bigger bears. From rugged gold rush territory to the sparkling turquoise waters of Banff and Jasper National Parks, there are so many gems to sink your teeth into on this Canadian Rockies vacation. We suggest starting with a tender filet of Alberta beef and a heavenly slice of homemade huckleberry pie.
2022:
July 19, 23, 25, 30 Aug 1, 2, 6, 8, 15, 20, 23, 27 Sept 3, 6, 10, 12 $3581
July 18, Aug 13, Sep 5, 17 $3816