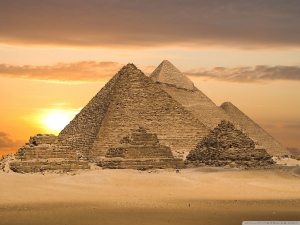 Egypt
A country linking northeast Africa with the Middle East, dates to the time of the pharaohs. Millennia-old monuments sit along the fertile Nile River Valley, including Giza's colossal Pyramids and Great Sphinx as well as Luxor's hieroglyph-lined Karnak Temple and Valley of the Kings tombs. The capital, Cairo, is home to Ottoman landmarks like Muhammad Ali Mosque and the Egyptian Museum, a trove of antiquities.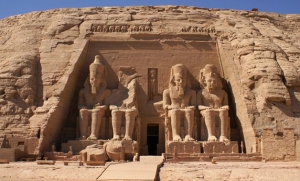 Jordan
An Arab nation on the east bank of the Jordan River, is defined by ancient monuments, nature reserves and seaside resorts. It's home to the famed archaeological site of Petra, the Nabatean capital dating to around 300 B.C. Set in a narrow valley with tombs, temples and monuments carved into the surrounding pink sandstone cliffs, Petra earns its nickname, the "Rose City."
Highlights of Jordan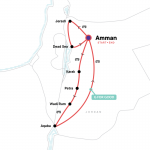 Explore ancient sights and lost cities, overnight in a Bedouin tent and dine amidst the dramatic desert scenery of Wadi Rum. Take in Petra's fascinating history and marvel at its thrilling beauty, and still have a chance to relax in the therapeutic waters of the Dead Sea. This eight-day trip is ideal for the traveller who is short on time but wants to soak up the colours, culture, and history of a country that's small in size, but big in adventure.Explore ancient cities and crusader castles
Relax at the Dead Sea
Camp overnight in the desert
Visit the ancient rock-cut city of Petra
Duration: 8 days
Start/Finish City: Amman to Amman
2021:
July 4, 18, 30, Aug 6, 9 $1257
Aug 15, 20, 27, Sept 5, 21, 26 $1410
Oct 1, 5, 11, 15, 18, 22, 26, 31, Nov 1, 88, 12, 15, 22, 29 $1512
Dec 5, 12, $1410
Dec 17, 31 $1512
2022:
Jan 2, 7, 9, 14, 16, 21, 23, 28, 30 $1300
Feb 1, 4, 6, 8, 11, 13, 15, 18, 20, 22, 25, 27 $1300
Mar 1, 4, 8, 11, 13, 15, 18, 20, 22 $1410
April 1, 3, 5, 8, 10, 12, 15, 17, 19, 22, 24, 26, 29 $1512
May 1, 3, 6, 8, 10, 13, 15, 17, 20, 22, 27, 29 $1512
June 3, 5, 7, 10, 12, 14, $1512
June 17, 19, 2, 26 $1300
Book before May 31, 2021
JORDAN ESCAPE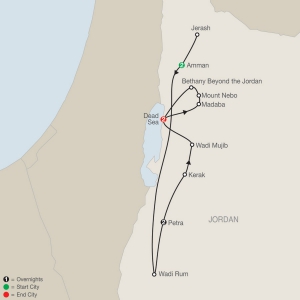 7 Day Tour from Amman to Dead Sea
Your off-season guided tour of Jordan begins in the capital city of Amman and concludes at the Dead Sea—one of the lowest spots on Earth. Marvel at Jordan's many fascinating sites, but without the crowds or prices of the busy season! Visit Amman—one of the world's oldest continuously inhabited cities with a history spanning nine millennia—to see the Roman amphitheater and Jerash, a well-preserved Greco-Roman city buried for centuries under desert sands. Enjoy a guided sightseeing of the UNESCO World Heritage Site of Petra—one of the New 7 Wonders of the World. Walk down the Siq, a narrow gorge with spectacular colors between its high cliffs, and stand in awe of the famed Treasury site, carved out of the sheer sandstone cliff in the 1st century BC. Sip tea in a real Bedouin tent—a tradition of the semi-nomadic Bedouin people still inhabiting this region.
SINGLE SUPPLEMENT WAIVED FOR 2021/2022
2021:
Nov 14, 21, 28 $1459
Dec 5, 12, 19, 26 $1319
2022:
Jan 2, 9, 16, 23, 30 $1319
Feb 6, 13, 20, 27 $1459
Egypt with Nile Cruise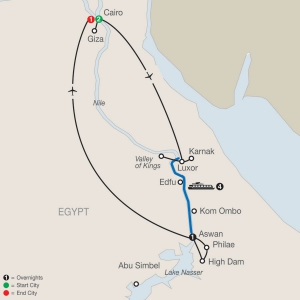 10 days from Cairo to Cairo
That calendar you live by—the one with 365 days divided into twelve months—you can thank the ancient Egyptians for the handy invention that helps you manage your time. In this 10-day vacation, you'll marvel at many other amazing accomplishments of this remarkable civilization. The daunting Great Pyramids, the enigmatic Sphinx, the extraordinary temples of Luxor and Karnak, and the magnificent royal tombs in the Valley of the Kings are well worth the journey as are the sparkling treasures inside Cairo's Egyptian Museum, including the fascinating burial items from the opulent tomb of "King Tut." As you sail down the legendary Nile from Luxor to Aswan on this enthralling tour of Egypt, you'll also stand in awe at the preserved Temples of Horus and Isis, barter for goods at the bustling bazaars, and sway to the rhythmic drums on a relaxing felucca ride down the Nile.
2021:
Aug 20, Sept 3, 10, 17, 24 $3247
2022:
April 29 $3355
May 6, 20, Aug 19, Sept 2, 9, 16, 23 $3400
May 13, Aug 26 $3436
Spain, Portugal, and Morocco Adventure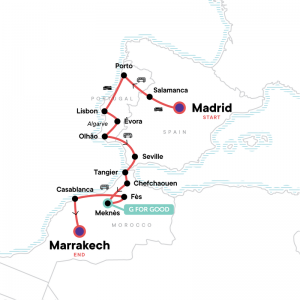 15 days
Madrid to Marrakech
Quite a few civilizations have left their imprint on Spain, Portugal, and Morocco, but perhaps none so permeating as the Moors. Get your feet wet in Moorish culture in the Iberian peninsula, home of Spain and Portugal. Surround yourself in the beautiful architecture of a traditional "pousada" with an overnight in Évora, before exploring Spain's fiery Andalucian capital of Seville. Cool it all down in Morocco, within the city of Chefchaouen's striking blue walls. Don't miss out on a tour that's as drenched with flavours, colours, and history as the three countries that comprise it.
2021:
July 11,  Aug 15 $2745
Sept 5, 19, 26, Oct 3, 31 $2932
Nov 21 $2464 Dec 12 $2932
2022:
Jan 2, 30, Feb 13, 27 $2549
March 13, 20, 27, April 10, 17, 24, May 8, 15, 22 $2932
June 12, 19, 26 $2745
Book by May 31, 2021
Highlights of Morocco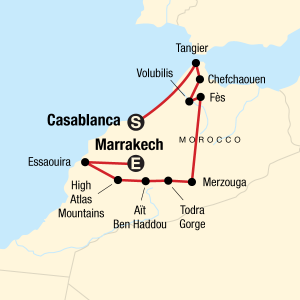 15 days, Casablanca to Marrakech
Wander through ancient medinas and Roman ruins
Ride a camel into the Sahara
Spend a night in a mountain gite
Shop in seaside Essaouira
Set eyes on the blue city of Chefchaouen
2021:
July 5, 23, 31, Aug 6, 9, 14, 20, 30 $1208
Sept 1, 4, 6, 9, 11, 13, 15 18, 20, 22, 27 $1342
Oct 1, 3, 4, 6, 8, 11, 13, 15, 18, 22, 25, 29 $1342
Nov 1, 5, 8, 19, 22, 29 $1295
Dec 5, 6, 13, 20 $1295
Moroccan Escape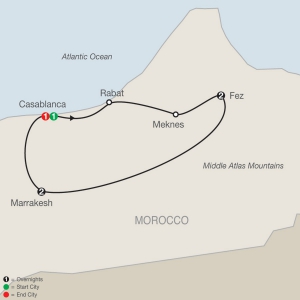 7 Day Tour from Casablanca to Casablanca
Your escorted tour of Morocco is an escape from the crowds typically found at busier times of the year. Begin your vacation with a welcome dinner in legendary Casablanca. Follow North Africa's infamous Barbary Coast to the capital-city Rabat—once the haven for 16th-century pirates—and take a drive to see the massive medieval battlements and Royal Palace. Throughout the week, you'll encounter incredible historic and cultural sites. Marvel at the architecture and history of Meknes—the 11th-century military settlement, turned into an impressive city in the Spanish-Moorish style by the legendary Sultan Moulay Ismail. On your guided sightseeing tour, you'll see the monumental gated walls that surround the city, elaborate mosques, the palace, and visit the Royal Stables—built by the Sultan to house 12,000 royal horses.
Continue to Fez, considered to be Morocco's spiritual and artistic center, and see the magnificent entrance to the Royal Palace. Drive through the old Jewish quarter, travel to the traditional entrance to Old Fez at Bab Bou Jeloud, and follow your Local Guide through the labyrinthine streets of its Medina and the remarkable architecture of the Medersa Bou Inania. Next stop is the vibrant oasis of Marrakesh. Explore the "Red City" amid its sandstone walls and buildings with your Local Guide. You'll visit Bahia Palace, the Saadian Tombs (or Badia Palace), the Djemaa El-Fna town center and colorful marketplace. Return to Casablanca for a panoramic drive to visit the Hassan II Mosque. Then, top it all off with a delicious farewell dinner to celebrate your Moroccan Escape!
2021:
Oct 31, Nov 3, 7, 10, 14, 17, 21, 24, 28 $1239
Dec 1, 5, 8, 12 $1019
2022:
Jan 23, 26, 30 Feb 2, 6, 9, 13, 16 $1089
Feb 20, 23, 27 $1239
March 2, 6, 9, 13 $1239
Egypt Upgraded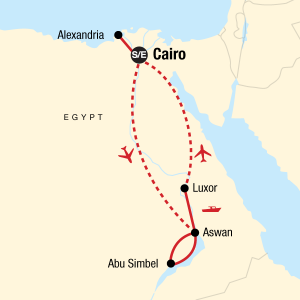 12 days
Cairo to Cairo
Encompassing Egypt's greatest highlights and a three-day Nile cruise, this adventure enhances a wide variety of included activities with the expertise of our Chief Experience Officers (CEOs), through whom you'll gain a greater appreciation of the region's history and archaeological finds. Discover the secrets of the Great Pyramids and explore the Valley of the Kings, then meet local people and share a traditional meal. A combination of air-conditioned transport and domestic flights will get you to the sights (and your comfortable accommodations) quickly and conveniently. From ancient history to bustling modern Cairo, embark on an incredible journey to the very heart of Egypt.
Visit some of the most revered wonders of the ancient world with a certified Egyptologist
Marvel at the Pyramids of Giza and the temples of Abu Simbel
Savour a traditional Nubian dinner in a local village
Bargain with the locals in bazaars and markets
2021:
June 13, July 11 $2736
Israel Explorer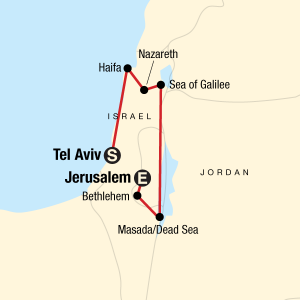 8 days
Tel Aviv to Jerusalem
Perched at the crossroads of Middle Eastern history for centuries and the spiritual home to Jews, Christians, and Muslims alike, Israel remains a must-visit destination for anyone eager to understand this dynamic, always-changing region. Explore the historic towns of Bethlehem and Nazareth, soak in the energy of vibrant Tel Aviv, and experience a soul-stirring connection to ancient and modern sites and peoples. Thousands of incredible moments, one comprehensive trip.
Swim in the Dead Sea
Explore the biblical towns of Nazareth and Bethlehem
Meet a local Druze family
Wander through the streets of Old Jerusalem
2021:
July 9, 23 $2328
Aug 13, 27 $2124
Sept 17, 24, 28, Oct 5, 8, 12 $2532
Nov 2, 12, 19, 26, Dec 3, $2328
Dec17 $2532
Morocco Kasbahs and Desert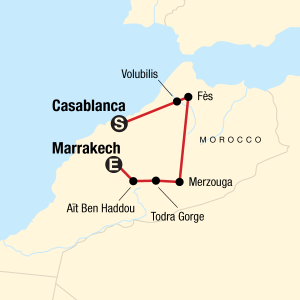 8 days
Casablanca to Marrakech
Perfect for travelers looking for a fast-paced trip, this short but sweet adventure offers up a great combination of Morocco's must-see highlights and a little free time to explore on your own. Tour the dunes from atop a camel for an authentic way to experience the Sahara, explore high-walled kasbahs and wander the labyrinthine alleys of Fès and Marrakech, all allowing you to discover the history and rugged natural beauty of mysterious Morocco.
Wander the winding streets of ancient medinas
Sip refreshing mint tea
Explore natural gorges and Roman ruins
Ride a camel to the sand dunes
Barter in exotic souks
Enjoy delicious Moroccan fare
2021:
July 1, 2, 4, 6, 9, 11, 13, 14, 18, 20, 22, 25 $829
EGYPT & JORDAN ADVENTURE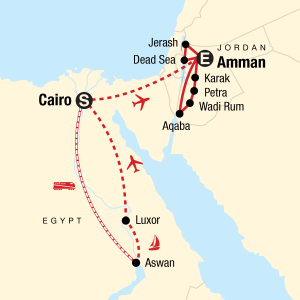 15 days, Cairo to Amman
Get ready for a wide-ranging adventure showcasing the region's natural wonders and fascinating cultures, offering the perfect combination of guided excursions with free time to explore at your own pace. Our expert local leaders will share with you the archaeological and historical secrets of the ancient sites of Petra, Luxor, and the Great Pyramids of Giza. Whether it's haggling in Cairo's bustling bazaars or snapping a desert sunset, Egypt and Jordan will be etched into your memory like a hieroglyph.
2021:  July, Aug $3149 Oct, Nov $3679